Kate Middleton and Meghan Markle aren't enemies, but sources claim they're not exactly BFFs. Read on for more.
They're among the most talked about royals in the world, they always seemed happy when they were together, and they're both married to guys that countless girls have had crushes on.
So naturally, this must mean that Kate Middleton and Meghan Markle are royal besties, right? 
Not so fast. Considering all the rumors of their reported feuds — and the fact that Meghan and Prince Harry have permanently stepped back from their royal duties — we have reason to believe that they're probably not as close as they often appeared to be. Here's what we know.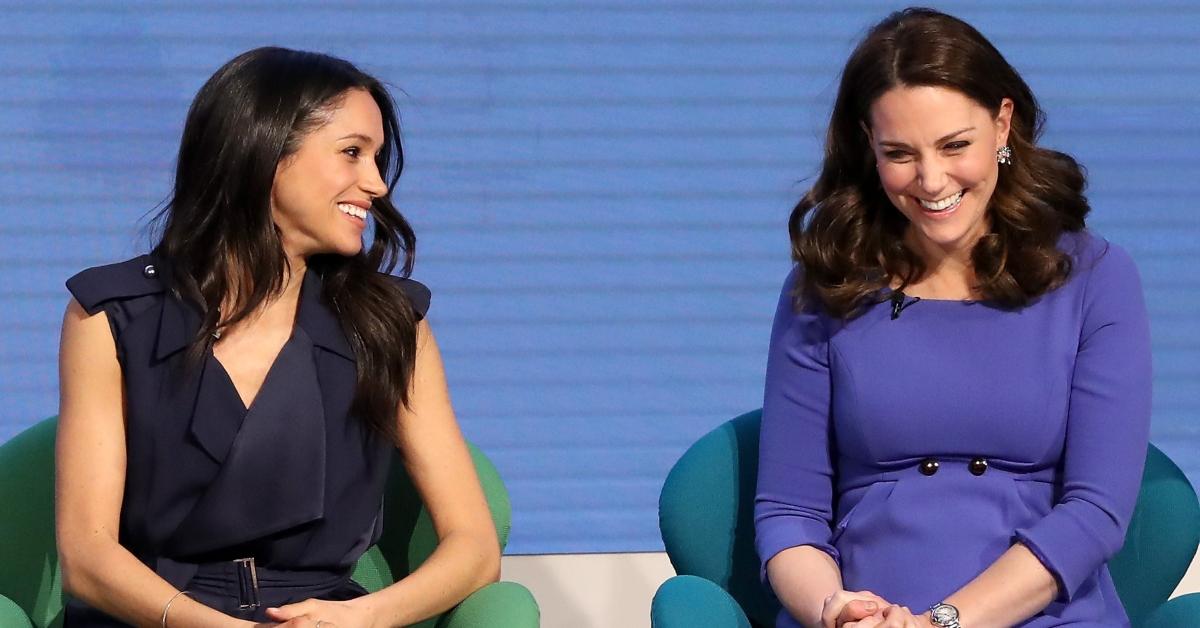 There was a rumored feud between Meghan Markle and Kate Middleton, but are they really friends?
Since 2018, there was reportedly some hostility between the two, although some sources have denied this. It apparently began with a disagreement over the dress that Princess Charlotte would wear to Meghan's wedding in May, and this caused Kate to cry. 
It also didn't help matters that Meghan and Harry weren't present for Kate's 37th birthday. It was reported that neither of them got an invite due to tension between the two couples, but one source suggested that the rumors were being taken a bit too far.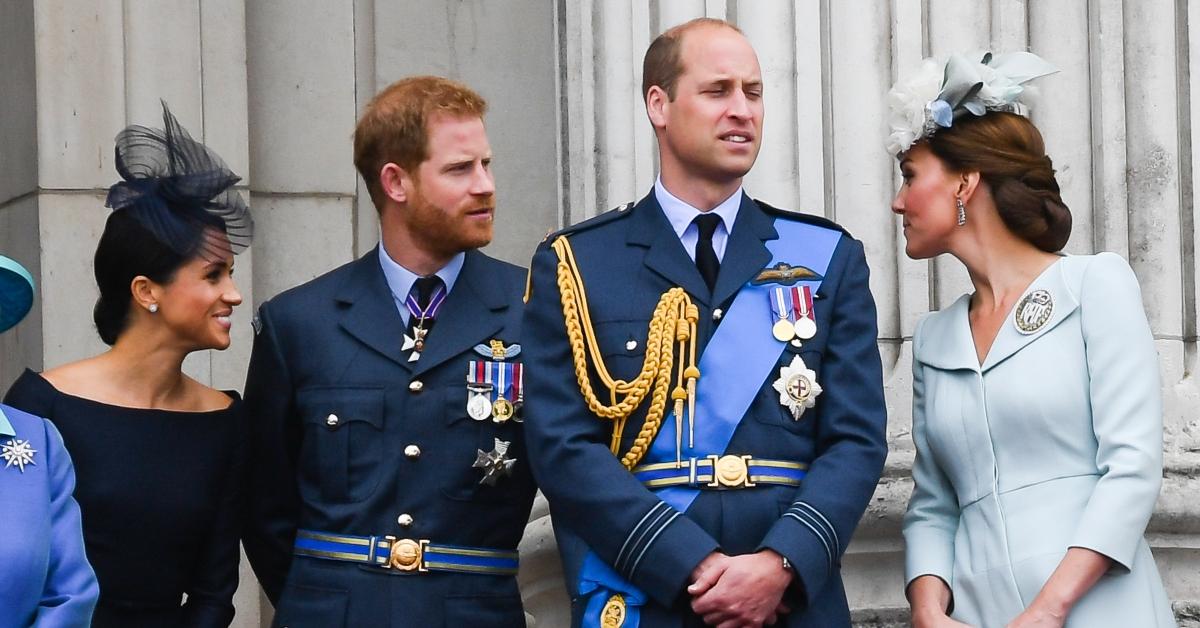 They brought up the fact that both couples had enjoyed celebrating Christmas together in 2017 and, therefore, were on good terms. They said: "They really loved Christmas and all had a wonderful time. I think the two women got on — they are definitely not best friends, but it was a really special time for them all to spend together."
One source claimed Meghan and Kate will "never be best friends."
Another source close to the royal family opened up to Us Weekly and explained that they'll "never be best friends, but they're civil," also pointing out the fact that they're "from two totally different worlds."
With such different backgrounds and values, we imagine that they don't relate to one another as easily. Still, this doesn't necessarily mean that they're at odds.
Body language experts also agreed that they're not necessarily BFFs, but on good terms.
Judging by their similar styles, or rather, Meghan's tendency to mirror her sister-in-law at public events, it's clear that there's some respect between the two, as well as a "desire for rapport and team acceptance."
Expert Judi James said: "By also mirroring Kate's elegant two-handed clutch bag pose this could form a trio of body language techniques known as mirror-pace-lead. This is where you mirror the other person to create rapport and empathy before 'leading' them into more strongly bonded displays of shared laughter or touch".
Kate didn't look too happy about Meghan and Harry's announcement
When Meghan Markle and Prince Harry initially decided to establish their independence, the news apparently left the royal family blindsided and disappointed — especially since several members were not consulted first. But in the midst of this shocking announcement, we imagine that no one was as disappointed as Kate.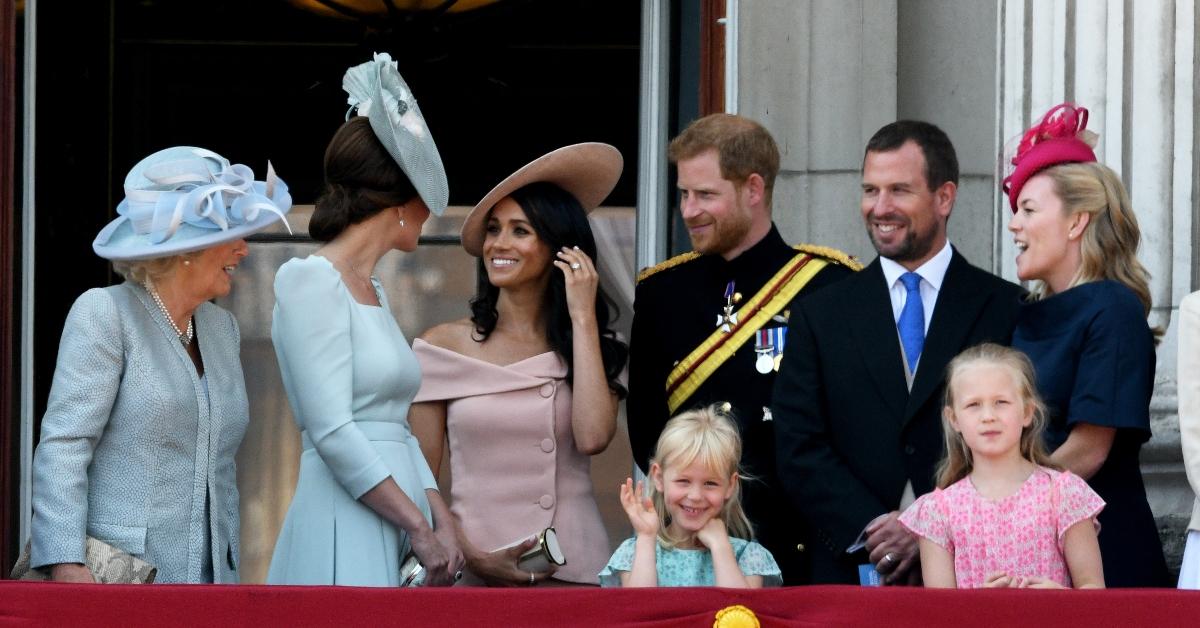 The announcement came shortly before her 38th birthday (talk about the worst possible timing). So when she was spotted looking rather glum on her birthday, we figured that Meghan and Harry's surprise might've had something to do with it. But does this mean that there's still a feud going on between the two royals? Most likely not, but it's tough to tell, as Prince Harry and Meghan stepping back seemed to make their relationship even more complicated.
In June 2019, fans suspected their reported feud had extended to their husbands when Kensington Palace announced Prince Harry and Meghan's departure from the Royal Foundation, which is now only under Prince William and Kate. However, it wasn't due to bad blood, as some were quick to believe. It turns out the two felt inspired to start their own organization, which will have the support of the original foundation.
Meghan Markle arrived with Kate Middleton for the Queen's State Funeral
Meghan Markle and Kate Middleton put on a united front for the Queen's state funeral on Monday, 19 September 2022, arriving together with Kate's two older children, Prince George and Princess Charlotte.
Meghan, dressed in a black wide-brimmed hat and cape dress, walked with Sophie, Countess of Wessex, into the church and stood alongside Kate once inside.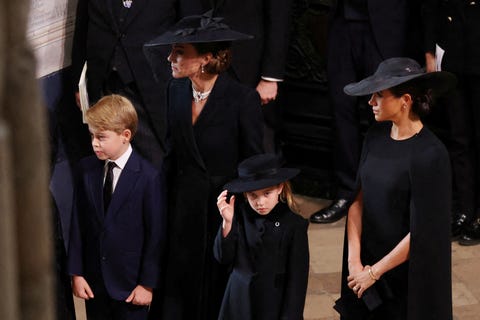 WPA POOL//GETTY IMAGES
While Meghan and Kate were never best friends before, during, or after Meghan's time as a working royal, in March 2019, a royal source told ELLE.com that the two women "email regularly about mutual interests and their humanitarian work. Both are very goal-oriented, dedicated, and passionate about making a difference and carrying on the Queen's legacy in their humanitarian and charitable work."
Meghan has been grateful to Kate for her guidance and support, a royal source added: "Meghan admires how Kate has never put a foot wrong."
Meghan personally touched on how she saw Kate during her tell-all Oprah interview with Harry in March 2021, along with her feelings on the Kate vs. Meghan feud narrative that played out in the British tabloids. "She's a good person, and I think so much of what I have seen play out was this idea of polarity where if you love me you don't have to hate her, and if you love her, you don't need to hate me," Meghan said.
Meghan and Kate were both close to the Queen. In Harry's statement about his grandmother's passing, Harry addressed how much she meant to him and his family. He wrote:
In celebrating the life of my grandmother, Her Majesty The Queen—and in mourning her loss—we are all reminded of the guiding compass she was to so many in her commitment to service and duty. She was globally admired and respected. Her unwavering grace and dignity remained true throughout her life and now her everlasting legacy. Let us echo the words she spoke after the passing of her husband, Prince Philip, words which can bring comfort to all of us now: "Life, of course, consists of final partings as well as first meetings."

Granny, while this final parting brings us great sadness, I am forever grateful for all of our first meetings—from my earliest childhood memories with you, to meeting you for the first time as my Commander-in-Chief, to the first moment you met my darling wife and hugged your beloved great-grandchildren. I cherish these times shared with you, and the many other special moments in between. You are already sorely missed, not just by us, but by the world over. And as it comes to first meetings, we now honour my father in his new role as King Charles III.

Thank you for your commitment to service.
Thank you for your sound advice.
Thank you for your infectious smile.

We, too, smile knowing that you and grandpa are reunited now, and both together in peace.
Will Kate and Meghan become BFFs in the future?
Multiple sources have already predicted that they never will be, mainly because they are so different. And one source shared that "there was undue pressure where the whole world wanted them to be best friends," so perhaps all the added attention has made it even more challenging for them to truly bond.
One thing's for sure: Prince Harry and Meghan's move to the U.S. has definitely made it tougher to spend time with the royal family. So we probably won't see any cutesy BFF pics of Kate and Meghan in the near future.