Dan Howell and Phil Lester's love story has captivated millions of YouTube viewers – Are they together?
If you're a fan of YouTube's gaming content creators, then odds are that you've heard of DanAndPhilGAMES. The British duo, consisting of Dan Howell and Phil Lester, have been enchanting millions of viewers with their banter and serious gaming skills for well over a decade and, in that time, they've built a devout following online.
Although gaming is the main focus of their joint channel, many fans have taken an interest in Dan and Phil's private lives as well — namely if there's anything more than friendship between the two. With that being said, are Dan and Phil together romantically? Here's what we know about their relationship.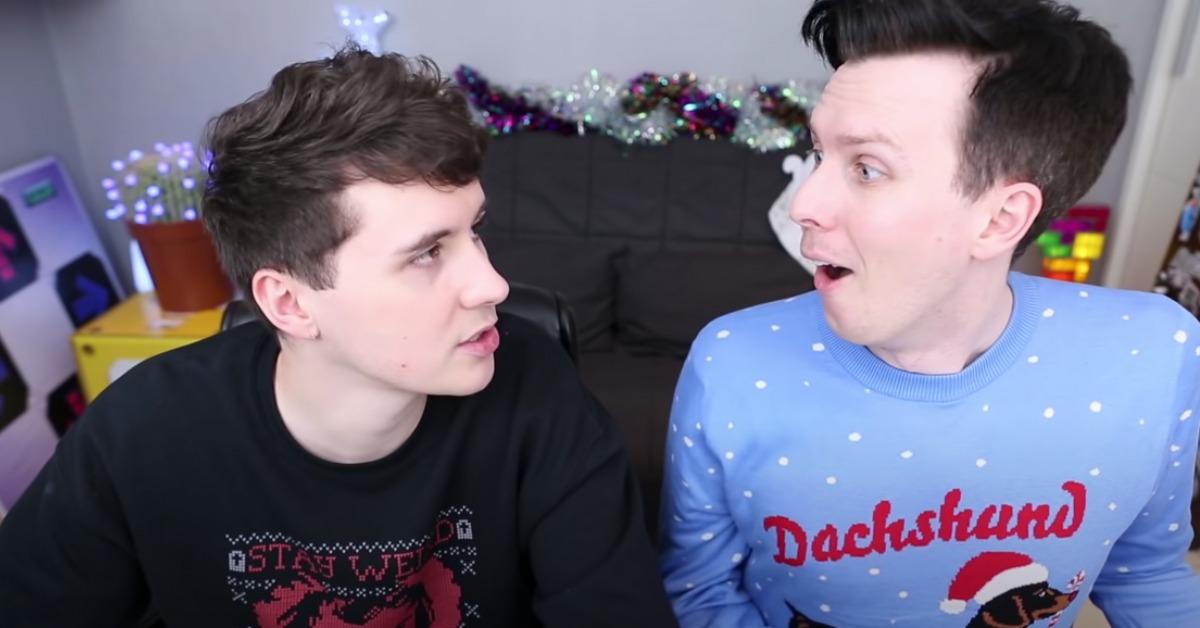 Are Dan and Phil together? The YouTube stars have kept their love lives fairly secretive.
In a video released in 2019 on his personal channel, Dan officially came out as gay and explained his feelings towards Phil to his fans.
"It was more than just a love affair," the gamer explained of his relationship with his channel partner. "This is someone who genuinely cared about my health. I trusted them. For the first time since I was a tiny child, I felt safe… we are truly great friends. As in, true soulmates."
Unfortunately, Dan didn't give a whole lot of information about their relationship status after that, telling fans in the same video, "I'm sure a lot of people want to know a lot more than that, which I take as a compliment," but he added that, "I prefer to keep my personal life private; Phil is similar."
Shortly after, Phil shared his own coming out video on YouTube, but it didn't include further insight into his relationship with Dan.
In 2021, the pair took to Twitter to reveal that they bought a house together, but their status as an online duo has changed in recent years. Dan and Phil haven't released a collaborative video on their gaming channel since Dec. 24, 2018. After that, Phil continued to post on his personal channel, while Dan opted to take a break from posting to YouTube for a couple years. Despite this, Dan has popped up on Phil's channel from time to time, like in this video shared at the end of 2021.
In January of 2021, they addressed the future of their joint gaming channel, saying that they may eventually return to it. "We haven't made some secret dramatic decision about secretly never coming back," Dan said. "I'm just taking time. Maybe we'll return to it, maybe we'll do streaming, Twitch stuff. Maybe we'll just do other things like this in the future."
"We didn't know how long the pause was going to be and we didn't anticipate that," Phil added. "But at the moment, it's still like, we don't know."
However, Dan returned to his channel in May of 2022 in a video called "Why I Quit YouTube." In it, he discussed his choice to step away, talking about stress, mental health, and "the clash between making content and being content."
Since then, Dan has posted a few more videos as part of a new show called Dystopia Daily. On Sept. 7, 2022, Phil even joined him for a video titled "Dan and Phil Finally Tell the Truth."
Well, if you were hoping for that truth to include specifics about their relationship, think again.
"People share too much on the internet and then everyone wants a little piece of your life," Phil said. "So, I like to be aloof and a little mysterious."
While Phil delivered his comments calmly, Dan chimed in with his signature sense of humor, adding that what Phil was trying to say was "you need to mind your f–king business!"
So, there you have it, folks! We may be in the dark about the status of Dan and Phil's relationship, but if one thing is clear, it's that fans are just happy to see the duo happy, thriving, and making content together once again.