Rumors are swirling that Tristan Thompson is dating OnlyFans model Juanita JCV.
Although Tristan Thompson and Khloé Kardashian have gone their separate ways, social media has become intrigued with the dating life of the NBA player. Maybe it's the fact that the 31-year-old has earned the moniker Tristan "Three Trimester" Thompson due to his extracurricular activities, but the world is always left astonished by his romantic life. And word on the street is that he's currently romancing OnlyFans model Juanita JCV.
Truth be told, the celebrity rumor mill is always buzzing with potential partners, so it's easy to want to write off any dating talk. However, since Tristan was spotted with the model right when an episode of The Kardashians Hulu series showcased Khloé discussing her second child with the baller — although it shouldn't be an issue — social media wants the tea on Tristan's possible new squeeze. Here is the rundown on Juanita JCV.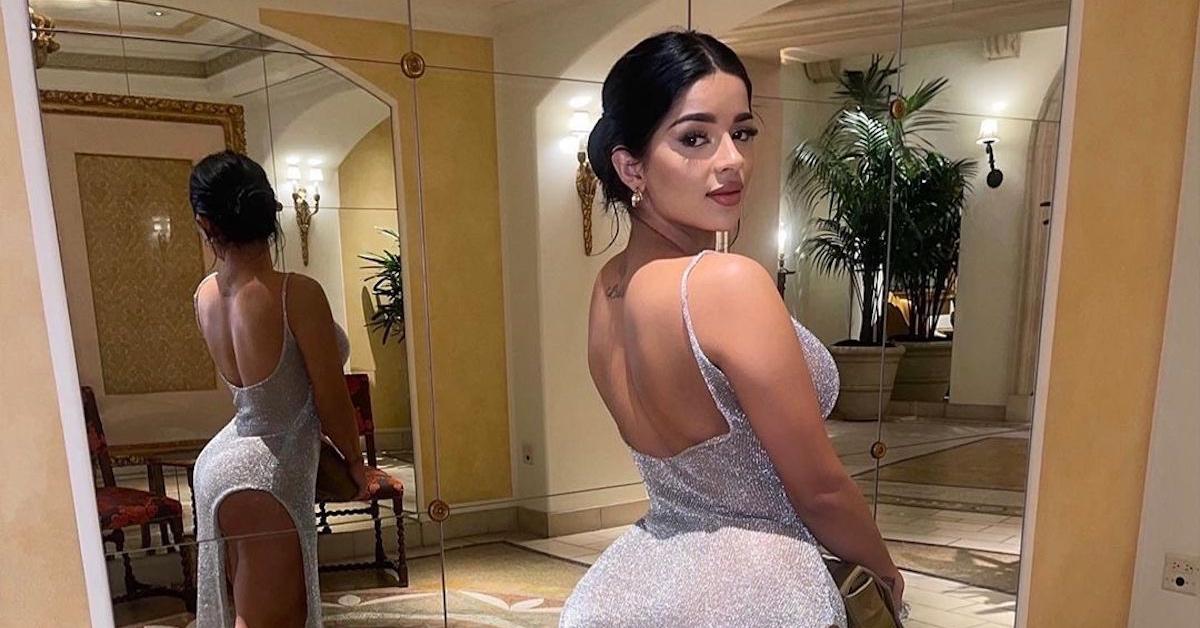 Juanita JCV is a social media influencer, swimsuit designer, and Only Fans and Instagram model.
Curvaceous women appear to be Tristan's type. As the world continues to marvel at Tristan's antics, it appears that the baller has no shame in his game as he was spotted hanging out with Juanita JCV.
Entertainment Tonight reported that Tristan and Juanita were spotted on two separate occasions — at rapper Jack Harlow's concert afterparty and outside of the restaurant The Nice Guy in West Hollywood.
So since it appears that the pair enjoyed an eventful date night, social media wants the deets on the pretty face.
According to Juanita's Instagram page, the curvy influencer has amassed a following of 2.2 million. While it's easy to see that some of her following comes from Juanita showing off her body, it's safe to assume that she has also gained followers due to her swimsuit company.
Juanita, who is seemingly the sole founder of JCV Swim, offers various swimwear and accessory items to customers. In fact, Juanita's Instagram page is filled with photos of the model rocking many of her creations.
As for Juanita's OnlyFans account, the beauty is offering a free 30-day trial, and then charges $14.99 a month to view her content. Additionally, she has 3-month, 6-month, and 9-month deals that range from 20 percent to 30 percent off for subscribers.
Juanita's TikTok account also features flirty videos of the model showing off her assets along with trend-focused TikTok videos that feature her friends. As of writing, Juanita has 66,000 followers on TikTok.
Tristan Thompson was spotted with Juanita JCV right when Season 2, Episode 1 of the Kardashian's Hulu series aired Khloé's reaction to his paternity scandal.
It's no secret that Tristan rotates women in the same fashion as he changes his underwear. However, since Khloé was speaking her peace about Tristan's paternity scandal with personal trainer Maralee Nichols, the world is interested in the Good American founder's take on the drama.
Keep in mind, when the drama with Maralee bubbled to the surface, Khloé revealed that it was around the same time she went through an embryo transfer.
"It's such a dark cloud around something that's supposed to be so joyous," Khloe said on the show via ET. "I was definitely very angry, and I think feeling bamboozled. All I know is I was being encouraged to do [the embryo transfer] by a certain date."
Khloé shared that she didn't want the public to believe that she wanted to have a baby with someone who's having a child with someone else. After all, the paternity of Tristan's son Theo and the embryo timeline fell in line.
"We did an embryo transfer like days before Thanksgiving, and I found out about Tristan's situation the first week of December," Khloé said on the show.
However, social media users share similar sentiments about Khloé's situation. Truth be told, Khloé was made well aware of Tristan's wandering eye during the Jordyn Woods scandal. That said, Khloé being worried about public perception is a bit comical given that backlash about Tristan's philandering didn't deter her from trying to rekindle a relationship with him — much more deciding to have more children with the man. So, why care about public opinion now?
With that in mind, most people believe that Khloé shouldn't be worried about clearing anything up. Her sole focus should be on bonding with her newborn son.
Keep up with the newest era of The Kardashians on Hulu and stream new episodes every Thursday.