What is going on in the House of Cornhole Commons? The "BagGate" controversy, explained.
A cheating scandal of epic proportions has rocked the Cornhole playing community. What is Cornhole, you ask?
Have you ever been to a party or restaurant where players are tossing bean bags into a wooden board? Welcome to the all-American sport of Cornhole (yes, that's basically how the game works!).
There actually is an American Cornhole League (forget Austin City Limits, this is the new ACL!) where professional Cornhole players compete, much like players in the NFL and MLB.
So what caused the "BagGate" cornhole cheating scandal exactly? We've got you covered on the bag-tossing tea.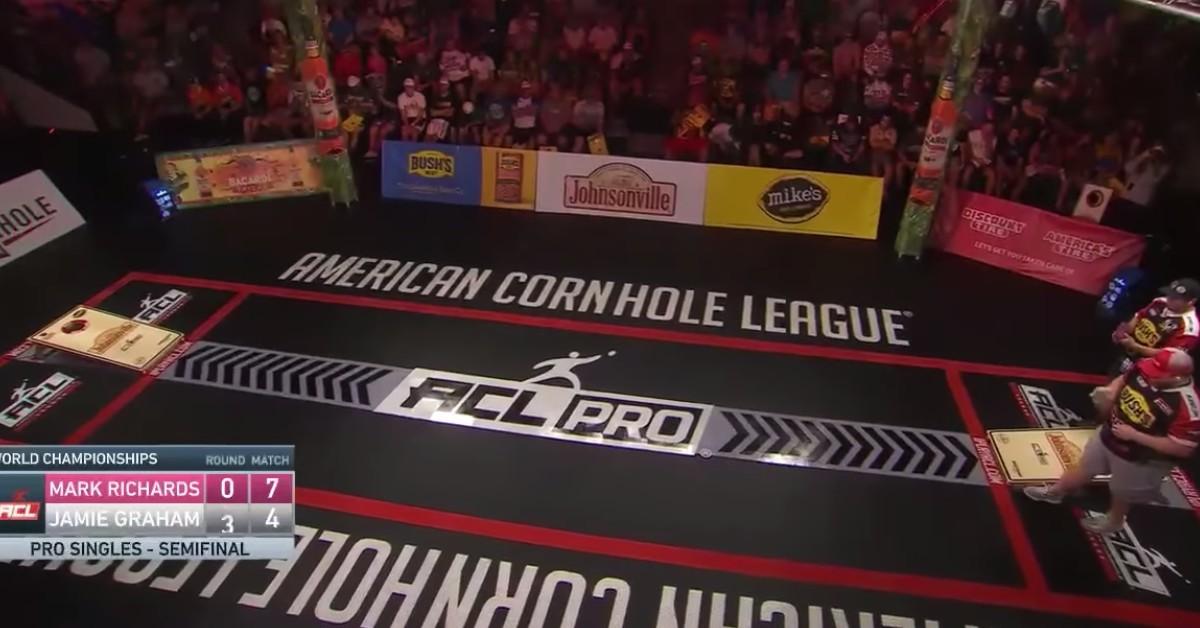 The "BagGate" cornhole cheating scandal explained.
According to CBS News, the scandal started like most controversies do — with a cheating accusation. American Cornhole League player Devon Harbaugh filed a formal complaint against two of his opponents, Mark Richards and Philip Lopez.
What was the accusation made in the complaint? Harbaugh told the Wall Street Journal (via CBS News) that, "I thought the bags [used in the Cornhole games] were too thin."
So was Harbaugh on to something? Per the same CBS News report, regulations state that cornhole bags must be 6 by 6 inches when placed on a flat surface, and weigh 16 ounces.
After officials investigated Richards' and Lopez's bags, they discovered that Harbaugh's suspicions were in fact, correct.
Click here if the TikTok video is not playing
Click here if the TikTok video is not playing.
Yes, the "BagGate" cornhole cheating scandal was big enough to be covered by outlets like NPR, The Independent, and, as we mentioned previously, The Wall Street Journal.
So what happened to the two players in question? Were they penalized for their illegal bags? Plot twist ahead!
Richards and Lopez were basically like, Well, if you're going to inspect our game bags, you should inspect Harbaugh's team's bags as well.
And guess what? Harbaugh's bags didn't live up to American Cornhole Regulation standards either! So was the entire match just called off due to all the cheating Cornhole players? (Did we mention this all was going down at the 2022 American Cornhole League Championships?)
Essentially, ACL officials ruled that all of the competitors likely weren't attempting to cheat with non-regulation bags on purpose. Trey Ryder, the official ACL spokesperson, noted to the Wall Street Journal that something good could result from BagGate, saying that the ACL is "taking a major step," by exploring "infrastructure for automated bag testing."
Ryder also said that he was confident that Harbaugh, Richards, and Lopez weren't actually trying to intentionally cheat with their bags for the championship rounds.
The president of the ACL, Eric Marvin, also had confidence that BagGate would actually be a good thing moving forward for the future of the sport.
He said in the Wall Street Journal report, "You're going to see some big shifts and movements in the infrastructure of the sport. This is when sports evolve."