Simone Johnson stunned the WWE Universe with a surprising debut as Ava Raine.
When it comes to professional wrestlers that demonstrate massive crossover entertainment potential, Dwayne "The Rock" Johnson is the first person that comes to mind. The most electrifying man in sports entertainment was a mega star in the WWE before going on to set his sights on acting and did a darn good job in many of his appearances.
After all, the Fast & Furious franchise became a mega-blockbuster thanks to Dwayne.
And now, his daughter Simone Johnson is undertaking a WWE career of her own.
News of Simone's interest in professional wrestling first began bubbling back in 2020, and Simone officially made her debut during NXT on Tuesday, Oct. 25, 2022. Keep reading for everything we know about Simone's wrestling career and her in-ring persona.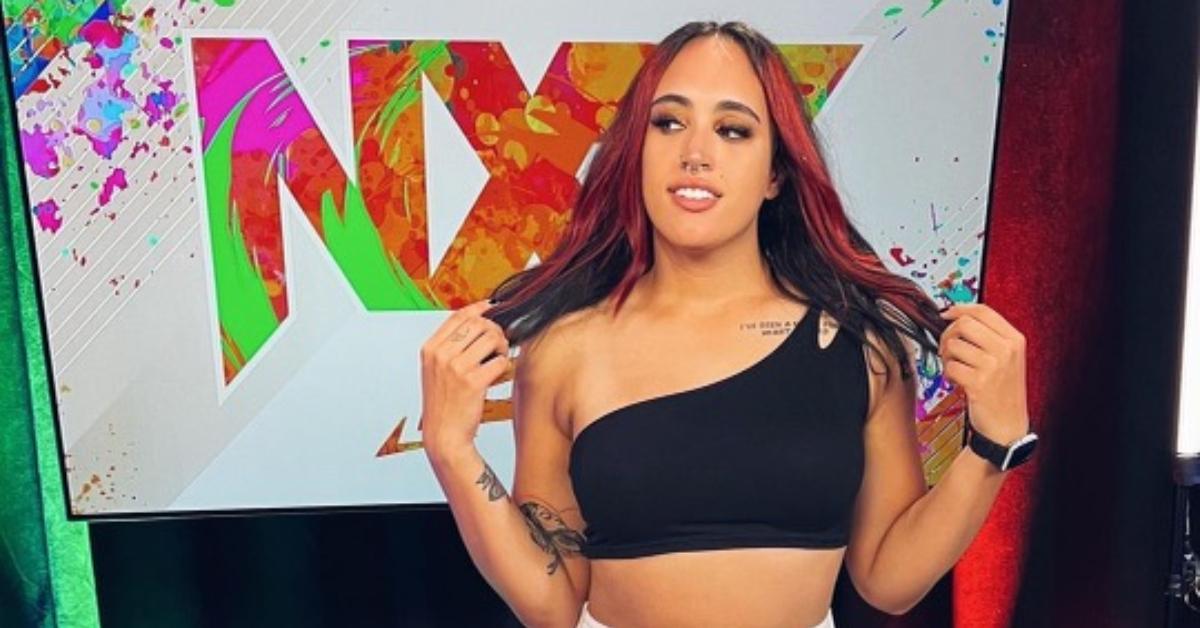 The Rock's daughter officially made her WWE debut.
At last, The Rock's eldest daughter Simone has officially arrived in the WWE. The 21-year-old wrestler, who goes by the ring name Ava Raine, made her television debut during the Oct. 25 episode of NXT. She surprisingly revealed herself as the newest member of the Schism, a cult-like faction that includes Joe Gacy, Rip Fowler, and Jagger Reid.
"The love and acceptance the Schism has given me defies any preconceived notions of who I'm supposed to be," the young performer stated on the show. "This family completes me. I am Ava Raine."
Following her official debut, WWE fans praised her for paving her own path instead of simply relying on the fact that she is The Rock's daughter. One person tweeted that they were "all for how Ava Raine debuted."
"The first fourth-generation women's superstar, daughter to perhaps the greatest talent to come out of the industry in a campy, goth heel stable, no acknowledgment of her lineage, character-driven, and a name to stand on her own. I'm excited," they added.
"I like the way they bring in Ava Raine!" another person said. "Despite being the daughter of The Rock, she wants her first impression to be her OWN thing, and not any sort of reference to her father. Now THAT is how you bring in the children of legendary wrestlers!"
A third fan commented that "putting The Rock's daughter with The Schism is probably the best thing you can do to start off her career. Let her create her own character and not be stymied by having to live up to her legacy like her father originally had to when he debuted in 1996."
Simone signed and began training with WWE in February 2020.
In February 2020, The Rock announced via Instagram that his daughter had officially signed with the WWE and started training full-time at the organization's performance center in Orlando, Fla. The then 20-year-old was previously training on a part-time basis while finishing up high school. Once she graduated, she focused on furthering her family's pro-wrestling lineage.
Simone's great-grandfather, "High Chief" Peter Maivia, along with her grandfather Rocky Johnson, and her father, were all some of the top-ranking talents in their day and are current WWE Hall of Famers.
Paul Levesque (aka Triple H), former WWE superstar and current chief content officer, previously released a statement regarding Simone's future with the organization after her deal was announced. He spoke of Simone's work ethic, her family history with the promotion, and portents of great expectations from the up-and-coming wrestler.
"Simone Johnson's unbridled passion and incredible drive have earned her a coveted spot training with the elite athletes from around the world at the WWE Performance Center," he said at the time. "Not only does Simone now have an opportunity to cultivate and display her passion for WWE within the Performance Center, but she'll carry on the tradition of her incredible family lineage while creating her own impact as WWE's first fourth-generation Superstar."
The Rock is incredibly supportive of his daughter's WWE dreams.
It's no secret that wrestling isn't exactly an easy business, which would lead many to think that The Rock really wouldn't want his daughter to get too caught up in it all. However, Dwayne is incredibly supportive of his daughter's journey and has given off nothing but positive vibes regarding her foray into the world of sports entertainment.
"I love the idea," he told Good Morning America in 2018. "We had this big conversation, she came with me to Hong Kong [and] Beijing. I said, 'Honey, whatever your passion is, I support that.' And wrestling was good to me, I started my career in Madison Square Garden. So, yeah, bring it on, she's going to be a champ."
In July 2022, she cut her first promo at an NXT house show. Later that month, The Rock spoke with Entertainment Tonight at the premiere of DC League of Super-Pets and said he was "very, very proud" of his daughter.
"She's made history [becoming WWE's first fourth-generation wrestler]. Very, very proud of her," he said. "She is fiercely independent. It's very important for her to make her own way, blaze her own trail, blaze her own path. She doesn't come to me looking for a lot, which I respect. And I'm here watching and supporting."