WWE Superstar Carmella and her husband share a heartbreaking announcement.
When it comes to the WWE, the wrestling promotion is responsible for more successful relationships than The Bachelor. From Triple H and Stephanie McMahon to Becky Lynch and Seth Rollins, romance is clearly soaring through the air backstage.
One of the more recent real-life WWE romances to flourish centers around Carmella. In early 2019, the former Women's Tag Team champion began a relationship with a certain color commentator. On that note, who is Carmella's husband? Keep reading to find out. Plus, learn more about their heartbreaking announcement.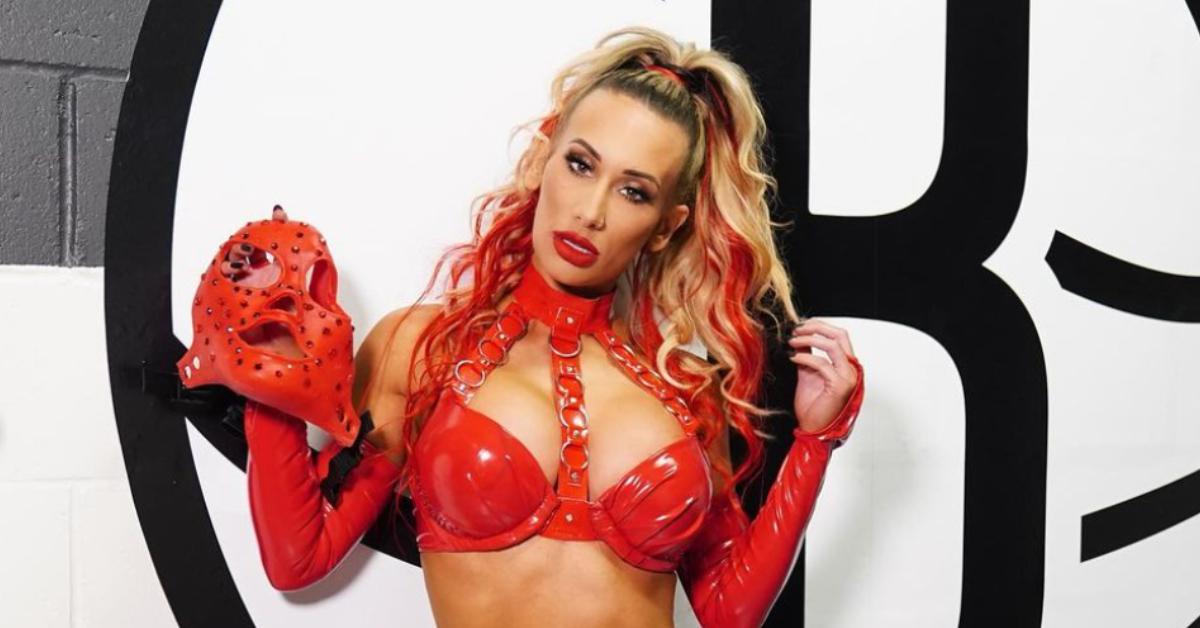 Carmella's husband is a WWE color commentator.
In February 2019, the four-time 24/7 champ found herself the subject of many vicious headlines — why is that?
Well, the ex-wife of former professional wrestler and current WWE color commentator Corey Graves publicly accused Carmella of being a homewrecker. However, sources close to The Sportster revealed this was not the case. As it turns out, Corey and his ex-wife were separated and already in the divorce process.
In October 2021, the couple announced their engagement (Corey popped the question on Carmella's birthday, how sweet). On April 7, 2022, the two exchanged vows in front of family and friends, including several WWE superstars like Natalya, Liv Morgan, Baron Corbin, and Bayley.
Regarding their wedding taking place just days after WrestleMania 38, Corey told TV Insider that there would be "no rest for the weary." He added that he was really "looking forward to getting on a plane to Hawaii for our honeymoon where we can actually decompress and enjoy and put my phone down for about six days."
Corey joined WWE in 2011 under a developmental contract. He wrestled on NXT for three years before sadly announcing his in-ring retirement on Dec. 11, 2014. Since then, he's been working as a color commentator on Monday Night Raw.
Carmella recently opened up about going through an ectopic pregnancy.
On Oct. 31, 2022, the former SmackDown Women's champion revealed she suffered an early miscarriage. She also opened up about going through an ectopic pregnancy.
"I've gone back and forth with myself about posting this because I'm not looking for any sort of sympathy, but since today is the last day of Pregnancy and Infant Loss Awareness month, I wanted to share my story," Carmella wrote on Instagram alongside a photo of herself in a hospital bed.
"I never thought something like this would happen to me, especially after suffering from an early miscarriage in September," she added. "Nothing can prepare you for this news after getting a positive pregnancy test. I was cautiously optimistic this time around after the early loss I had already experienced but was hoping for the best."
Carmella recalled spending her entire Saturday in the emergency room after feeling "some sharp pains" on her left side. "After several tests and ultrasounds, I was given the devastating news that this was, in fact, an abnormal pregnancy," she said. "The reason I'm sharing all of this is because in the moment it feels so isolating."
Overall, the professional wrestler hopes that sharing her journey will help others.
"Why doesn't anyone ever talk about this? My husband and I watched @ilizas new comedy special last week and she spoke openly about her miscarriage. I immediately burst into tears," Carmella wrote. "She went on to explain that we should be speaking more openly about this topic so we, as women, don't blame ourselves and think there's something wrong with us."
"I want to do the same. I'm part of this statistic and it's happening to me. … I know I'll eventually recover from all of this mentally, physically, and emotionally," Carmella concluded. "For anyone dealing with ANY type of pregnancy loss, I want you to know your feelings and emotions are valid, there is NOTHING wrong with you and you are not alone."
Our thoughts are with Carmella and Corey during this time.