Who is one-quarter of the Try Guys Eugene Lee Yang dating? He and his partner are totally adorbs.
Whether they're dipping their toes into the campy world of drag or literally getting colonics on camera, the Try Guys will do just about anything for our entertainment. Featuring a core group of content creators Keith Habersberger, Ned Fulmer, Zach Kornfeld, and Eugene Lee Yang, the Try Guys was originally a group formed for BuzzFeed. Together, for their very first BuzzFeed video in 2014, the gang of bros tried wearing ladies' underwear for the first time.
The Try Guys became, well, a thing, as they created viral videos together like "The Try Guys Try American Ninja Warrior" and "The Try Guys Shoot Guns for the First Time." In 2018, however, the crew decided it was time they leave their steady jobs at BuzzFeed and turn the Try Guys brand into a series franchise on their own. They built their own independent production company, 2nd Try LLC, and have been killing it with almost eight million subscribers on YouTube ever since.
Though each of them is a lovable nerd, the heartthrob of the group has to be filmmaker and cosplayer Eugene Lee Yang. Who is one-quarter of the Try Guys dating?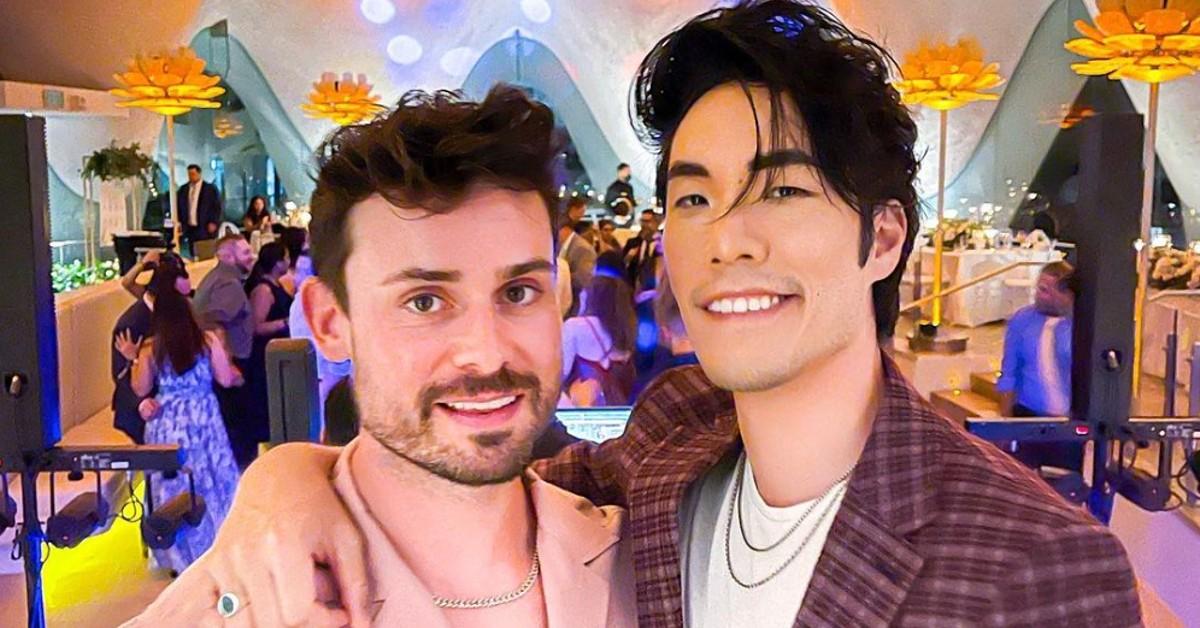 Eugene Lee Yang came out as gay in 2019.
On June 15, 2019, the Try Guys' YouTube channel released a video entitled "I'm Gay – Eugene Lee Yang," which acted as a coming-out announcement for the beloved content creator. The artistic interpretive dance video gives viewers a look into Eugene's battle with masculinity and femininity as well as being gay while growing up in a religious household. It goes on to show the joy he felt when he found the LGBTQ+ community, though coming out of the closet didn't come without brutal hardships.
The raw, passionate video — which features music by ODESZA — amassed a whopping 20 million views and acted as a fundraiser for the suicide-prevention organization The Trevor Project.
"Thank you, from the bottom of my heart, for your incredible, genuine responses to my video. I wouldn't be in the position I am today to tell my stories without your support of my weird, dark, artistic form of expression," Eugene wrote on Instagram on June 17, 2019.
"It was all of you who inspired me to gain the courage to produce this. I promise that I'll continue to bring this level of raw honesty and representation in all of my future work as a filmmaker and performer."
Now that Eugene has done the bravest thing he could possibly do, who's he dating?
Eugene is currently dating Matthew McLean.
Though it's not exactly clear how long they've been together, Eugene is currently in a relationship with Matthew Joseph McLean, a manager at EY, per his LinkedIn profile. Matt's Instagram bio details that he's into travel, food, style, and design.
The first photo on his Instagram featuring Eugene shows the two partners getting ready to jump off the Sydney Harbour Bridge! With bungees, of course. It's from September 2019.
Matt has appeared in some Try Guys videos, as well as in a November 2020 episode of The TryPod podcast aptly titled "Eugene's Boyfriend Reveal – You Can Sit With Us Ep. 20."
In 2022, the couple is still going strong, as Eugene recently posted adorable photos on Instagram of Matt with the caption "Today is Matt's birthday AND #InternationalDogDay so here's a Virgo raising his three kids."
What a sweet couple. Don't mind us, we'll be stalking Eugene's Insta for more cuteness.