Popular Apex Legends Twitch streamer Jacob 'HisWattson' McMillin has pledged to give all of his advertising revenue from the site to gamers in need.
Not every day on the internet can be a positive one. But it's always great to see when some go the extra mile to do good in the world.
Streamers especially have done fantastic jobs supporting charities and communities throughout the years. We've seen tons of Twitch charity events sometimes raising hundreds of thousands, if not millions for those in need.
Now, Apex Legends streamer HisWattson is looking to help out his community, pledging to donate all future ad revenue from Twitch to gamers in need.
HisWattson vows to give Twitch ad revenue
In a now-deleted tweet on October 15, the popular Apex Legends pro explained why you'll never see mid-roll ads on his channel.
Revealing in a screenshot he's incentivized by the platform, running just one minute of ads per hour will earn HisWattson a staggering $20k per month on the low end if he streams 190 hours a month. Running 4 minutes of ads per hour would boost that figure up to $59k.
Instead of letting it all go to waste, one fan suggested he uses the money to give back to his community, which Wattson thought was a great idea.
"Have decided that I will be running ads on my channel and spending it on giving gaming equipment to people in my community who cant afford to buy it themselves," he wrote on Twitter.
He continued: "No idea how to do this or what my taxes are gonna look like but I'm gonna make it happen."
The gaming community so far has shown a ton of love and support for the streamer, with many praising him.
Hopefully, more creators will follow in Wattson's footsteps in the future and give back to those who need it.
Who is HisWattson?
Jacob "HisWattson" McMillin is an American player who is currently playing for FURIA Esports.
HisWattson is one of the top Apex Legends pro players. He frequently tops the charts for Twitch viewership and has some big achievements to his name in competitions.
HisWattson is a partnered Twitch streamer and gamer who started broadcasting on the Amazon-owned livestreaming platform in March 2020. His channel started gaining traction at the beginning of the year and saw massive popularity growth in June 2022.
The American streamer currently has 389,852 followers and averages more than 7.3k viewers per stream. His channel witnessed a peak viewership of 10,762 fans during the Apex Legends and Naraka: Bladepoint livestream in August 2022.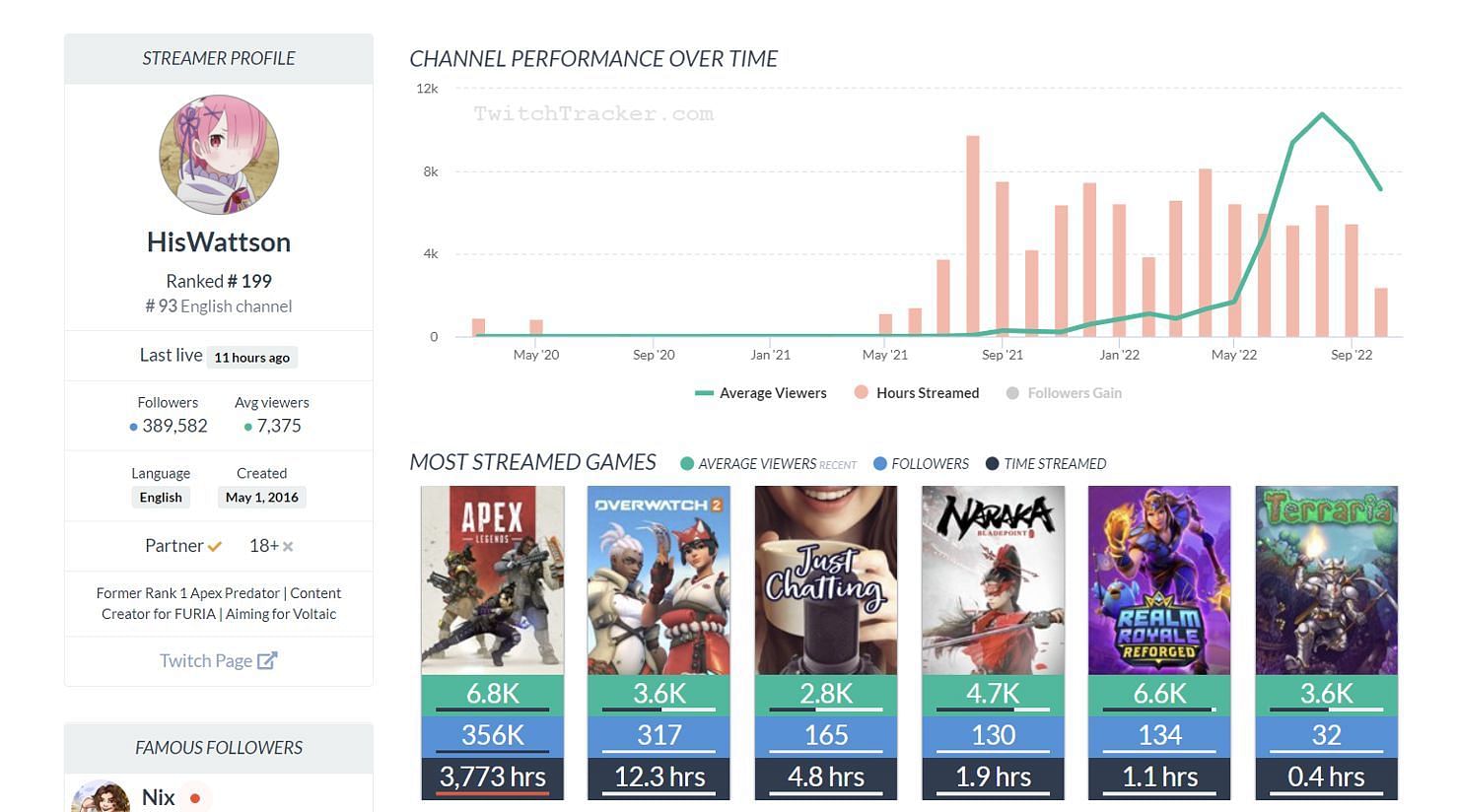 HisWattson is primarily an Apex Legends content creator, having played fast-paced battle royale for over 3,700 hours. Aside from this, he has also played other popular games such as Overwatch 2, Naraka: Bladepoint, Realm Royale Reforged, Terraria, and Warframe. He also plays professionally for FURIA Esports. The team finished second in the ALGS Championship in July earlier this year.
Months back, the player went through some problems with EA.
He was accused of being banned from tournaments. This followed a public spat, where claims of a HisWattson blacklist keep him from competing. However, the player's version of events cut out a lot of very public bad behavior that many others warned would result in a ban.