Here's the 4-1-1 on Bling Empire: New York' Cast's Instagrams and Ages.
The hit Netflix series Bling Empire gives fans the inside scoop on the personal and professional lives of super-rich Asians living in Los Angeles. The group is full of entrepreneurs, philanthropists, and business people who live life on their terms with no expenses spared.
Given the success of Bling Empire, it's no surprise that Netflix decided to create the spinoff Bling Empire: New York, with Season 2 alum Dorothy Wang making a move from Los Angeles to the Empire State.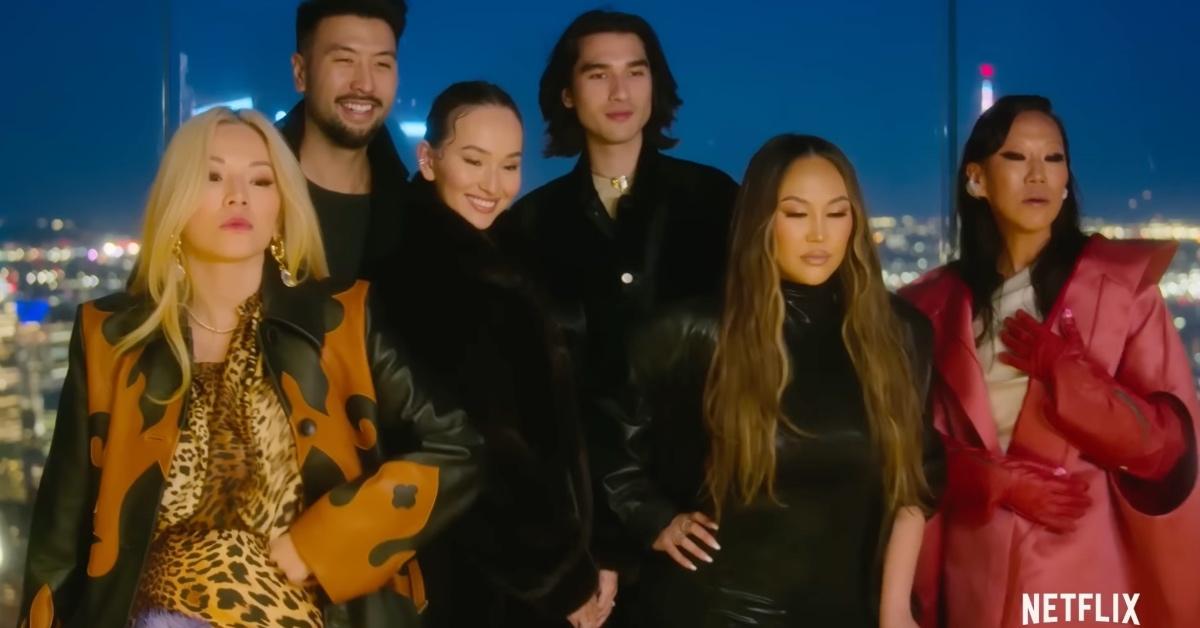 Just like the OG series, the cast is filled with billionaires, influencers, and business people taking on the Big Apple while juggling their friendships and relationships.
Since the OG cast consists of folks of all ages, fans are excited to meet the NY cast and get a glimpse of their life. Luckily, we've compiled a list of the full cast and their ages (and Instagram accounts!) so you can have some background while binging the new series.
Here's the 4-1-1.
Vika Abby — Age: 27; IG: @vika.abby
First up, we have the youngest of the crew, 27-year-old Vika. The gorgeous brunette works as a model and has a deep affinity for travel. Vika has also been in a longtime relationship with her boyfriend and fellow co-star Richard Chang.
Follow Vika here.
Blake Abbie — Age: 32; IG: @blakeabbie
Next up, we have Blake! The 32-year-old has gained notice as the editor-at-large of A Magazine Curated By, an arts and fashion publication. Aside from his journalism career, Blake is also an actor and is said to be trying his hand in the screenwriting industry.
Follow Blake here.
Dorothy Wang — Age: 34; IG: @dorothywang
Come through, Dorothy! Bling Empire fans are pretty familiar with Dorothy since she appeared on Bling Empire Season 2 and told folks about Kane's conniving ways. The beauty works as a real estate agent and is the daughter of businessman Roger Wang.
Aside from Dorothy's financial pursuits, she also runs a self-titled website that chronicles her traveling adventures.
Follow Dorothy here.
Richard Chang — Age: 38; IG: @chairman_chang
Hello, Richard! The 38-year-old is a business mogul who currently serves as the chief growth officer for Hudson Medical + Wellness. Before working in the medical field, Richard sprinkled his magic as the director of merchandise planning at Calvin Klein and a consultant for forensic and litigation at FTI Consulting, and more. He also founded Un Poco Loco, an experiential taco restaurant.
Not to mention, Richard is very big on charity and regularly gives back to various organizations.
Follow Richard here.
Deborah Valdez-Hung — Age: 40; IG: @deborahhung
Hello, Deborah! The 40-year-old is a lover of all things fashion and travel. Deborah is married to fellow co-star Stephen Hung and the couple have made quite a name for themselves as the ultimate networking pairing.
Aside from serving fashionable looks, Deborah has a career in law and works as a businesswoman.
Follow Deborah here.
Tina Leung — Age: 40; IG: @tinaleung
There's a reason why Tina is labeled the fashion "It" girl. Miss ma'am always serves up a fashionable look with ease. Her fashion taste comes as no surprise since she works as a model, blogger, and stylist with frequent appearance in high-fashion editorials.
Follow Tina here
Lynn Ban — Age: 49; IG: @lynn_ban
Next up, we have Lynn! The 40-year-old beauty is known as a jewelry and fashion aficionado. She has worked with the likes of Beyoncé and Rihanna thanks to her sharp eye for design and handcrafts custom pieces for the elite.
Follow Lynn here.
Stephen Hung — Age: 64; IG: @stephenhungofficial
Last but certainly not least, we have Stephen Hung. Stephen looks like money! The 64-year-old is a billionaire businessman currently at the helm of SH Capital Group, a private investment firm for real estate, hospitality, and other luxury industries, and serves as a vice chairman of the Rio Hotel & Casino, per LinkedIn.
Follow Stephen here.
Bling Empire: New York is currently available to stream on Netflix.