Brittney Griner used to have to cover her tattoos during games – A look at the NBA star's impressive tattoo collection.
Phoenix Mercury star Brittney Griner is finally getting her life back after being detained in Russia for nearly 10 months on drug charges. The seven-time WNBA All-Star was released on Dec. 8 and has since been happily reunited with her wife Cherelle.
Now she can return to the things she loves doing, such as shooting hoops and getting tattoos. As she previously tweeted, "Tattoos are the best." And arguably, Brittney has one of the best tattoo collections in basketball.
However, her body art wasn't always extolled by those around her. Keep reading to find out why she used to have to cover up her tattoos as well as learn the meaning behind some of them.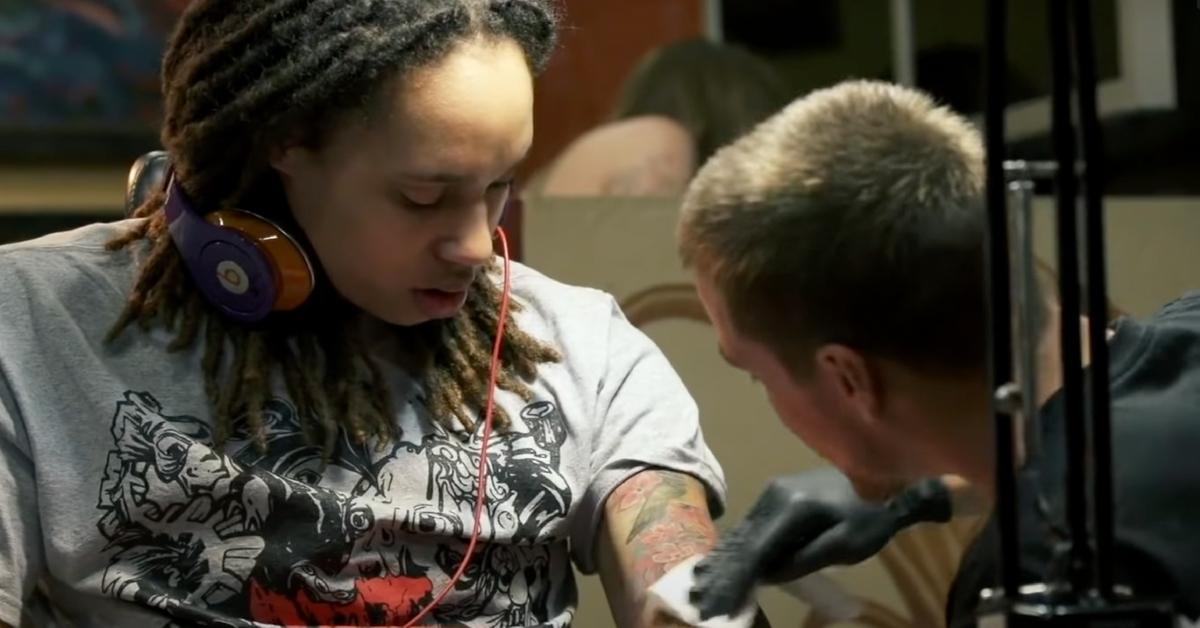 Brittney Griner wasn't allowed to show her tattoos during games.
Brittney studied at the Baptist university Baylor University in Waco, Texas, where she became one of the greatest female college players of all time. But unfortunately, her coach Kim Mulkey wasn't too keen on her tattoo collection and required her to wear a long-sleeved t-shirt under her jersey.
"Brittney couldn't show those tattoos or talk openly because it was Baylor," former teammate Brooklyn Pope told ESPN. "It would have been frowned upon."
And on top of that, Brittney felt even more caged in as her sexuality also became a point of conflict at times.
What do Brittney Griner's tattoos mean?
Brittney has a massive collection of tattoos. And while she hasn't spoken on them all, she has shared the backstory behind a few of them.
During her time at Baylor, she felt very caged in and unable to be herself. As a result, she got a tattoo of two skulls on the right side of her lower back. One skull was happy, the other was sad, as a reminder to Brittney to "laugh now, cry later."
Other tattoos include her iconic flower shoulder tattoo on her left shoulder that features a hummingbird. "It's to show my girlie side," she told ESPN. "So many people exist between the two ends of the spectrum, but no one wants to admit it. If you're in between, they say something is wrong with you. 'We can fix you.' Well, I don't need fixing," she said.
In a 2013 episode of My Ink, we actually got to see Brittney getting her sleeve done. Besides wanting to show more of her feminine side, Brittney explained that she also just loved the outdoors. "I love nature. I'm a big country girl," she said, adding that she wanted her sleeve "a whole tribute to what I love on the farm."
Her nature sleeve is so iconic, that over the years fans have bought faux ones to honor her.
Brittney also nodded to her double female symbol tattoo on her hip, which she joked was her "lesbian tattoo."
You can truly see Brittney is in her element when her ink is on full display. We're so happy to hear she now is able to express herself!