Who is King Combs dating right now? Diddy's son and his Girlfriend Raven Tracy's steamy PDA video caused a stir.
Christian Combs is a 24-year-old American Rapper. He was born Christian Dior Combs on 4th April 1998 in Los Angeles, CA. Famously called King Combs, he is best known as Diddy's son. His zodiac sign is Aries.
Well, being an heir to Hip Hop, many might be curious to know more about his current love life. On August 2022, the renowned rapper's son sparked dating rumors with a model and entrepreneur who is 5 years older than him. Here's what we know about his current girlfriend and his exes.
Who is King Combs dating right now?
Christian Combs is currently off the dating market as he is in a relationship with an influencer named Raven Tracy.
Born on June 24, 1993, Raven Tracy is a 29-year-old model, entrepreneur, and body positivity influencer. She is active on Instagram with around 2.3 million followers.
Diddy's son Christian "King" Combs kicked off the year reaffirming his love with his boo thang Raven Tracy … and his fav love language is apparently physical touch!!!
The 2 linked up toward the end of 2022, with Raven penning a rather lengthy and affectionate IG love letter to Christian … with a saucy video attached.
With SZA's new hit "Snooze" playing, Christian goes in for a hug … and sticks around for a five-finger embrace of Raven's apple bottom, much to the keen eye of her IG audience … who think the interaction had him at half-mast. 🙈
Christian appeared to be foreshadowing any wild comments and flipped the bird to whoever it may concern … while flexing his washboard abs for good measure.
Raven called their union God-sent and says Christian prioritizes their relationship … which is impressive because he's all about grinding in the studio these days.
Prior to Raven, Combs had dated a few women. Christian Combs has been in a relationship with Breah Hicks from 2014 to 2021. Christian Combs has had an encounter with Lataina Williams. Christian Combs is rumoured to have hooked up with Kylie Jenner (2020), WhosDatedWho.
Why did King Combs and Breah Hicks break up?
In April 2021, Instagram model Breah Hicks ended her longtime relationship with Christian over infidelity.
Breah and Christian were one of the cutest young couples in Hollywood. And many people loved the fact that he chose to settle with a young woman who is low-key and not tied to any drama.
But all good things eventually come to an end, and the couple officially called it quits after six years of dating.
According to The Shade Room, Breah and Christian's relationship ended due to alleged infidelities, lies, and lack of growth.
The site reports that they were already on the rocks due to Christian's infidelity and lying. And although Breah initially broke things off after Valentine's Day, the site shares that she had decided to stay in hopes of things getting better and eventually forgiving him.
However, things are now completely done between the young couple for good.
In fact, Breah low-key exposed Christian for possibly cheating on her with rapper G Herbo's girlfriend, Taina Williams. In October 2018, model Ari Fletcher, the ex-girlfriend of G Herbo, went on Instagram Live to talk about her breakup. In the Live, Breah commented that Taina does not respect relationships.
"Sis is obsessed with guys that got whole a– girlfriends. Been there done that girl lmaoooo," she wrote.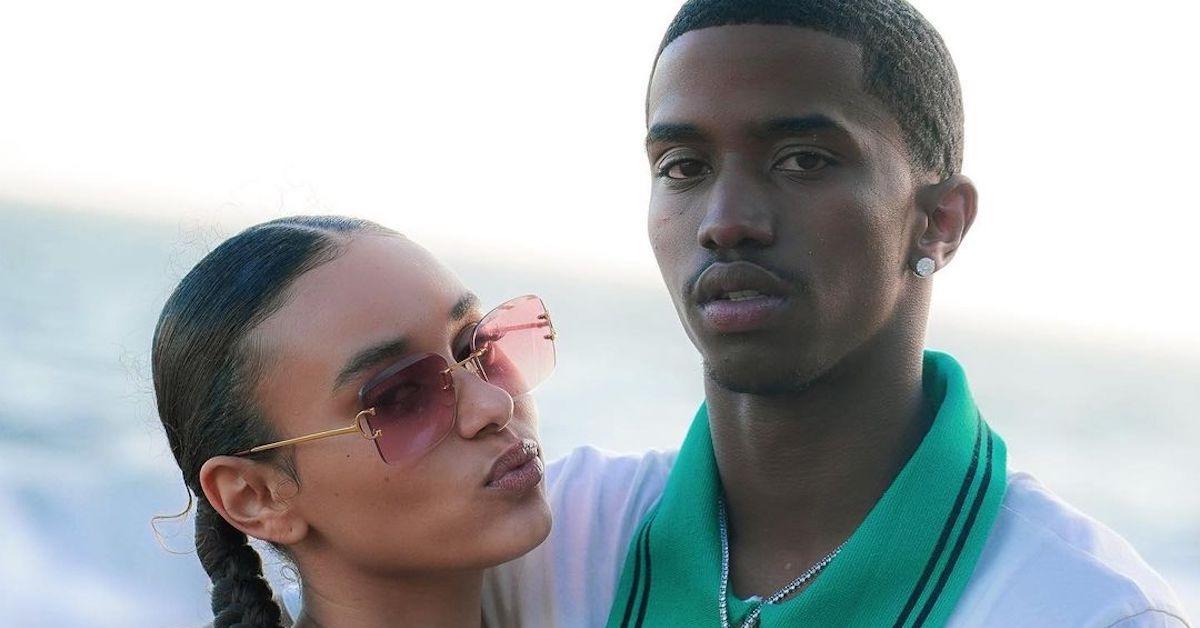 And many fans are not surprised. People have been saying Christian's behavior is to be expected because Diddy is a known cheater, while others are happy that Breah can be free and live her life since she's so young.
Since the breakup is still fresh, there is a chance that they can get back together soon. But until then, it's best for them to focus on their respective careers.
Who is King Combs and what is his net worth?
Christian Combs aka King Combs is an American rapper, singer, and social media personality with an estimated net worth of $4 million.
He is best known for being the son of Sean "P. Diddy" Combs.
Christian Casey Combs was born in California in April 1998.
He is the son of Diddy and Kimberly Porter.
Artists including Kenrick Lamar, Meek Mill, and French Montana performed at his Sweet 16 birthday party while Khloe Kardashian and Lauren London attended.
Christian Casey Combs has more than two million followers on Instagram.
His sisters are twins named D'Lila Star and Jessie James and his brother is named Quincy Brown.
Christian dated Breah Hicks. Sean Combs was married to Kimberly Porter from 1994 to 2007 and then married Cassie Ventura from 2007 to 2018.
Christian Casey Combs is sometimes known as King Combs and has released the album Cyncerely and the extended play C3.
Christian Casey Combs presents a custom-made chain to rapper Kodak Black. The pair recently shared their Lil Kim-sampled single, "Can't Stop Won't Stop."
As their new collaboration racks up streaming numbers, King Combs is officially welcoming Kodak Black into the Bad Boy family.
Christian "King" Combs is the rapping doppelganger of his famous father Sean "Diddy" Combs, and he shows just how closely he's studied his dad's career with each new release.
King has a new single "Can't Stop Won't Stop" featuring Kodak Black which samples the Lil Kim classic "Crush on You," and following its release, Combs got the Florida rapper a thank you gift.
Combs was back online recently to show that he gave Kodak a Bad Boy chain with the official iced-out logo. "You know what it is man," Combs said in a video. "New generation of Bad Boy."
Kodak was flanked by his team at a festival when he received the expensive piece that was created by famed celebrity jewelry designer, Elliot Eliantte. Combs has been promoting this track heavily, even earning a few reposts from Lil Kim as she celebrates "Can't Stop Won't Stop" with her Bad Boy family.
In the caption to his video with Kodak, Combs added, "Had to bless my brother with the official Bad Boy chain! Welcome to the family! @KodakBlack THANK YOU for locking in and making this hit with me! #CantStopWontStop out now on all platforms!"
Check out the chain below as well as the visual to "Can't Stop Won't Stop."