David Crosby is known for a lot of things, but no one could have predicted that late in life he would be such a polarizing presence on Twitter. While social media is equal parts glorious and gory, it also provided insight into some celebrities who often felt untouchable or who might normally be lost in the annals of time.
Sadly, it was recently announced that the former founder of both The Byrds and Crosby, Stills, Nash & Young passed away at age 81 on Jan. 19. As part of a supergroup made up of members of Buffalo Springfield and the Hollies, David Crosby wrote incredible songs while with CSN&Y. In Teach Your Children Well, they sang, "Must have a code that you can live by. And so, become yourself. Because the past is just a goodbye."
As we say goodbye to David Crosby, we reflect on how he taught so many.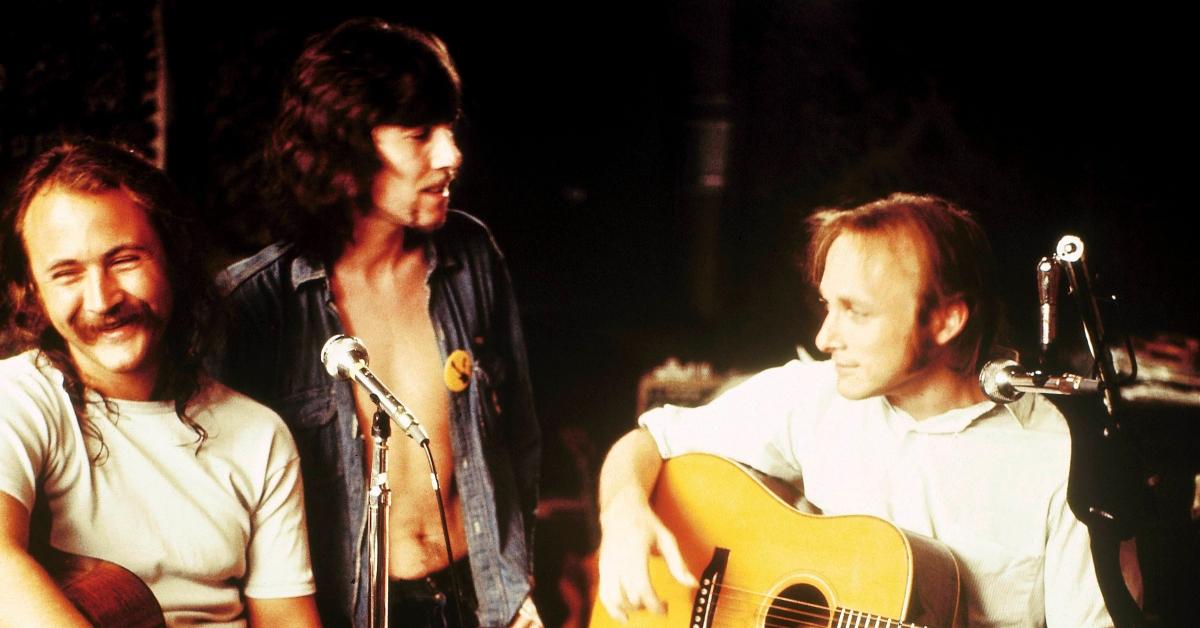 Here's what we know about David Crosby's cause of death.
As of the time of this writing, David Crosby's cause of death has yet to be revealed. What we do know is that he was still fairly active on Twitter as recently as Jan. 18, the day before his death, when he retweeted a video of environmental activist Greta Thunberg being arrested. It seems fitting that the last "word" of a man who rose to fame in the 1960s would be video of a protest.
In what now feels either cryptic or prophetic, Mr. Crosby retweeted the words "Heaven is a place on earth," earlier on Jan. 18. It's unclear as to why the title of a Belinda Carlisle song from 1987 was speaking to him that day, but it holds more weight since his passing.
Fans as well as his peers have taken to social media to express their sadness. Perhaps one of the most moving tributes was penned by former bandmate Graham Nash. The two had fallen out but that didn't erase the time they'd spent together.
"I know people tend to focus on how volatile our relationship has been at times, but what has always mattered to David and me more than anything was the pure joy of the music we created together, the sound we discovered with one another, and the deep friendship we shared over all these many long years," Graham wrote in an achingly beautiful Instagram post. "David was fearless in life and in music. He leaves behind a tremendous void as far as sheer personality and talent in this world."
David Crosby was loved by many.
Per Variety, "Crosby is survived by his wife Jan Dance, their son Django, son James Raymond, and two daughters, Erika and Donovan, from previous relationships."
While it's easy to get lost in his many accomplishments with The Byrds, CSN&Y, and Buffalo Springfield, as well as his status as a member of the Rock and Roll Hall of Fame (twice over), it's clear his music left a mark on so many.
Former Beach Boy Brian Wilson tweeted, "David was an unbelievable talent — such a great singer and songwriter. And a wonderful person. I just am at a loss for words."
New York Times Pop Music Critic Lindsay Zoladz summed Mr. Crosby up in one interaction: "A few years ago I interviewed Crosby over the phone. He called promptly ('Lindsay? David Crosby') but said with real gravitas, 'Here's the situation: I really want to talk to you, but I'm at a hotel and my breakfast just arrived.' I respected this immensely."
As the world continues to mourn publicly and privately, it's as good a time as any to put on a little David Crosby. Try not to take life so seriously. And above all else remember, "It's been a long time comin'. 'It's goin' to be a long time gone. But you know the darkest hour is always, always just before the dawn."