Fans think that SZA got plastic surgery and they might be onto something.
If you were to compare the singer's photos to her selfies from, say, 2014, then you'd notice a drastic difference in some of her facial features. How did that transformation happen? Did the musician land a makeup team of contouring experts, or did she actually go under the knife? Here's what we know.
SZA looked quite different when she started her career.
The singer's career beginnings date back to around 2011 when she first crossed paths with Top Dawg Entertainment (TDE). The president, Terrence "Punch" Henderson, signed her after hearing her material and she started to build a following after the release of her first two EPs. This was SZA when she was just beginning to generate buzz in 2013.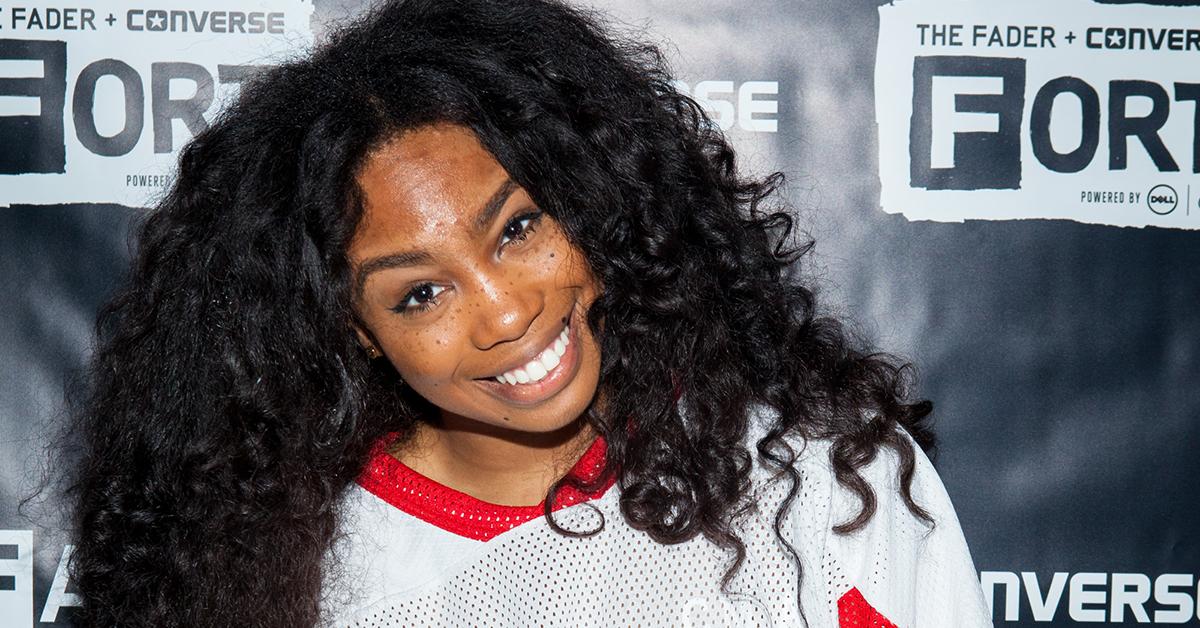 At this point, she was already collaborating with several of her label-mates and in 2014, she released her EP, "Z." By the following year, she started writing songs for other famous artists, including Nicki Minaj, Beyoncé, and Rihanna. Here's how she looked in 2015 (which is pretty much the same).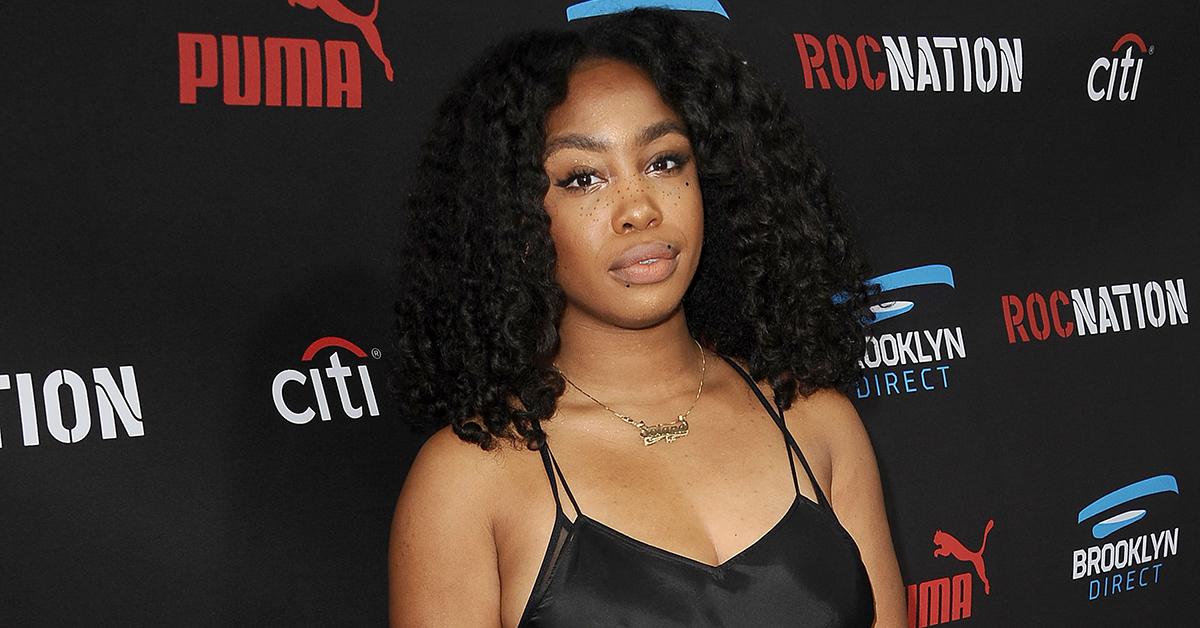 SZA's features started to look different after her breakthrough.
In 2017, SZA released her debut album, "Ctrl," which earned her a bunch of positive reviews and even more recognition. It debuted at No. 3 on the US Billboard 200 and was also certified platinum. It was even named the best album of 2017 by Time magazine. And around this time, the artist started to look quite different.
To be fair, though, SZA had lost some weight by then. This would definitely explain why her face appears to be smaller.
In a 2017 interview, she mentioned her weight loss while defending Kendrick Lamar's controversial lyrics about stretch marks. She said: "If you want to support women, you should support all shapes of women… I used to be 200 pounds, and I have stretch marks all over my body. I find more comfort and solace with Kendrick reinforcing that I'm beautiful."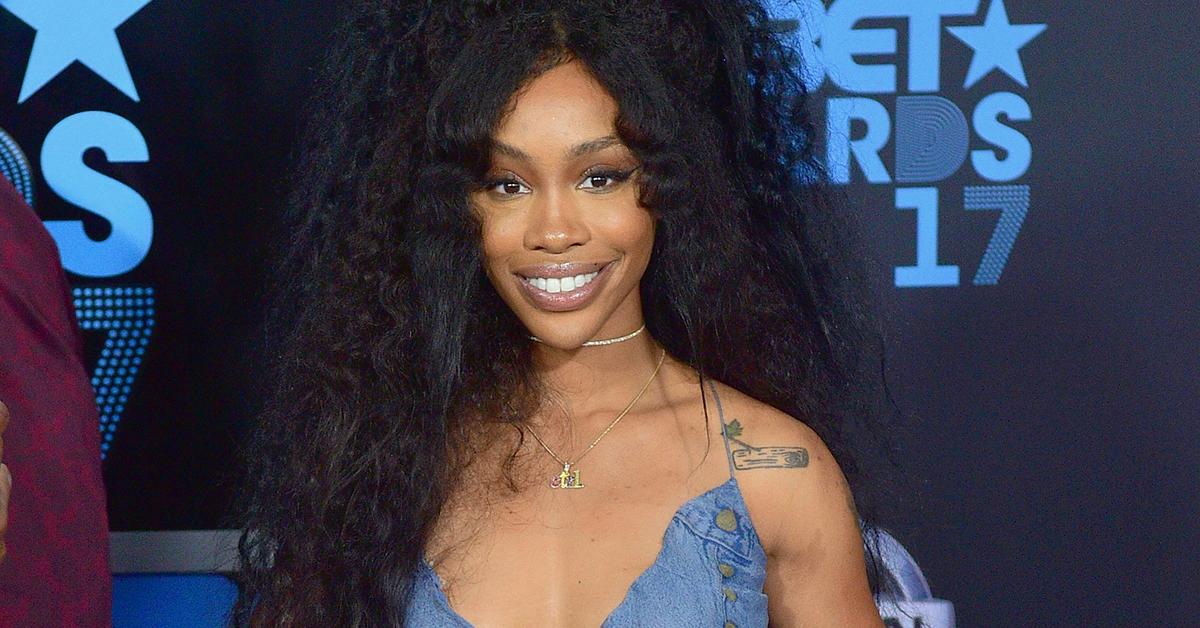 The breakthrough artist looked gorgeous when she made her appearance at the 2017 BET Awards. However, it looks like she might have had some work done on her nose and chin… Or perhaps it was just brilliant contouring?
Fans have pointed out the differences in her features.
Fans quickly took notice of SZA's straighter nose and bigger chin, posting side-by-sides of the singer on social media to prove that she must've gone under the knife at least once. Even if it turns out that her nose was perfectly contoured, it's kind of hard to explain how her chin changed…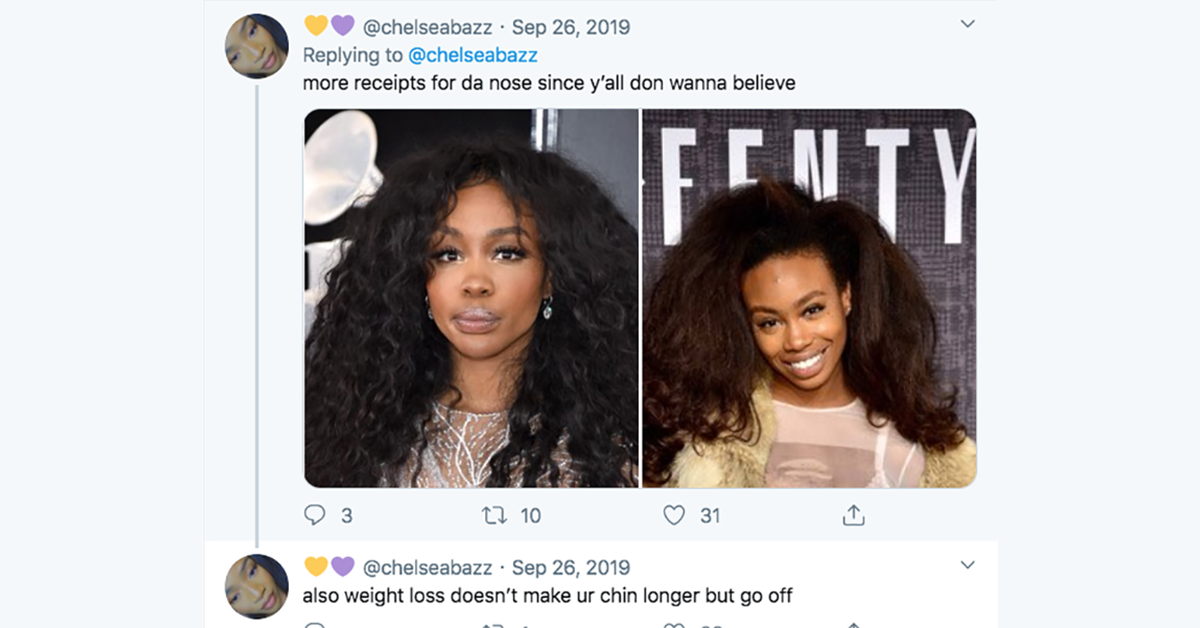 Has SZA addressed the surgery rumors?
The artist never spoke on these rumors directly, but fans do find it quite interesting that she has since deleted photos that outlets were using to prove she might have had surgery. For instance, in 2018, a photo of herself being honored by the City of Hope suggested that she definitely got a nose job.
She had captioned the pic: "Thank you so much for having me last night @cityofhope. Honored to have been recognized at an event for something as important as cancer research." But after fans and outlets started using it to speculate about her surgery, the singer removed it. Hmm…
Though she's kept her lips sealed about possibly having plastic surgery, she's been quite open about her weight loss transformation. While she attended Dove's Launch of Girl Collective in 2018, she shared that she was always comfortable in her own skin. 
"It's all about where it starts in your mind," she said. "I think there are a lot of standards that people told me about that I didn't see. I started, I was 190 pounds, I only wore my dad's big t-shirts and socks on stage, no shoes, and didn't even notice; never complained or tripped about my makeup."
The singer also commented on how she's evolved since then.
She shared: "It was just a matter of where I was in my mind, but I did also come out of that space where I was like, I feel like I want to change. I want to be different. I want to grow. I want to learn. I think it's one thing to be comfortable, but then it's one thing to not see your full potential and your full picture. The standard should really come [from] within."
As of now, it looks like we may never get confirmation on whether the singer actually got work done, but it sounds like she's happy and confident in the way that she looks. And that's all that matters! As long as she's happy, we're happy.