What is Georgina Rodríguez's net worth? Everything including the finances of Cristiano Ronaldo's partner explained!
Georgina Rodríguez is a Spanish-Argentine model and Instagram star who is in a relationship with soccer star Cristiano Ronaldo, whom she met in a Gucci store in 2016 while she was working as a sales assistant.
GEORGINA RODRÍGUEZ Profile Summary
Profession: Model, influencer, partner of Cristiano Ronaldo
Net worth: $10 million (reported)
Birthdate: Jan. 27, 1994
Birthplace: Buenos Aires, Argentina
Parents: Ana María Hernández, Jorge Rodríguez
Siblings: Ivana Rodríguez
Imagine having your face projected on the world's tallest building for your 28th birthday. That's the honor that befell Georgina Rodríguez, the Spanish-Argentine model who's in a relationship with soccer star Cristiano Ronaldo.
As Cristiano showed off on Instagram on Thursday, Jan. 27, an animated birthday greeting for Georgina lit up the 2,722-foot Burj Khalifa tower in Dubai, United Arab Emirates. "Huge congratulations, my love," Cristiano captioned the Instagram video, writing in his native Portuguese.
Georgina also posted an Instagram update about the big occasion, writing, "Dreams come true."
And speaking of dreams coming true for Georgina, let's dish on who she truly is, her net worth, and her new Netflix show.
Who is Georgina Rodriguez?
Georgina Rodriguez has become a household name.
Georgina is the mother of Ronaldo's fourth child Alana and his fifth child, Bella.
She was born on January 27, 1994, in Jaca, Spain to a Spanish mum and Argentine dad.
Georgina learned to dance before changing careers to modeling after studying English in London.
The 27-year-old was first spotted on a string of dates with then-Real Madrid superstar Ronaldo towards the end of 2016.
Georgina has claimed that her first meeting with the football star was "love at first sight."
"Our first meeting was at Gucci, where I worked as a sales assistant," she recalled in an interview with The Sun.
"Days later, we saw each other again at another brand's event.
"It was then that we could talk in a relaxed atmosphere, outside my work environment. It was love at first sight for both."
Following her stint working at the Gucci store, Georgina shifted paths into modeling and the mother is now also a social media influencer. In fact, according to her Instagram bio, the 28-year-old I Am Georgina star is also an author.
She might be adding "wife" to her lengthy resume soon. "It could be in a year, or it could be in six months or in a month," Cristiano said in Georgina's docuseries, regarding the two walking down the aisle. "I'm 1000 percent sure it will happen."
Georgina is the star of Netflix's 'I Am Georgina.'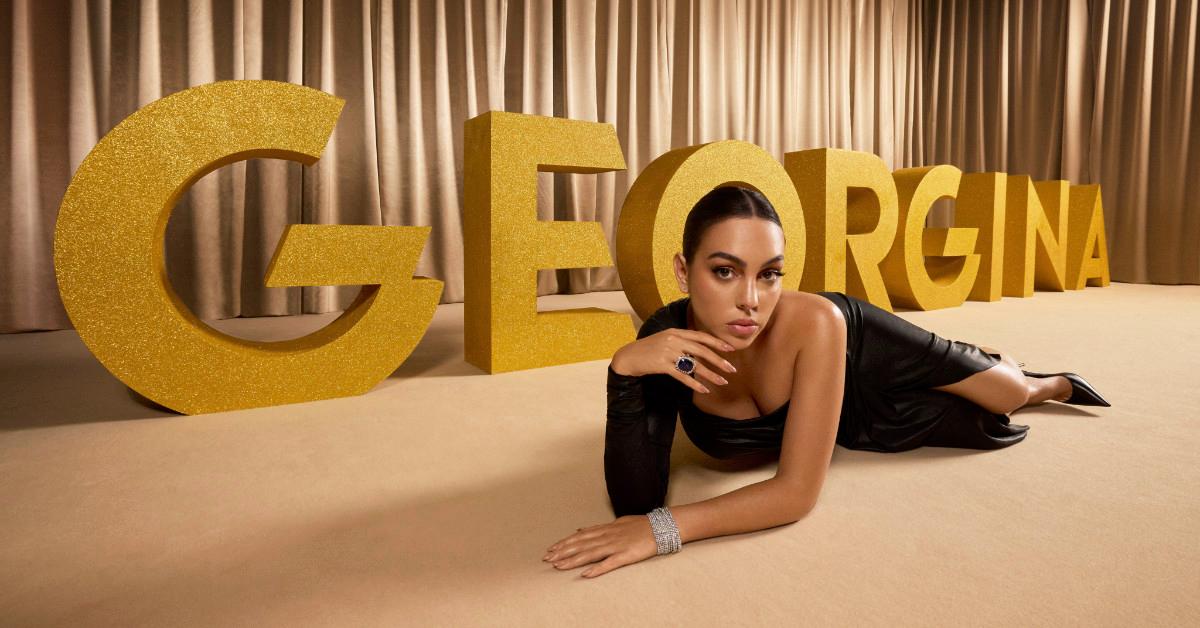 Netflix released I Am Georgina (Soy Georgina) in the United States on Thursday, Georgina's birthday. (Coincidence? We think not.)
"Georgina Rodríguez, with more than 28 million followers on Instagram, is, among many other things, a model, mother, influencer, businesswoman, dancer, and Cristiano Ronaldo's partner," Netflix explains in a synopsis for the docuseries. "Soy Georgina is an emotional and in-depth portrait of the woman behind the covers, the photos, the stories and the big headlines."
The streaming service says the six-episode series "will reveal all aspects of her life, from the most public and well-known to the most personal ones. We will experience her day-to-day life with her, her motherhood, her relationship, her travels, her parties… We will get to know who Georgina Rodríguez really is."
How many children does Georgina have with Cristiano?
In late January of 2022, soccer star Cristiano Ronaldo shared a photo of his longtime girlfriend Georgina Rodriguez's baby bump while the family vacationed in Dubai. The Manchester United striker captioned his Instagram post in Arabic, writing, "Thanks, Dubai, for the good times. Thanks, Dubai, for the warm feelings. Thank you, Dubai, for providing the best family moments. Dubai, my second home. And my family is grateful for the warm reception and generosity of your beautiful people. With all my love for you."
Georgina, who was featured in the Netflix series I Am Georgina, announced her pregnancy in a joint post with Cristiano in late October of 2021. "Delighted to announce we are expecting twins," the couple wrote. "Our hearts are full of love — we can't wait to meet you."
Tragically, Cristiano and Georgina suffered the loss of one of the twins later in 2022. On April 18, they announced on Instagram that their baby boy had died. "It is the greatest pain that any parents can feel," they wrote. "Only the birth of our baby girls gives us the strength to live this moment with some hope and happiness. […] Our baby boy, you are our angel. We will always love you."
Currently, Cristiano and Georgina share two kids together namely, Alana Martina dos Santos Aveiro, and Bella Esmeralda.
The couple's new baby daughter (whose name is Bella Esmeralda) has four older siblings: 12-year-old Cristiano Jr. (born on June 17, 2010), 4-year-old Alana Martina (born on November 12, 2017), and 4-year-old twins Eva Maria and Mateo (born on in June 2017).
Cristiano Ronaldo shares all three 4-year-olds with Georgina; Eva Maria and Mateo were born via surrogate. The couple, who met at the Madrid Gucci store where Georgina formerly worked as a sales assistant, have been together since 2016.
What is Georgina Rodriguez's net worth?
Georgina Rodríguez is a Spanish model who has gained widespread fame as the partner of Portuguese professional football star Cristiano Ronaldo. According to Celebrity Net Worth, Georgina has a net worth of $10 million whereas her partner, Ronaldo has a reported fortune of $500 million.
Due to this highly publicized relationship – as well as the major modeling career it helped launch – she has amassed close to 40 million Instagram followers. Rodríguez has graced the covers of such international magazines as Harper's Bazaar Spain, VIP Magazine, and Diva E Donna Magazine.