What is Grant Troutt's net worth and what does he do for a living? Fortune details of former 'Bachelor' contestant Madi Prewett's husband.
Madison"Madi" Prewett was previously a frontrunner on Pilot Pete's season of The Bachelor. However, Pete and Madi quickly realized their incompatibility when it came to the infamous fantasy suite dates. Madi was (and is) a devout Christian, and told Peter that she was saving herself for marriage.
She knew in her heart that she couldn't accept Peter's possible proposal knowing he had been intimate with his other frontrunners. Madi broke it off with Peter but he tried to win her back — that didn't last long either.
The former Bachelor contestant Madison Prewett got engaged to Grant Trout in July 2022. She took to social media to celebrate and captioned her Instagram post celebrating her engagement to Grant Michael Troutt with five simple words: "You were worth the wait.
Following her July 2022 engagement with Grant Troutt, Madi delighted her fans in October 2022 when she revealed that she had walked down the aisle. In light of Madi and Grant's marriage, fans are curious to know more about the Bachelor alum's spouse, especially his fortune.
What is Grant Michael Troutt's net worth?
After all the Bachelor drama, Madi moved to Dallas, Texas, where she met her now-husband, Grant Michael Troutt, a man that seems tailor-made for her. The 26-year-old financial analyst waxed poetic about Madi in a sweet post on his Instagram back in May 2022, writing in part, "I've never met somebody that walks with such grace and beauty … You seek to honor God with all that you are. You inspire me to be better."
Madi and Grant Troutt, who is a public speaker and minister, began dating at the end of 2021, and they went public with their romance in May 2022. By the very end of July, they were engaged, with Madi announcing the news on Aug. 1.
The influencer/former college basketball player has shared most of her and Grant's wedding plans on her Instagram account. Over the past couple of months, she posted multiple snaps of their pre-wedding activities, like their bridal shower and her bachelorette party. Then, on Saturday, Oct. 29, the couple's big day finally arrived.
The two were married at his parents' home in Dallas, Texas, three months after their engagement.
According to People, the ceremony had 400 guests, including other Bachelor Nation stars Kelley Flanagan, Victoria Fuller, and Hannah Ann Sluss. Although Madi and Grant only had several weeks to plan their special day, they agreed the location and day fit their wedding goals perfectly.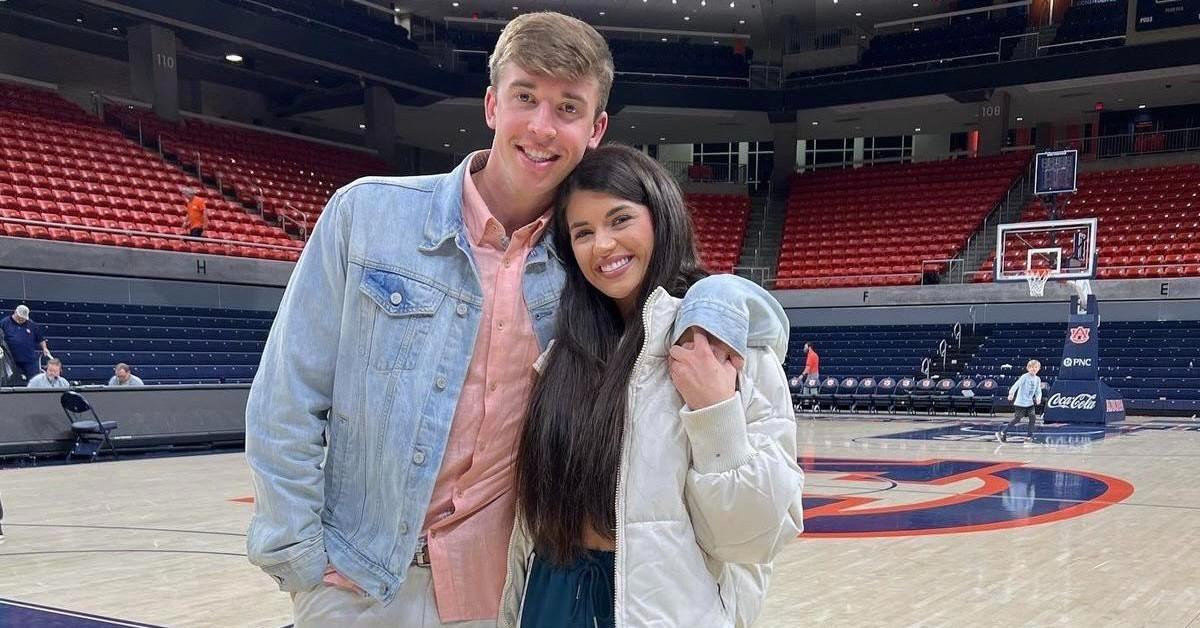 Grant is the son of Kenny Troutt, the billionaire founder of Excel Communications. Madi's fiancé (now husband) also played basketball when he was a student at UC Santa Barbara (seriously, is Grant Madi's soulmate or what?)
Although Grant's official net worth is yet to be confirmed, various outlets like the Gossip Next Door are estimating that Grant's net worth is between $100K to $2 million, so far.
Grant is a smart man who clearly saw Madi's worth and didn't want to let her be the girl that got away. He got down on one knee and proposed to Madi on July 31, 2022. Their beachside proposal pics are total engagement post goals!