What is LeAnn Rimes' net worth? The American singer, songwriter, and actress has impressive financial details.
Country music star LeAnn Rimes has been making hits for years. Her music career started when she was just a teenager, and over the years, she's seen a ton of success.
On top of that, she's transitioned into acting and even met her husband on the set of a movie.
She has had a successful career in both fields – but what is her net worth and how much does she earn?
What is LeAnn Rimes' Net Worth?
LeAnn Rimes is an American singer-songwriter, actress, and a highly-acclaimed Country Music star who has a net worth of $10 million.
After beginning her music career at the age of 13, LeAnn Rimes has emerged as one of the most recognizable stars in the Country music industry.
To date, she has sold almost 40 million records worldwide. LeAnn Rimes' music has won considerable critical praise with a number of awards, including three Grammys.
In addition, she has published four books.
Who is LeAnn Rimes?
LeAnn Rimes' real name is Margaret LeAnn Rimes, and she was born on August 28th of 1982.
Although she was born in Jackson, Mississippi, her family moved to Garland, Texas when she was very young.
Margaret was the only child in her family, and her parents soon enrolled her in vocal and dance classes. By the age of 5, she was performing in talent shows.
When she was still quite little, Rimes started to book major roles in musical theater. Although she was performing in plays in Dallas, she also auditioned for Broadway productions and came very close to booking a role in Annie.
She then appeared on the reality TV show Star Search, where she was encouraged by praise from judge Ed McMahon. This inspired Rimes to pursue a career in country music.
By the age of nine, she had earned the unbridled attention of talent scouts from all over the country.
She toured the nation and often sang the national anthem at home games of the Dallas Cowboys.
Her father was a major element in her early career, helping her tour and record three albums under an independent record label.
Career
The person who is generally credited for bringing LeAnn Rimes into the mainstream is Bill Mack, a disc jockey. He composed the song "Blue" for her, and it was this hit that made her a star at the age of just 13. She recorded the song in 1994 and later got her first record deal with Curb in 1996. Curb had Rimes re-record "Blue" for her debut studio album, but they accidentally released the same version that she had recorded as an 11-year-old.
Nevertheless, the single peaked at number ten on the charts, and her debut album, Blue, also topped the Country charts. Other hit singles from her debut album include "One Way Ticket" and "The Cattle Call." In recognition of her accomplishment, LeAnn Rimes was compared to Patsy Cline by critics and given a Grammy award at the age of just 14.
In 1997, LeAnn Rimes released a compilation album called Unchained Melody: The Early Years. This album showed off Rimes' impressive range with previously unreleased tracks, and it included pop songs in addition to Country tracks that she was known for at the time. She followed this up with You Light Up My Life: Inspirational Songs later in 1997, and this album also showed Rimes' ability to shine in a more mainstream format. The album later went four times platinum.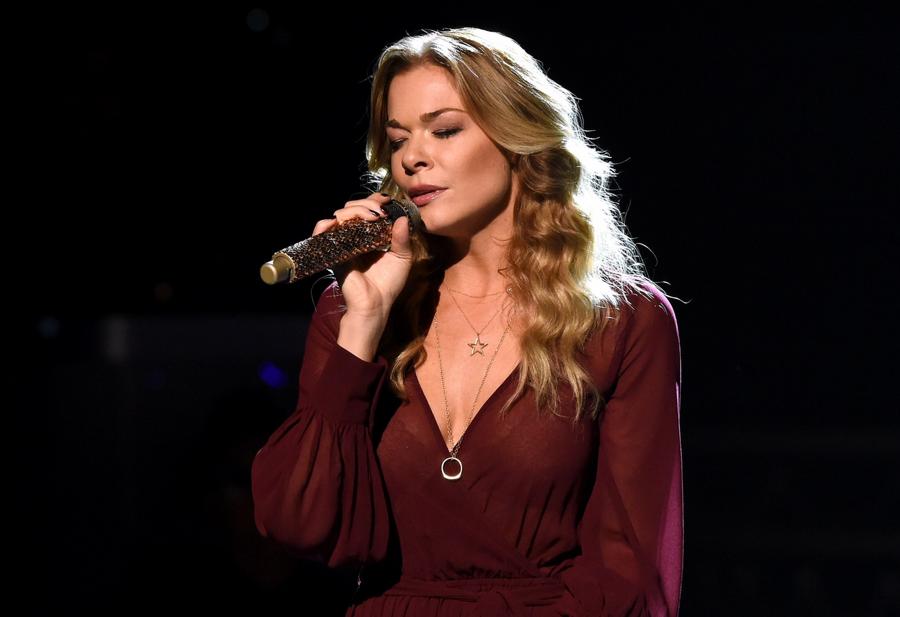 Rick Diamond/Getty Images
Rimes' third studio album came in 1998 with Sittin' On Top Of The World. The album received mixed reviews, but it still went platinum. Once again, Rimes leaned more toward mainstream pop music rather than her Country roots.
LeAnn Rimes then did a complete 180 with her next album in 1999, which was simply entitled, LeAnn Rimes. The album featured covers of country classics, the majority of which were Patsy Cline hits. Critics who had previously been critical of Rimes' more mainstream albums praised the fact that she had returned to her roots. The album went platinum once again.
In 2000, LeAnn Rimes fully committed to more mainstream, pop-influenced sounds. She appeared in the film Coyote Ugly and contributed many tracks to its soundtrack, including the major international hit "Can't Fight the Moonlight."
In 2001, the ill-fated compilation album I Need You was released. The album did not sell well and received poor reviews. Rimes later admitted that the album was released without her knowledge and that her father had simply used outtakes from past recording sessions to piece together an album.
In 2001, LeAnn Rimes finally gained independence after a long period of her father controlling her career. That year, she released Twisted Angel, the first album she produced without the help of her father. Although it was a major achievement for LeAnn Rimes, the album received poor reviews due to its failed attempt at a "country-pop crossover."
In 2005, she returned to Country music with This Woman. Although the album still didn't seem to satisfy the critics, it was a commercial success. Three of the singles peaked within the top 5 on the Country charts, and the album sold over 100,000 units within the first week. In 2006, Rimes quietly released a studio album that never saw the light of day in North America. This was because she didn't want to overshadow the success of This Woman.
Rimes experienced even more success with the release of Family, her ninth studio album. This time, she managed to achieve both commercial and critical success. The album contained a range of different genres and featured artists such as Bon Jovi. She spent 2008 touring and collaborating with various musicians.
In 2011, she released a cover album called Ladies & Gentlemen before releasing her eleventh album, Spitfire in 2013. In 2016, she followed up with her next album, Remnants. The next year, she appeared in the film Logan Lucky.
Film and Television
After dating actor Andrew Keegan in 1998, LeAnn Rimes decided to pursue a career as an actress in addition to her music career. Over the years, she has appeared in a number of roles. These include appearances in TV shows such as Colgate Country Showdown and Nashville Star. She also appeared in movies like Coyote Ugly, Good Intentions, and Northern Lights.
Personal Life and Real Estate
LeAnn was married to her backup dancer Dean Shermet from 2002 to 2010. In 2003, LeAnn and Dean (but mostly LeAnn) paid $1.7 million for a three-acre estate in Nashville. They sold this property in 2008 for $2.125 million after moving into their custom-built palatial mansion nearby. They spent $4 million building what became a 23-room palace encompassing 13,300 square feet on over 5 acres.
Soon after moving in, LeAnn was caught having an affair with actor Eddie Cibrian and the couple separated. They listed their custom-built mansion in 2009 for $7.45 million. Unfortunately, they did not find a buyer until 2012 when they finally offloaded for $4.1 million.
In 2013 LeAnn paid $3 million for a new home in LA's suburb of Hidden Hills, California.
In 2016 it was reported in various gossip outlets that LeAnn and Eddie were facing financial problems due to a slowdown in both of their respective careers. OK! Magazine went so far as to claim that the only reason they had not filed for divorce was that they could not afford the legal fees and neither was willing to accept the division of property.