There isn't an age requirement for someone to be a good real estate agent. But it certainly helps clients feel at ease to know they're in the hands of someone with years of experience. So, what are the ages of the cast of Selling the OC? Some of them are on the younger side, but that certainly doesn't mean that they're incapable of getting you your next million-dollar home.
Selling the OC is about The Oppenheim Group in Orange County, Calif. It's a spinoff of Selling Sunset on Netflix. And, like its predecessor, it's sure to blend drama and real estate in a way that a standard reality show about selling houses fails to do. And we have the cast to thank for that.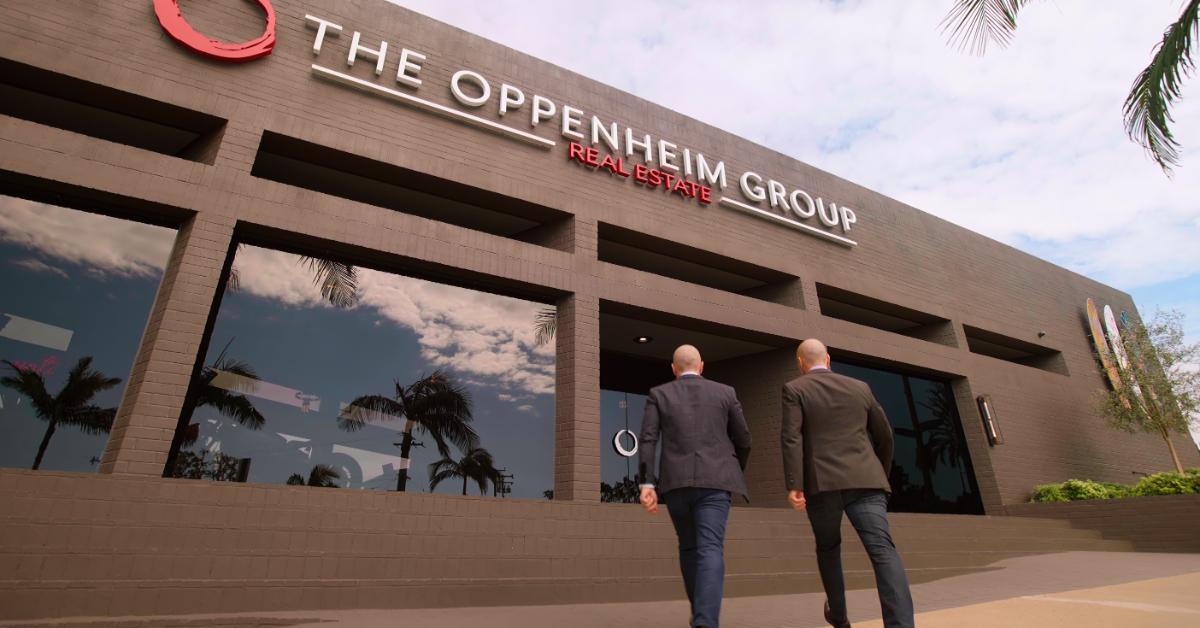 Before you dive headfirst into the world of California real estate on Selling the OC, get to know a little more about the real estate agents who will no doubt bring the drama in the Selling Sunset spinoff.
Austin Victoria (Age: 32)
Austin is not only a busy real estate agent, but he's also a busy father of twins. Add in the pressure of doing it all on a reality show and he is sure to be at the center of some drama whether he likes it or not.
Sean Palmieri (Age: 27)
Sean may be one of the younger real estate agents to make an impact on Selling the OC, but he has plenty of experience in the corporate world. Before joining The Oppenheim Group, he was a luxury marketing manager for Coldwell Banker Global Luxury.
Lauren Shortt (Age: Unknown)
While it's not totally clear how old Lauren is on Selling the OC, we do know she takes her job very seriously. She has worked hard to get to where she is. And, she admitted to People, "working in real estate is no joke."
Kayla Cardona (Age: 33)
Kayla is originally from Orange County, which certainly lends some expertise to her as a real estate agent in the area. But outside of Selling the OC, she's a busy mom to a teenage boy and she is extremely family-focused.
Tyler Stanaland (Age: 29)
As another young real estate agent, Tyler is also someone who is a force to be reckoned with on the show. He comes from a long line of real estate agents and he was a natural addition to not only The Oppenheim Group, but the show. And when he's not working, you can usually find him surfing.
Brandi Marshall (Age: 35)
Brandi hasn't been with The Oppenheim Group too long, but the mother of two was up for the challenge when she was given the opportunity to work with the team of high-profile agents. Now, she is past the stage of learning the ropes as an experienced agent herself.
Alexandra Rose (Age: 27)
Just because she's in her twenties, it doesn't mean you should sleep on Alexandra as an agent. She was the first one hired for the Orange County office and she has continued to crush it there.
Gio Helou (Age: 34)
Before Gio got into real estate, he was into making documentaries. And even though those days are behind him, it proves that he can do pretty much anything he sets his mind to.
Polly Brindle (Age: 36)
Polly worked as a model when she was a teenager, but she later found that working with an architecture firm helped her hone in on her interest in architecture and design. And now, being a real estate agent allows her to do that too.
Alex Hall (Age: 33)
Yet another Alex in the Selling the OC cast, Alex got a call from Jason Oppenheim about working as a real estate agent on the show and, she revealed to People, she almost turned him down. But, she told the outlet, "being a part of a $100 million dollar listing" helped her realize she made the right choice in accepting his offer.
Honestly, that would make anyone happy they didn't trust their initial instinct.
Watch Selling the OC on Netflix starting on Aug. 24.