Meet 'No-Recipe Road Trip With the Try Guys' star Ned Fulmer's Girlboss wife, Ariel.
The Try Guys are a group of 4-member YouTubers who are now taking their talents to Food Network.
They have a new upcoming Tv series, No-Recipe Road Trip with the Try Guys, that follows the beloved comedy group as they face the ultimate test of recreating signature menu items in restaurants across the country. With no recipes nor any formal culinary training, can the four valiant best friends pull out a few wins and land their dish on the restaurant's menu? You'll have to tune in to find out!
For now, let's direct our attention to one of the Try Guy members: Ned Fulmer. Ahead of the series premiere of No-Recipe Road Trip, viewers are eager to learn more about the four hilarious men, especially Ned and his familial life. With that said, is Ned married? Keep reading for all the details about Ned Fulmer's wife, Ariel, and their two adorable children.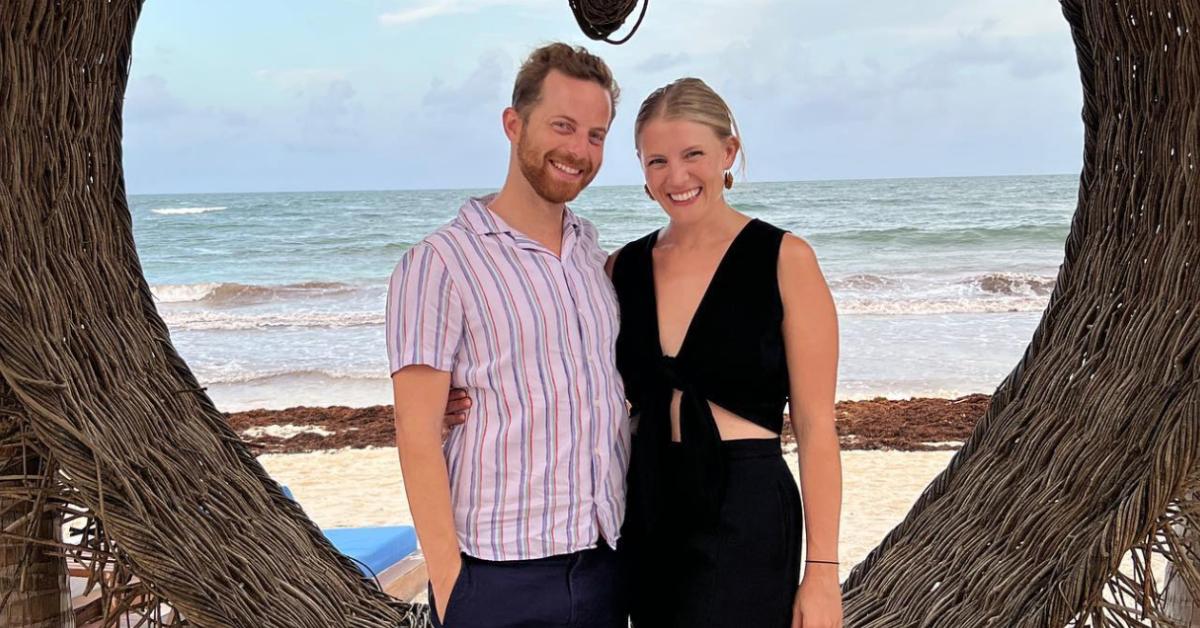 Meet Ned Fulmer's wife, Ariel Fulmer.
Since 2012, Ned Fulmer has been married to Ariel Fulmer (née VandeVoorde). According to her Instagram bio, Ariel is a total girlboss; not only does she work as an interior designer and stylist, but she's also a podcast host and cookbook author.
Ariel is the owner of Fig + Stone Designs, a Los Angeles-based vintage styling firm that specializes in "incorporating diverse styles on a moderate budget" and "discovering extraordinary pieces that fit your home." The company offers various services, including custom rentals for events and photoshoots, as well as E-design assistance and full-service interior design.
According to the official website's about section, Ariel ditched her years of chemistry courses — something she and Ned have in common, as he graduated from Yale University with a degree in chemistry and previously worked in a chemistry lab — and apprenticeships in art conservation for the corporate life and built a career in interior design.
She eventually became a buyer for a massive online decor retailer before founding Fig + Stone in 2017.
Even with her own career on the horizon, Ariel still makes time for her husband (which does not go unnoticed). On June 11, Ned took to Instagram to show his appreciation for her, noting that "she's supported [him] for years, sat through countless terrible improv shows, celebrated every milestone, [and] been there for every setback."
He concluded, "I'm so thankful for her love and support." Ugh — talk about couple goals!
Ned and Ariel have two children together.
After nearly six years of marriage, Ned and Ariel became parents!
Their first child, a son named Wesley James, was born in the spring of 2018. In June of that year, Ariel shared a photo of the adorable baby Wes on Instagram, writing that she and Ned "love him more than anything in the entire world."
By the summer of 2020, the lovebirds announced they were expecting their second child together, and in Nov. 2020, Ariel gave birth to another boy, Finley "Finn" Fulmer. And, as you can tell from the numerous photo both Ned and Ariel share on social media, Wes and Finn are perhaps the cutest babies we've ever seen.
No-Recipe Road Trip with the Try Guys airs Wednesdays at 10 p.m. EST on Food Network.