What is John Poulos' net worth? The CEO of the Dominion voting system has an impressive fortune.
Back in 2020, Dominion Voting Systems was dragged into the headlines after Fox News alleged that the company committed election fraud and manipulated vote counts, ultimately leading to Donald Trump's loss in the presidential election.
Shortly after, Dominion filed a $1.7 billion defamation lawsuit against Fox Corporation, stating that "lies and misinformation have severely damaged our company and diminished the credibility of U.S. elections, subjecting hardworking public officials and Dominion employees to harassment and death threats."
Leading the company is CEO John Poulos, who appeared on 60 Minutes to further dispute the election fraud claims, as well as allegations that Dominion was founded in Venezuela to rig elections for the country's late former president Hugo Chávez.
"I can cut all of this short, we were founded in Toronto, and there is nothing to do with Venezuela," Poulos shared. So, what else should you know about Poulos and Dominion Voting Systems?
John Poulos started Dominion Voting Systems in 2002 with co-founder James Hoover.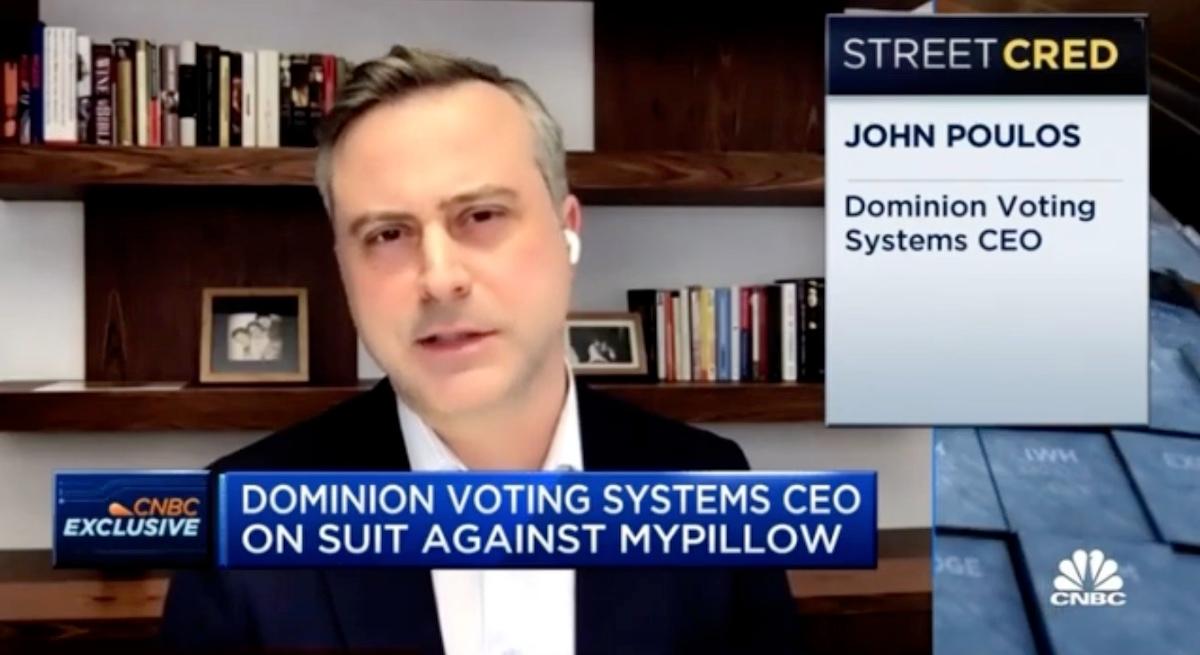 Dominion Voting Systems was founded in 2002 by John Poulos and James Hoover. The company sells electronic voting hardware and develops software and has headquarters in Canada, the United States, and Serbia, where its development team is located.
In 2018, Dominion was acquired by Staple Street Capital, a private equity firm.
"Our senior management team is extremely pleased to partner with Staple Street Capital, which has a proven track record of successfully investing in growing mid-size businesses," Poulos said in a press release at the time. "Given the opportunities on our horizon, this is the ideal time for us to add financial resources and an experienced strategic partner to help us meet market demand, better serve customers and invest in evolving security initiatives."
Dominion Voting Systems is the second-largest election system vendor in the United States.
Since its acquisition, Dominion is one of the three vendors that control 88 percent of the market when it comes to the election systems industry.
According to Forbes, Dominion was paid $118.3 million to provide election services from 2017 to 2019 in 19 states.
Currently, Dominion has a $107 million 10-year contract with Georgia, received $52 million from the state of Arizona, and an eight-year contract with California worth $16.2 million — just to name a few.
However, according to their lawsuit, Fox's claims about voter fraud "recklessly disregarded the truth" and "deeply damaged [its] once-thriving business."
How much is Dominion's CEO John Poulos worth?
Since Dominion Voting Systems isn't a publicly traded company, Poulos' salary and compensation aren't on public record. However, according to outlets, Poulos is worth an estimated $120 million thanks to his $1.5 million salary and $15 million in total compensation.
In 2010, he was one of Canada's Top 40 under 40 and was awarded the Queen's Diamond Jubilee Award in 2013 for his philanthropic work.
JOHN POULOS Profile Summary
John Poulos is the founder and CEO of Dominion Voting Systems.
Profession: CEO and Founder Dominion Voting Systems
Net worth: $120 million
Birthplace: Toronto, Canada
Birthdate: 1973
Education: University of Toronto (B.S.), INSEAD (MBA)
Along with his work at Dominion, Poulos is a youth hockey coach and a part of an alliance of Greek-Canadian entrepreneurs.
Poulos will be busy the next few years thanks to his Dominion's defamation lawsuits not only Fox, but also Newsmax Media Inc., MyPillow CEO Mike Lindell, and Rudy Giuliani.