'The Wheel' host Michael McIntyre has been married to his wife for nearly 2 decades.
Who could be a better match for one of England's funniest comedians than an aromatherapist? So, who is comedian Michael McIntyre's wife anyway? How long has she been putting up with his bad jokes? Has he ever mentioned her in his standup routines?
Here's what we know about Michael McIntyre's wife and the new show he's hosting on NBC. Michael and his wife have been married for almost two decades.
Who is Michael McIntyre's wife?
Michael married British aromatherapist Kitty Ward way back in 2003. Per The Sun, Michael had this to say about his beautiful bride in his 2010 book, Life and Laughing. He said, "She was the girl I had been looking for. In the romantic comedy that was my life, this would have made a good ending."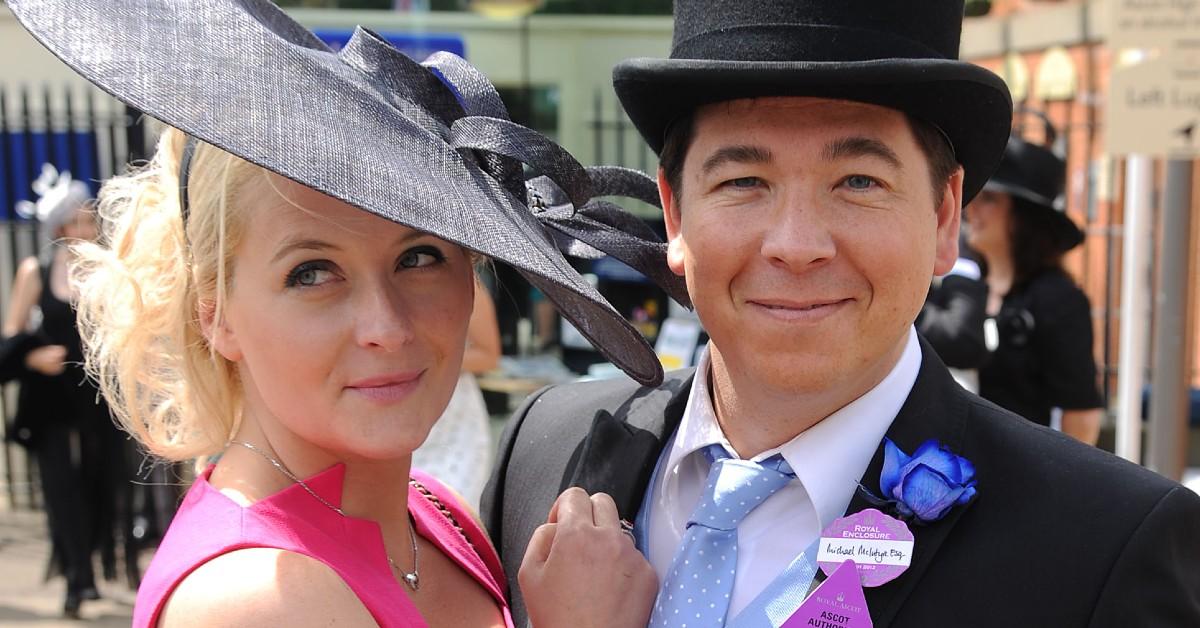 Do Michael and his wife have kids?
Since Michael and Kitty's 2003 nuptials, the pair have welcomed two kids, two sons named Oscar and Lucas, who are 14 and 17 years old, respectively.
And yes, Michael does poke fun at his family in his comedy routines. According to the same report from The Sun, a bit about Michael's wife trying to put tights on is always a hit with his standup audiences. He joked in another routine and said, "You never love your children more than when they're unconscious, but still breathing."
What is Michael's net worth?
According to Celebrity Net Worth, Michael has an estimated net worth of… wait for it, $80 million. The same report notes that he's the highest-grossing comedian in the world after he grossed $30 million in one year alone.
MICHAEL MCINTYRE Profile Summary
Michael McIntyre is a standup comedian, screenwriter, actor, and host of NBC's 'The Wheel.'
Profession: Comedian, Screenwriter, TV Host, Actor
Net worth: $80 million
Birth Date: Feb. 21, 1976
Birthplace: London, England
Birth Name: Michael Hazen James McIntyre
Marriages: Kitty McIntyre, nee Ward (2003–present)
Children: Oscar and Lucas
So, what's the deal with 'The Wheel'?
Michael is bringing his hit BBC game show The Wheel to the states this holiday season. The concept is simple — six celebrities are spun around on a wheel and are tasked with answering trivia questions about subjects they claim they're experts in.
Gradually the celebs are knocked off the wheel, one by one when they answer questions incorrectly until there's only one celeb standing, and they win the huge cash prize.
The series premiere of U.S. version of The Wheel premieres on Dec. 19, 2022, at 10 p.m. EST on NBC. New episodes will air at 8 p.m. the following weeks. Season 1 of The Wheel will have 10 episodes in total, with each episode featuring a new slate of six celebrity contestants (plus some surprise guests, as the official show trailer teases!)
Michael also has a 2023 New Zealand and Australia-based tour in the works called Jet-Lagged and Jolly.
You can watch Michael host The Wheel on NBC every Monday night on NBC. New episodes will also be able to stream on Peacock after they air live on the network.