Singer and Only Murderers in the Building star Selena Gomez has a pretty impressive tattoo collection. From special dates in her life to symbols, each of Selena's 16 tattoos has a beautiful story behind it.
Keep reading as we break down all 16 of her tattoos and why they are important to her.
Selena Gomez has a musical note tattoo on her wrist.
OK, talk about being on brand!
In 2012, Selena was first spotted with a tiny tattoo on her wrist. Many assumed it was a heart, but Selena confirmed to Access Hollywood that it was actually a musical note. "Music is a big influence in my life. I was named after a singer, I'm a singer, and a lot of other personal reasons, she said, adding "so, that's what I got."
The singer Selena is referencing is the late Selena Quintanilla.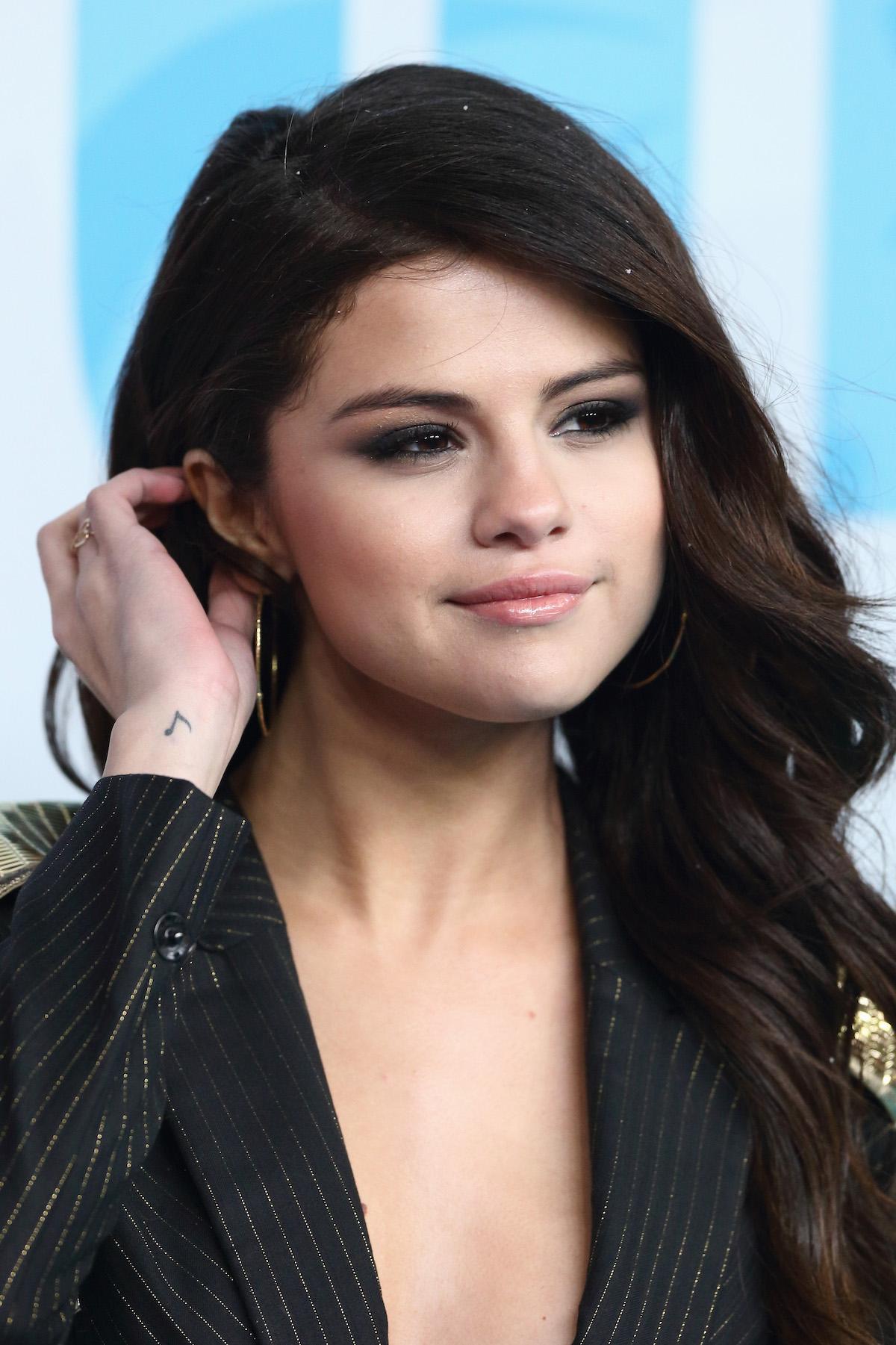 Selena Gomez has a semi-colon tattoo to help promote mental health awareness.
According to Insider, Selena has a semi-colon tattoo on her other wrist. She got the tattoo alongside 13 Reasons Why actress Alisha Boe. The semi-colon is said to represent Project Semicolon, a non-profit that advocates for mental health awareness and suicide prevention.
Selena Gomez has a tattoo dedicated to her sister and grandmother.
It's family first for Selena, of course. The Wizards of Waverly Place alum told Refinery 29 in 2015 that she has a "G" underneath her right ear in honor of her half-sister, Gracie.
She also has the word "Sunshine" inked on her right foot. It's supposedly a nod to her grandmother, whom she once called her sunshine on Twitter, per Women's Health.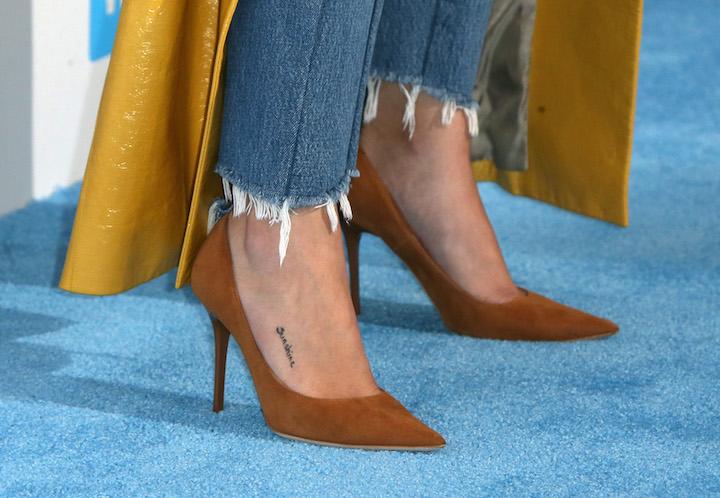 Selena Gomez has a tattoo that reminds her to love herself.
As Selena discusses in My Mind & Me, she's struggled to love herself over the years. That said, on her upper right back, she has the phrase "Love Yourself First" inked in Arabic.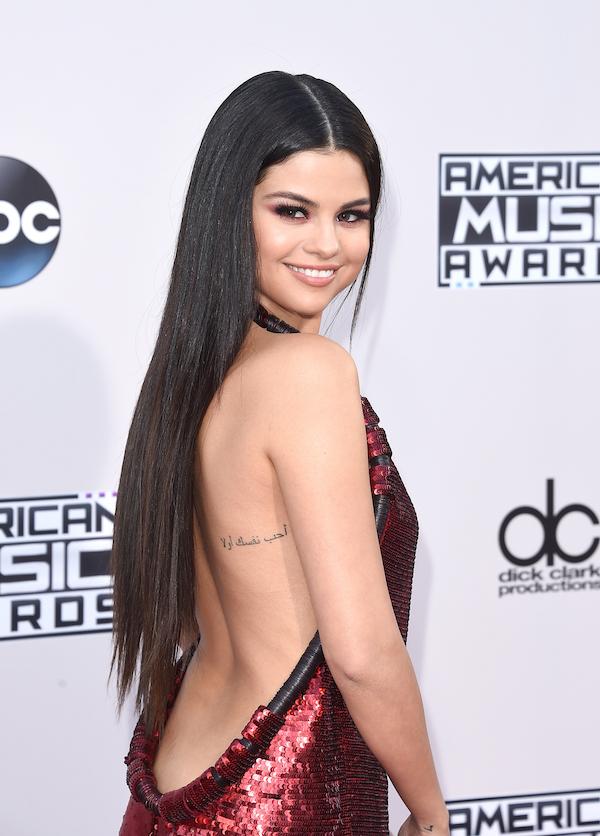 Selena Gomez has a tattoo dedicated to her No. 1 best friend and her inner circle.
Selena and her best friend Courtney Lopez both got the number "1" tatted on their rib cages to represent the fact that they are each other's No. 1 friend.
Selena also has a "4" tatted to represent her group of best friends, which includes Courtney as well as Ashley Cook and Raquelle Stevens.
Selena Gomez and Julia Michaels have matching arrow tattoos.
ICYMI, Selena is also friends with singer Julia Michaels. They both got matching arrow tattoos on their hands so when they're next to each other, the arrow points at each other.
Selena Gomez has a few tattoos that nod to her relationship with God.
On her right thigh, Selena has "God who strengthens me" scribed, which is an altered excerpt from her favorite Bible passage, Philippians 4:13.
Selena also has a cross sign tattooed on her collarbone. This particular tat came from celebrity tattoo artist Bang Bang NYC, who shared a video of the finished project.
Selena also has a tattoo on her thigh of prayer hands holding rosary beads. It's her largest tattoo yet.
Selena Gomez has this album name tatted on her neck.
In 2020, Selena tapped Bang Bang NYC once again to ink her up. Below her right ear, she got a tattoo of the word "rare," which is both the name of one of her albums and her beauty brand.
Selena Gomez has a few dates inked on her body.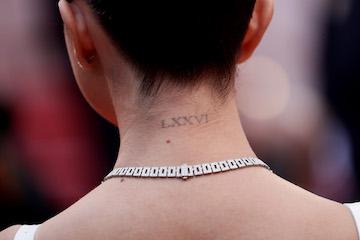 Selena also has a Roman numeral tattoo on the back of her neck that translates to the number 76. The tattoo likely references her mother's birth year, 1976.
Another important date in Selena's life was the date got her kidney transplant. She explains in an interview with Capital FM that she actually got that date inked on her right arm.
Last but not least, one of Selena's most cryptic tattoos is located on her hip. It's very hard to make out what it says, but fans first noticed it in 2015 when she was photographed at the beach with friends.
Selena told Refinery29 that it signifies a date when she met one of her best friends. However, it isn't clear which of Selena's best friends the tattoo represents.