What did Anne Heche die of? The actress and mother of two has been declared dead following her terrible car accident.
Actor Anne Heche, the star of All Rise, Chicago P.D., and Men in Trees, has been reported dead after remaining in extremely critical condition. She fell into a coma after crashing her car into a home in the Mar Vista neighborhood of Los Angeles, at around 10:55 a.m. on Friday, Aug. 5, 2022.
Anne suffered a significant pulmonary injury and severe burns after her blue Mini Cooper smashed into the house, setting both ablaze. What happened, and what did she actually die of? Here's what you should know.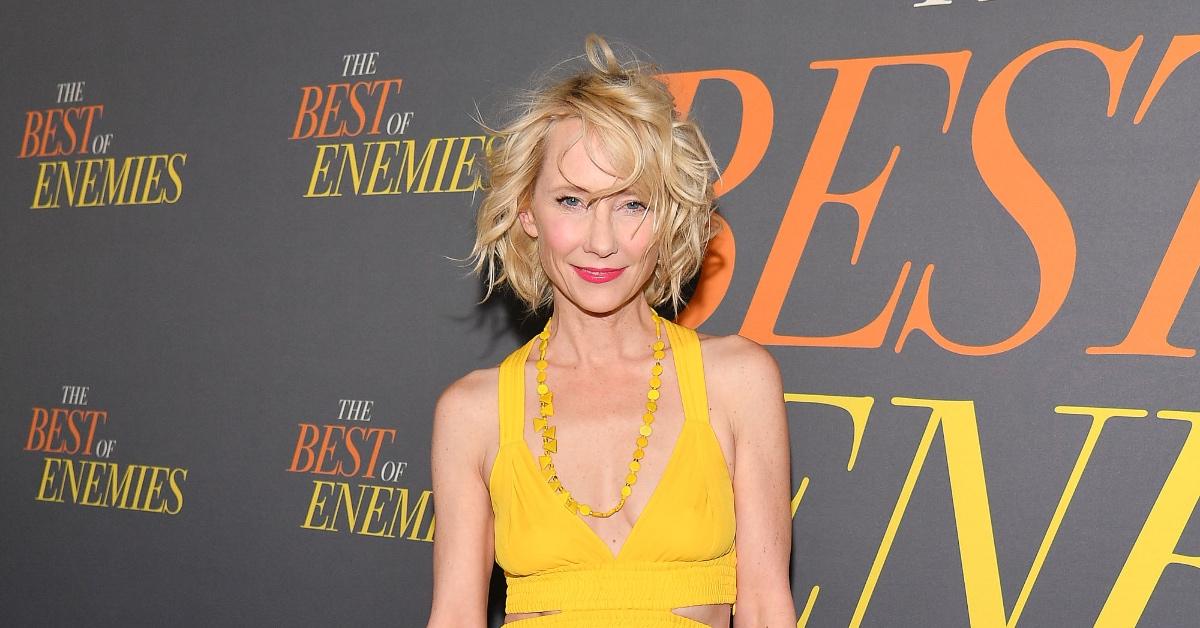 What happened to Anne Heche? The actress fell into a coma after suffering a horrific car crash on Friday, Aug. 5, 2022.
According to the Los Angeles Fire Department, it took 65 minutes for 59 firefighters to put out the flames caused by the car crash. Anne had to be lifted out of the burning vehicle and was rushed to an area hospital, where she remains in extremely critical condition.
"Despite previous reports that Anne was stable, shortly after the accident, Anne became unconscious, slipping into a coma and is in critical condition," the actor's representative confirmed to ABC News. "She has a significant pulmonary injury requiring mechanical ventilation and burns that require surgical intervention."
According to TMZ, she first crashed into the garage of a nearby apartment complex before speeding off and crashing into the home. As the outlet states, the residents of the apartment complex tried to convince her to get out of the vehicle.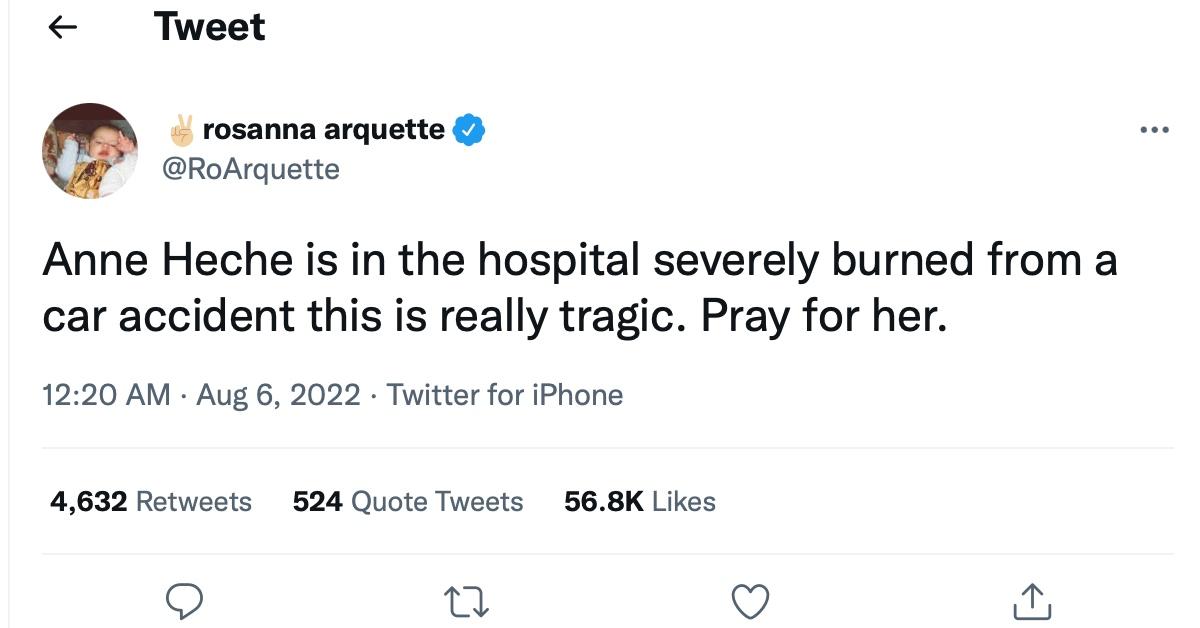 At first reporting of this story, the LAPD had issued a warrant on the day of the accident to determine if the actress engaged in reckless driving because she was under the influence. Sources later told TMZ that the LAPD was investigating Anne for felony DUI.
In a photo that was taken shortly before the accident, there appears to be a bottle of vodka or some other liquor in the cup holder of her car. However, others who saw the actress earlier in the day have said that she didn't appear to be intoxicated.
Anne Heche has since been diagnosed with a severe anoxic brain injury and is not expected to live.
On Thursday, Aug. 11, Anne's rep confirmed to TMZ that the actress suffered a severe anoxic brain injury as a result of the crash. "[She] remains in a coma, in critical condition. She is not expected to survive," her rep said.
Anoxic brain injury can be caused by any damage that deprives the brain of oxygen. Per SpinalCord.com, "Left without oxygen for too long, neural cells begin to die … When a large number of brain cells simultaneously die, patients can be left with diminished brain function. If the oxygen deprivation continues, anoxic brain injuries may even become fatal."
According to Anne's rep, plans are being put into place to attempt to donate Anne's organs, as that is something she wanted. "She is being kept on life support to determine if any are viable," they added.
At least one home burned down because of the accident.
The attorney representing Lynne Mishele, the woman whose house was destroyed because of the accident, issued a statement on Monday, Aug. 8, 2022. "Ms. Mishele is devastated by what happened to her on Friday — not only because she and her pets almost lost their lives, but because all of her property, including items of profound sentimental value, were destroyed. She asks for privacy at this incredibly difficult time."
Lynne's neighbors set up a GoFundMe page to help Lynne recover from the damage the crash caused. As of this writing, they've raised $130,000.
"Lynne and her family very narrowly escaped physical harm, and for that, we are very, very grateful," the page states. "The home, however, was completely burned — with 59 firefighters taking 65 minutes to extinguish the flames — and immediately red-tagged by the LAFD, necessitating that Lynne leave the place she loves. Even more distressing is that Lynne lost her entire lifetime of possessions."
Anne Heche and Ellen DeGeneres dated for several years.
After Ellen officially came out, Anne and Ellen went public with their relationship when they attended the premiere of Volcano together in 1997. The relationship reportedly lasted through 2000, but Anne looked back at it in retrospect as just a small part of her life and career.
"This wasn't a long-term love affair. This was a moment in my life when I was given the glory of being able to stand up for what I believe in and have since I was a kid," Anne said during an interview with Page Six.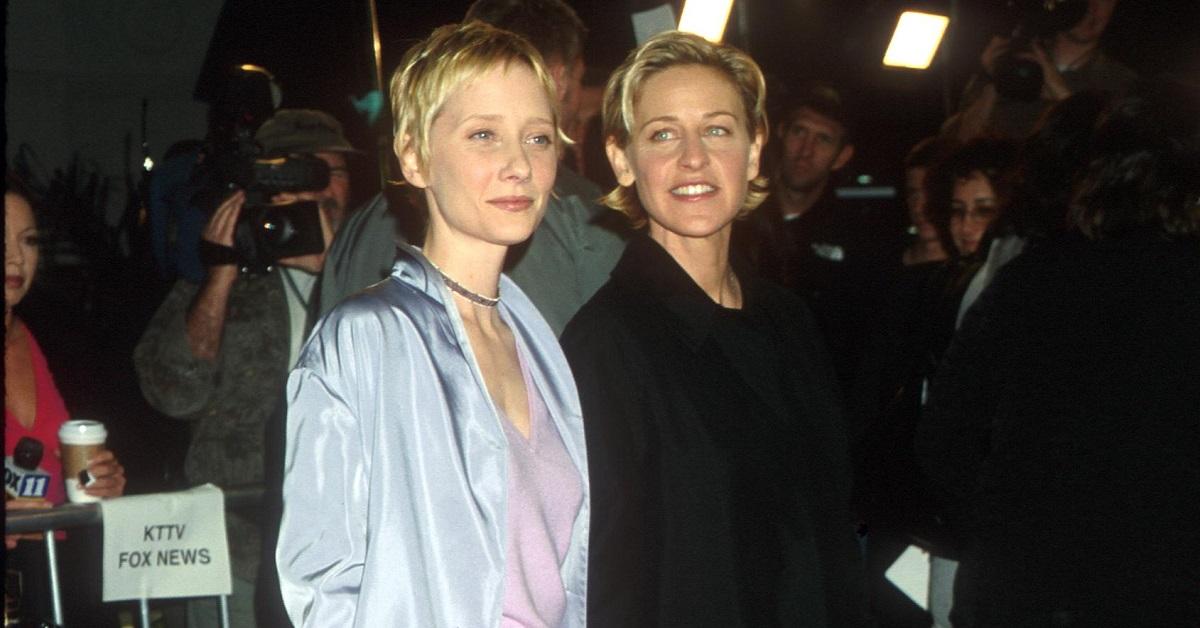 In spite of her claim that their relationship was relatively brief, Anne also said that her decision to go public with Ellen ultimately had a major negative impact on her career.
"I didn't do a studio picture for 10 years. I was fired from a $10 million picture deal and did not see the light of day in a studio picture," she claimed, suggesting that her decision to go public had effectively blacklisted her from the industry.
In spite of the personal difficulty it brought her, Anne was also proud of the role she played in shifting the norms of the world around her.
"Those repercussions that happened, are to me what has created a part of the change. I'm a part of it. It is a badge of honor," she said.
All of Anne's other romantic relationships have been with men, although they did say that she and Ellen would consider getting a civil union while they were together.
Ellen was asked about Anne's car crash.
Following the news that Anne was in a severe car crash, Entertainment Tonight reports that a photographer managed to track Ellen down and ask her about the crash. When asked about Anne's condition, Ellen said that she and Anne were not in touch with one another so she couldn't say for sure.
"I don't want anyone to be hurt," Ellen continued. Clearly, Anne and Ellen are not as close as they were 20 years ago, but the daytime talk show host sent her well wishes to the actress nonetheless.
In a statement from Anne's family, they confirmed that she was not going to survive her accident. "Unfortunately, due to her accident, Anne Heche suffered a severe anoxic brain injury and remains in a coma, in critical condition. She is not expected to survive," the statement read. "It has long been her choice to donate her organs and she is being kept on life support to determine if any are viable."
Anne Heche is confirmed dead after falling into coma following her car crash
Anne Heche has died at the age of 53 after suffering serious injuries in a fiery car accident in Los Angeles, according to her family.
Heche was declared brain dead Thursday night but has been kept on life support for organ donation, and her heart is still beating, her representative said Friday.
"My brother Atlas and I lost our Mom," her oldest son Homer said in a statement Friday. "After six days of almost unbelievable emotional swings, I am left with a deep, wordless sadness. Hopefully my mom is free from pain and beginning to explore what I like to imagine as her eternal freedom."
"Rest In Peace Mom, I love you," he said.
"We have lost a bright light, a kind and most joyful soul, a loving mother, and a loyal friend," Heche's family and friends said in a statement. "Anne will be deeply missed but she lives on through her beautiful sons, her iconic body of work, and her passionate advocacy. Her bravery for always standing in her truth, spreading her message of love and acceptance, will continue to have a lasting impact."
The actress was driving on Aug. 5 when she crashed into a home in the Mar Vista neighborhood of Los Angeles, engulfing her car and the house in flames, according to Los Angeles police and fire officials. No one else was injured and the home's resident and her pets were able to escape the blaze unharmed.
According to the Los Angeles Police Department, results from a blood draw completed after the crash showed Heche had narcotics in her system, but additional tests were being run to determine more about the drugs, and to rule out which ones may have been present based on drugs administered at the hospital.
Investigators told ABC News no alcohol was detected in Heche's blood sample, however, the blood draw was many hours after the crash and alcohol could have already gone through her system.
Heche's representative said the actress was initially hospitalized in stable condition. On Aug. 8, her rep said she slipped into a coma and was in critical condition.
Heche's family said in a statement on Thursday that the actress "suffered a severe anoxic brain injury" and was "not expected to survive."
"It has long been her choice to donate her organs and she is being kept on life support to determine if any are viable," her family said.
"Anne had a huge heart and touched everyone she met with her generous spirit. More than her extraordinary talent, she saw spreading kindness and joy as her life's work — especially moving the needle for acceptance of who you love," her family said. "She will be remembered for her courageous honesty and dearly missed for her light."