Former U.S. Vice President Mike Pence's religion is a big topic of his new autobiography, So Help Me God. That title is a reference not just to the oath of office but to the Indiana politician's decades-long devotion to evangelical Christianity.
"In So Help Me God, Pence shows how the faith that he embraced as a young man guided his every decision," publisher Simon & Schuster says in a description of the 560-page tome. "It is a faith that guided him on that historic day and that keeps him happily at peace, ready to accept the next challenge."
Read on for more information about Pence's religious evolution.
Mike Pence's religion started shifting to evangelical Christianity in college.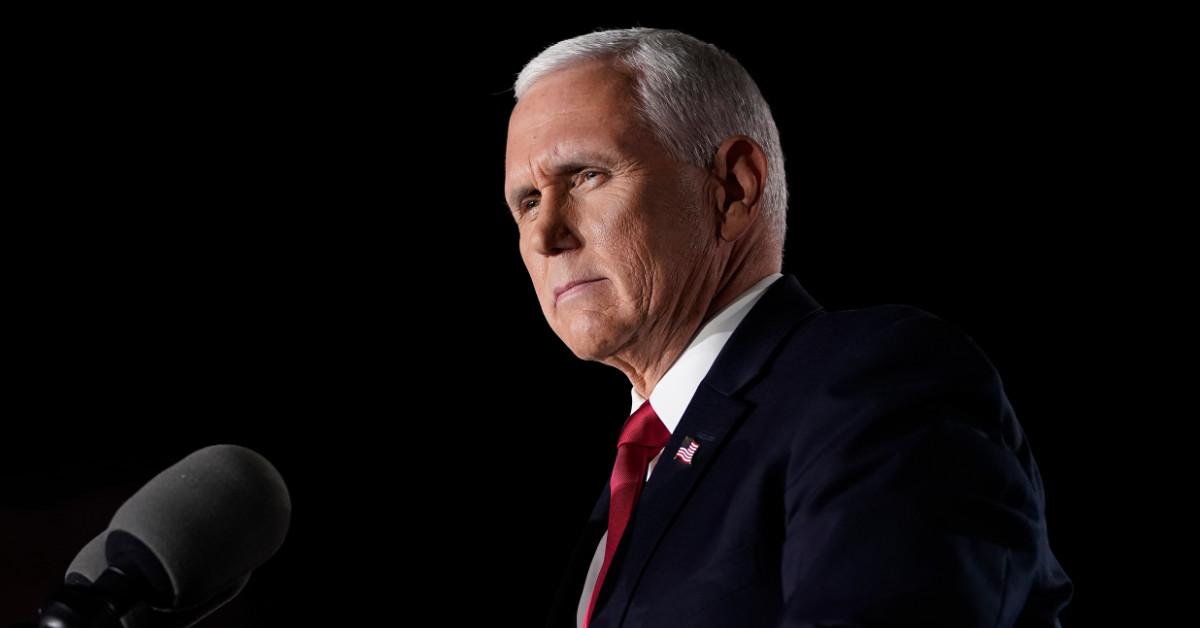 Pence was raised Roman Catholic and was baptized at St. Columba in Columbus, Ind., where he and his brothers served as altar boys and attended parochial school, as The New York Times reported in 2016. They also attended church six days a week, if not seven.
"Our life revolved around the church," one of his older brothers told the Times.
Once we got to Hanover College, however, Pence "began to meet young men and women who talked about having a personal relationship with Jesus Christ," as he recalled to CBN News in 2010. "That had not been a part of my experience."
"Standing at a Christian music festival in Asbury, Ky., in the spring of 1978, I gave my life to Jesus Christ and that's changed everything," he added.
After graduating from Hanover, Pence identified as an "evangelical Catholic" as he struggled to reconcile his Catholic experience with his changing religious beliefs, per the Times.
Pence's wife, Karen, was also "very much a part of his faith journey," as Mark Bailey, a former law colleague of Pence's, told the newspaper. The couple, who met during his years studying law at Indiana University, were attending an evangelical church in Indianapolis, Ind., by the mid-1990s.
Now Pence is the only one of his parents' six children who isn't Catholic. And his mother, Nancy, was disappointed by his religious shift, according to Rev. Clement T. Davis, the priest at the family's church. "You could see Nancy just shake her head about it," he told the Times. "She was disappointed. She had hoped he could find his way back to the church."
In his political career, Pence "prioritize[s] the rights of religious conservatives," observers say.
The influence of Pence's religion on his politics has drawn scrutiny over the years. According to Mother Jones, Pence followed a Religious Right-friendly agenda in Congress, voting against measures preventing LGBT discrimination and supporting federal legislation prohibiting same-sex marriage. And Reuters Investigates reports Pence "has been driven throughout his political career by his evangelical Christian beliefs to restrict abortion and prioritize the rights of religious conservatives."
Pence told CBN News that his modus operandi in life "all begins with faith."
"It begins with what matters most, and I try and put what I believe to be moral truth first, my philosophy of government second, and my politics third," he added. "It's a privilege to serve in Washington, D.C., but I never lose sight of what the Lord has called me to do in my life. And that is to be first a husband, and then a father, and succeed there from His perspective, and He'll take care of everything else."