Tyshawn Baldwin allegedly sped off during a routine traffic stop in Queens earlier this month, taking down three pedestrians in the process.
Tyshawn Baldwin is a free man once again – thanks to the $1M bond posted by his girlfriend (and the daughter of The Notorious B.I.G.) after he mowed over three pedestrians, including a toddler in a stroller, earlier this month.
Documents obtained by XXL Mag reveal that Baldwin was arrested on August 16th after surrendering to the police for the aforementioned incident which took place on August 10th. At the time, T'yanna Wallace's partner allegedly sped off from police during a routine traffic stop in Queens, hitting a small group of people in the process.
Police slapped Baldwin with 17 criminal charges, including unlawful fleeing from a police officer, endangering the welfare of a child, and reckless endangerment. Just two days later (August 18) he made a bond.
According to the NY Post, Wallace had the help of bail bondsman Ira Judelson and allegedly had to put up her $1.5M Brooklyn home to secure her man's release.
It's been noted that the three victims in the hit-and-run incident all suffered injuries, with the mother and 2-year-old child being treated for minor wounds at a local hospital, and a 35-year-old man suffering a more serious injury to his leg.
Baldwin is expected to return to court on October 18th. If convicted of the 17 charges he's been hit with, he could face up to 25 years in prison.
What is the net worth of T'yanna Wallace?
T'yanna Wallace is an American fashion designer who has a net worth of $20 million, according to Celebrity Net Worth.
Wallace is the daughter of the late rapper Notorious B.I.G., aka Christopher Wallace. Biggie famously sung about T'yanna in his 1994 song "Juicy," and she made a brief appearance in the music video. In 2013, T'yanna launched a clothing line called Notoriouss in honor of her father.
T'yanna Wallace's Biography
T'yanna Wallace was born T'yanna Dream Wallace on August 8, 1993, in New York. Her parents, Jan Jackson and Christopher Wallace had been together for four years when T'yanna was born, but they split up when she was eight months old.
Before his daughter's birth, Biggie had quit selling drugs in order to focus on his musical career. After T'yanna was born, he began selling drugs again, much to the chagrin of his producer, Sean "Puff Daddy" Combs. Once Combs discovered Biggie was selling drugs again, he forced him to quit and focus 100% on making records.
T'yanna was just three years old when her father was murdered in a drive-by shooting in Los Angeles, and before his death, Biggie set up a trust fund for his daughter's education.
Wallace is very close to her stepmother, Faith Evans, and has said "Faith's whole family is like my family, and my whole family is like her family. It's like the biggest jumble of everything, and I love it."
Wallace has a half-brother, Christopher Jr. (also known as C.J.), from Biggie's marriage to singer Faith Evans; C.J. is an actor who played a young version of his father in the 2009 biopic "Notorious." T'yanna attended Penn State University and spent a year working in the school cafeteria. She graduated in 2015.
What does T'yanna Wallace do for a living?
T'yanna started designing clothing and accessories when she was in high school, and she decided to start a fashion line in college.
In May 2013, she announced the launch of the Notorious clothing line, which features t-shirts and other fashion items. The launch happened just one day after what would have been Biggie's 41st birthday. Wallace opened a storefront in Brooklyn in 2017, and two years later, the store moved to a new location right across the street.
Every year on March 9th, the anniversary of Biggie's death, T'yanna releases a limited-edition t-shirt in his honor. She has said that her designs are influenced by her father and New York, and on her decision to go into the fashion business, she stated, "The Wallace name is big, I'm not gonna lie… I try to just continue the legacy. That's why I started my clothing line dedicated to him."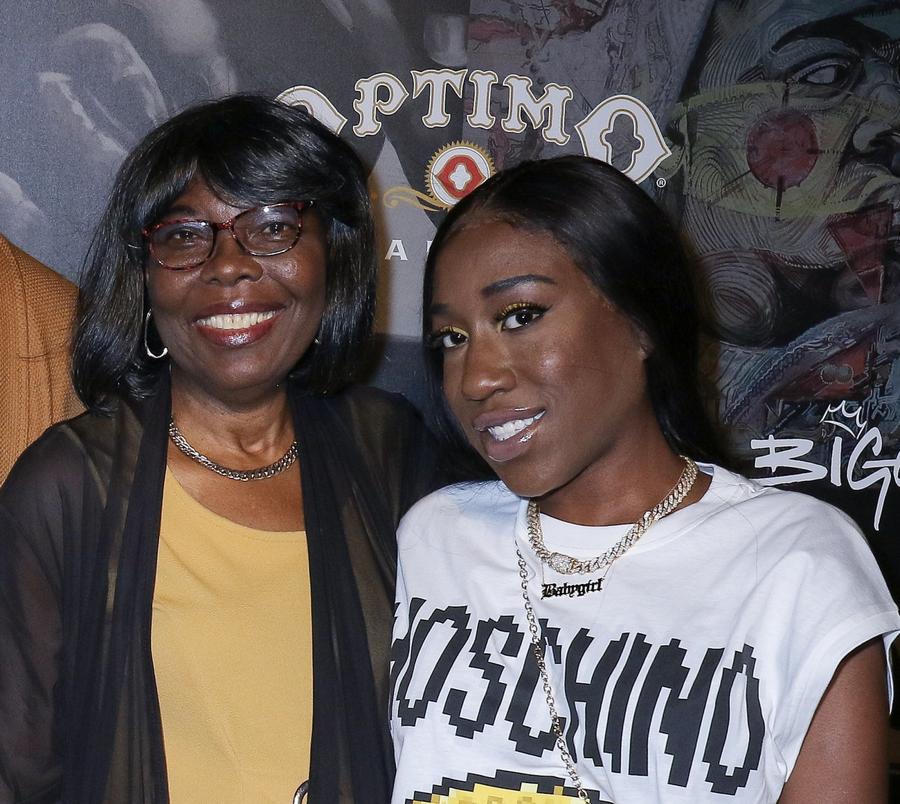 Voletta Wallace and T'Yanna Wallace (Photo by Arturo Holmes/Getty Images)
What has T'yanna Wallace said about her father's death?
Biggie's murder remains unsolved, and in a 2015 interview with "Juicy" magazine, T'yanna stated, "The whole not knowing who did it thing, it used to bother me a lot when I was younger…But as time goes by, you start to think, that happened so long ago. Like so much…street names have changed back then, and evidence has messed up, people have died from then…you know, just let him rest in peace. Just let him rest."