Christine Brown and Kody annouced their divorced November 2021 – but where do the 'Sister Wives' cast live currently?
When Sister Wives first started airing on TLC, the Brown family — which consisted of Kody and his four wives, Meri, Christine, Janelle, and Robyn, along with their children — all lived together under one roof in Lehi, Utah. They packed up everything in 2011 and relocated to Las Vegas, where each wife lived in a separate home on the same cul de sac. Fast-forward to 2018, and the Browns again embarked on a major move to Flagstaff, Ariz.
It makes sense, then, that fans might be wondering: Where does the family live now?
Where do the sister wives live now?
In August 2018, the Browns announced they were moving to the Grand Canyon State.
"As much as we've loved making our home and memories here in Las Vegas, we are excited to embark on a new adventure in Flagstaff, Arizona," the statement said, according to People. "We are looking forward to cooler temperatures, the mountain air, scenic views, and the slower lifestyle of Flagstaff."
And Flagstaff is exactly where most of them still live now — except for Christine, who now lives in Utah.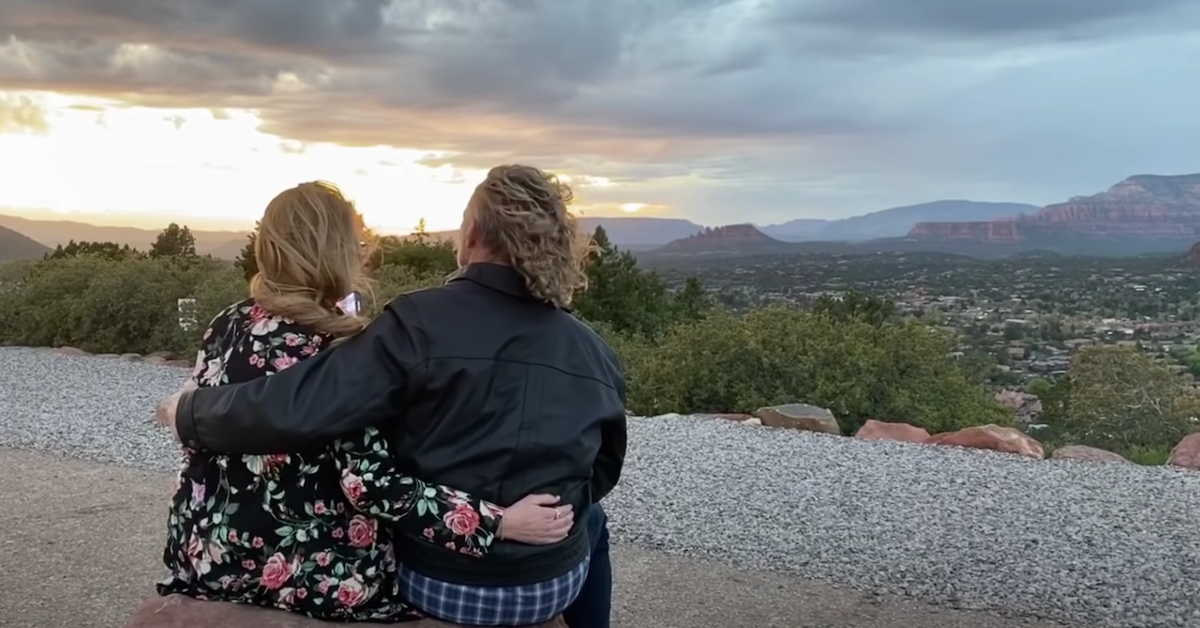 Although there was an issue with Meri's initial move to Flagstaff (she was forced to temporarily move back to Las Vegas because her landlady received complaints from disgruntled neighbors, who weren't happy with Meri's polygamist lifestyle), Kody's first wife eventually did join the rest of the family in Arizona.
By Season 14 of Sister Wives, each Brown wife was living in a separate home with her own children. The plan was to build one big house for everyone to live in together — and the family even purchased 20 acres of land in Coyote Pass, Ariz., in order to do so in April 2019.
However, despite the fact that the Browns were able to sell all four of their Las Vegas homes (so they had money to work with), they still couldn't agree on whether to build one house or four houses on their plot of land.
After much back-and-for in Seasons 15 and 16 (and through the continued familial divide caused by the COVID-19 pandemic), the Browns decided ultimately to build five separate homes. There would be one house for each wife and one for Kody on the Coyote Pass property. However, that plan went out the window when Christine decided to leave Kody.
Christine divorced Kody and moved to Utah.
Christine and Kody announced in November 2021 that they were divorcing following years of tension and a lack of physical affection. During Season 16 of Sister Wives, Christine had been longing to move to Utah to be closer to her adult children, but she was vetoed by her sister wives and Kody. So once she decided to leave her life of polygamy, she did just that.
Christine now lives in a duplex in Murray, Utah, to be exact. In August 2022, she sold her parcel of the Coyote Pass property to Kody and Robyn for $10.
Meanwhile, Kody, Robyn, Meri, and Janelle are all still living in separate homes in Flagstaff. (Although Janelle briefly resided in a camper on their Coyote pass property.) Perhaps the remaining Browns will finally start building now that Christine is out of the picture and has officially turned over her portion of the land.
Catch the Season 17 premiere of Sister Wives at 10 p.m. EST on Sept. 11, 2022, on TLC, or on the Discovery Plus app.