Jeff Bliss went viral for telling off a "lazy" teacher, Here's what he's doing now.
When it comes to the topic of education, there's no shortage of controversy. Whether it pertains to national policy, standardized testing, student loans, the way administrations are run, teacher pay, it seems like there's always a new issue to tackle and one new obstacle always begets or affects another. Which is probably why what happened between Jeff Bliss and his instructor in 2013 went viral.
Whatever happened to the Duncanville, Texas, teen?
The young man went on a rant against a teacher who he accused of being disinterested in not only the subject matter, but in actually engaging with the students she was supposed to be instructing, period. Jeff was upset that the instructor was just handing out packets instead of attempting to connect the material in an emotional way or work to get everyone excited about the subject matter.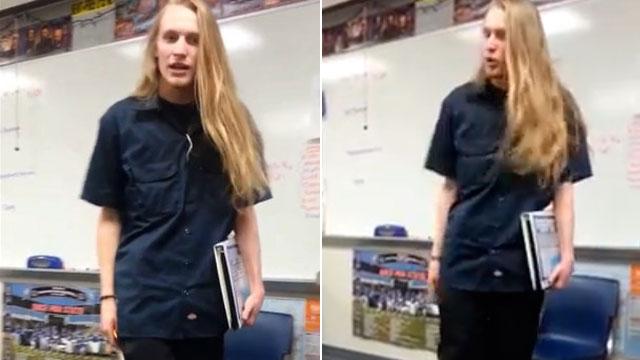 Jeff, as a student, had the wherewithal to confront the teacher about her behavior. The transcript of the video, which was uploaded and posted to YouTube, is as follows:
Student: Going off on kids because they don't freakin get this crap?
Teacher keeps saying "bye" and "get out"
Student: If you would just get up and teach 'em instead of handing them a freakin packet, yo! There's kids in here who don't learn like that…
It continues: They need to learn face to face. You're just getting mad because I'm pointing out the obvious.
Teacher: "No it's cuz you're wasting my time."
Student: No I'm not wasting your time; I'm telling you what you need to do.
You want kids to come into your class? You want them to get excited for this?
You gotta come in here and make them excited. You want a kid to change and start doing better?
You gotta touch his freakin heart. Can't expect a kid to change if all you do is just tell 'em.
Teacher: "Bye"
Student: You gotta take this job serious. This is the future of this nation. And when you come in here like you did last time and make a statement about 'oh this is my paycheck', indeed it is … but this is my country's future and my education. But there's a limit, when I'm not b——-, but simply making an observation. And now I will leave.
You're welcome! And if you would like, I'll teach you a little more so you can actually learn how to teach a freaking class,
(teacher keeps saying "bye" and "just go")
because since I got here, I've done nothing but read packets; so don't try to take credibility for teaching me jack.
Teacher: "Close the door"
And then the video cuts out.
The clip was shared online and Jeff's reaction became the viral talk of the town.
So what happened to Jeff Bliss since then?
The young teen launched a Twitter account where he advocated for education reform. His last tweet was in 2016, where he retweeted someone saying that he's alive. But what's the young man up to in 2023? Not much is really known about the young man since that fateful day in 2013 that happened to be recorded.
According to a Reddit post from a year ago, user beckbro24 said that he works with him at UPS:
"I happen to work with him. I'm a supervisor at a UPS hub. Jeff is a loader, basically he loads the packages into the trucks. He's really a cool guy, he's kinda quiet but he's a hard worker. I asked him about the video and doesn't really like to talk about it."
He seemed primed to become a voice for education reform in the country, at least that's how he was positioning himself while accumulating tons of followers on Twitter and Facebook. The Our Nation Our Education page on Facebook racked up over 18,000 likes and followers, and his twitter account still has some 11.7k followers, despite his general lack of activity.
Every once in a while, the video makes the rounds on social media and has people wondering where Jeff Bliss is, but not much is known about the former impassioned high school student who stood up to his teacher on that one fateful day.