Who is Pokimane? Biography facts about the famous millionaire Twitch streamer – her age, worth, and more
We know people like to watch people play games and that YouTubers can actually turn it into a rewarding profession. Imane Anys, also known as Pokimane, is a Twitch star and YouTuber who publishes live streams of videogame play. She has established herself as an unshakeable social media presence, with over 5.3 million followers.
As one could probably tell, her online name is a combination of her favorite game, Pokémon, and her own. But, perhaps attributing her popularity only to the video games she plays would be unfair. She also brings oodles of charm and some self-deprecating humor to the mix. Her interaction with fans is laid-back, and she handles criticism really well, too. Read on as we get to know more about the famous streamer.
Who is Pokimane?
Imane was born on May 14, 1996.
Known for her livestreams on Twitch, she is an internet personality who rose to fame after broadcasting video game content – specifically League of Legends and Fortnite.
Pokimane is also a member of OfflineTV, an online social entertainment group of content creators.
The 26-year-old has been streaming on Twitch since 2013.
By 2017, she was one of the most-followed accounts on the platform.
The same year, she won the Shorty Award for Best Twitch Streamer.
She was a featured honoree in the 2021 Forbes 30 Under 30 list and has over an 8.5million followers on the streaming platform.
Aside from Twitch, Pokimane is also active on YouTube, where she has multiple accounts: Pokimane, Pokimane Too, Pokimane VODS, Poki ASMR, and imane.
The fan-favorite streamer has stepped into more on-screen roles as well – she had a cameo appearance in the 2021 film Free Guy, as well as the music video for Sub Urban's Inferno.
She is part of Screamer House, a group of roommates consisting of Valkyrae, Pokimane, xChocoBars, and Starsmitten. The group signed a one-year lease and moved in together in June 2020.
Does Pokiman have a boyfriend?
LeafyIsHere is a rather notorious YouTuber whose claim to fame has been verbally attacking others — even children and marginalized people. This year, he posted a video attacking Pokimane. In one particular part of the video, LeafyIsHere insists that Pokimane has a boyfriend.
Since he has yet to be corrected, or rather, feel that maybe what he's doing is wrong, he continues to be the troll that he is even if it doesn't make sense for him to poke his nose in someone else's business.
Recently this year, he posted a video attacking Pokimane. In one particular part of the video, LeafyIsHere insists that Pokimane has a boyfriend.
Then, in his video "Content Nuke – Pokimane" he continued to pick on Pokimane's response to the initial attack. She suggests that the best strategy to deal with videos like Calvin's is to ignore them. After making fun of her even more, he asks his fans to share the video with the hashtag #pokimaneboyfriend.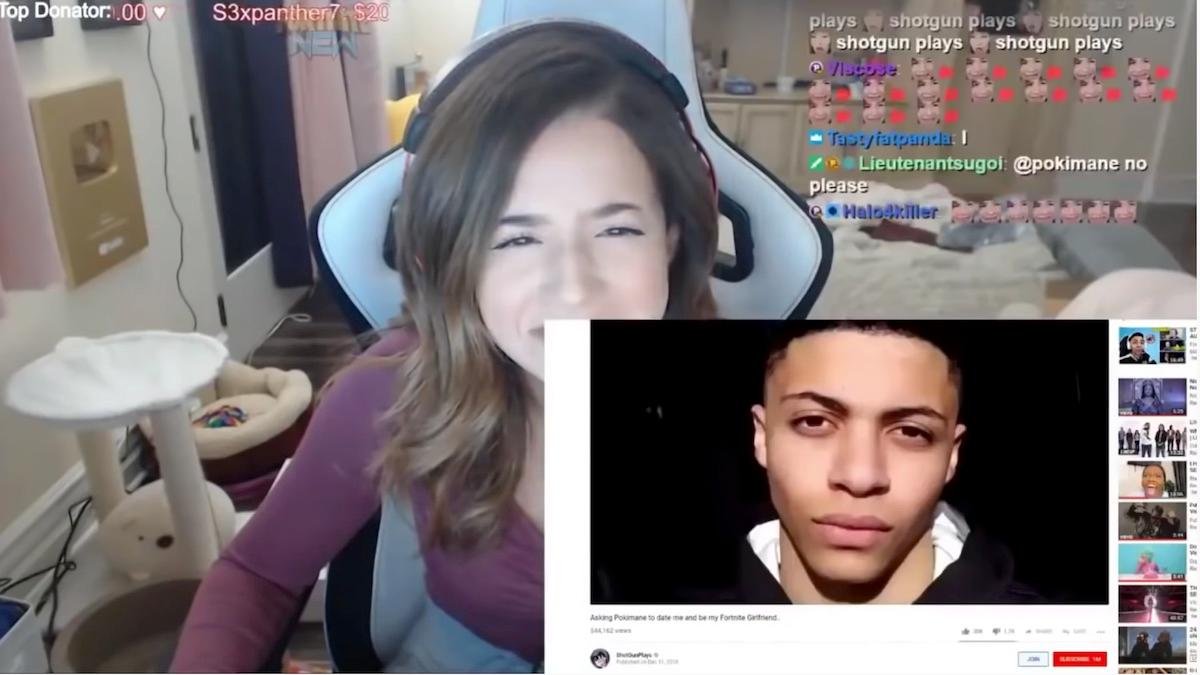 Along with LeafyIsHere, social media vlogger Keemstar also targeted Pokimane with the same insistence that she has a secret boyfriend.
It wasn't long before the #PokimaneBoyfriend hashtag went viral.
A lot of users jokingly posted their pictures with Pokimane, declaring themselves as the "secret" boyfriend. Many male followers also prepared to have their hearts broken by the grand reveal.
its me guys, im pokimane's boyfriend #pokimaneboyfriend— Steven ☾ (@123ABC987ZYX_) August 21, 2020
Other users thought that this was the perfect time to take potshots at Pokimane. They insulted the intelligence levels of her fans and how sensitive they were to be defending her so intensely.
Leafy was elated over the reactions — not surprisingly. He even tweeted about burning her "empire to the ground."
Pokimane will not be sharing her dating life with fans.
But the best responses came from Pokimane herself. As usual, she handled the situation with humor and tweeted a picture of herself with a Barack Obama cardboard cut-out saying, "it's time to come clean. #pokimaneboyfriend." This tweet started many other responses from other verified Twitter celebrities.
After having her fun, Pokimane put things into a more sobering perspective for her fans. She reiterated that she will not share her personal life online.
Pokimane also added that maybe, at some point in the future, if there is someone she feels strongly about, she will share the news with her fans.
Who else has Pokimane dated before?
Despite the continuous rumors linking her with fellow internet celebrities, Pokimane is currently assumed to be single.
While nothing is yet known about Pokimane's alleged past boyfriends, two names that have come up the most are Hasan "HasanAbi" Piker and Federico "Fedmyster" Michael Gaytan. However, Pokimane's "alleged relationship" with Fedmyster ended on sour terms, as Fedmyster was accused of sexual misconduct by Yvonne "Yvonnie" Ng and Lily "Lilypichu" Ki.
Why was Pokimane banned from Twitch?
On Friday, January 7, 2022, Twitch banned user Pokimane for 48 hours.
She livestreamed Avatar: The Last Airbender episodes to over 25K viewers, which violates copyright laws.
DMCA – Digital Millennium Copyright Act – criminalizes the production and dissemination of technology, devices, or services intended to circumvent measures that control access to copyrighted works.
Typically, copyrighted music sees more flack from unpermitted use than the TV and film industry does, however, Twitch is in control of monitoring what they will and will not allow on their platform.
A new trend on Twitch has seen creators watching various television shows and movies on livestreams, commentating along with their followers, and answering questions throughout.
"The fire nation attacked," Pokimane joked on Twitter, alluding to the series that resulted in her temporary ban.
"Confirmed 48 hour suspension! See you guys monday morning for a 12 hour comeback stream," she continued.
On Wednesday, July 20, 2022, Anys made the announcement regarding her temporary leave from Twitch — specifically mentioning mental well-being and some much-needed rest. "I've been feeling in need of a mental reset and some time to focus on myself [and] my life offline," Anys said on Twitter.
What is Pokimane's net worth?
According to The Loadout, Pokimane's net worth is estimated to be between $2-3million.
The majority of her income comes from streaming on Twitch and YouTube, with most of that coming from donations, ads, sponsored streams, and deals.
Pokimane makes most of her money from streaming, according to The Loadout.
She is the biggest female streamer on Twitch with 8.3 million followers and can earn between $10,000 per 3,000 subscribers.
She has 9,500 subscribers meaning she pulls in around $35,000 per month, according to the site.
According to a Twitch leak reported by The Loadout, she took home just over $1.5million between August 2019 and October 2021.
She says she makes most of her money from sponsors, investments, and exclusive contracts.
She also has over 6.69million YouTube subscribers and earns between $5,000 and $10,000 on the video-sharing platform.
According to Streamer Facts' calculations, Pokimane makes about $8K from ads monthly. Pokimane is one of the streamers that capped her donation to a maximum of 5$ – she stated this is because her income from other sources is enough to sustain her lifestyle. From donations, she likely makes $1K to $2K monthly.
She also has lucrative sponsorship with CashApp, NZXT, and Postmates.
In November 2020 she begged her fans to stop sending her money, capping donations to $5 max.
Instead, she asked them to "support growing channels, charities, and treat yourselves".
She owns Porsche Cayenne worth $260,000 USD and reportedly drives most of the expensive cars.