NBA Coach and former player Doc Rivers is famous for his role on the court and off. How many children does he have? Let's get to know his family.
The illustrious career of Glenn Anton "Doc" Rivers in the NBA first kicked off in 1983. After playing basketball himself for the likes of the Atlanta Hawks, the Los Angeles Clippers, the New York Knicks, and the San Antonio Spurs, Doc retired from playing in 1999 and began coaching. Doc was fired on May 17, 2023, after coaching the Philadelphia 76ers for three years.
With a powerhouse career, Doc Rivers has garnered attention and admirers from all corners of the sports world. What about his personal life? Keep reading for everything you need to know about his children, including which kids followed in their father's footsteps.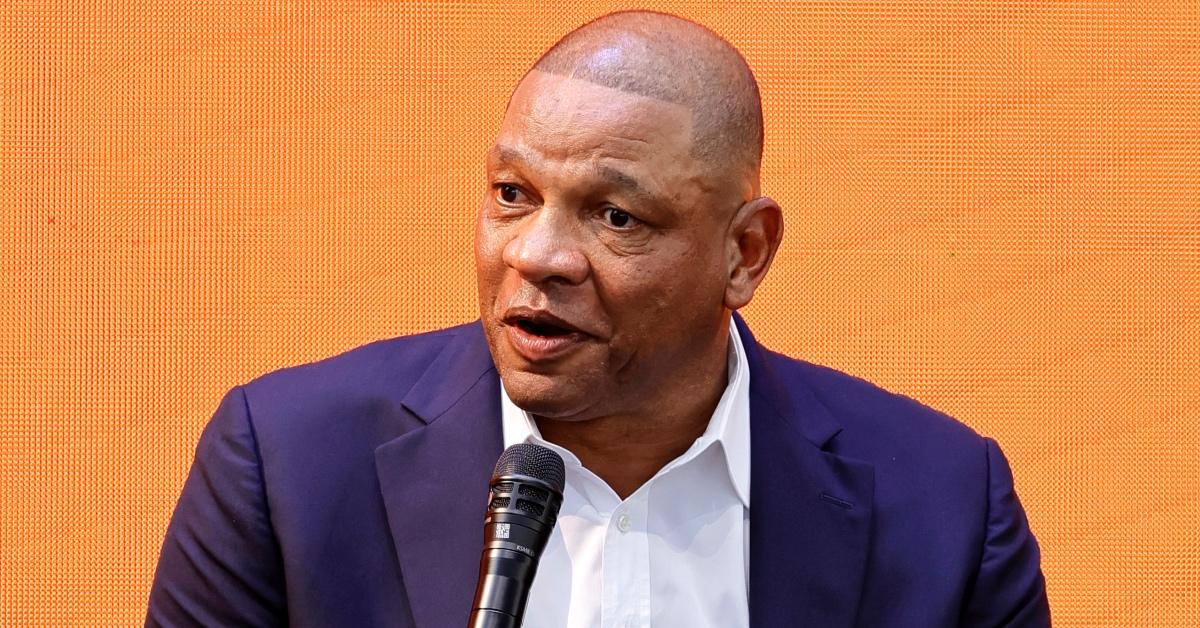 Doc Rivers shares four children with ex-wife Kristen Rivers.
According to the Orlando Sentinel, Doc met Kristen when they were both attending Marquette University. The duo married in 1986 and share four children together. Doc and Kristen formally divorced in 2019, but as of 2020, a source reported to The Sun that "Doc and Kristen have been separated for five years and been in the process of getting a divorce for the past two years."
Jeremiah Rivers
Like his father, his eldest child Jeremiah Rivers was a basketball star. As reported by NBC News, he played basketball at Georgetown University, Indiana University, and even in Serbia. However, NBC says Jeremiah's rise to basketball stardom was slowed by a double ankle surgery in 2012, which required lots of rest and recovery.
According to his LinkedIn page, Jeremiah graduated from Indiana University with a degree in business administration and management and is now the co-founder of Player Edition, a tech company focusing on NFTs and sports.
Callie Rivers
Unlike her brothers, Callie Rivers played volleyball at the University of Florida while studying telecommunications, then played professionally for the Leona de Ponce in Puerto Rico, per Sports Illustrated.
Callie is married to fellow sports star Seth Curry. The duo married in September 2019 and have two children: Carter and Cash. Seth even played basketball alongside her brother Austin for a time, and the Curry and Rivers families are very close. "The Currys are a great family," Doc told Andscape in April 2019. "I've known Dell and Sonya for 100 years. It's very natural. Two good families, so it's pretty cool."
As someone very protective of her family, fans were shocked when, in May 2023, Callie made a swift retort on Twitter in response to her father's firing. An ESPN analyst wrote the top three teams with the most wins in the 2020-2021 season, to which Callie quote-tweeted and replied pointedly, "Hate to see it."
Doc Rivers helped the Sixers achieve an estimated 154 wins since he took over as head coach in 2020.
Austin Rivers
Out of all his siblings, Austin Rivers is the only one to play in the NBA. After graduating from Duke University, where he also played basketball, and began his NBA career in 2012 after being selected by the New Orleans Hornets. He was later traded to the Boston Celtics and then the Los Angeles Clippers under his father's coaching, making him the first son to play for his father at an NBA game.
In 2018 Austin briefly joined the Washington Wizards before joining the Houston Rockets. In 2020, he spent a year with the New York Knicks, another year with the Denver Nuggets, and as of 2022, he plays for the Minnesota Timberwolves. He is also married to model Audreyana Michelle, with whom he shares two sons.
Spencer Rivers
Youngest Rivers child Spencer Rivers also plays basketball, to no one's surprise, but in 2010, Doc noted to the Boston Herald that Spencer was "the coach of the group" even from a young age. "A 13-year-old kid, since he's been 10 he's been jumping on planes by himself," Doc mused. "He comes up on the weekend, I meet him at the gate and he hangs out… He's the coach of the group — that's what [assistants Tom Thibodeau] Thibs and Armond [Hill] always say because he's very opinionated."
After attending the University of California Irvine, Spencer did indeed decide to follow his father's footsteps into coaching, where as of 2023, he is the Skills Development coach for the Philadelphia 76ers.
Additionally, Doc and Kristen became legal guardians of Adam Jones, who they consider a son.
Adam Jones grew up in Oakland, Fla., the neighboring town to Winter Park, where the Rivers family resided. His family situation was dire, and as a child, Adam often slept on his uncle's porch for a place to rest his head. In high school, his uncle revealed he needed a kidney transplant and could no longer support Adam, making him homeless.
Thankfully, Adam had one of a few friends in school: Austin Rivers. The Rivers family took Austin under their wing and formally became his legal guardians in 2013, per NCAA. In 2023, Adam works as the Basketball Director and Professional Educator at Scholar-Athlete Leadership Academy in New Jersey.