Coach Rob is a team favorite on 'Last Chance U: Basketball' — Did he move on from the show?
Award-winning poet and civil rights activist Maya Angelou once said, "I did then what I knew how to do. Now that I know better, I do better." Each experience is an opportunity to learn and grow while understanding you did the best you could with the tools you had at the time.
For the players on Last Chance U: Basketball, this is possibly the final stop before they'll have to get off the ride.
Now in its second season, the Netflix docuseries follows the players and coaching staff at East Los Angeles College (ELAC). This is where one ends up when they have nowhere else to go, with the hopes that the next move is up. Helping the kids to reach their goals is a group of caring coaches who refuse to give up on them. Team favorite coach Rob Robinson has gotten less screen time in Season 2 than he did in Season 1. Where is Coach Rob now? Hope he wasn't boxed out.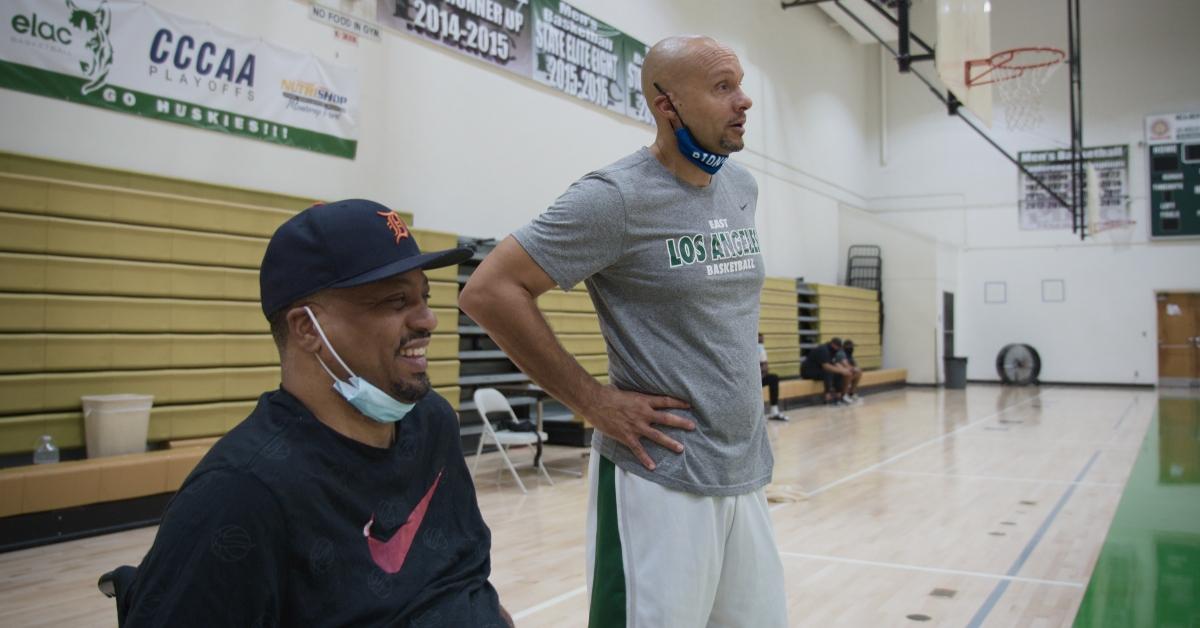 Where is Coach Rob now? He has a new gig!
After spending three years at East Los Angeles College, the MiraCosta College athletic department announced that Coach Rob would be joining them as head men's basketball coach. On April 20, 2022, Coach Rob posted a photo of himself to his Instagram, sporting a MiraCosta College T-shirt with the caption, "They done gave me the keys to the gym at MiraCosta College in Oceanside, CA. Going to miss ELAC, but we about to be ballin' at da beach!"
While at ELAC, Coach Rob helped lead the basketball team to a cumulative 78-11 record. And while his coaching skills are impressive, Coach Rob's job didn't begin on the court. He was instrumental in recruiting players who he then helped earn scholarships at the "next level."
Before landing at ELAC, Coach Rob was at Notre Dame High School in Riverside, Calif. for an impressive 20 years. "He has been named Cal-Hi State Coach of the Year, SCIBCA Southern Coach of the Year, and the Press Enterprise Coach of the Year," per MiraCosta College.
Coach Rob treats his players like they are his own children.
While guesting on the Dad Up Podcast in December 2021, Coach Rob revealed that his coaching style has a personal touch. "I treat these young men just like I would treat my own kids," he shared. "I don't do anything special. Coach Rob just shows up. The same guy who left the house shows up to the locker room and I'm gonna father them just like I father my own kids."
Coach Rob went on to talk about the dynamic that exists in college versus when these kids were playing in high school. They don't have to listen to him, but he always offers advice. "In college and dealing with college kids, it gets real," Coach Rob said while laughing.
The amount of talent on the East L.A. team is juxtaposed against the players' circumstances. If they end up there, with all their skills, something went wrong. "We're there fixing that, constantly," Coach Rob said. "The longer you can keep dudes engaged in college…is a good thing."
Seasons 1 and 2 of Last Chance U: Basketball are currently streaming on Netflix.