The Dolan Twins quit Social Media in 2021 — What ever happened to them?
In 2021, the Dolan Twins disappeared from social media. The brothers quickly rose to fame in 2013 after blowing up on Vine and subsequently switched to YouTube following the app's downfall.
To say that Grayson and Ethan Dolan achieved internet success — with their 10 million subscribers, multimillion-dollar net worths, and countless celebrity collaborations — is an understatement.
However, it appears spending their teenage years in the spotlight took a significant toll on their well-being. Have they achieved some semblance of normalcy in early adulthood? What happened to the Dolan Twins?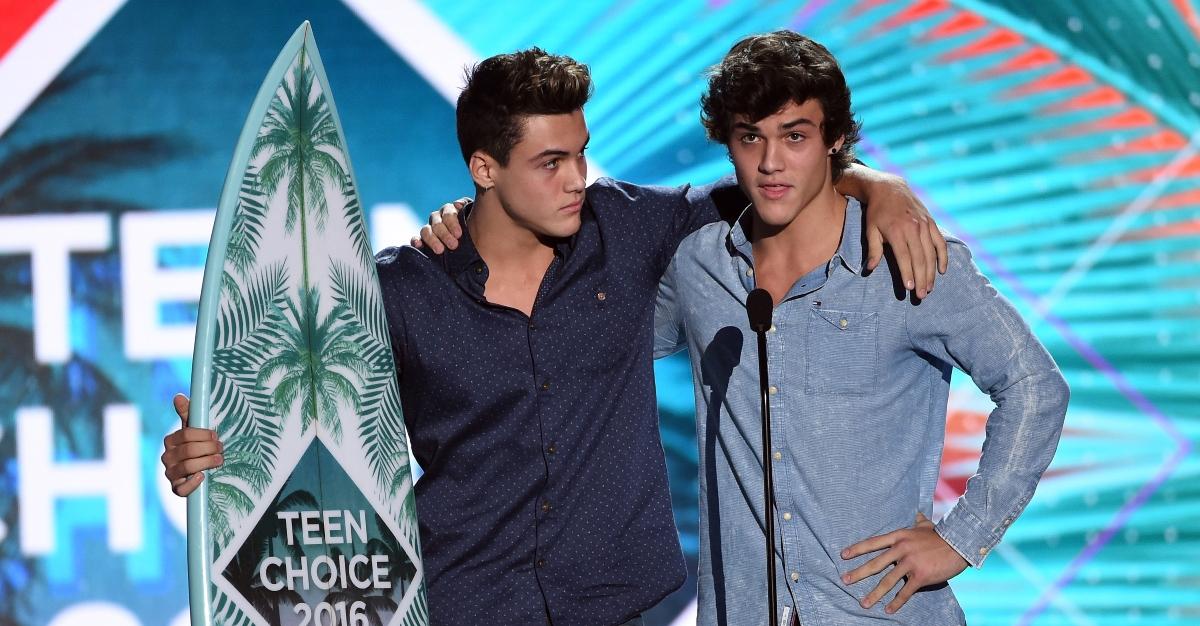 What happened to the Dolan Twins? They quit YouTube in 2020.
The famous comedy duo amassed a considerable following on their YouTube channel, which they started in 2014 and amassed 10 million subscribers. Viewers looked forward to their weekly Tuesday videos depicting everything from challenges to pranks to vlogs. Ethan and Grayson Dolan frequently collaborated with beauty guru James Charles and social media star Emma Chamberlain in 2018, calling themselves the "Sister Squad."
With over-the-top, sensational content, the Dolan Twins' YouTube videos often felt catered toward a younger audience — something they struggled with heavily as they matured. In December 2020, they posted a video titled "We Need to Talk," where they explained that they were struggling to find a video style that felt authentic to them. A little over two weeks later, Ethan and Grayson stopped posting on YouTube and haven't uploaded anything on the platform since then.
The Dolan Twins addressed why they left YouTube on their podcast in 2021.
During a Jan. 14, 2021, episode of their Deeper podcast, the Dolan Twins vaguely discussed their decision to leave YouTube. "We are not moving on from YouTube because we have a lack of appreciation for you guys," they explained. However, their August 2019 interview with Logan Paul on the Impaulsive podcast shed more light on their mindset regarding YouTube.
"It's hard to find the balance of what you want to film and what the fans want to see," Ethan admitted. "I feel like I've become trapped in my 17-year-old body as soon as the f–king camera turns on because this is what my audience likes. I have to turn it on."
The Dolan Twins' father died in 2019.
Another potential reason Ethan and Grayson quit social media lies in the fact that their dad died in January 2019. At age 50, the Dolan twins' father died after battling cancer for over two years. At the time, the duo shared that they would step away from social media for a while. However, many fans didn't respect their need for privacy. #SeanDolanFuneralParty began trending on Twitter, with viewers planning to meet at Ethan and Grayson's father's funeral.
"The best way you could support us during this tough time is to NOT show up at our father's wake or funeral," Ethan wrote on Twitter. "Thank you guys and please please please respect my wish."
Where are the Dolan Twins now?
When Ethan and Grayson talked about leaving YouTube on their podcast, they insisted they would still be active on their podcast and other social media platforms. However, that promise didn't last. The last episode of their Deeper podcast aired in May 2021; Grayson's final Instagram post occurred that same month. And Ethan hasn't posted on Instagram since February 2021. Little is known about the Dolan Twins' lives or whereabouts following their disappearance from social media.
However, in December 2022, @stinkytaylorr00 uploaded a TikTok of the Dolan Twins discussing their lives since stepping away from the spotlight. "If I'm not sharing my life with anybody at all, what would I actually find joy doing?" Ethan mused. "That's why I really need to be off social media while finding myself."
"I'm really passionate about trying to use my life to make a positive change on this planet. I want to make sure that I don't end up doing something that is counterproductive, and I have to, you know, retrace my steps and do it better," he continued. "So I think I just have to really collect my thoughts and become more articulate. And really figure out what I'm passionate about, and from then, I'll be able to do it without messing up as much."