Thomas Petrou and Mia Hayward from the Hype House started dating in 2020 — Where are they now?
With more than 5.4 million Instagram followers and 21.1 million TikTok followers to boast, 24-year-old Thomas Petrou has established himself as one of the most prolific content creators and a key figure associated with Los Angeles's notorious incubator, the Hype House.
Founded in December 2019 by Thomas, Daisy Keech, Lil Huddy, Kouvr Annon, and Alex Warren, the Hype House has quickly transformed into a pop-cultural phenomenon in its own right. What happened to the current inhabitants since the Netflix show Hype House wrapped up? Are Thomas and his girlfriend, Mia Hayward, still together?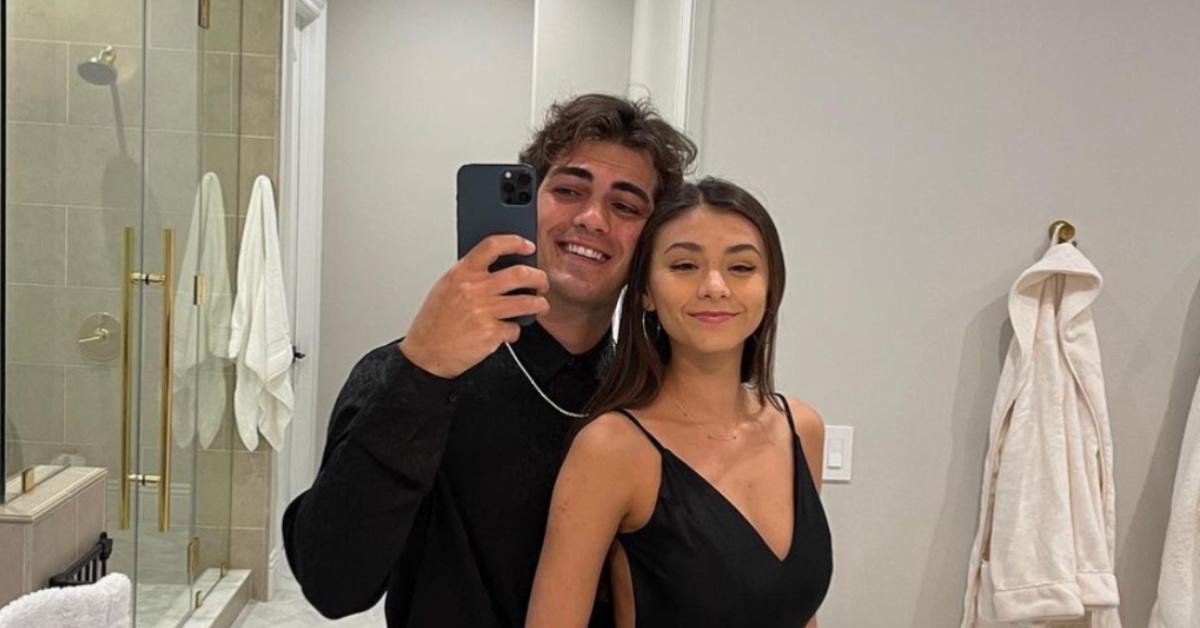 Thomas Petrou and Mia Hayward started dating in April 2020. Are they still together?
Season 1 of Hype House takes viewers behind the scenes, capturing the most pressing challenges faced by ambitious content creators like Thomas, Mia, Lil Huddy, and others during their day-to-day lives. From money problems to issues such as finding inspiration, the Netflix show explores all the difficulties of influencer life.
Hype House also offers up a few details about the private life of its cast. In the trailer, Nikita Dragun describes the struggles of managing business and personal relationships as a social media star. What's more, the show offers a glimpse into Thomas's relationship with Mia.
Thomas and Mia started dating in 2020, making things Instagram official circa April 2020. Whether or not this is good news, Thomas and Mia are still going strong.
Mia Hayward appears to have become the subject of extensive criticism after the premiere of 'Hype House.'
Mia's relationship with Thomas became a source of concern for some Hype House viewers, many of whom are merely rooting for their favorite content creators to survive and continue collaborating regardless of the at-times icy atmosphere of the Hype House.
Some venture so far as to accuse Mia of single-handedly severing the relationships inside the Hype House.
"Started watching Hype House on Netflix because I'm bored, and damn, Mia is annoying. She sure has a lot of audacity for only being there because she is Thomas's girlfriend. He needs to wake up and see she is the reason that the Hype House is failing. Drop that b—h and let Vinnie and Chase live," tweeted @strangemmurdock.
Another person said that Mia and Thomas are toxic.
"So, I started watching the Hype House series for the plot — that being Chase and Baron — and I literally never knew who Mia and Thomas were, but they are super annoying and toxic to all the other creators. How are you gonna talk s–t about all your friends on a reality TV show?" tweeted @shivvgal.
Thomas Petrou and Mia Hayward don't seem to be too bothered by the new wave of complaints detailing how annoying they are.
"Mia and I on our way to read the comments, LOL," Thomas captioned an Instagram post shared on Sunday, Jan. 9, 2021, a few days after the premiere of Season 1 of Hype House.
Season 1 of Hype House is available on Netflix now.