Nina Dobrev's new boyfriend Shaun White Is kind of a Big Deal.
Just because the country is practicing social distancing doesn't mean you can't strike up a new romance — and Nina Dobrev has proven just that.
In March 2021, paparazzi spotted Nina out riding her bike with Olympic gold medalist and snowboarder Shaun White, and rumors of their relationship instantly started to spread.
Nina is no stranger to a high-profile relationship, and this new potential romance is no exception. But are the pair official?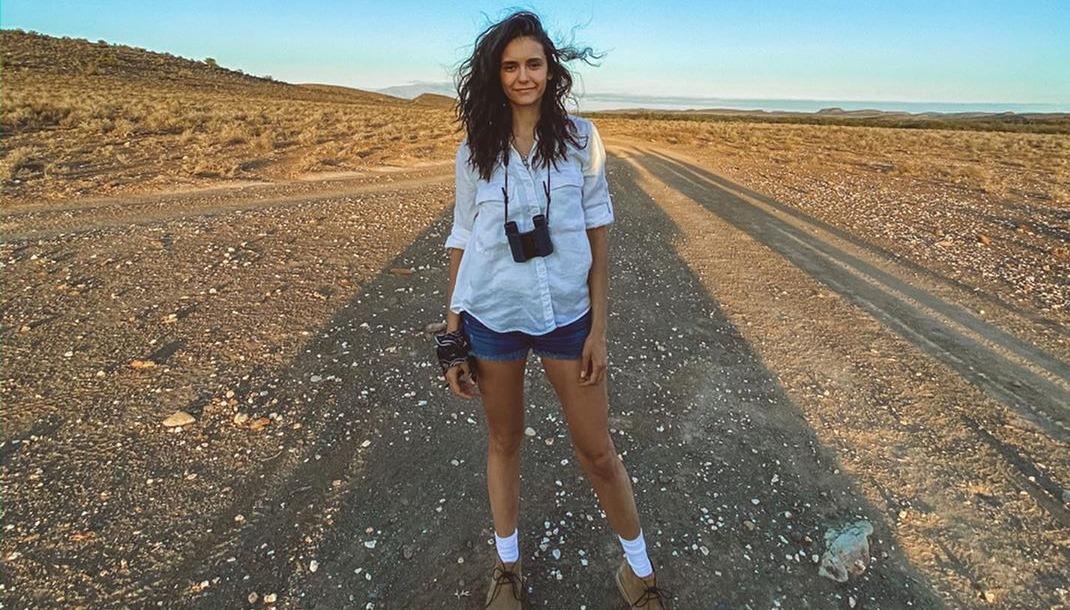 Are Nina Dobrev and Shaun White dating?
Judging from the very first photos that surfaced of the two on a bike ride together, it certainly seems like Nina and Shaun are enjoying a fun time together. He's even shown holding her dog in one of the pictures, and anyone with a fur baby knows how big of a deal that is! At the time, an alleged insider did reveal to E! News that, even though "their relationship [didn't] have an official title," they had been hanging out a lot.
However, fans can finally rest. There's no need to worry about speculation anymore — Shaun has officially confirmed it all. He gushed about the Vampire Diaries actress to People, saying, "Nina's just been so supportive and so amazing through this whole process for me. Through the pandemic, she was a lifesaver — she really made that time in my life special." Seems like the two are going strong.
By January 2022, the twosome couldn't seem to stop gushing over each other, offering up sweet tidbits about their relationship in respective interviews. "I am very happy," Nina admitted when being probed about whether or not she'd be tying the knot anytime soon by Extra. Still, she did concede, "Things are going very well and I'm very, very happy."
Nina also hinted that she had found her person while discussing her new film, Redeeming Love, saying, "Love is amazing and difficult. Just because you find love doesn't make it butterflies and angels. There's gonna be tough times and good times, and it's really about who you want to spend those hard moments with. And finding that person you can go through hell and back with."
Shaun, for his part, told Us Weekly that when the couple does fall on hard times, they know exactly how to handle it. "The problems that we do face, they kind of fall away through communication," he shared. "It's just been great."
To celebrate the Olympic athlete's retirement, the couple jetted off to Costa Rica together. Nina and Shaun took to the 'gram to share multiple photos of themselves relaxing on their tropical getaway. Shaun wore a Lion King tank that said "Hakuna Matata" with a caption that read, "It means no worries…. #retired." On Nina's first vacay bikini pic, he commented, "Costa Rica looks good on you," followed by a heart eye emoji.
After dating for two years, the duo finally made their first red carpet-appearance together in May 2022. With effortlessly coordinated ensembles, the pair exuded pure Hollywood glamour. Nina stunned in a silk ivory floor-length slip gown with a leg-bearing slit and cut-out. She paired it with a slicked-back updo and striking red lip. Shaun looked dapper in a polished tuxedo featuring a crisp ivory jacket and black bow tie.
Here's what else Nina Dobrev's fans should know about Shaun White.
Nina might have starred in a hit TV series and appeared in a handful of major movies, but Shaun is no stranger to fame himself. He has won three Olympic gold medals in his career so far, along with 13 Winter X Games gold medals. He recently announced interest in competing at the Winter Olympic games in 2022 in Beijing, so he may very well earn more gold medals in the near future.
Nina Dobrev's past boyfriends are high profile, too.
Nina has been linked to other big celebrities in the past, as well. She briefly dated dancer Derek Hough, and might be most well known for her relationship with Vampire Diaries co-star Ian Somerhalder. Nina also dated actor Glen Powell and, more recently, actor and filmmaker Grant Mellon.
Since leaving The Vampire Diaries in 2015, Nina has been busy with more than just new boyfriends. She returned for the series finale in 2017 and, in the same year, starred in the movie Flatliners.
She later starred in the film Run This Town, and then the TV series Fam. It's a wonder how she has time to date at all with such a busy schedule, but we're sure that her Olympian boyfriend understands! These days, she seems happier than ever in her relationship with Shaun, regardless of who she dated in the past and how busy work might get.