Biography facts about Jeff Bezos, the famous American business magnate and one of the world's richest persons — the founder of Amazon, The Washington Post and Blue Origin.
KEY FACTS
Quit his job in finance in 1994 to launch an online bookstore
Wrote the Amazon business plan in the car as he drove across country
Net worth topped $12b the day Amazon went public in 1998
Net worth sank to $2 billion after the dotcom bubble burst
Net worth topped $50b for the first time in 2015
Net worth topped $100b for the first time in 2018
Owns $1b worth of Google thanks to a pre-ipo investment
Was worth $136b the day he and wife MacKenzie announced their separation
MacKenzie received 20m shares of Amazon and is now the richest woman in the world
Had they never divorced, Jeff's net worth would easily top $250b
Owns The Washington Post
Owns $300m worth of property in Beverly Hills
Owns $60m worth of property in Washington
Has sold at least $70b worth of Amazon shares to date
Sells $1b per year to fund space company Blue Origin
Net worth hits $211 billion in July 2021
Jeff Bezos (real name Jeffrey Preston Bezos) is a 57-year-old American Billionaire entrepreneur, e-commerce pioneer, and the founder and CEO (now Chairman) of the e-commerce company Amazon, owner of The Washington Post, and founder of the space exploration company Blue Origin.
His company Bezos Expeditions is a partial funder of businesses such as Airbnb, Twitter, and Uber. Jeff Bezos has a net worth of $210.7 billion in 2021.
He graduated summa cum laude from Princeton University with a Bachelor of Science in engineering. His first job dealt with computer science on Wall Street.
He invested $42 million in the Clock of the Long Now, which was mechanized to keep time for 10,000 years. He was named "richest man in modern history" after his net worth went up to $150 billion in July 2018.
He was born on January 12, 1964, in Albuquerque, New Mexico to a teenage mother, Jacklyn Gise Jorgensen, and his biological father, Ted Jorgensen, and was later adopted by his stepfather Miguel Bezos.
He married novelist MacKenzie Bezos in 1993 and after more than 25 years together they separated in early 2019. The couple had four children together — three sons and one daughter. They adopted their daughter from China. The eldest, 21-year-old Preston Bezos, was born in 2000 and is currently at Princeton University He has been dating Lauren Sanchez since 2021.
He was named Time Magazine's Person of the Year in 1999. Mark Zuckerberg was named Person of the Year in 2010.
Jeff Bezos acquired a $12.9 million mansion in Beverly Hills in July 2018 and a $78 million Hawai Estate. Jeff's first real estate project cost $255 million for two properties in Beverly Hills. He owns luxurious car collections.
How did Jeff Bezos get rich? How much does Jeff Bezos make in a day? Does Jeff Bezos have kids? What does Jeff Bezos do with his money? How did Amazon get so big so fast? Who are Jeff Bezos's kids? Why did Bezos retire? Read till the end of this article for answers to these and more google search queries.
Jeff Bezos Profile Summary
| | |
| --- | --- |
| Celebrated Name: | Jeff Bezos |
| Net Worth: | $210.7 Billion |
| Salary: | $0 |
| Full Name: | Jeffrey Preston Bezos |
| Date of Birth: | Jan 12, 1964 |
| Age: | 57 Years Old |
| Birth Place: | Albuquerque, NM |
| Gender: | Male |
| Height: | 5 feet 6 in (1.71 m) tall |
| Profession: | Entrepreneur, Businessperson |
| Business Companies: | Amazon; The Washington Post and Blue Origin. |
| Education: | Princeton University (1982–1986), Miami Palmetto Senior High School (1982), River Oaks Elementary School. |
| Nationality: | United States of America |
| Zodiac Sign: | Capricorn |
| Siblings: | Mark Bezos |
| Parents: | Ted Jorgensen, Miguel Bezos, Jacklyn Bezos |
| Wife: | MacKenzie Scott (divorced in 2019) |
| Girlfriend: | Lauren Sanchez |
| Children: | Preston Bezos, two other sons and one daughter. |
Check out these interesting facts about Jeff Bezos, one of the world's richest businessmen and CEO of Amazon; The Washington Post, and Blue Origin that everyone must read about…
Jeff Bezos Biography (Wikipedia, Age, Height, Education, Early Life, Family Life, Personal Life, Wiki, Bio, etc…)
#1. Jeff Bezos's real name is Jeffrey Preston Bezos.
#2. Jeff was born on January 12, 1964, in Albuquerque, New Mexico making his age, 57 years old as of 2021.
#3. Bezos was born to a teenage mother, Jacklyn Gise Jorgensen, and his biological father, Ted Jorgensen.
#4. Jeff Bezos is 5 feet 6 in (1.71 m) tall and has Capricorn as his Zodiac sign.
#5. His mother was a 17-year-old high school student when she gave birth to Jeff.
#6. His father owned a bike shop.
#7. His mother eventually divorced Jeff's birth father.
#8. When he was 4 she married a Cuban immigrant named Miguel Bezos.
#9. Soon after the wedding, Miguel adopted Jeff, and Jeff's last name was legally changed from Jorgenson to Bezos.
#10. The family moved to Houston where Mike got a job as an engineer for Exxon.
#11. At Houston, they were also closer to his mother's parents who had a cattle ranch south of San Antonio.
#12. His maternal grandmother Mattie Louise Gise was first cousins to country singer George Strait.
#13. While growing up in Texas, Bezos used his parents' garage as a laboratory for his science projects. He would also spend summers working at his grandparent's ranch.
#14. Jeff would later claim to have learned his work ethic during his summers at the ranch. He would also later purchase the ranch and expand it from 25,000 to 300,000 acres.
#15. The family moved to Miami, around the time Jeff was entering high school. While in high school, Jeff worked as a short-order cook at McDonald's. He was a high school valedictorian and a National Merit Scholar. In his valedictorian speech, he mentioned a dream that people of the earth would eventually colonize space.
#16. He attended Princeton University with a plan to study physics, but his love of computers shifted his studies.
#17. He eventually graduated summa cum laude with a 4.2 GPA, Phi Beta Kappa.
#18. He earned a Bachelor of Science degree in computer science and electrical engineering.
#19. Upon graduating from college, Jeff went to work for a financial technology firm called Fitel.
#20. He then transitioned to the banking industry when he landed a product management job at Bankers Trust.
#21. In 1990 he was hired as a financial analyst for D. E. Shaw & Co., a hedge fund that had recently been launched with the idea that mathematical modeling could predict big market gains.
#22. Jeff worked at D.E. Shaw until 1994, by which point he had risen to the company's fourth senior vice president. He was 30 years old.
Founder and CEO of Amazon.com
#23. A year earlier, Jeff became fascinated with the nascent worldwide web. He wanted to sell something online and he landed on selling books.
#24. Bezos created Amazon's business plan during a cross-country drive from New York to Seattle.
#25. He officially founded the company in 1994, setting up the original business in his garage.
#26. Bezos opened Amazon.com, named after the meandering South American river, on July 16, 1995, after asking 300 friends to beta test his site. In the months leading up to launch, a few employees began developing software with Bezos in his garage; they eventually expanded operations into a two-bedroom house equipped with three Sun Microstation.
#27. The initial success of the company was meteoric. With no press promotion, Amazon.com sold books across the United States and in 45 foreign countries within 30 days. In two months, sales reached $20,000 a week, growing faster than Bezos and his startup team had envisioned.
#28. mazon.com went public in 1997, leading many market analysts to question whether the company could hold its own when traditional retailers launched their own e-commerce sites. Two years later, the start-up not only kept up but also outpaced competitors, becoming an e-commerce leader.
#29. Bezos continued to diversify Amazon's offerings with the sale of CDs and videos in 1998, and later clothes, electronics, toys, and more through major retail partnerships.
#30. While many dot.coms of the early '90s went bust, Amazon flourished with yearly sales that jumped from $510,000 in 1995 to over $17 billion in 2011.
#31. As part of Bezos' 2018 annual shareholder letter, the media tycoon said the company had surpassed 100 million paid subscribers for Amazon Prime. By September 2018, Amazon was valued at more than $1 trillion, the second company to ever hit that record just a few weeks after Apple.
#32. At the end of 2018, Amazon announced it was raising the minimum wage for its workers to $15 per hour. The company has still been criticized for its working conditions and grueling pace, with workers protesting during Prime Day in July 2019.
Amazon Instant Video & Amazon Studios
#33. In 2006, Amazon.com launched its video-on-demand service. Initially known as Amazon Unbox on TiVo, it was eventually rebranded as Amazon Instant Video.
#34. Bezos premiered several original programs with the launch of Amazon Studios in 2013. The company hit it big in 2014 with the critically-acclaimed Transparent and Mozart in the Jungle.
#35. The company produced and released its first original feature film, Spike Lee's Chi-Raq, In 2015.
#36. In 2016, Bezos stepped in front of the camera for a cameo appearance playing an alien in Star Trek Beyond. A Star Trek fan since childhood, Bezos is listed as a Starfleet Official in the movie credits on IMDb.
#37. In early 2018, The Seattle Times reported that Amazon had consolidated its consumer retail operations in order to focus on growing areas including digital entertainment and Alexa, Amazon's virtual assistant.
Kindle E-Reader
#38. Amazon released the Kindle, a handheld digital book reader that allowed users to buy, download, read and store their book selections, in 2007.
#39. Bezos entered Amazon into the tablet marketplace with the unveiling of the Kindle Fire in 2011. The following September, he announced the new Kindle Fire HD, the company's next-generation tablet designed to give Apple's iPad a run for its money. "We haven't built the best tablet at a certain price. We have built the best tablet at any price," Bezos said, according to ABC News.
Amazon Drones
#40. In early December 2013, Bezos made headlines when he revealed a new, experimental initiative by Amazon, called "Amazon Prime Air," using drones to provide delivery services to customers.
#41. He said these drones would be able to carry items weighing up to five pounds and be capable of traveling within a 10-mile distance of the company's distribution center.
#42. The first Prime Air delivery took place in Cambridge, England, on December 7, 2016.
Fire Phone
#43. Bezos oversaw one of Amazon's few major missteps when the company launched the Fire Phone in 2014. Criticized for being too gimmicky, it was discontinued the following year.
Whole Foods
#44. Bezos had been eyeing the food delivery market, and in 2017 Amazon announced it had acquired the Whole Foods grocery chain for $13.7 billion in cash.
#45. The company began offering in-store deals to Amazon Prime customers and grocery delivery in as little as two hours, depending on the market. As a result, Walmart and Krogers also began offering meal delivery to their customers.
Owner of 'The Washington Post'
#46. On August 5, 2013, Bezos made headlines worldwide when he purchased The Washington Post and other publications affiliated with its parent company, The Washington Post Co., for $250 million.
#47. The deal marked the end of the four-generation reign over The Post Co. by the Graham family, which included Donald E. Graham, the company's chairman and chief executive, and his niece, Post publisher Katharine Graham.
#48. "The Post could have survived under the company's ownership and been profitable for the foreseeable future," Graham stated, in an effort to explain the transaction. "But we wanted to do more than survive. I'm not saying this guarantees success, but it gives us a much greater chance of success."
#49. In a statement to Post employees on August 5, Bezos wrote: "The values of The Post do not need changing. …There will, of course, be change at The Post over the coming years. That's essential and would have happened with or without new ownership. The Internet is transforming almost every element of the news business: shortening news cycles, eroding long-reliable revenue sources, and enabling new kinds of competition, some of which bear little or no news-gathering costs."
#50. Bezos hired hundreds of reporters and editors and tripled the newspaper's technology staff (hundreds of those employees published an open letter to their boss asking for salary increases and better benefits in the summer of 2018).
#51. The organization boasted several scoops, including revealing that former national security advisor Michael Flynn lied about his contact with Russians, leading to his resignation.
#52. By 2016, the organization said it was profitable. The following year, the Post had ad revenue of more than $100 million, with three straight years of double-digit revenue growth. Amazon soon bypassed The New York Times digital in unique users, with 86.4 million unique users as of June 2019, according to ComScore.
Founder of Blue Origin
#53. In 2000, Bezos founded Blue Origin, an aerospace company that develops technologies to lower the cost of space travel to make it accessible to paying customers. For a decade and a half, the company operated quietly.
#54. Then, in 2016, Bezos invited reporters to visit the headquarters in Kent, Washington, just south of Seattle. He described a vision of humans not only visiting but eventually colonizing space. In 2017, Bezos promised to sell about $1 billion in Amazon stock annually to fund Blue Origin.
#55. Two years later, he revealed the Blue Origin moon lander and said the company was conducting test flights of its suborbital New Shepard rocket, which would take tourists into space for a few minutes. "We are going to build a road to space. And then amazing things will happen," Bezos said.
#56. In August 2019, NASA announced that Blue Origin was among 13 companies selected to collaborate on 19 technology projects to reach the moon and Mars.
#57. Blue Origin is developing a safe and precise landing system for the moon as well as engine nozzles for rockets with liquid propellant.
#58. The company is also working with NASA to build and launch reusable rockets from a refurbished complex just outside of NASA's Kennedy Space Center.
Bezos Day One Fund
#59. In 2018, Bezos launched the Bezos Day One Fund, which focuses on "funding existing non-profits that help homeless families, and creating a network of new, non-profit tier-one preschools in low-income communities." The announcement came a year after Bezos had asked his Twitter followers how to donate part of his fortune.
#60. Bezos founded the organization with his ex-wife MacKenzie before their divorce, and he gave away $2 billion of his personal fortune to fund the nonprofit. As one of the world's wealthiest people, Bezos had been publicly criticized in the past for his lack of philanthropic efforts.
Healthcare Venture
#61. On January 30, 2018, Amazon, Berkshire Hathaway, and JPMorgan Chase delivered a joint press release in which they announced plans to pool their resources to form a new healthcare company for their U.S. employees.
#62. According to the release, the company will be "free from profit-making incentives and constraints" as it tries to find ways to cut costs and boost satisfaction for patients, with an initial focus on technology solutions.
#63. "The healthcare system is complex, and we enter into this challenge open-eyed about the degree of difficulty," said Bezos. "Hard as it might be, reducing healthcare's burden on the economy while improving outcomes for employees and their families would be worth the effort."
Earth Fund
#64. On February 17, 2020, Bezos announced that he was launching the Bezos Earth Fund to combat the potentially devastating effects of climate change. Along with committing $10 billion to the initiative, Bezos said he would begin issuing grants and fund "scientists, activists, NGOs — any effort that offers a real possibility to help preserve and protect the natural world."
Stepping Down as CEO
#65. In February 2021, Amazon announced that Bezos will step down as CEO in the third quarter of the year. He will transition to the executive chair of Amazon's board.
Wife and Kids
#66. Bezos met MacKenzie Tuttle when they both worked at D.E. Shaw: he as a senior vice president and she as an administrative assistant to pay the bills to fund her writing career. The couple dated for three months before getting engaged and married shortly thereafter in 1993.
#67. MacKenzie was an integral part of the founding and success of Amazon, helping create Amazon's first business plan and serving as the company's first accountant. Although quiet and bookish, she publicly supported Amazon and her husband. A novelist by trade, training under Toni Morrison during her college years at Princeton University, MacKenzie published her first book, The Testing of Luther Albright, in 2005, and her second novel, Traps, in 2013.
#68. After more than 25 years of marriage, Bezos and MacKenzie divorced in 2019. As part of the divorce settlement, Bezos' stake in Amazon was cut from 16 percent to 12 percent, putting his stake at nearly $110 billion and MacKenzie's at more than $37 billion. MacKenzie announced that she planned to give away at least half of her wealth to charity.
#69. Bezos and MacKenzie have four children together: three sons and a daughter adopted from China.
Personal Life
#70. Right after Bezos announced his divorce from MacKenzie in January 2019, The National Enquirer published an 11-page exposé of the media mogul's extramarital affair with television host Lauren Sanchez.
#71. Bezos subsequently launched an investigation into the motives of The National Enquirer and its parent company, American Media Inc. The following month, in a lengthy post on Medium, Bezos accused AMI of threatening to publish explicit photos unless he backed off the investigation.
#72. "Of course I don't want personal photos published, but I also won't participate in their well-known practice of blackmail, political favors, political attacks, and corruption," Bezos wrote. "I prefer to stand up, roll this log over and see what crawls out."
#73. In that same post, Bezos suggested that there was possibly a link between AMI's actions and the Saudi Arabian government. Later, a forensic analysis of Bezos' phone revealed that it was hacked after the mogul received a video via WhatsApp from Saudi Arabia's Crown Prince Mohammed bin Salman.
#74. Sanchez divorced her husband in April 2019. She and Bezos made their first public appearance as a couple that July at Wimbledon.
What is Jeff Bezos' net worth?
#75. Jeff Bezos has a net worth of $210.7 billion as of November 2021.
#76. He first surpassed Bill Gates in terms of wealth in July 2017. He was the richest person in the world without interruption between October 2017 and January 2021.
#77. According to the company's most recent SEC filing, Jeff owns 55 million shares of Amazon, roughly 12% of the total shares outstanding. At his peak, he owned 80 million shares of Amazon.
#78. As part of his April 2019 divorce settlement with MacKenzie Bezos, Jeff transferred 19.7 million shares to his ex-wife. The value of the shares at the time of the transfer was $36 billion.
#79. The settlement temporarily reduced Jeff's net worth from $150 billion to $114 billion. Jeff was also an early pre-IPO investor in Google.com and owns at least $1 billion shares in what is now known as Alphabet Inc.
#80. For much of the 2000s, Jeff was not even in the top 10 or top 20 of the wealthiest people on the planet. Amazon stock began to skyrocket in late 2014.
#81. In July 2015, Jeff's net worth was $50 billion. In under two years, his net worth (and the stock) had doubled.
#82. On July 27, 2017, Bezos took over Bill Gates as the richest person on the planet.
#83. In September 2018, Amazon's market cap topped $1 trillion. This was prior to his divorce so he still owned 80 million shares. At that valuation, Jeff's net worth topped a then-all-time high of $170 billion.
Is Jeff Bezos the Richest Person of All Time?
#84. When comparing Jeff's peak net worth of $200 billion to our list of the richest people of all time after adjusting for inflation, Jeff is not even in the top 10.
#85. Using the $200 billion number, that would be the 11th largest fortune ever accumulated by a single human (counting inflation). For comparison, when oil tycoon John D. Rockefeller died, he was worth an inflation-adjusted $340 billion.
Could Jeff Bezos Become a Trillionaire?
#86. Anything is possible! But it seems like an extremely lofty goal if he's just relying on his Amazon shares to get trillionaire status.
#87. As the owner of 12% of Amazon's shares, Jeff is essentially worth $120 billion (on paper) for every $1 trillion market cap milestone. So, in other words, for Jeff to become a billionaire based exclusively on his Amazon shares, the company's market cap would need to top $8.3 trillion.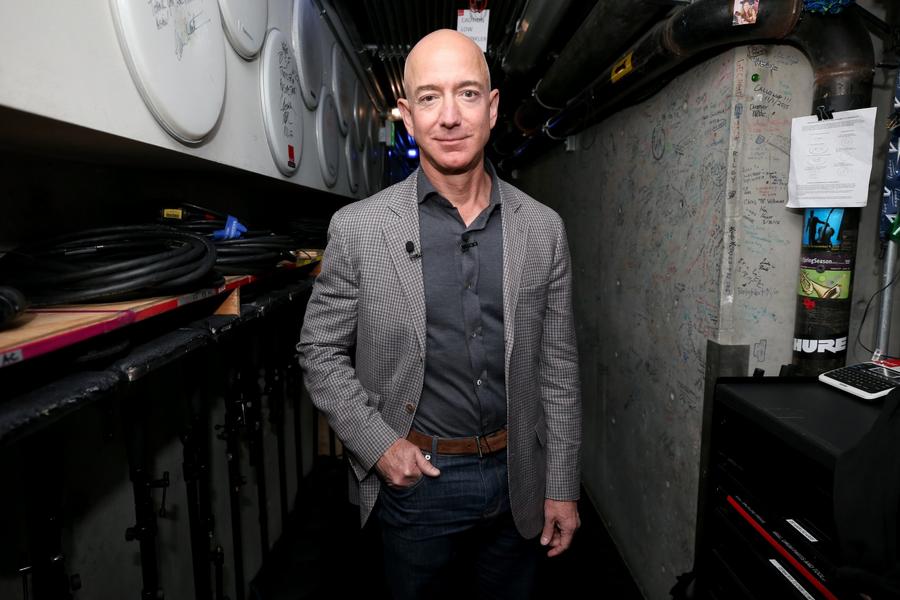 (Photo by Phillip Faraone/Getty Images)
Real Estate And Assets
#88. On February 12, 2020, it was revealed that Jeff had paid $255 million for two properties in Beverly Hills. The first property, known as the Jack L. Warner estate, cost $165 million. The estate covers 10 lush acres in the heart of Beverly Hills and features a 13,600 square-foot main house. The seller was entertainment mogul David Geffen who bought the property in 1990 for $47.5 million.
#89. The second property Bezos bought in February 2020 was a 120-acre vacant hilltop called Enchanted Hill. The seller was the estate of late Microsoft founder Paul Allen, who purchased the land in 1997 for $20 million. Though mostly overrun with weeds, the property does have a 1.5-mile driveway and manicured bluff at its peak.
#90. Jeff Bezos acquired a $12.9 million mansion in Beverly Hills in July 2018. Jeff had paid $255 million for two properties in Beverly Hills.
#91. $24.5 million mansions right next door to the above Beverly Hills home, acquired in 2007
#92. $23 million mansions in Washington D.C., acquired in 2018. A former museum comprised of two buildings that measure 27,000 square feet of living space
#93. 300,000 acres in Texas including multiple ranches, 100,000 additional acres in various parts of the country
#94. Three units in 25 Central Park West in Manhattan
#95. $10 million 5-acre property in Medina, Washington, acquired in 1999
#96. $50 million mansions next door to his property in Medina, acquired in 2005.
Net Worth Details And History
#97. In the 20 years since Amazon went public, Bezos has sold at least $70 billion worth of his shares. He sells roughly $1 billion worth of shares every year as part of a planned stock sale arrangement.
#98. The day Amazon went public, Amazon's market cap was $300 million. Jeff owned 40% of the company at the time, giving him a net worth of $120 million (on paper, pre-tax). With a year he was worth $1 billion.
#99. At the peak of the dot-com bubble, Jeff's net worth topped $10 billion. After the bubble burst, Amazon's stock price sank to an all-time low of $5 per share in October of 2001. At that point, Jeff's net worth sank to $1-2 billion.
#100. If you had been smart enough to take $10,000 and buy shares of Amazon in October of 2001, today you would have more than $15 million before counting any dividends.
Net Worth Milestones
May 1997 – $120 million on the company's IPO date.
June 1998 – $1 billion for the first time
June 1999 – $10 billion
July 2015 – $50 billion
January 2018 – $100 billion
July 2018 – $150 billion
September 2018 – $170 billion
January 2019 – Jeff announces he is divorcing his wife of 25 years, MacKenzie. Clearly, the outcome of this divorce will have an enormous impact on Jeff's $150 billion net worth.
April 4, 2019 – Jeff and MacKenzie announced that they had reached an amicable resolution of their divorce where she will be given $36 billion worth of Amazon stock. Jeff will retain 75% of his former stake and will have voting control over MacKenzie's shares. She will not have any ownership in The Washington Post or Jeff's space company Blue Origin. It's unclear how the couple decided to split their various homes and jets. Jeff's net worth immediately following the announcement became $114 billion.
March 9, 2020 – $111 billion
July 1, 2020 – $172 billion
July 9, 2020 – $190 billion
August 26, 2020 – $202 billion
If you're keeping track, it took Jeff just three years to become a billionaire after launching in 1995. It took him 20 years to make $50 billion, but then only 2.5 years to make his second $50 billion, for a total of $100 billion. And then it only took 7 months to make his third $50 billion, for a total of $150 billion. And then he lost $36 billion in an instant with the stroke of a pen.
Jeff Bezos Net Worth Over Time
June 1997
$150 million
June 1998
$1 billion
June 1999
$10 billion
March 2000
$6 billion
December 2000
$2 billion
September 2001
$1.5 billion
September 2003
$2.5 billion
September 2004
$5.1 billion
September 2005
$4.1 billion
September 2006
$4.3 billion
September 2007
$8.7 billion
September 2008
$8.2 billion
September 2009
$6.8 billion
September 2010
$12.6 billion
September 2011
$18 billion
December 2012
$23.2 billion
October 2013
$29 billion
December 2014
$30.5 billion
July 2015
$50 billion
October 2016
$45 billion
December 2017
$73 billion
July 2018
$150 billion
September 2018
$170 billion
April 2019
$114 billion
July 2020
$190 billion
July 2021
$213 billion
Summary
Jeff Bezos has a net worth of $210.7 billion in 2021. As of this writing, that makes him the second richest person in the world right behind Elon Musk. He is the founder and CEO of Amazon.com. He lost $36 billion of his fortune as a result of his divorce from MacKenzie Bezos, who instantly became one of the 25 richest people in the world with the settlement. He is on Twitter as @JeffBezos and on Instagram as @JeffBezos.