More American-Russian prisoner swaps could be on the way.
WNBA All-Star Brittney Griner has been the top name in news headlines these past few months. She's one of the multiple Americans being wrongfully detained in Russia. Griner was recently released from Russian custody for the exchange of international arms trafficker, Viktor Bout.
While Griner is a public figure, other Americans haven't been able to have their voices heard. There are Americans being detained in Russia and other countries. Many have speculated that Russia is using Griner and other U.S. citizens as negotiation tools to receive incentives from the U.S. So, how many Americans are detained in Russia?
Brittney Griner was only one of the numerous Americans being detained in Russia.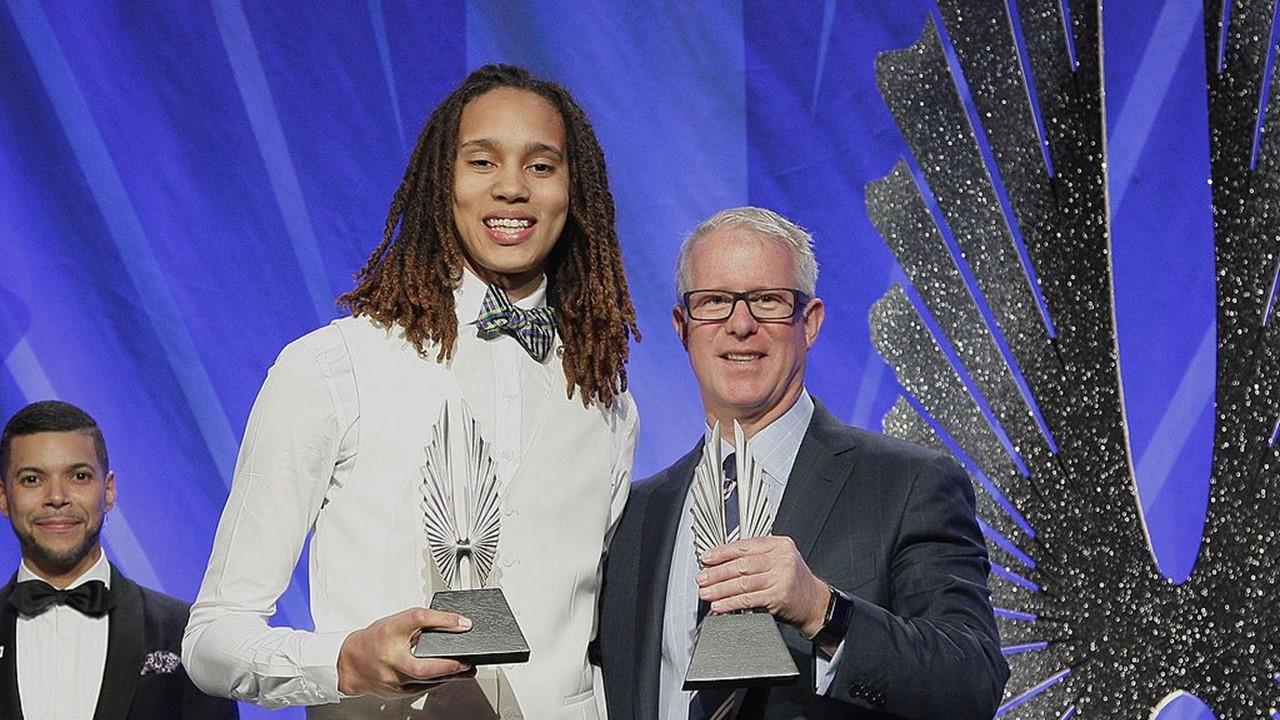 Griner was arrested in an airport in Moscow after being caught with cannabis oil vape cartridges in her luggage. The basketball star pleaded guilty to drug charges in a Russian court in July, but she emphasized that she had no criminal intent by having the cartridges. She was sentenced to 9 years in prison, which many have deemed to be excessive.
Within the same year of her sentencing, President Biden and his administration got involved and on Dec. 8, organized a prison trade. Griner was exchanged for Viktor Bout, who is known as the "Merchant of Death." He was sentenced to 25 years in prison and accused of supplying arms to Al Qaeda and the Taliban according to The New York Times.
How many Americans are detained in Russia?
There isn't a clear-cut number of how many Americans are detained in Russia, but the ones that are currently known include former U.S. Marine Paul Whelan and teacher Marc Fogel. Trevor Reed, another former U.S. Marine, made headlines for being detained in Russia. He was released in April 2022 as a part of a U.S.-Russia prisoner swap.
In exchange for Reed, Russia received Konstantin Yaroshenko, a Russian pilot who was convicted for drug smuggling in 2011 and sentenced to 20 years in prison for conspiring to import cocaine. Reed made an appearance on CNN and called out President Biden for not freeing Griner and Whelan, while he was able to make it back home easily. Reed was optimistic Russia would accept the U.S. trade offer for Griner and Whelan.
Whelan is a Canadian native, having citizenship in the U.S., the U.K., and Ireland. He was arrested in Russia in 2018 and accused of spying. He was sentenced to 16 years in prison in 2020 for espionage by a Moscow court. U.S. officials and Whelan's family have vigorously shot down the accusations of Whelan being a spy. There have been attempts in the past to bring him back home.
What about Marc Fogel?
The news of Fogel being detained in Russia recently grew with the news of Griner and Whelan potentially being released soon. It has been reported that Russian arms dealer Viktor Bout, known as the Merchant of Death, would be sent to Russia in exchange for the two Americans. Bout has been highly coveted by Russia and they have shown strong interest in wanting him back. But while a trade for those three people looks imminent, Fogel has seemed to be the forgotten American.
Fogel was arrested 11 months ago at a Russian airport for traveling into the country with cannabis. Although his family and lawyer have claimed that it's for medicinal purposes, as he deals with severe spinal pain, the teacher was sentenced to 14 year at a hard labor camp last month. President Biden's representatives have yet to publicly acknowledge Fogel's detainment.