How much money does Ari Fletcher make? Biography facts about the social media personality who has built a multi-million dollar empire.
Ari's name comes with a whole lot of drama; from a verbal spat with Love & Hip Hop: Miami's Bobby Lytes over the Milk Crate Challenge to blasting her baby daddy, G-Herbo, she doesn't allow that drama to get in the way of her coins.
When people mention social media influencer Ari Fletcher, they miss the chance to highlight how she's a multi-million dollar entrepreneur. But the young internet figure has found a way to make the social game a lucrative business to build her own wealth.
Contrary to popular belief, Ari Fletcher is more than the mother of rapper G Herbo's son. She's also one of a few Black influencers who helped change the social media space so its platforms can help its most popular users generate millions of dollars in revenue.
Ari Fletcher Wiki, Biography
Celebrated Name:
Ari Fletcher; Ari The Don; Kylesister
Net Worth:
$10 million
Salary:
$150,000
Full Real Name:
Ariana Fletcher
Profession:
Entrepreneur, Model, YouTuber, Social media star
Known for:
Social media celebrity
Date of Birth:
July 12, 1995
Birthplace:
Chicago, Illinois, the United States
Age:
26 years old
Hometown:
Chicago, Illinois, the United States
Religion:
Christianity
Ethnicity:
Mixed
Nationality:
American
Zodiac Sign:
Cancer
High Scool:
Chicago Vocational High School
College/University:
University in Dekalb, Illinois.
Educational Qualification:
Not Known
Height:
in centimeters: 150 cm
in meters: 1.50 m
in feet inches: 5'1″
Weight:
in kilogram: 57 Kg
In pounds: 125 lbs
Body Measurement:
34-25-38 inches
Eye Color:
Black
Hair Color:
Black
Shoe Size:
6 (US)
Father:
N/A
Mother:
Erin Fletcher
Brother:
Kyle Fletcher
Sister:
Ashley
Children:
Yosohn Santana
Boyfriend List:
Gervonta Davis; Moneybagg Yo; G-Herbo; Antonio Blakeney; Young Ma; Freeband Joey
So, what is Ari Fletcher's net worth? In case you're not familiar already, get to know Ari Fletcher and her life as a businesswoman with a few fun facts below:
Ari is a social media personality with all her handles paying tribute to her late brother, Kyle.
After her brother passed away in 2013, Fletcher changed all of her social media handles in honor of his name, Kyle Jamison. Including his name on all of her social media profiles is her way of keeping his name alive.
She shares a son with rapper G Herbo.
Though it's widely known that Fletcher both dated and had a son —  with famed rapper G Herbo, the two have continued to successfully co-parent over the years. Most recently, they celebrated their son Yosohn's third birthday with a huge 90s-inspired party.
She's balanced being a mother and business owner.
As the breadwinner of her family, Fletcher has held down her duties as a mother while also maintaining her hair extensions company, though it seems to no longer be in business. She's also working on a new business venture with her hair stylist, Dionte — also known as Arrogant Tae.
She started her own YouTube channel in 2017.
Although her biggest following on social media comes from Instagram, Ari Fletcher also ventured off into the world of YouTube back in 2017 where she posted various vlogs for her 414,000 plus subscribers.
She's made millions from brand partnerships via social media.
As previously reported by AfroTech, Fletcher has used her social media presence on platforms like Instagram to earn millions of dollars through brand partnerships with fashion companies like Savage x Fenty, Fashion Nova, and more.
She started her entrepreneurial journey by launching a hair company.
According to Ari Fletcher, her start as an entrepreneur dates back to 2016 when she launched her own hair company, KYCHE Extensions. She did so with no prior business experience but used the lessons she's learned over the years to apply them to other ventures.
Her foundation as a businesswoman comes from her upbringing.
In speaking with Ari Fletcher last year, she revealed to AfroTech that her upbringing played an integral role in shaping her as a businesswoman. "When I was younger, being able to be around people who had strong business practices showed me the value of my platforms," she said.
On average she makes $150,000 per month from Instagram alone.
According to Ari Fletcher, Instagram has made it possible for her to generate at least $150,000 a month posting for big-name brands. Her reputation on social media has also attracted a few future television opportunities as well.
She's helped others around her level up their businesses too.
Not only had Fletcher made millions for herself, but her large social media following has also given her the opportunity to elevate her friends' businesses like makeup artist Olivia Song and Mariee of Moon Cosmetics.
She wants to rewrite her story so people can focus on her business accomplishments.
Despite Fletcher's business endeavors being overshadowed by her personal life, she's still determined to write a new chapter in her story for the public that puts the focus back on her entrepreneurial moves.
"I want people to know that I'm just a regular girl from Chicago who just decided to go for it," she says. "I have an opportunity to generate wealth for my kid and my family. I'm at the tip of my iceberg and I have so much more in store that will go far beyond Instagram or any social media platform."
Ari Fletcher once called out her baby daddy G-Herbo for their son's scar.
Social media personality Ariana (Ari) Fletcher took the internet by storm after she blasted her ex-flame G-Herbo and his new girlfriend Taina Williams for sending her son home with a scar.
Taking to Instagram to share a lengthy tirade against her former beau, Ari claimed that her son Yoshon, whom she shares with Herbo, returned home "with a scar on him" that Taina allegedly gave him.
She also claimed that her son had told her about Taina being "mean to him" and that he "doesn't like her".
In her social media post, Ari wrote: "How about, to tell the truth for ONCE? Tell them how my son came home with a scar on him and saying what Taina did to him while you weren't home…"
She went on to rant: "… And even tho he told you out his own mouth what she did and he was crying and she didn't help him and she's mean to him and he doesn't like her and the shit happened while you weren't home."
Ari then stated that she gave Herbo a "whole week to handle it as a father" but that he and Taina "never called" her to talk about the situation.
"I called back to talk to her and tell her she can't be around my baby and I was very respectful and you sat up and said in front of her that my baby was lying. You said how you gone see your son if he can't be around her… LOL WHAT?!!?!" the rant continued.
On Twitter, Ari Fletcher revealed she's about to be a billionaire.
On June 11, 2022, Ari Fletcher took to her Twitter page to share the good news to her followers declaring herself a to-be billionaire. She wrote, "I'm about to be a billionaire".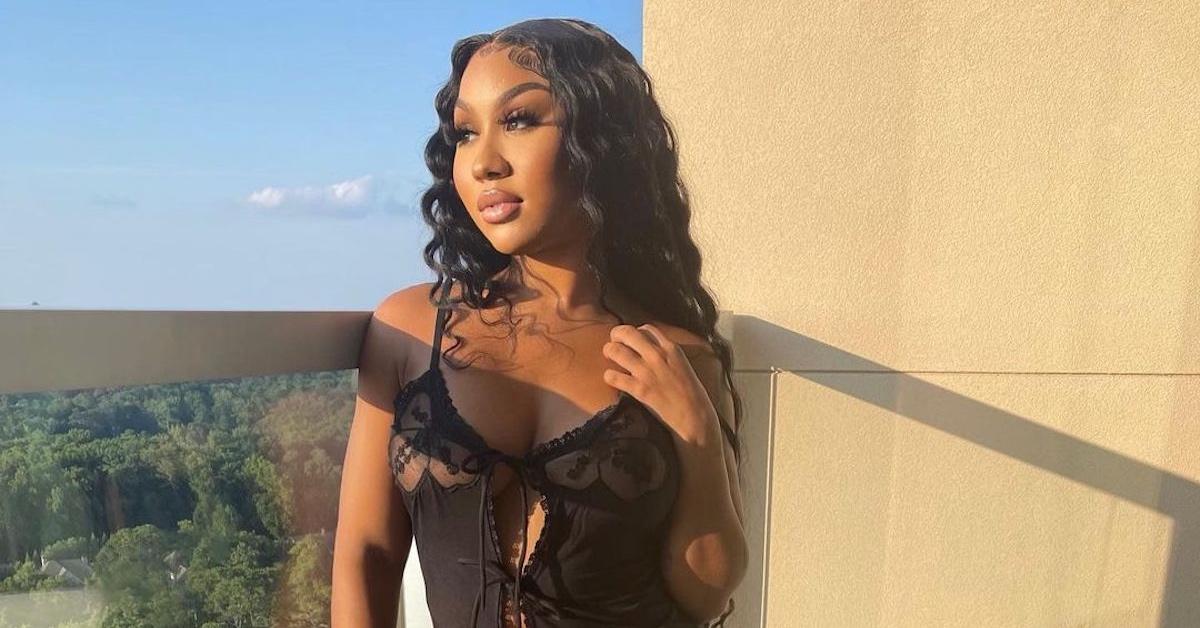 Ari Fletcher has reportedly built a million-dollar empire.
In case you didn't know, Ari is much more than a pretty face. Aside from her work as a model, social media influencer, and video vixen, she is also the CEO of the hair company KYCHE Extensions.
With that said, various online reports state that the Chicago native has accumulated a net worth of nearly $10 million. A bulk of that figure is said to come from her brand endorsements and promotions on social media with Savage X Fenty, Fashion Nova, Waist Snatchers, and more.
Ari also shared with AfroTech that she makes about $150,000 off of Instagram alone by monetizing her posts.
"I've made over $1 million from Instagram so I'm proof this can be done," Ari told AfroTech. "Not only in terms of monetizing from the pictures that I post, but also using formulas from these other successful brands that I back to create my own successful brand."
What is Ari Fletcher's net worth?
From making $150,000 to $1 million from Instagram, online sources estimate Ariana Fletcher's net worth to be around $10 million. Although Ari has yet to confirm or deny her rumored finances, her earnings from Instagram alone show that a $10 million net worth is not far-fetched.
Since Ari is showing no signs of letting up her endorsement deals, it's safe to say that her net worth will continue to skyrocket.
Ari Fletcher purchased 28 acres of land for her boyfriend, rapper Moneybagg Yo.
And the best girlfriend award goes to … Ari! Upon Ari's boyfriend, Moneybagg Yo, celebrating his 30th birthday, the socialite stepped it up on the gift-giving front.
Ari is known to gift her main squeeze with gorgeous trinkets, jewelry, and money. But, this time around, the star wanted to gift her man a lifetime investment: 28 acres of land.
On Sept. 22, 2021, Ari took to Instagram to share that she cashed out for her beau.
Moneybagg Yo — born DeMario White Jr. — shared his appreciation and thanks with his own Instagram post on his respective page. Fans are now convinced that it's only a matter of time before Ari and Moneybagg jump the broom.
Any gift that comes from the heart is always appreciated, but for Ari to step outside of the box and purchase land for her beau takes things to the next level. Jewelry, cars, and other flashy items are great, but being able to look past luxury and think ahead to the future is priceless. Good job, Ari!
Aside from the social media drama, it appears that Ari has used it all to her advantage. With such a strong fanbase and lucrative deals on the table, the future is bright for the socialite.