Ever asked yourself who ArrDee is, where he comes from, life before fame, who he is dating now, net worth… Read to the end to find answers to these and more.
ArrDee burst onto the music scene in April 2021 after the release of the chart-topping remix Body, alongside artists Tion Wayne and Russ Millions.
The hit song became an overnight sensation after his verse gained popularity on the social media platform TikTok.
The rapper has hit songs under his belt including 'Oliver Twist', 'Jiggy (Whiz)', and his feature on another Tion Wayne hit 'Wid It'. His name first started bubbling in the wider UK music scene after releasing his 'Cheeky Bars' freestyle on Mixtape Madness.
For such a young rapper, Brighton's very own ArrDee has really been making waves for a while. With collaborations with Aitch and Digga D, and an ever-growing body of his own work to back up the hype, ArrDee is really going places in the UK rap scene.
But who is ArrDee? Where is he from? What is his real name? How tall is he? Who is he dating now? Find out everything we know about the rapper below.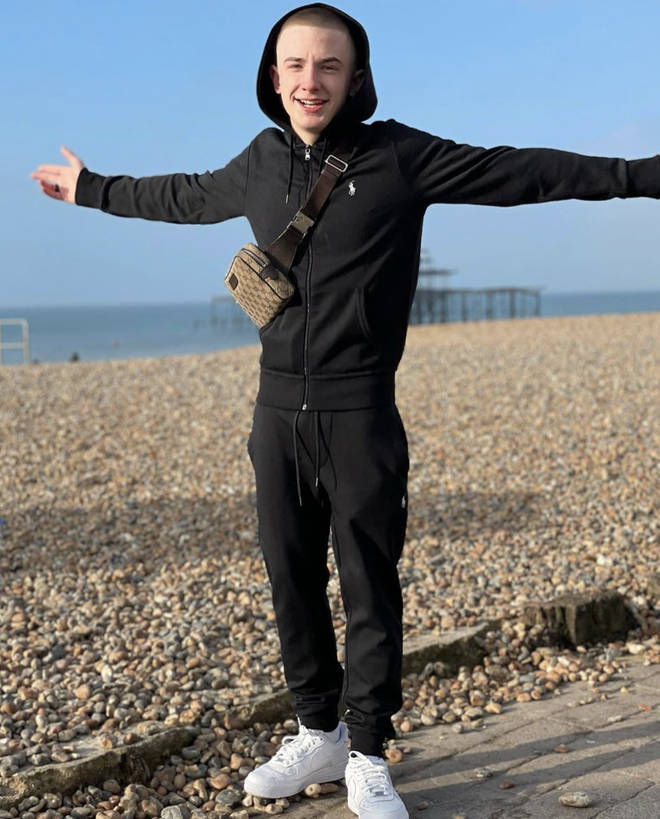 Who is ArrDee?
ArrDee is a young rapper from Brighton. His stage name is 'ArrDee' but his real name is Riley Davies.
He was given his stage name by those close to him, taken from the letters of the initials of his first and last name.
The rapper initially gained traction with his songs '6AM in Brighton', his Plugged In freestyle on PressPlay, and his BlackBox freestyles.
He first started making waves in 2021 when he released his iconic 'Cheeky Bars' freestyle, followed swiftly by the release of his song '6AM in Brighton'.
He then burst into the mainstream when he appeared on a remix of Russ Millions and Tion Wayne's song 'Body' alongside Bugzy Malone, Fivio Foreign, and many others, where his verse took off on TikTok. Not only did ArrDee manage to stand toe to toe with some of the biggest names in UK rap, he aptly bodied his verse, delivering some of the most iconic bars of 2021.
He has since gone on to release a slew of successful singles such as 'Oliver Twist' which reached Number 6 on the UK Singles Chart, and 'War' with Aitch.
Who is ArrDee's girlfriend?
ArrDee confirmed his relationship with influencer Angelysiaa in October 2021.
The rapper posted a photo of the pair cosied up together in his native Brighton with a red rose emoji and a heart in the caption. His caption was '🌹❤️' (awww).
How old is ArrDee?
Brighton rapper ArrDee is 19 years old. The rapper's birthday is believed to be on September 17th.
What is ArrDee's zodiac sign?
ArrDee's birth sign is a Virgo, according to Astrologers.
What is ArrDee's real name?
ArrDee's stage name comes from the initials of his full name: Riley Davies. He was given his stage name by those close to him.
How tall is ArrDee?
The rapper is 5 foot 4.
Where does ArrDee live?
ArrDee is originally from Brighton, UK but he grew up in Woodingdean and often features landmarks from across the city in his music videos.
ArrDee talked to The Face about coming from Brighton. He said he's "incredibly proud" to call Brighton his home.
He said: "It made me who I am, not just as an artist but as a person. I would say I am comfortable and confident in my own skin, and Brighton I think played a massive part in that.
"It isn't a judgemental town, and you can be who you want to be, and you can recreate yourself.
"It definitely has a massive role to play in my character and in my brand, my music, and everything."
"I always say it's the city that never sleeps. There's always something going on.
"I don't think I'll ever leave. Everyone tells me that I will but I like it here. It's peaceful. It's easier for me to be about and be viewed as normal. Everyone knows it's my town. "
Where did ArrDee attend school?
Riley attended Hove Park School. Hove Park School is a mixed secondary school and sixth form centre located over two sites in Hove, East Sussex, England. He then attended Worthing College.
What is ArrDee's Instagram?
ArrDee's Instagram account handle is @arrdeegram.The rapper often shares clips of himself freestyling, posing in his premium streetwear brands, and fan reaction videos to his tracks.
He's also active on Facebook, Twitter, YouTube, TikTok, and other social media platforms.
What was ArrDee's job before he was famous?
In an exclusive interview with our very own Robert Bruce, ArrDee revealed he worked in an Amazon warehouse packing boxes. The silver lining however was that the Brighton rapper was able to spend some time writing lyrics to one of his breakthrough tracks 'Cheeky Bars' whilst working for the company.
After leaving College, Riley said he looked for "odd jobs" to be able to afford mixing tracks and travelling across the south of England to perform at freestyle events
He said: "I worked in a chip shop but that wasn't really my cup of tea. I've done loads of different bits and bobs. I engineered a lot of my own tracks so Cheeky Bars and 6am in Brighton were engineered mostly by me.
"I used to run studio sessions out of a flat and people used to come and pay for that.
"I did painting and decorating with my uncle and my family own a butchers in Hangleton so I used to help out there when I could."
What is ArrDee's net worth?
UK rapper ArrDee has improved so much financially throughout the years. His net worth is estimated to be around $3 million. His sources of income are from streaming platforms, brand deals, and being a social media influence.
Who are ArrDee's parents?
At the moment, there are no traces of ArrDee's family on the Internet. Riley said his family was "heavily into music" and he grew up listening to rock music from bands such as Bon Jovi, Guns N' Roses, and AC/DC.
Are Ardee and Aitch related?
No one needs to tell you that Arrdee and Aitch bear a striking resemblance. This has created heated arguments among fans of the two rappers. While some relate to their works others are more concerned about whether the rappers are related.
On Twitter, a user tweeted "I've just realized Aitch and Arrdee aren't the same person," while another tweeted, "Arrdee and Aitch are twins and no one can convince me other wise". Neither Aitch nor Arrdee have publicly responded to the comparisons. The two rappers have a song together titled 'War' but some fans are hoping to hear the pair collaborate on more songs together.
Well, the two are not the same. Harrison Armstrong better known as Aitch is a British rapper and songwriter who has a net worth of $1.5 million as of 2022. The rapper came to the big limelight after the release of his solo hit single titled Straight Rhymez in 2018.
ArrDee's coming up before fame
In an interview with The Argus, Riley said he "can't remember a time" when he did not want to be a musician and would often take his Sony Walkman CD player to Hove Park School and show videos of himself rapping to his friends.
He said: "I had a little following in Brighton. I had around 8,000 followers doing Instagram freestyles and recording my own stuff and putting it online.
"At first, when I was in secondary school, I would share my music around there. As I started doing it more it started growing and people started seeing me on hashtag challenges and instrumental challenges."
Riley said his family were "heavily into music" and he grew up listening to rock music from bands such as Bon Jovi, Guns N' Roses and AC/DC.
While he moved away from becoming a rock musician, Riley said you can still hear its influence in the music he makes today.
He said: "That's why you hear a lot of guitar melodies in my music, but from when I first heard Eminem, Lil Wayne and 50 Cent, I knew I was going to be a rapper."
Did ArrDee appear on Chicken Shop Date?
The rapper appeared on an episode of Amelia Dimoldenberg's YouTube series Chicken Shop Date back in May of 2021. In the episode, Amelia left the usual setting of a London chicken shop and made the journey to Brighton – ArrDee's term – where the pair fittingly ate fish and chips. The episode, of course, made for some enjoyably awkward viewing. Check it out below.