What is ArrDee's net worth and is the Brighton rapper rich? Read to find out more about the rapper.
ArrDee broke out onto the scene with his famous line from Tion Wayne and Russ Millions 'Body' remix, and he's been taking over the charts with his own solo material ever since.
The Brighton rapper has hit songs under his belt including 'Oliver Twist', 'Jiggy (Whiz)', and his feature on another Tion Wayne hit 'Wid It'. His name first started bubbling in the wider UK music scene after releasing his 'Cheeky Bars' freestyle on Mixtape Madness.
For such a young rapper, Brighton's very own ArrDee has really been making waves for a while. With collaborations with Aitch and Digga D, and an ever-growing body of his own work to back up the hype, ArrDee is really going places in the UK rap scene. So, who is ArrDee and how much is his net worth?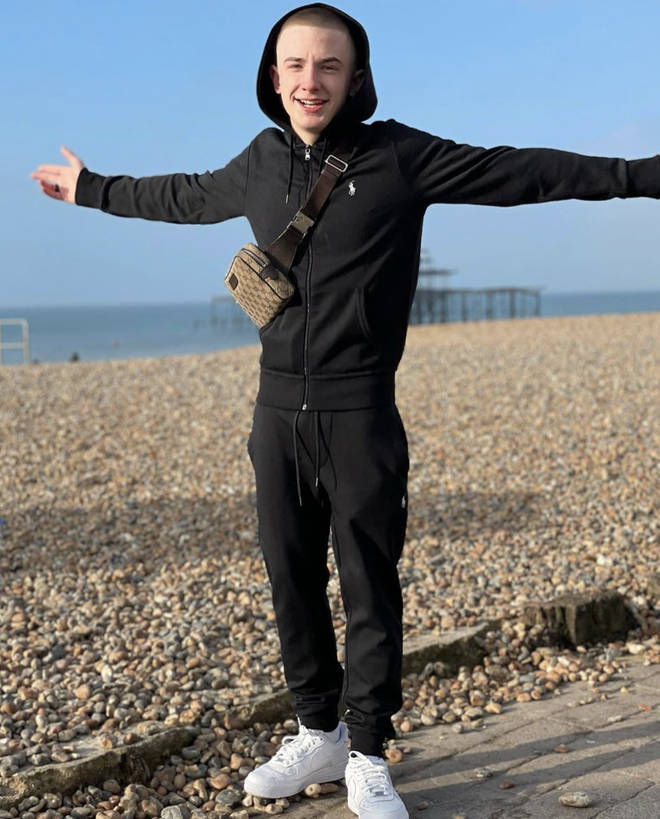 Who is ArrDee?
ArrDee is a young rapper from Brighton. His stage name is 'ArrDee' but his real name is Riley Davies.
He was given his stage name by those close to him, taken from the letters of the initials of his first and last name.
The rapper initially gained traction with his songs '6AM in Brighton', his Plugged In freestyle on PressPlay, and his BlackBox freestyles.
He first started making waves in 2021 when he released his iconic 'Cheeky Bars' freestyle, followed swiftly by the release of his song '6AM in Brighton'.
He then burst into the mainstream when he appeared on a remix of Russ Millions and Tion Wayne's song 'Body' alongside Bugzy Malone, Fivio Foreign, and many others, where his verse took off on TikTok. Not only did ArrDee manage to stand toe to toe with some of the biggest names in UK rap, he aptly bodied his verse, delivering some of the most iconic bars of 2021.
He has since gone on to release a slew of successful singles such as 'Oliver Twist' which reached Number 6 on the UK Singles Chart, and 'War' with Aitch.
What is ArrDee's net worth?
UK rapper ArrDee has improved so much financially throughout the years. His net worth is estimated to be around $3 million. His sources of income are from streaming platforms, brand deals, and being a social media influence.
On his 495K subscribed YouTube channel, he makes $67 – $1.1K daily, $468 – $7.5K weekly, $2K – $32.1K monthly, and $24.1K – $385.5K yearly, according to Social Blade.
What was ArrDee's job before he was famous?
In an exclusive interview with our very own Robert Bruce, ArrDee revealed he worked in an Amazon warehouse packing boxes. The silver lining however was that the Brighton rapper was able to spend some time writing lyrics to one of his breakthrough tracks 'Cheeky Bars' whilst working for the company.
After leaving College, Riley said he looked for "odd jobs" to be able to afford mixing tracks and traveling across the south of England to perform at freestyle events
He said: "I worked in a chip shop but that wasn't really my cup of tea. I've done loads of different bits and bobs. I engineered a lot of my own tracks so Cheeky Bars and 6 am in Brighton were engineered mostly by me.
"I used to run studio sessions out of a flat and people used to come and pay for that.
"I did painting and decorating with my uncle and my family own a butchers in Hangleton so I used to help out there when I could."
Are Ardee and Aitch related?
No one needs to tell you that Arrdee and Aitch bear a striking resemblance. This has created heated arguments among fans of the two rappers. While some relate to their works others are more concerned about whether the rappers are related.
On Twitter, a user tweeted "I've just realized Aitch and Arrdee aren't the same person," while another tweeted, "Arrdee and Aitch are twins and no one can convince me other wise". Neither Aitch nor Arrdee have publicly responded to the comparisons. The two rappers have a song together titled 'War' but some fans are hoping to hear the pair collaborate on more songs together.
Well, the two are not the same. Harrison Armstrong better known as Aitch is a British rapper and songwriter who has a net worth of $1.5 million as of 2022. The rapper came to the big limelight after the release of his solo hit single titled Straight Rhymez in 2018.