Bishop T.D. Jakes' net worth is in the millions; his preaching and media career built up his wealth.
One of the country's most renowned preachers, Bishop T.D. Jakes leads a megachurch in Dallas, Texas. In addition to teaching at the nondenominational church, The Potter's House,
Jakes has also written books and launched his own media company, TDJ Enterprises, which produces Christian-themed films. T.D. Jakes' net worth is in the millions today.
Bishop T.D. Jakes appeared on 'Today' on Good Friday.
Bishop Jakes gave an interview in a Good Friday segment of TODAY in which he and anchor Craig Melvin discussed how to maintain faith during challenging times.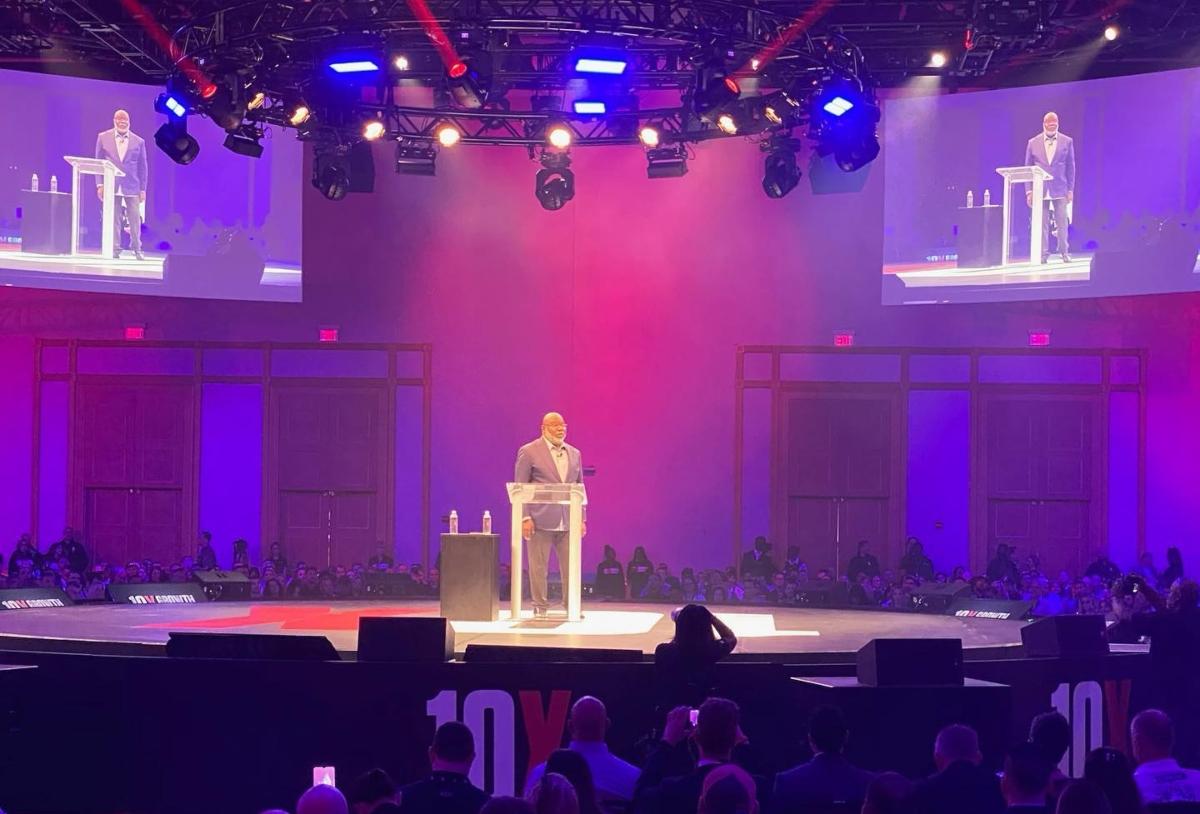 He said to Melvin during their talk, "The very symbol of Christianity centers around the cross and the pain and the resurrection, and that there's hope beyond the darkest moments in our lives. And so, for me, this is a reminder to endure suffering and wait on better days to come."
TV journalist Craig Melvin recently departed from his role at MSNBC, but he remains a regular member of the on-air talent at TODAY alongside Savannah Guthrie and Hoda Kotb. He said he himself had often watched Jakes' sermons during the pandemic, and mentioned a March 2020 interview when he asked Jakes to lead a prayer on the air.
T.D. Jakes has built up a $20 million net worth.
Although a life of ministry doesn't typically lead to millions of dollars, Bishop T.D. Jakes has built up an impressive $20 million net worth. However, wealth is not so uncommon among leaders of megachurches, defined by the Hartford Institute for Religion Research as 2,000 members or more.
THOMAS DEXTER JAKES SR. (T.D. JAKES) Profile Summary
T.D. Jakes is a non-denominational preacher and founder of The Potter's House, which had reached about 30,000 members in 2021. His media company TDJ Enterprises has published his books and produced several films. He's written numerous Christian books including Woman, Thou Art Loosed (1993) and Crushing (2019). The church he leads has grown to include several campuses and a large online congregation.
Profession: Preacher, Film Producer, Author
Net worth: $20 million
Birthdate: June 9, 1957
Birthplace: West Virginia
Religious Ordination: Oneness Pentecostalism
Spouse: Serita Jakes
Children: 5
CelebrityNetWorth estimates Jakes' net worth at $20 million. (Fellow Texas megachurch leader Joel Osteen's net worth is unconfirmed, but is likely $40 million or more). Like Osteen, Jakes likely makes much of his money from the sales of his books, and Jakes also makes income from his film productions.
TDJ Enterprises' latest film endeavor is entitled Sarah's Oil, and Jakes tweeted earlier this week that they were searching for a young actress to play the leading role.
The church T.D. Jakes founded has tens of thousands of members.
Jakes founded and grew at least two other church congregations before he moved to the Dallas area and started The Potter's House in 1996. That church grew rapidly, reaching a total of about 30,000 members (including online members) as of last year.
In July of 2021, the church marked its twenty-fifth anniversary. About 30,000 are considered members of the Dallas congregation, and several other campuses exist as well. The church's chief operating officer Frank Dyer told NBCDFW news that sometimes about 8,000 might be in attendance physically, with another 70,000 viewing online.