Who are the mothers of all of Diddy's kids? Details on Sean Combs' exes and children.
There's another baby — and baby mama — in Diddy's life! The Big Boy Records founder, born Sean Combs, announced on Saturday, Dec. 10, that his family just got a little bigger: He now has seven kids from four women.
In a tweet on Saturday, Diddy revealed that he's the dad of a newborn daughter named Love, and according to TMZ, the little one's mother is Dana Tran. Read on to learn more about Dana and the other women with whom Diddy welcomed children.
Diddy became a father when he had a son with Misa Hylton.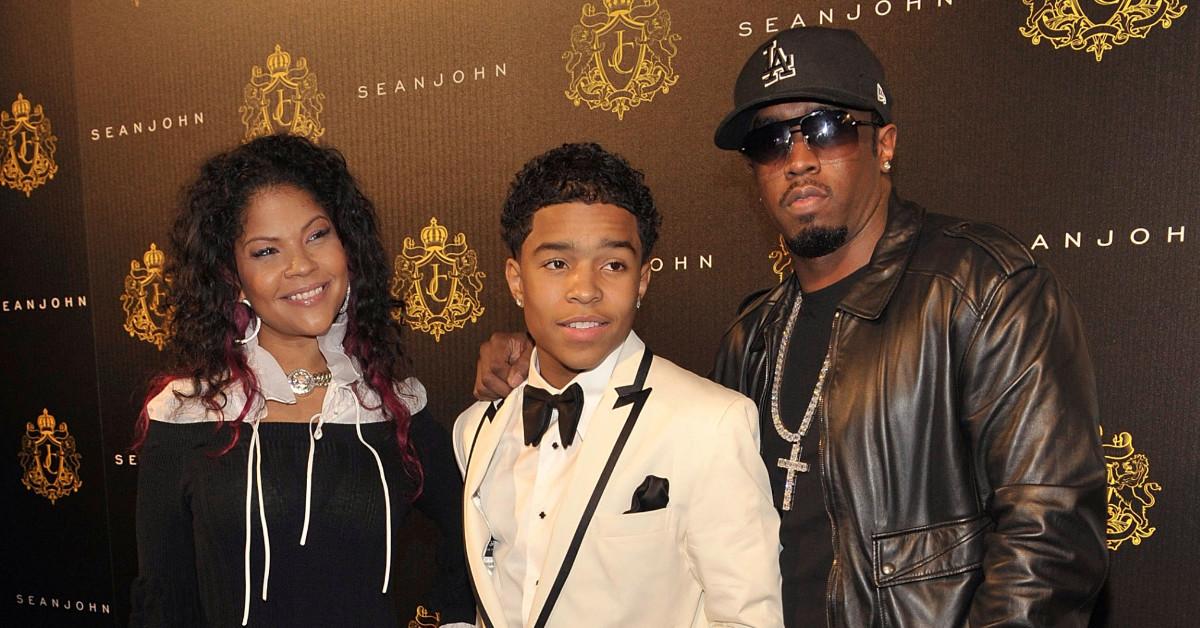 In 1993, Diddy had a son named Justin Combs with stylist and fashion designer Misa Hylton, per People. Misa, who describes herself as a "fashion architect" on her website, has styled looks for Mary J. Blige, 50 Cent, Missy Elliott, Faith Evans, and other celebs.
Justin played football at UCLA and graduated from the school in 2016, and he's now a business partner at the sneaker store GB's in New York City.
The late Kim Porter gave Diddy four more children.
Diddy started dating Kim Porter in 1993 after she had already had a son with singer-songwriter Al B. Sure. That son is Quincy Taylor Brown, born in 1991, whom Diddy later adopted, per People. These days, Quincy is a singer, model, and actor who starred on the Fox series Star and now appears in Power Book III: Raising Kanan.
In 1994, Diddy and Kim welcomed their son Christian Combs, who's now a rapper in his own right. Under the stage name King Combs, Christian has had featured appearances on tracks by Teyana Taylor and Pop Smoke.
And in 2006, Diddy and Kim had twin daughters, D'Lila and Jessie Combs, who joined half-sister Chance Combs for a 2021 Vanity Fair shoot. "I'm so proud of you girls!" Diddy later wrote on Facebook. "You all look simply regal, majestic, beautiful, and strong."
Tragically, Kim died in 2018 at age 47 of a lung infection. "Three days before she passed, she wasn't feeling well. She had the flu, and she sent the kids over to my house so they wouldn't get sick. One night I was checking on her, and she was like, 'Puffy, take care of my babies,'" Diddy recalled to Essence in 2020. "She actually said that to me before she died."
Diddy had a daughter with Sarah Chapman.
Five months before D'Lila and Jessie's birth, Diddy had a daughter, Chance Combs, with businesswoman and longtime friend Sarah Chapman, per People. Diddy and Chapman have kept up a co-parenting relationship, and he called her "gorgeous" and "beautiful" in an Instagram video in July 2022, per Atlanta Black Star.
Chance, meanwhile, was Diddy's date to the 2022 Academy Awards, and on the red carpet, she said that she wants to be an actress and she idolizes Zendaya.
Now Diddy has a new daughter with Dana Tran.
In his tweet on Saturday, Diddy wrote, "I'm so blessed to welcome my baby girl Love Sean Combs to the world. Mama Combs, Quincy, Justin, Christian, Chance, D'Lila, Jessie and myself all love you so much! God is the greatest!"
TMZ notes that Love was born on Oct. 15 in Newport Beach, Calif, and that Dana is listed as the mother on Love's birth certificate. According to the site, Dana hails from Southern California and works in cybersecurity.