Dominic Fike and Hunter Schafer "developed an attraction" on the set of 'Euphoria' and they are still strongly together.
Like many artists before him, singer-songwriter Dominic Fike has successfully transitioned into the world of acting. The star made waves after joining Season 2 of Euphoria as Elliot, a "homie" who unintentionally causes tension between Rue (Zendaya) and Jules (Hunter Schafer).
Since his leading role on Euphoria, fans have wondered if Dominic and Hunter expressed any real-life chemistry. Though it seems he likes to keep his romantic life private, he did recently give some insight into their relationship.
So, are Hunter and Dominic dating? Let's find out!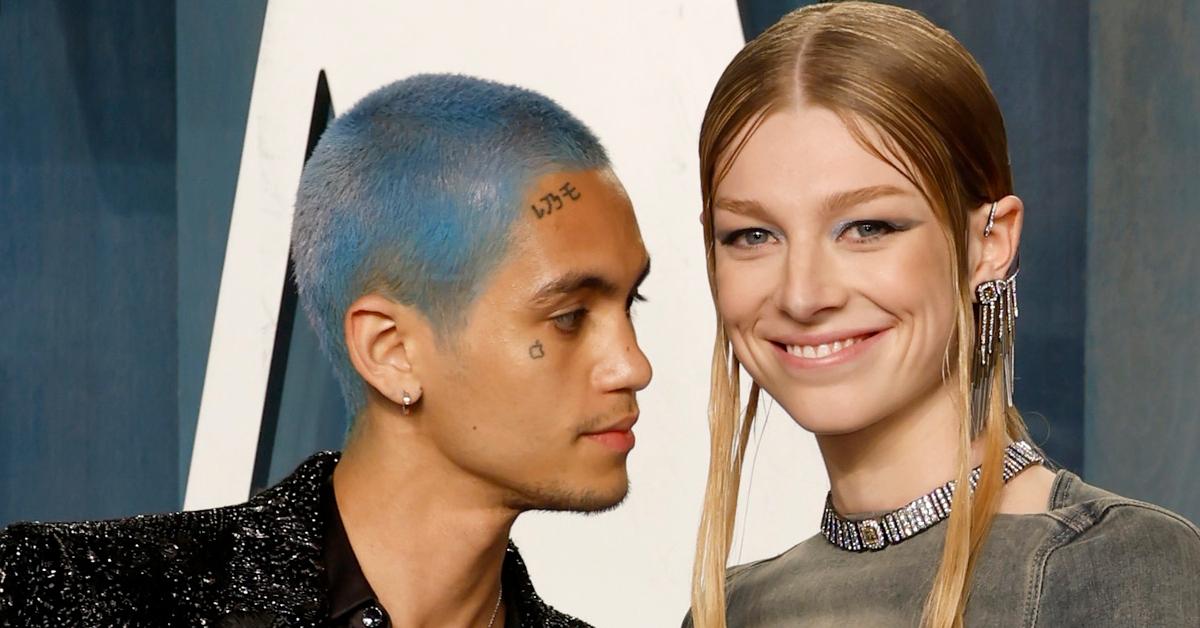 Who is Dominic Fike dating?
After several months of speculation from fans via social media, Dominic admitted he and Hunter are together and in love. In an interview with GQ, the actor opened up about their relationship for the first time. Dominic said that filming Euphoria's intense scenes with Hunter helped spark their romance.
"In those moments, your relationship is accelerated because you're so vulnerable with someone, immediately," he told the magazine. "Which usually takes a long time."
He added: "Some people fall in love, like, f–king months after they meet, or years after. We developed an attraction — it sped it up so fast. We just really got to know each other so quickly."
Dominic also shared how he and Hunter navigate their relationship. While their schedules keep them in different locations, the singer said he's grateful for Hunter's various modeling campaigns: During his GQ interview, he admitted to visiting a Prada store in Soho eight times in less than a week to see his girlfriend's ad in the facility. Aww!
Rumors initially began swirling in January 2022 when, shortly after Euphoria Season 2 premiered, photographers spotted the co-stars ​​leaving Nice Guy restaurant in West Hollywood hand in hand.
The Instagram gossip account Deux Moi also shared an anonymous tip in January 2022 reporting that Hunter was spotted backstage at Dominic's Penn State concert. An apparent video of this also made the social media rounds.
Additionally, Dominic fueled the rumors in February 2022 by posting an adorable photo of them kissing at a restaurant.
Are Hunter Schafer and Dominic Fike Still Together?
After recent photos of the musician partying at Los Angeles hot spot Delilah surfaced showing the "3 Nights" artist mingling with other women, Instagram gossip account DeuxMoi reported the pair had been split for some time.
However, a fan posted a TikTok video of the pair holding hands at the Outside Lands Music Festival in August 2022, leading fans to think that they're still together. "My heart," an online user commented, while another joked, "Rue's going to be pissed."
What did fans say about Hunter Schafer and Dominic Fike's rumored split?
Fans of the series were quick to air their opinions on social media over the couple's rumored split. "If Dominic Fike and Hunter Schafer break up and one of them is gone from Euphoria over it, I will be super pissed. We need at least one more season with both of you," one user tweeted. Another wrote, "One more thing about this Dominic and Hunter drama and I'm gonna throw hands."
What is Dominic Fike's sexuality?
While Dominic has never publicly addressed his sexuality, his role in Brockhampton's "Count on Me" music video suggests his sexual orientation is not straight.
The "3 Nights" singer starred alongside rapper and internet personality Lil Nas X, with the two portraying lovers. In the video, the couple passionately kiss and embrace a psychedelic experience that weirdly turns into animation. Very trippy, we know.
However, Dominic previously dated Booksmart actress Diana Silvers. In an earlier GQ interview from 2021, Dominic gushed about his then-girlfriend, highlighting her musical talents.
"She's a f–king musical encyclopedia. She knows so many songs. There will be some crazy song from the '50s playing in a f–king restaurant in New York, and she'll be like, 'Oh, this guy from this era and this album,'" he raved in April 2021. "She likes old music, movies, and clothing. It's influenced my music for the better."
Diana joined Dominic for the Zoom interview, where he discussed date plans he had in mind once the COVID-19 pandemic lightened up. He said, "I want you to come to one of my shows, and I want to go to one of your premieres. Just cute s–t like that."
Although their relationship is now over, it's clear that Diana left a lasting impression on Dominic and his outlook on romance. Now, we can't wait to see how he handles himself with Hunter!