What did Eric Ortiz die of? The Former Louisville Cardinals Cheerleader has died at the age of 30.
The cheer community is known for producing some of the most inspirational athletes in the world, which is why it's so hard when they suddenly lose a member of their tight-knit clan. On Oct. 22, 2022, Eric Ortiz — a former Louisville Cardinals cheerleader and 10-time national champion — died unexpectedly. He was 30 years old.
What happened? Here's what we know about Eric's cause of death.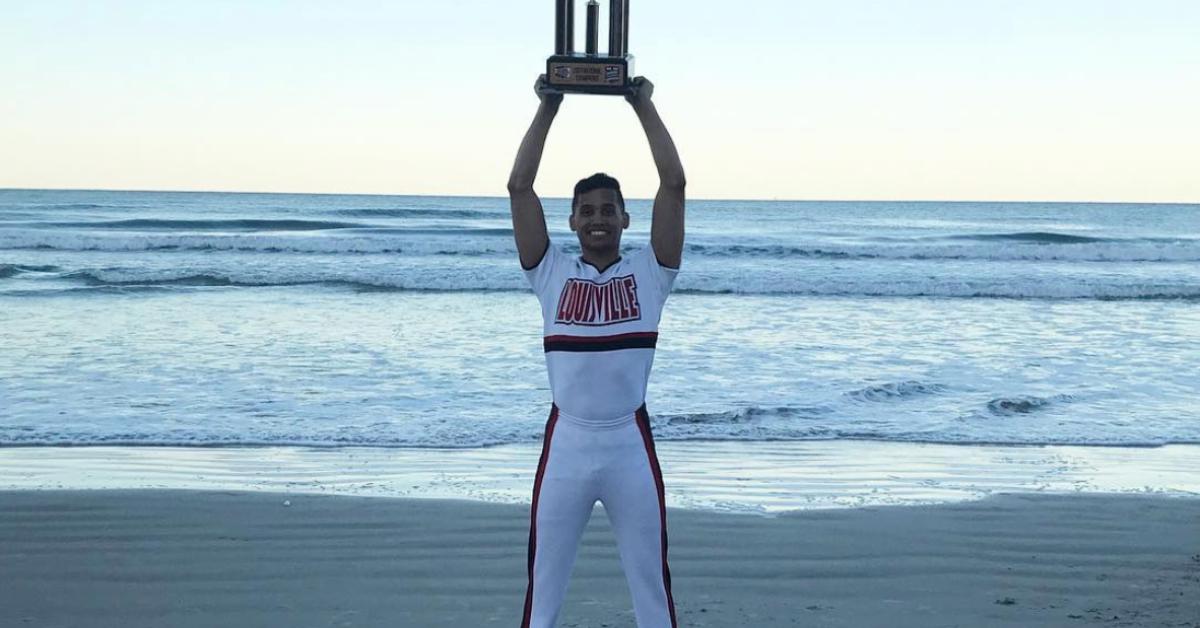 What was Eric Ortiz's cause of death?
The cause of death hasn't been made public, but TMZ Sports reported that Eric "died unexpectedly" on Saturday, Oct. 22.
For those unaware, Eric was a cheerleader for the University of Louisville and the GymTyme All-Stars, winning 10 national championships and two world championships with the latter organization.
On Oct. 24, GymTyme All-Stars released a statement regarding Eric's death, stating that "Eric Ortiz was a force when he joined our program. He could stunt, tumble, jump, dance, and perform with some of the greatest athletes that have ever stepped a shoe onto a cheer floor. He was captivating as an athlete. He could do it all and that he did. He was a leader at practice and on the competition floor."
"Eric was a sweet, amazing, and genuine person," GymTyme All-Stars added. "There were always plenty of smiles, hugs, and reasons to laugh when he was near. His positivity was infectious with his teammates, program, and friends. He was a light that pushed whatever darkness and worry present- away."
GymTyme All-Stars concluded, "As we all face this moment of darkness together, we will remember that we are not alone. We still have each other and our memories of you. We will miss you terribly but know you would want us to live our best life. Thank you for letting us be a part of your magnificent time here."
New Rochelle Cheerleading took to Instagram to share a tribute, saying, "This is a tough one. The New Ro family lost a shining star yesterday. Eric Ortiz, there aren't enough words to describe what you meant to everyone."
"You brightened up a room the minute you entered. A National and World Champion, but most importantly, a son, brother, uncle, and friend. Our hearts are forever broken and we will miss you. Til we meet again," the team added.
Gabi Butler, who stars on the Netflix docuseries Cheer, also responded to Eric's death on social media.
"My heart is completely torn into a million pieces… the thought of not being able to hear your laugh or see that beautiful smile shatters me. Eric Ortiz, you were the most beautiful soul i've ever met," she wrote.
She continued, "Your memory will live with me forever and I want to thank you for making me feel like I was invincible because you always made me feel like I was on top of the world. I love you with all my heart and soul Eric… rest easy my angel, you will always be missed and in my heart."
About his net worth, reports that former University of Louisville cheerleader Eric Ortiz has died at age 30 with a fortune of $1 million to $2 million.
Our thoughts are with Eric's family, friends, and fans during this difficult time.