Time to toss out their roses because Gabby Windey and Erich Schwer of 'The Bachelorette' are done.
Poet William Blake once wrote, "O Rose thou art sick. The invisible worm that flies in the night in the howling storm has found out thy bed of crimson joy, and his dark secret love does thy life destroy."
While this poem is about a woman named Rose, we can easily apply it to the death of a Bachelorette relationship.
That's right, folks, Gabby Windey and Erich Schwer have ended their coupledom two months after getting engaged. Why did Gabby and Erich break up? Here's what we know.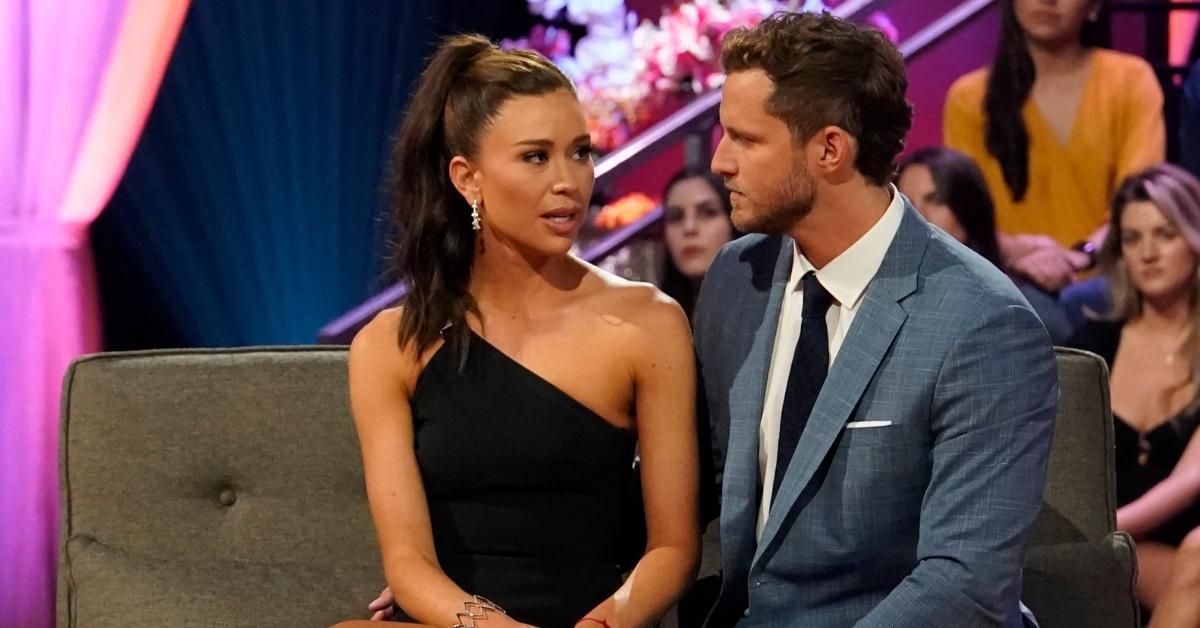 Why did Gabby and Erich break up?
A little birdie source recently told E! News that Gabby and Erich have parted ways, while an anonymous member of Bachelor Nation confirmed the news to the outlet. The second source said, "She felt they weren't aligned and weren't on the same page." They went on to say, "Gabby was hoping they could give each other space and work it out but ultimately decided they didn't have a future." Time to find a huge dumpster for all those roses.
Prior to this announcement, Erich has been openly supporting Gabby's run on Dancing With the Stars, but he was suspiciously absent from her Oct. 31 performance. Following that show, Gabby chatted with Fox News, who asked about the status of their engagement. "I think life is just really busy for the both of us right now," Gabby revealed. "So, I understand their concern but we're just kinda, you know, going forward with each of our individual interests and supporting each other from afar."
We've decided that "supporting each other from afar" is the new "conscious uncoupling."
The last time Gabby posted photos to her Instagram featuring Erich was Oct. 12. The caption hilariously reads "A chaotic dump" and involves a mix of sweet moments between the two as well as some behind-the-scenes shots from DWTS. Erich's last photo with Gabby on his Instagram was Oct. 11 and depicts Gabby dressed as Gamora from Guardians of the Galaxy for the DWTS Disney night episode. We will be watching his story unfold from afar.
Remember Tino? The 'Bachelorette' contestant recently had something to say about his time with Rachel Recchia.
Over on the Rachel side of The Bachelorette, her ex Tino Franco went on Nick Viall's podcast The Viall Files to update us about their status. Regarding his cheating, Tino was very clear about the fact that he deeply regretted what he did. "It haunts me daily," he told Nick. "It's something I'm ashamed of and certainly wish I could have done it differently a million times over." And while Tino clearly stated he still loves Rachel, he is no longer hitching his wagon to that star.
"It's just after everything that has transpired, I think the best way to put it is — I've moved on," he shared. Ultimately, beyond the stepping out on Rachel, it came down to the fact that out in the real world they weren't really a great fit. "I think real life plays a huge role in that and I think there is somebody who is just more compatible for her out there, and that guts me even two months after the breakup," Tino explained. We will not be watching Tino's journey from afar.