Disgraced former Pop Star Gary Glitter has been released from U.K. prison.
Trigger warning: This article mentions child sexual abuse.
Born on May 8, 1944, Gary Glitter (real name Paul Francis Gadd) is an English former glam rock singer who achieved success in the 1970s and 1980s.
He became known for his energetic live performances and extremely glam rock image of glitter suits, make-up, and platform boots. He sold over 20 million records and had 26 hit singles which spent a total of 180 weeks in the UK Singles Chart, with 12 reaching the top 10 and three of those charting at number one. He is listed in the top 100 most successful UK chart acts.
During the era of glam rock in the 1970s and 1980s, Gary Glitter ran the scene. The pop sensation, whose real name is Paul Francis Gadd, enjoyed a run of hit tracks such as "Rock and Roll (Parts 1 and 2)," "Do You Wanna Touch Me," and "I Love You Love Me Love."
He had a successful and promising career until he lost all after he was arrested and pressed on multiple charges.
Glitter was in and out of prison over the years as a result of his crimes, but his most recent incarceration saw him locked up at HM Prison The Verne in Great Britain. However, Glitter was released from that prison stint on Feb. 3, 2023, leaving many questioning why the disgraced former star is free again. So, why was Glitter released from prison?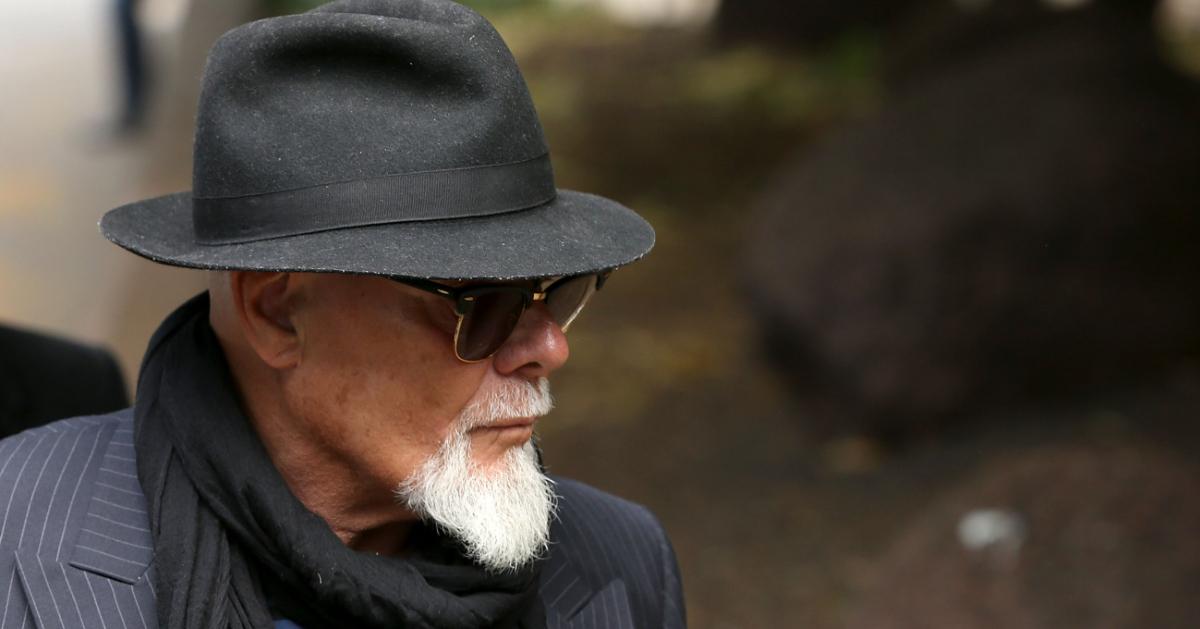 Why was Gary Glitter arrested?
1. In 1997, his career ended after he was charged with and eventually convicted of downloading child sexual abuse material. Further images were discovered by police during searches of his homes in London and Wedmore.
He was sentenced to four months in prison and placed on the sex offender register in the UK after he admitted to downloading more than 4,000 items of child pornography. He was cleared of a charge of having sex with a 14-year-old girl with whom he had a relationship in the late 1970s. It was later revealed that the woman sold her story to the News of the World and stood to earn more money from the newspaper should Glitter be convicted.
2. He was hated by many which made him move out of the UK to live in Spain. He then relocated to Cuba and later to Cambodia.
Following his release in January 2000, Glitter decided to leave the UK where he had become a "public hate figure"; and fled on his yacht to Spain. He lived at Sotogrande in Andalusia for six months on his yacht, which was moored at the marina. He told the locals that his name was Larry Brilliante and spent his time frequenting local bars and surfing the Internet.
After his real identity became known in Sotogrande, he moved to Cuba and later to Cambodia, where he rented an apartment in Phnom Penh. In late 2002, he was detained over his previous sex offenses and spent four days in jail before being released on bail. In January 2003, he was deported from Cambodia to Thailand on a flight to Bangkok. He subsequently settled in Vietnam.
3. He was arrested again after Six Vietnamese girls and women, aged 11 to 23, claimed that Glitter had had sex with them
After his arrest, Glitter was turned over to provincial police from Bà Rịa–Vũng Tàu, returned to Vũng Tàu, and held on suspicion of having sex with the two underage girls. Glitter was held in jail throughout the criminal investigation, which was completed on 26 December 2005.
The charge of rape was dropped for "lack of evidence" (according to Glitter's lawyer), although Glitter admitted that an 11-year-old girl had slept in his bed. Glitter could have faced execution by firing squad if found guilty of child rape. After having received compensatory payments from Glitter, the families of the girls appealed for clemency for him.
4. In 2006, Gary denied being a pedophile and claimed not to have knowingly had sex with anyone under 18.
In an interview with BBC News in May 2006, Glitter denied that he was a pedophile and claimed not to have knowingly had sex with anyone under 18. He said that he had hoped to put his life back on track and have a career after he left prison in England. He continued to blame the press for his downfall and called them "the worst enemy in the world," alleging that they had paid girls in a bar to arrange a photo scoop.
Glitter did not comment about his previous conviction for downloading child pornography several years earlier. Christine Beddoe, director of End Child Prostitution, Pornography and Trafficking, criticised Glitter and said that he was trying to "minimise what he has done… We must allow children to tell their story and not just have the words of Gadd."
On 15 June 2006, in a closed hearing, a three-judge panel of the Supreme People's Court of Vietnam heard Glitter's appeal for a reduced sentence. The appeal was rejected four weeks later. Although he was calm throughout the 40-minute reading of the verdict, upon leaving the courthouse, Glitter shouted angrily to reporters and denounced Vietnamese justice for not hearing the defense arguments. On 7 February 2007, his sentence was reduced by three months. In anticipation of his release, the Philippines barred Glitter from entering that country as of 16 May 2008.
5. Legal issues persisted for Glitter when he was convicted of child sexual abuse in 2006 as well as attempted rape in 2015.
Why was Gary Glitter released from prison?
6. According to the Associated Press, Glitter was released from prison on Feb. 3, 2023, after he completed half of a 16-year prison sentence which was handed down as a result of his sexually abusing three young girls in the 1970s. The outlet notes that it is common for offenders in the U.K. to be released from prison halfway through their sentence and then placed on probation.
7. The Ministry of Justice said in a statement (per AP) that "sex offenders like Paul Gadd are closely monitored by the police and Probation Service and face some of the strictest license conditions, including being fitted with a GPS tag. If the offender breaches these conditions at any point, they can go back behind bars."
8. Furthermore, Glitter's name won't be added to the U.K.'s sex offender list for these crimes due to the fact that they were committed before the list was made, per BBC. However, Glitter was already ordered to sign the register for life on a separate instance when he returned to the U.K. after being convicted of sex crimes in Vietnam in 2006.
Gary Glitter shares two kids with his ex-wife, and a child with his girlfriend – making him a dad of three.
Gadd has been in a public relationship with his ex-wife with whom he shares two of his kids together. Gary married Ann Murton in July 1963. They had a son also named Paul (born 1964) and a daughter named Sarah (born 1966) before divorcing in 1972. In February 2001, he had another son named Gary Jr. with his Cuban girlfriend Yudenia Sosa Martínez, with whom he was living in Cuba. He had homes in London and Wedmore at the time of his arrest in 1997.
Glitter was banned from driving for 10 years in 1986 following a conviction for drink driving. This was his third drink driving conviction, and he narrowly avoided being sent to prison.
On 20 January 2008, the News of the World reported that Glitter had suffered a severe heart attack. These reports were denied, although it was confirmed that he had been diagnosed with heart problems. Nguyen Huu Quang (the director of the hospital in Bình Thuận near the prison where Glitter was serving his sentence) said, "Glitter was admitted to our hospital with acute diarrhoea. While we were treating him, we found out that he also has a cardiovascular disorder."
If you need support, call the National Sexual Assault Hotline at 1-800-656-4673 or visit RAINN.org to chat online one-on-one with a support specialist at any time.