Harry Styles and Olivia Wilde were one of the fans' favorite celebrities couples – sadly, rumors suggested their split. Read on for more.
Like various other celebrities, Harry Styles and Olivia Wilde fell in love with a film set. The power couple took fans by surprise with their spontaneous romance, which began when they met during the filming of Wilde's movie, Don't Worry Darling.
They embarked on a two-year romance shortly after meeting on set in 2020.
The couple seemed to be going strong. Most recently, Olivia was spotted with her kids, Daisy and Otis, at Harry's concert in Los Angeles on Nov. 15.
Since the start of their relationship, there's been plenty of rumors about a potential engagement and a baby on the way; luckily, we're here to set the record straight.
On November 2022, it has being reported that Olivia and Harry are "taking a break" — so, what happened? Keep reading for a complete timeline of Harry and Olivia's relationship.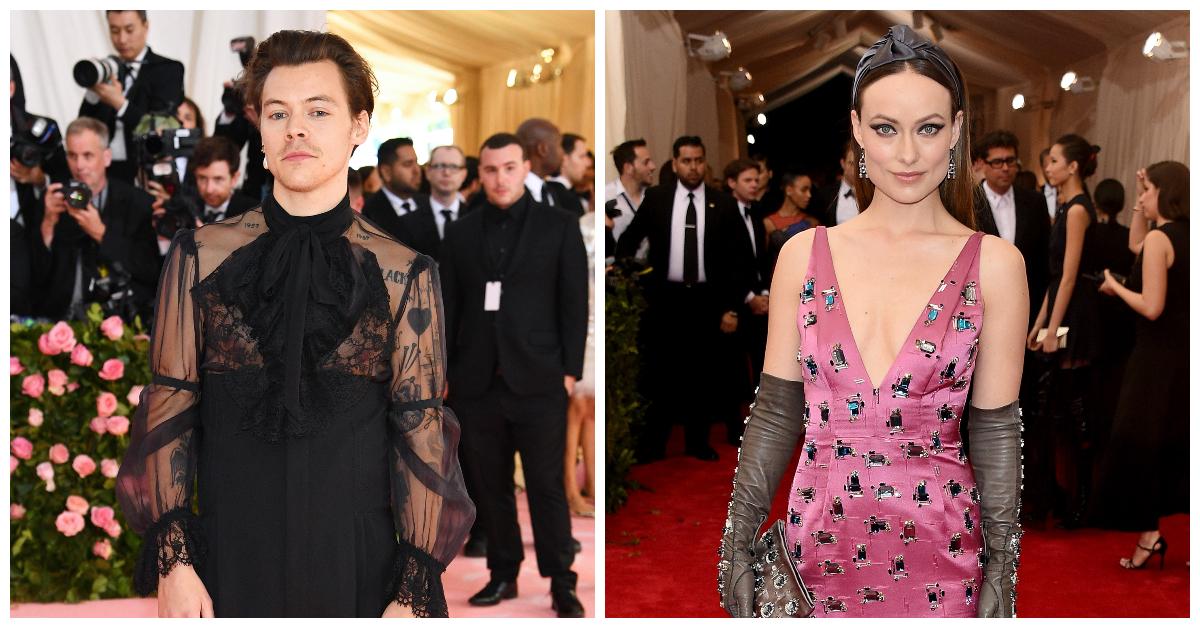 September 2020: Harry Styles joins the cast of 'Don't Worry Darling.'
On Sept. 11, news broke that Harry Styles joined the cast of Don't Worry Darling.
He replaced Shia LaBeouf, who allegedly dropped out of the film due to a scheduling conflict. However, sources later revealed that the Honey Boy star displayed poor behavior and clashed with the cast and crew, including Olivia, who eventually fired him.
November 2020: Olivia Wilde and Jason Sudeikis call it quits.
On Nov. 13, People reported that Olivia Wilde and Jason Sudeikis ended their seven-year engagement amid rumors that she cheated on the Ted Lasso star with Harry Styles. A source close to the former couple revealed that "the split happened at the beginning of the year," and they quickly "transitioned into a great co-parenting routine."
January 2021: Harry and Olivia are spotted holding hands at a wedding.
Harry and Olivia first sparked dating rumors in January 2021. The famous duo was photographed holding hands at the wedding of the singer's manager, Jeff Azoff. At the time, a source told People that the pair had been together for a few weeks, adding that they were "affectionate around their friends, held hands and looked very happy" at the nuptials.
They were also spotted at his LA home and strolling through Santa Barbara.
February 2021: 'Don't Worry Darling' officially wraps filming.
By mid-February 2021, filming wrapped for Don't Worry Darling.
Not only did Olivia and Harry pose next to one another in a cast photo, but the 38-year-old Booksmart filmmaker took to Instagram to praise the "As It Was" vocalist for his brilliant performance and commitment to the female-centric story.
"Little known fact: Most male actors don't want to play supporting roles in female-led films," Olivia wrote in the caption.
"The industry has raised them to believe it lessens their power (i.e financial value) to accept these roles, which is one of the reasons it's so hard to get financing for movies focusing on female stories. No joke, it is hard to find actors who recognize why it might be worth it to allow for a woman to hold the spotlight."
"Enter: Harry Styles, our 'Jack.' Not only did he relish the opportunity to allow for the brilliant Florence Pugh to hold center stage as our 'Alice,' but he infused every scene with a nuanced sense of humanity," Olivia added. "He didn't have to join our circus, but he jumped on board with humility and grace, and blew us away every day with his talent, warmth, and ability to drive backwards."
March 2021: Olivia subtly celebrates Harry's win at the 63rd Grammy Awards.
Following his win at the 63rd Grammy Awards, Olivia found a way to subtly celebrate her boyfriend's accolade.
The actress took to her Instagram story and shared a photo of Paul McCartney eating a slice of watermelon. Of course, fans speculated her post was a nod to Harry's hit single, "Watermelon Sugar," which won him "Best Pop Solo Performance."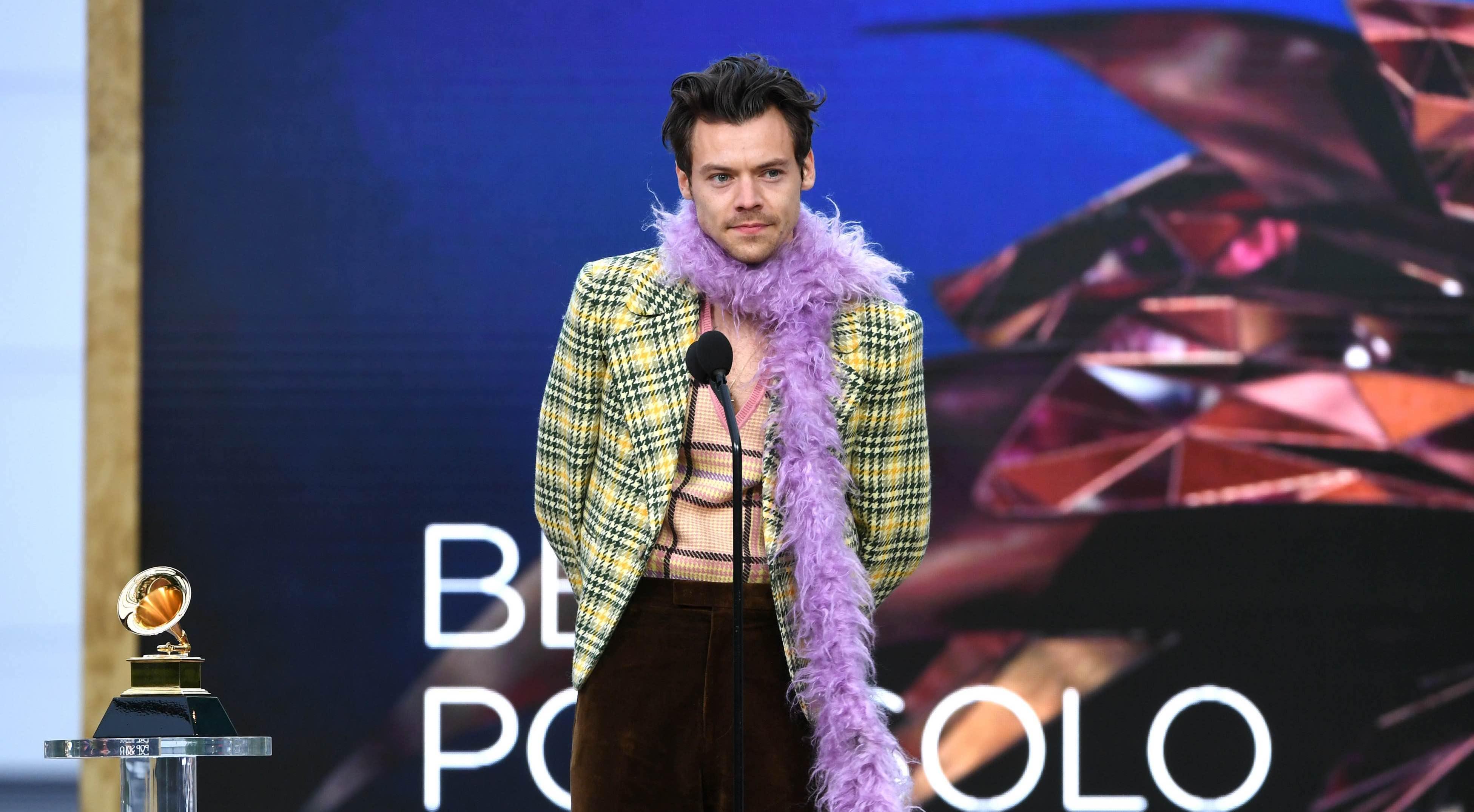 April 2021: Harry and Olivia spend time at this house in London.
In April 2021, a source told Us Weekly that Harry and Olivia were still going strong. At the time, the pair were spending time together at his home in London, aiming to be as "low key as possible and go to places that aren't too crowded."
July 2021: Harry and Olivia are photographed getting cozy in Italy.
On July 5, the couple was photographed packing on the PDA on a yacht in Italy. The photos, which were obtained by Page Six, show Harry and Olivia dancing, kissing, and cuddling on their casual afternoon boat date.
Following their display, an insider spoke with Us Weekly and revealed the Incredible Burt Wonderstone actress was "really smitten by Harry," adding that they "don't care who's around watching them."
September 2021: Olivia attends the first show of Harry's tour.
On Sept. 4, Olivia attended Harry's concert in Las Vegas. Fans in attendance spotted her filming and dancing along to his music. She was photographed at several other Love on Tour shows, even joining him during his recent European tour.
April 2022: Olivia supports Harry during his headlining performance at Coachella
On April 22, a fan account shared a video on Twitter of the House actress arriving at Harry's set at Coachella alongside newlyweds, Jeff and Glenne Azoff. The following night, Harry and Olivia were spotted watching Billie Eilish's performance.
May 2022: Harry opens up about Olivia on SiriusXM's The Howard Stern Show.
While promoting his third studio album, "Harry's House" Harry appeared on Howard Stern's SiriusXM radio show; there, the popular host asked about Harry's relationship with Olivia. As expected, the 28-year-old singer deflected the question.
"I had a wonderful experience being directed by Olivia," Harry told Howard on the show. "Acting is kind of uncomfortable at times; you have to trust a lot. Being able to trust your director is a gift, that was very helpful."
"It meant for a really nice experience working on [Don't Worry Darling,]" he concluded.
November 2022: Harry Styles and Olivia Wilde reportedly end their relationship after two years of dating.
According to People magazine, Harry, 28, and Olivia, 38, are "taking a break," citing their busy work schedules for the split.
"He's still touring and is now going abroad. She is focusing on her kids and her work in L.A.," a source told the outlet. "It's a very amicable decision… they're still very close friends."
Another source added, "Right now, they have different priorities that are keeping them apart." Harry has headed abroad for his Love on Tour shows, while Olivia is set to start directing her next film, Perfect, which tells the story of American gymnast Kerri Strug at the 1996 Olympics.