What is Honey Boo Boo's net worth? It appears that the show doesn't pay that much as Alana's sister Lauryn "Pumpkin" Efird is reportedly broke.
It seems like just yesterday that Alana Thompson, aka Honey Boo Boo, was drinking her "Go-Go Juice" on Toddlers & Tiaras and stealing hearts as a mini beauty pageant queen. Fans continued to watch her grow up on Here Comes Honey Boo Boo and Mama June: From Not to Hot, which is now Mama June: Road to Redemption.
Alana currenlty has a boyfriend. In August 2022, Alana will be 17 years old (and if you didn't realize she was a teenager already, you probably aren't alone). Still, there are rumors about her dating and having an actual steady boyfriend.
However, many are curious to know more about Alana Thompson's worth and how much she makes. Read on to find out more.
What is Honey Boo Boo's net worth?
Honey Boo Boo Child is an American reality television star and child beauty contestant who has a net worth of $400,000.
How much does Honey Boo Boo make per episode?
For their work on the TLC reality show "Here Comes Honey Boo Boo" (2012–2014), her family was paid a salary of $50,000 per episode, earning $2.75 million during the show's run, according to Celebrity Net Worth.
Who is Honey Boo Boo?
Born Alana Frances Thompson on August 28, 2005, in McIntyre, Georgia, she first rose to fame on the TLC reality series, "Toddlers and Tiaras" (2012–2013), which followed various child pageant participants and their families as they get ready for competition.
After "Here Comes Honey Boo Boo" ended, Alana appeared in her mother's series "Mama June: From Not to Hot," which aired on TLC from 2017 to 2020.
What does Honey Boo Boo do right now?
Now, 16-year-old Alana is a pretty normal teenager. While she still appears on her mum's reality TV show, she attended high school, worked on weekends, and hopes to become a neonatal nurse someday. Oh, and she no longer wishes to be called Honey Boo Boo. Alana has apparently been accepted into Georgia Military College's dual enrollment program.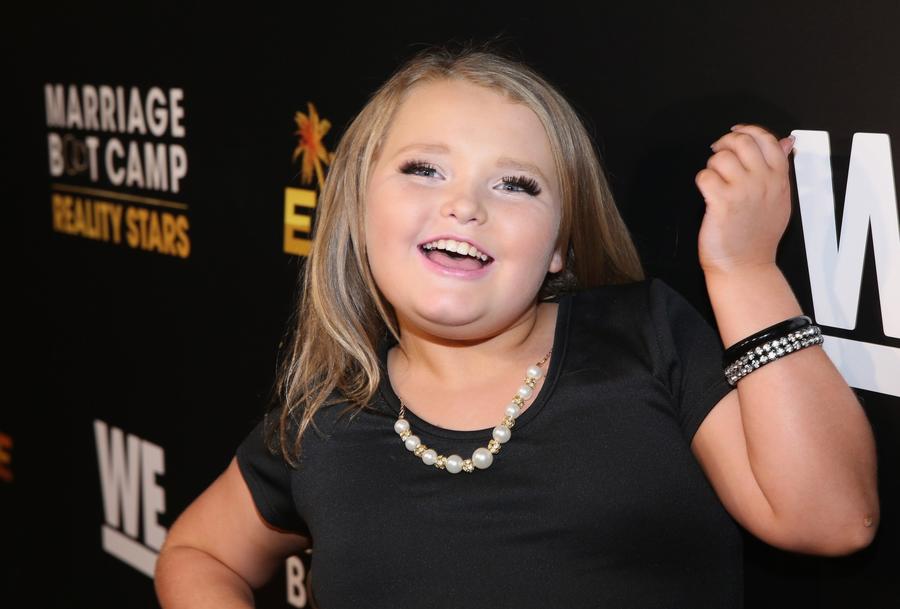 (Photo by Jonathan Leibson/Getty Images)
Career
Though "Toddlers and Tiaras" garnered very mixed reviews and earned the ire of multiple children's advocacy groups, Thompson was offered her own show on TLC. The spin-off series, entitled "Here Comes Honey Boo Boo," followed Alana and her mother, June "Mama June" Shannon, as they navigated the pageant circuit.
It also focused on her father, Mike "Sugar Bear" Thompson, and her older sisters, Lauryn, Jessica, and Anna, who were not involved in pageant life, and have issues of their own, including teen pregnancy.
The show received considerable criticism from people who believe that it took advantage of the family and glorified an unhealthy lifestyle. "Here Comes Honey Boo Boo" aired 55 episodes and was cancelled after season four when Mama June was spotted with a man who had allegedly molested one of her daughters.
In 2017, TLC aired a few episodes that had been filmed for season five as a special called "Here Comes Honey Boo Boo: The Lost Episodes."
After the show ended, Thompson competed on "Dancing with the Stars: Juniors" in 2018 and was reportedly paid $50,000 to be on the ABC series.
She was paired with Tristan Ianiero, and the duo were eliminated from the competition during week four. Alana has also appeared on the shows "Jimmy Kimmel Live!," "The Tonight Show Starring Jimmy Fallon," "The Doctors," "The Wendy Williams Show," "The Screen Junkies Show," "Steve Harvey," "Good Morning America," and "Live with Kelly and Ryan."
She was featured on "Barbara Walters Presents: The 10 Most Fascinating People of 2012," and in 2013, her family competed against the cast of "Cake Boss" on "Family Feud."
Alana has strained relationships with both of her parents.
The more important issue going on in Alana's life both on and off the show is her strained relationships with both June and her father, Mike "Sugar Bear" Thompson. In the past, Sugar Bear's marriage to his now ex-wife Jennifer Lamb got in the way of working on his relationship with Alana, and that's not lost on her. Reportedly, Sugar Bear has moved on and is now dating 49-year-old single mother Heather Rood.
When it comes to June, both Alana and Lauryn were wary of her relationship with her last boyfriend Geno Doak. June moved on from Geno and started dating Justin Stroud. They secretly got married in March 2022 in a Georgia courthouse on their six-month anniversary.
Both of Alana's parents appear to be focusing on their significant others more than their daughter. Thankfully, Alana has a stable home with Lauryn and her family (including her husband, Josh Efrid, and their four children) and her other sister Jessica.
Amid all of the ongoing drama with both sides of her family, Alana apparently found herself a boyfriend. And while the ideal scenario is she also finds herself a set of good friends; it's nice that she has her sister and Dralin. And a ring that's most definitely not an engagement ring.
Are Honey Boo Boo and Dralin engaged?
We can confidently confirm the pair are not engaged. After posting a picture with a beautiful ring on her engagement finger, fans went wild with speculation the couple was engaged. Her sister Lauryn clarified to The Sun that the bling is a promise ring from Dralin.
The couple resides in Georgia, where the age of consent is 16. Honey Boo Boo briefly discussed her relationship in August 2021 in an interview with Teen Vogue, where she heartbreakingly disclosed that she doesn't have any friends besides her boyfriend.
Honey Boo Boo, 16, and her boyfriend Dralin, 21, are set to undergo $13K weight loss surgery.
Honey Boo Boo and her boyfriend Dralin have decided to undergo weight loss surgery in the hopes of dropping over 100 pounds.
The Mama June: Road to Redemption star's manager has revealed her plan to head to Queens, New York for the procedure.
Honey Boo Boo, formally known as Alana Thompson, will make her way up North for weight loss surgery in late August after celebrating her 17th birthday, her rep told TMZ.
The reality star has opted for a "suture sculpt endoscopic sleeve" from doctor Steven Batash, which can cost upwards of $13K.
Alana Thompson stands at a height of 4 feet 10 inches; 1.48 m; 148 cm.
The TV personality has explained that she's reached 275 pounds, and hopes to get down to 150 in order to live a healthier lifestyle. Her weight in kilograms is about 124 kg.
After trying her luck at diets and exercise over the past year, Alana said her results have been limited.
The young star explained to her rep that she's concerned her weight gain is genetic, and surgery is the only way to drop the pounds.
The former pageant girl's manager said her older sister and full-time guardian Pumpkin, 22, is behind the decision.
Alana's boyfriend Dralin, 21, has also offered his support and has decided to undergo the procedure alongside the TV star.
Does the Mama June: Road to Redemption really pay off?
It seems the cast of the show are not making enough money from it. The Sun previously revealed that Alana's sister Lauryn "Pumpkin" Efird is broke and can barely afford groceries for the teen as well as her four young kids.
The mother of four is struggling to provide for her expanded family, which includes her twins who are under two months old, her not-yet one-year-old son Bentley, and her daughter Ella, four.  
She also has full custody of her sister Alana.
Several factors have come to light regarding the 22-year-old's financial situation.  
One family insider claimed that "Pumpkin told June she didn't have any groceries in the house, and she told Pumpkin 'Well you better get on TikTok and make some d*** n money."
The source added incredulously: "Why would a mother even say something like that?!"
Shortly after Lauryn's twins were born, the TV star was promoting her Amazon Wish List on her TikTok and her Instagram which included items fans could buy her for the babies.
She later removed the link to the wishlist.
The Sun can also reveal that Josh and Lauryn are renters at the previously estimated $71,000 Georgia home they share with their four children and her sister Alana.
In a statement to The Sun, Lauryn claimed: "That's my home and I rent to own it."
She also added: "I'm doing very well financially… my kids and us have everything we need and want."
While fans of the show Mama June: Road to Redemption assume the long-standing reality stars make a good living, in an interview with The Sun in May, Mama June, 42, claimed: "What a lot of people don't realize that this filming doesn't pay what people think it does.
"We all have regular entrepreneur jobs after filming- like [my daughter] Jessica works at a daycare. Josh works with a friend of ours. We have events that we go out and do."
The family is currently on Mama June: Road to Redemption airing Friday nights on WeTV.
Watch Mama June: Road to Redemption on Fridays at 9 p.m. ET on We TV.