What is Penn and Teller's net worth? The combined fortune of the magician duo is quite "magical".
Penn and Teller are two of the most noteworthy magicians alive today with a current Las Vegas show at the Rio Hotel & Casino.
PENN & TELLER Profile Summary
Profession: Magicians
Net worth: $400 million
Birthdates: March 5, 1955 (Penn) and February 14, 1948 (Teller)
Birthplaces: Greenfield, Mass. (Penn) and Philadelphia (Teller)
Birth names: Penn Fraser Jillette and Raymond Joseph Teller
Fathers: Samuel Herbert Jillette (Penn) and Israel Max "Joseph" Teller (Teller)
Mothers: Valda Rudolph Jillette (Penn) and Irene B. Teller (Teller)
Relationships: Penn's wife is Emily Zolten Jillette (m. 2004)
Children: Penn's kids are Moxie CrimeFighter Jillette and Zolten Penn Jillette
Education: Ringling Bros. and Barnum & Bailey Clown College (Penn) and Amherst College (Teller)
Only a handful of individuals have been able to fully thrive in the world of magic, and Penn Jillette and Raymond Teller are two of the most noteworthy magicians alive today. The talented duo — who go by Penn & Teller — perform magic shows in Las Vegas at the Rio Hotel & Casino. For a long time, Penn and Teller have been known as the "bad boys of magic" because they're somehow able to leave their audiences feeling surprised even when they reveal how they accomplish many of their tricks.
They perform onstage in a spacious theater that can seat up to 1,475 people with high ceilings and luxurious chairs. Purchasing tickets for their upcoming shows will set you back anywhere between $65 to $90 per ticket.
This is where their net worth stands.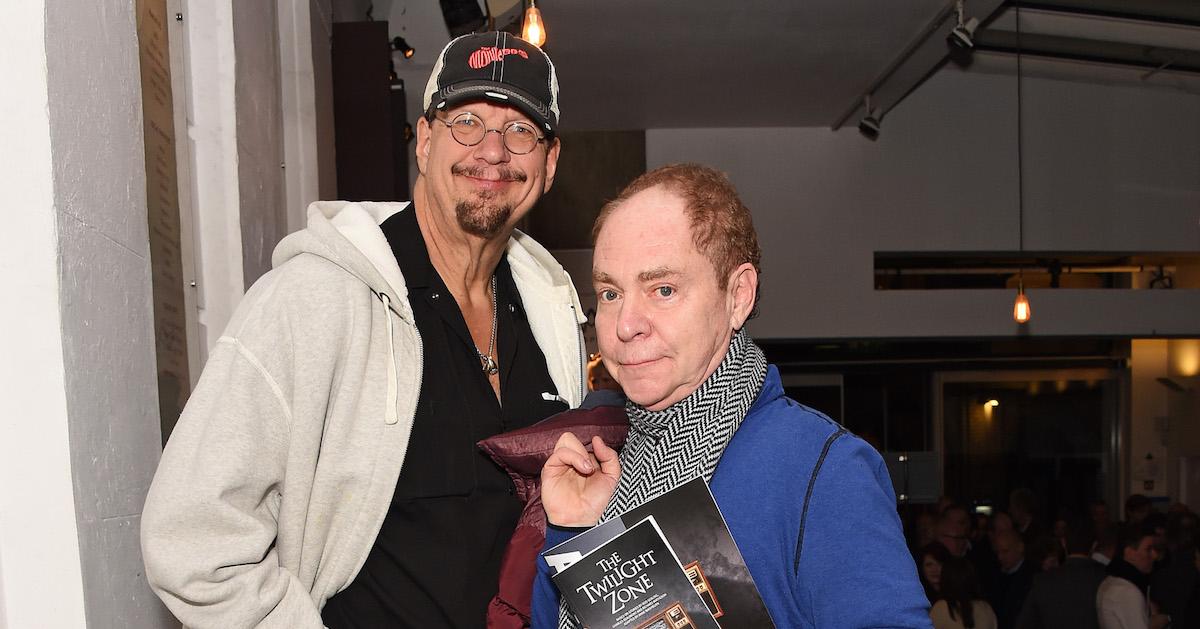 What is Penn and Teller's net worth?
Purchasing tickets to see Penn & Teller perform onstage is something plenty of people do when they take a vacation to Las Vegas. Since this dynamic duo have mastered the art of magical illusions, it makes sense that they have a net worth of $400 million according to Celebrity Net Worth. Their joint efforts of becoming so hugely successful as magicians have allowed them to reach such an amazing combined net worth ever since their careers took off.
They credit their success to the fact that they always maintained a strictly business-centered relationship. They refused to ever become too close offstage as friends and that's what's helped them avoid a lot of drama. Along with their famous Las Vegas show, they've built up their net worth in a few other awesome ways as well.
The two have starred in three television series together called Penn & Teller: Tell a Lie, Penn & Teller: Bulls***!, and Penn & Teller: Fool Us. They branched out into the publishing industry penning three books together as well as a couple of solo books written without each other's help.
These guys are the brilliant minds behind a popular 1995 video game called Desert Bus which has gained a lot of popularity in the gamer community. The unreleased game has a dedicated fan base to this day.
In 2013, Penn and Teller received their very own star on the Hollywood Walk of Fame, which is a major honor.
Who are the men that make up the Penn & Teller duo?
Penn Fraser Jillette is one half of the magical duo, and along with being a magician, he's also known as an actor, inventor, TV host, musician, and, as mentioned before, author. When they perform onstage together, Penn is usually the one who does all the talking.
Raymond Joseph Teller is the other half of the duo, known for being a movie director, painter, and actor, along with being a magician and author. When he hits the stage, he's the part of the actors who remains pretty quiet, does a lot of mime work, and leans on nonverbal communication above all else.
They bounce off each other's energy really well and that's clearly why they've reached the net worth they have today.