Celebs who have lost extreme weight in pounds, how they did it in their weight loss journey and story behind them. From Jenny Craig to Weight Watchers, celebrities are hopping on the weight–loss bandwagon and getting paid big bucks to do it.
Motivation to lose weight is deeply personal, even for celebrities. Lots of big names have made transformations (big and small!) for various reasons over the years—from managing chronic conditions to feeling better mentally to simply being in the public eye all the time.
From Rebel Wilson to Ayesha Curry, lots of stars have opened up about their unique weight loss journeys. Some of them focused on making changes to their diet, focusing on whole, nutritious foods. Others upped the intensity of their workouts.
Some even turned to their doctors for help, opting for weight loss surgery to guide them in the right direction. No matter the approach, their results prove one thing we've always known to be true: Consistency and dedication do pay off.
Celebrity weight loss stories are endlessly compelling for fans, as they watch their favorite stars take the initiative to live healthier lifestyles.
There are those celebs like Mama June Shannon, who dropped an amazing 300 pounds and revealed her body transformation in WE TV's Mama June: Not to Hot, or Jennifer Hudson, who shed pounds and continues to look as sexy as ever. Rosie O'Donnell and Drew Carey knew they needed to make changes for their health and did. They give hope and inspiration to all.
Then there are those actors who transform their bodies for movie roles and make our jaws drop. Christian Bale takes the top prize for the number of times he has gained and lost weight for his art, but actors like Jared Leto and Tom Hanks have also endured for the sake of the character they are playing. Not to mention gorgeous actresses like Charlize Theron and Anne Hathaway changing their frames—and winning Oscars for it.
Here are 40 celebrities who have made impressive weight loss transformations!
1. Mama June Shannon
Reality TV star "Mama" June Shannon's motivation to lose weight may have be a little skewed (she wanted to look really good at ex Mike "Sugar Bear" Thompson's wedding, to, you know, rub it in), but the end results were truly amazing. She lost 300 pounds overall and is now a size four.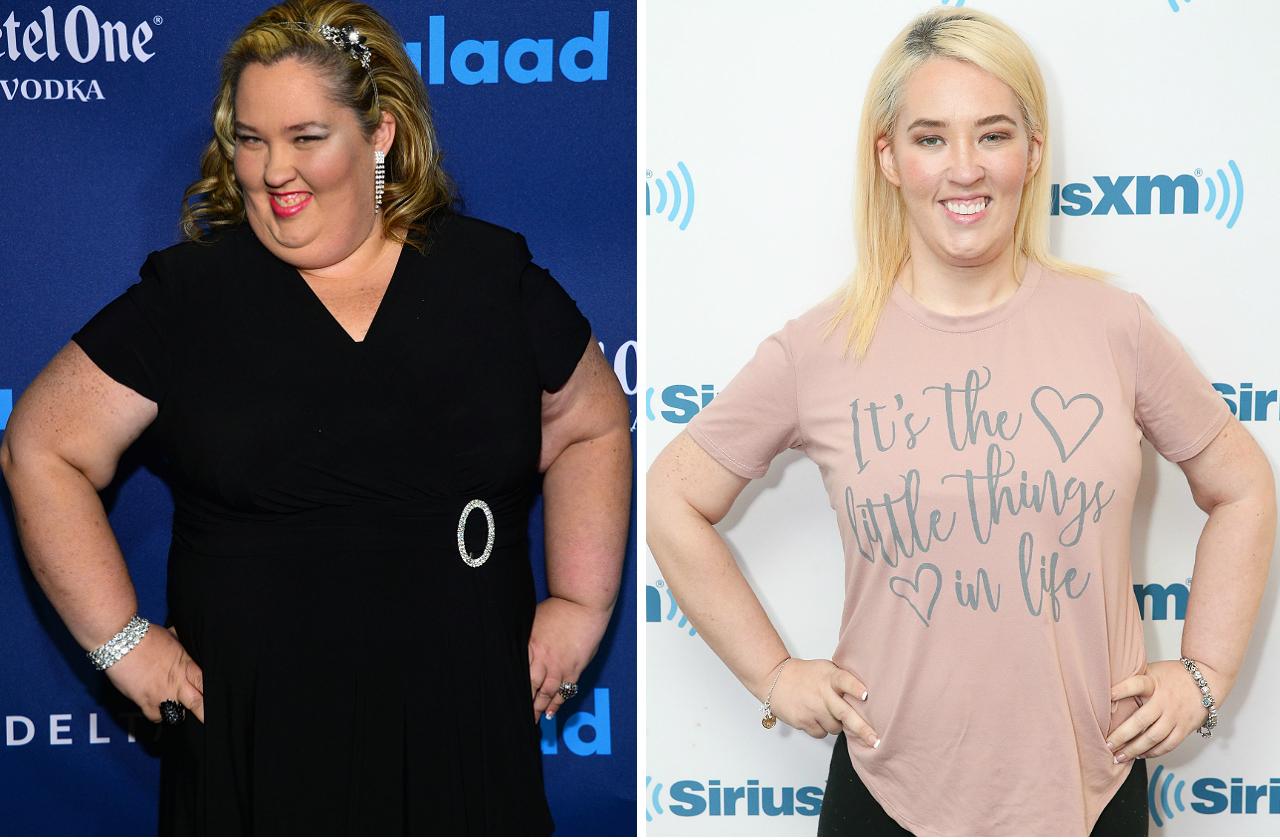 How she did it: Lots of blood, sweat and tears. June revealed she did have a few surgical procedures, including gastric sleeve surgery, to jump start the process but credits healthy food choices, portion control and, above all, exercise to help her shed the pounds.
Her weight transformation tip? Stay focused. Mama June's dedication to maintaining her new image has been unwavering, but it was tough getting there. "I'm not going to lie to you: I have thrown up, because you can't over eat with the gastric sleeve," she told People. "That's not a thing that I recommend to somebody. You realize what you can and can't do, and when you do it that one time, you don't do it again."
2. Christian Bale
Actor Christian Bale has lost and gained an ungodly amount of weight over his career. The most drastic transformation was for his turn in The Machinist, in which the actor lost 62 pounds and looked near death. He gained it back, though and pumped up to play the Dark Knight, gained more weight for American Hustle and so on. Then he did it again, having packed on 40 pounds to play former VP Dick Cheney in the biopic Backseat.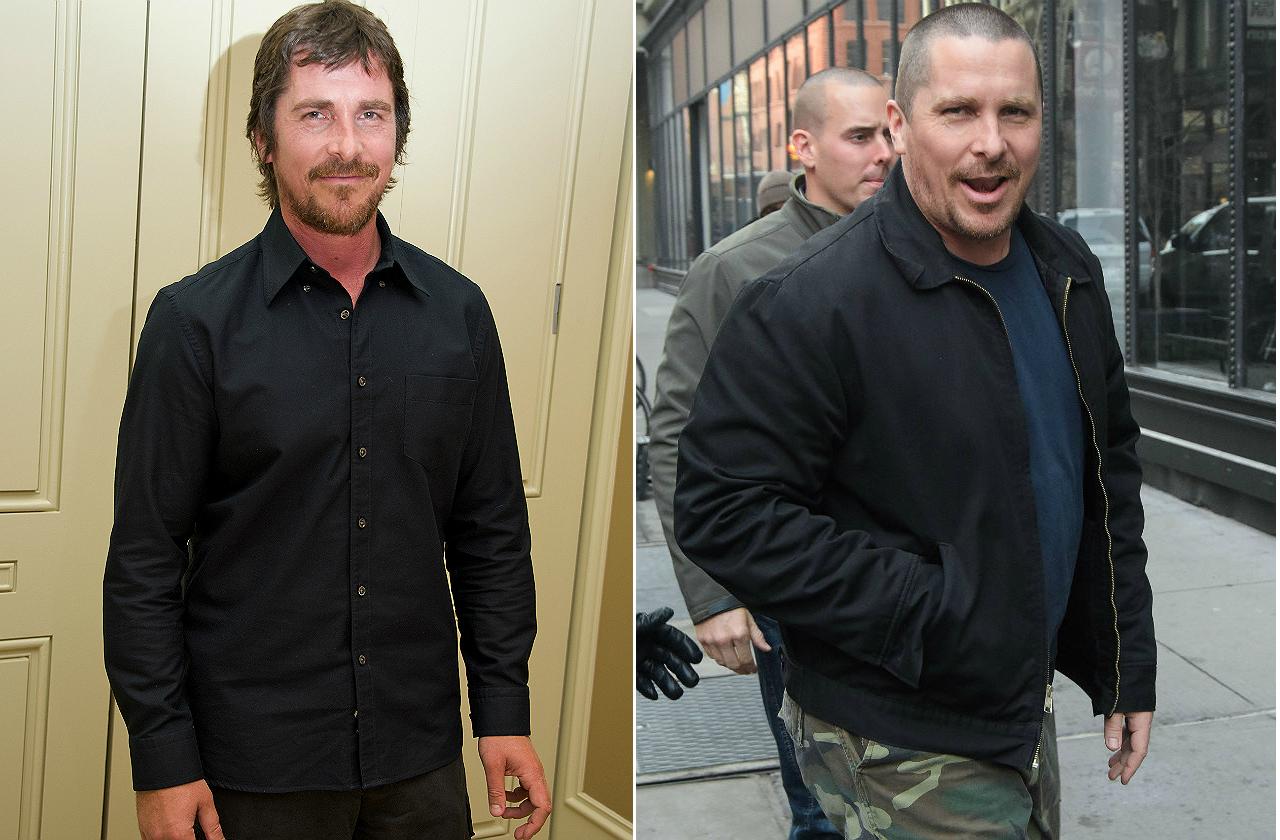 How he did it: This time around to play Cheney, Bale told Variety he has eaten a lot of pies. That doesn't sound so bad, amirite? Bale also bleached his eyebrows to complete the look.
His weight transformation tip? Keep it healthy. In the past, Bale has done the weight fluctuation on his own, without advice from doctors or nutritionists, but with the Cheney role, he asked for help. "I went to somebody and they managed to get me up a good 40 lbs," Bale said in an interview. "It's never healthy to put on that amount of weight in a short amount of time, but I did it in the healthiest manner."
3. Melissa McCarthy
Funnylady Melissa McCarthy showed off a healthier, slimmer figure in 2016 without much fanfare, and while McCarthy hasn't really publicly discussed her weight loss, sources close to the actress say she wanted to set a good example and stay healthy for her kids, and to live longer. Natch.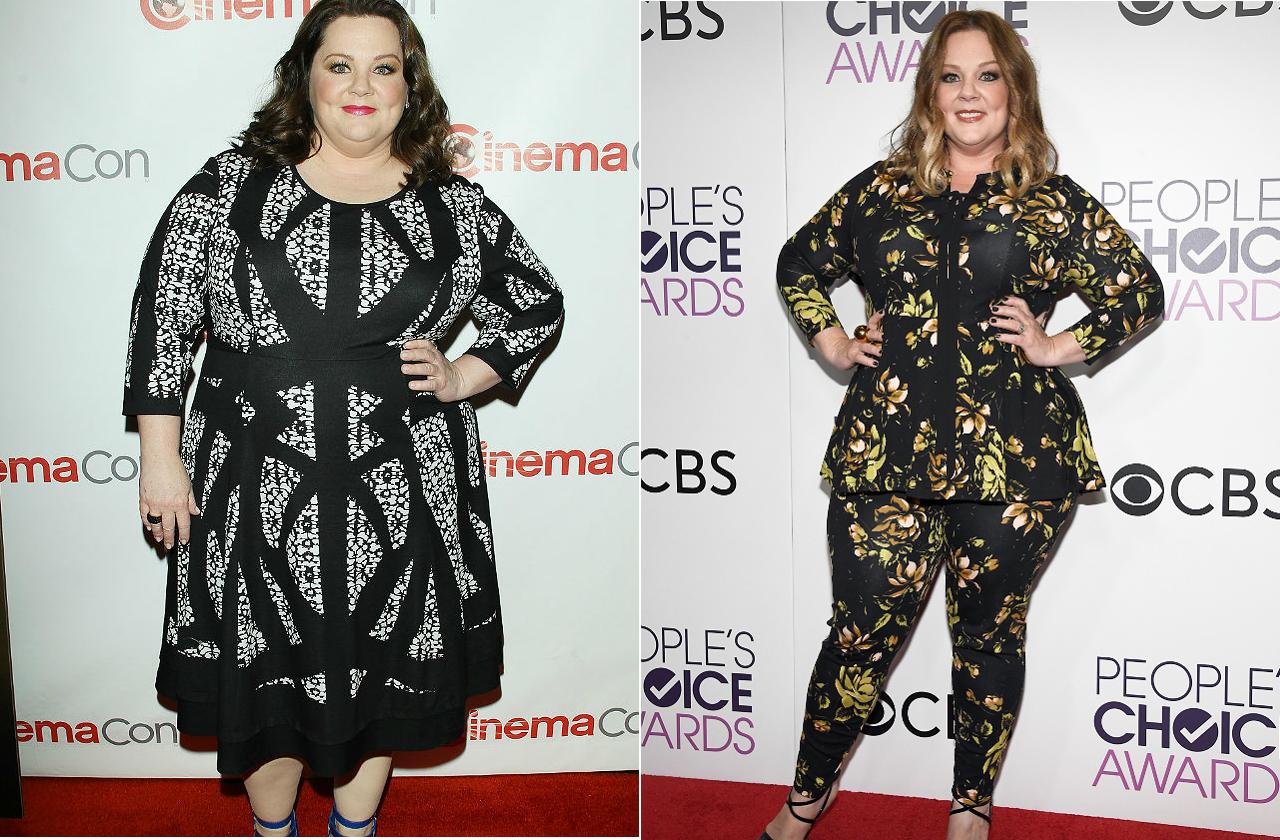 How she did it: The mother-of-two is said to have adopted a higher protein, lower carb diet, but also told Life & Style she just stop thinking about her weight. "I truly stopped worrying about it. I think there's something to kinda loosening up and not being so nervous and rigid about it that, bizarrely, has worked."
Her weight transformation tip? Quit asking about her weight. Honestly, for McCarthy, it's just about a state of being. The actress admitted to People, "I'll be back again. I'll be up, I'll be down, probably for the rest of my life. The thing is, if that is the most interesting thing about me, I need to go have a lavender farm in Minnesota and give this up."
4. Jonah Hill
Actor Jonah Hill lost about 30 pounds in 2011 after making Moneyball (and with co-star Brad Pitt's guidance), but then he gained weight for his role in the War Dogs in 2016. He needed to shed those pounds as soon as he could—and did. Now, Hill has slimmed down and added muscle.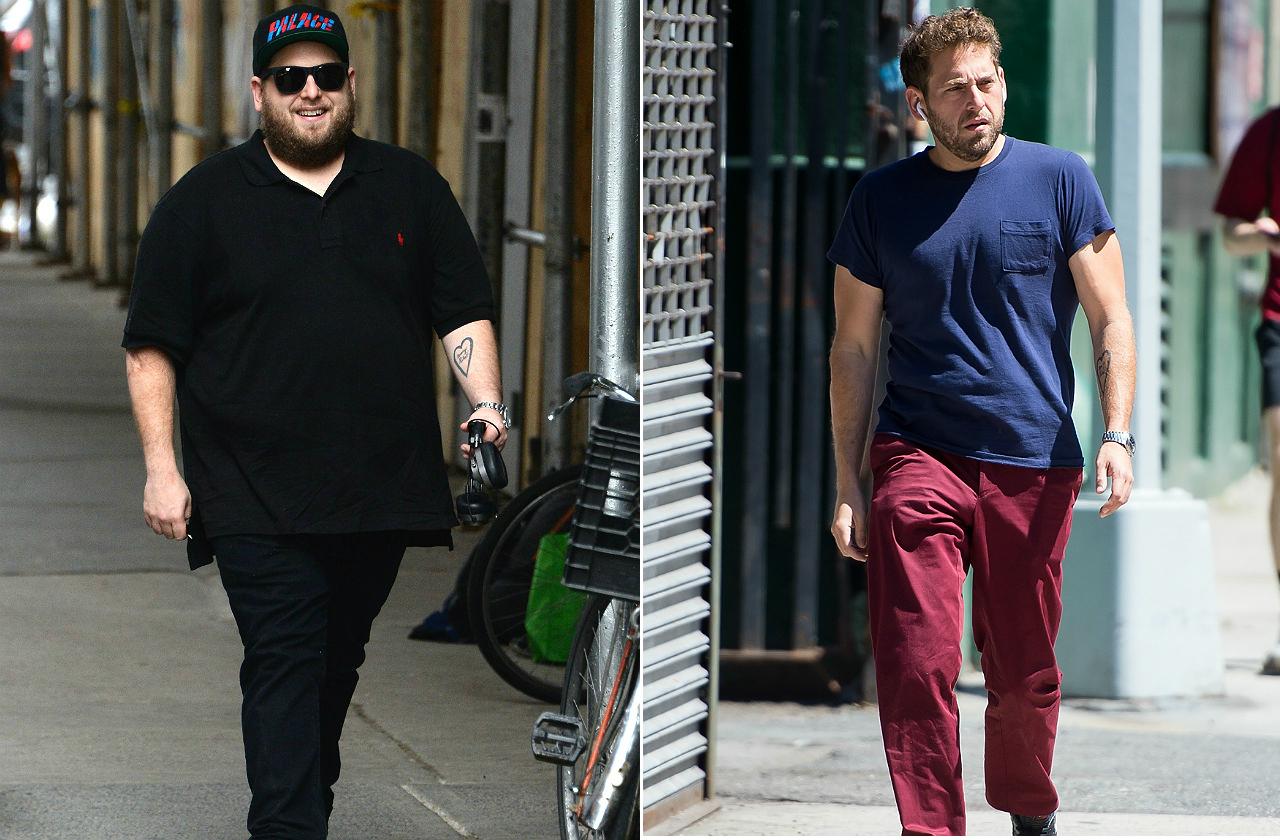 How he did it: Basically, it boiled down to what he ate. He hired a nutritionist to help him keep a food journal. The actor also admitted he had to cut out beer completely from his diet—and it bums him out.
His weight transformation tip? Ask a friend's advice. After making War Dogs, Hill told Tonight Show host Jimmy Fallon that he asked his 21 Jump Street co-star Channing Tatum, "Hey, if I eat less and go to a trainer, will I get in better shape?" Hill said Tatum replied, "Yes, you dumb motherf*****, of course you will, it's the simplest thing in the entire world." True dat.
5. Charlize Theron
Hollywood really does love it when a gorgeous actress like Charlize Theron changes her body for her art. In the 2003 Monster, Theron won an Oscar for transforming into real-life serial killer Aileen Wuornos, gaining weight and shaving her eyebrows. Theron also gained weight for her role in the dramedy Tully.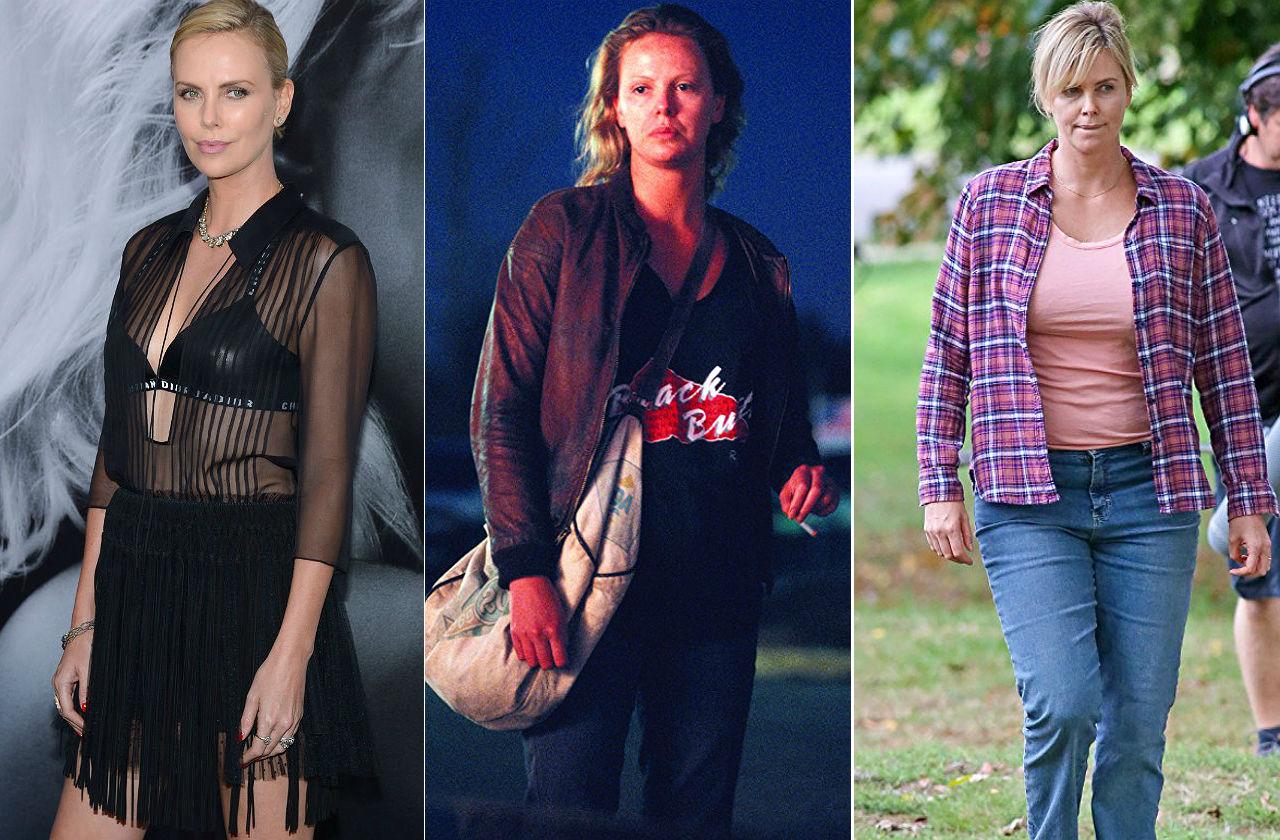 How she did it: The actress revealed to People having the freedom to eat carbs was, well, heavenly. "Walking into a place with food and not having any restrictions. No thinking, 'This is not good for me.' It's a f***ing free for all. It's amazing… I love pasta and bread and potato chips. Heaven would be just potato chips for me." Feel ya, girl.
Her weight transformation tip? Bad carbs are still not really good for you. Theron added, "This time around, I really felt it in my health. The sugar put me in a massive depression. I was sick. I couldn't lose the weight. I called my doctor and I said, 'I think I'm dying!' And he's like, 'No, you're 41. Calm down.'"
6. Tom Hanks
Oscar winner Tom Hanks has also put his body through the ringer to play some of his roles, including losing a bunch of weight in films like Philadelphia and Cast Away. But as Hanks aged, he was diagnosed with type 2 diabetes and has since needed to stay in shape for the long haul.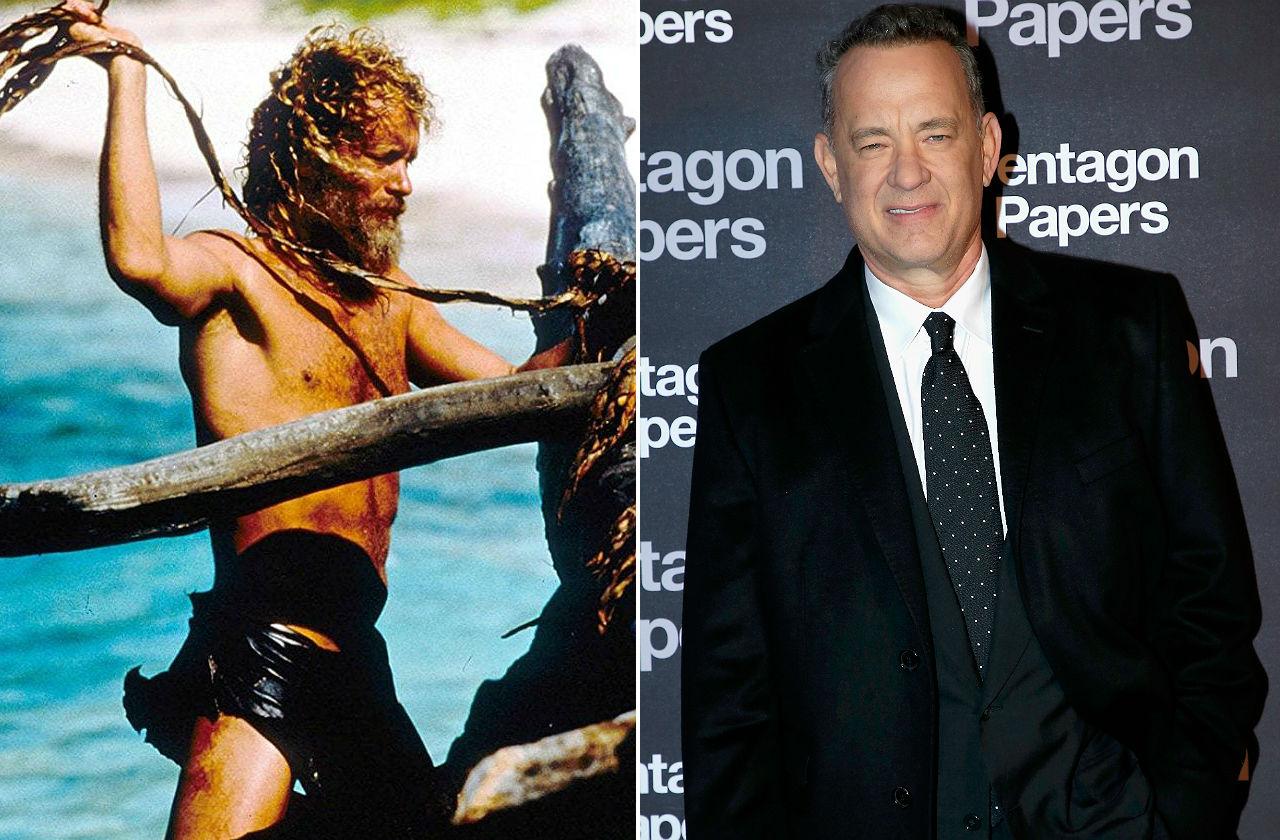 How he did it: To lose the 55 pounds in Cast Away, he ate mostly vegetables, fish and drank coconut water. He also did a two-hour cardio workout, six days a week. Now, to maintain his health, Hanks has cut out most sugar and regularly exercises.
His weight transformation tip? Pay attention to what you eat. Hanks said he was an "idiot" when it came to food. He told RadioTimes, "I thought I could avoid it by removing the buns from my cheeseburgers. Well, it takes a little bit more than that." Really? That's too bad.
7. Jennifer Hudson
Singer/actress Jennifer Hudson famously made her splash in 2004 as a contestant on American Idol, and we've watched her star rise, including winning an Oscar for her supporting turn in Dreamgirls. Hudson also became a spokesperson for Weight Watchers and slimmed down from a size 16 to a size six, an 80-pound weight loss she's maintained for years.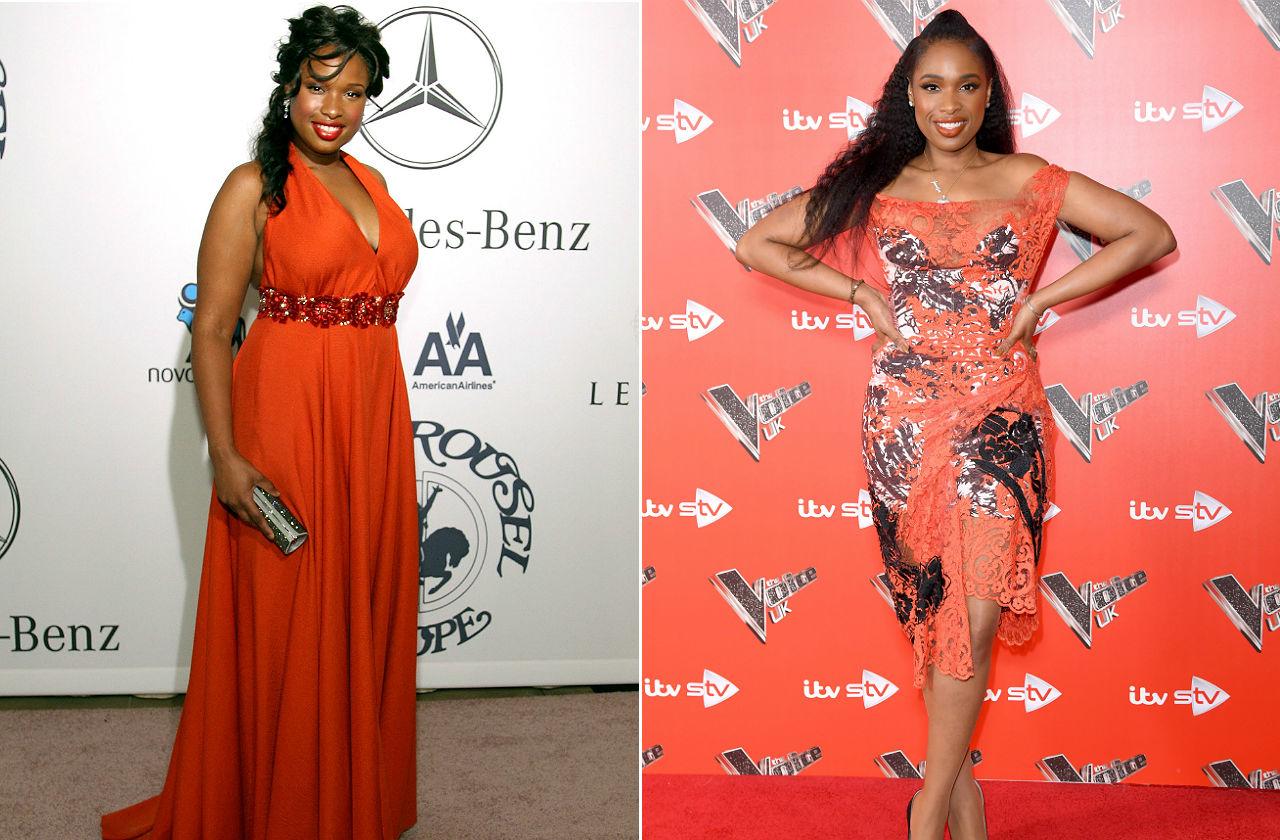 How she did it: It's all about the foods she eats and portion control. "I don't really have time to do much working out, so I really just watch what I eat," Hudson said in a recent interview. "I'm very careful and cautious of what I'm eating, so I just try to pace those meals throughout the day."
Her weight transformation tip? Allow some indulgence. Hudson's main temptation is chocolate, so she allows herself one small square a day. That's the spirit!
8. Matthew McConaughey
Actor Matthew McConaughey jumped on the starve-for-your-art band wagon when he played real-life hustler Ron Woodruff suffering from AIDS in Dallas Buyer's Club. The actor dropped a ton of pounds for the role and earned an Oscar for his efforts. But then, in the 2017 film Gold, McConaughey gained weight to play a pudgy gold prospector—and it was a lot more fun.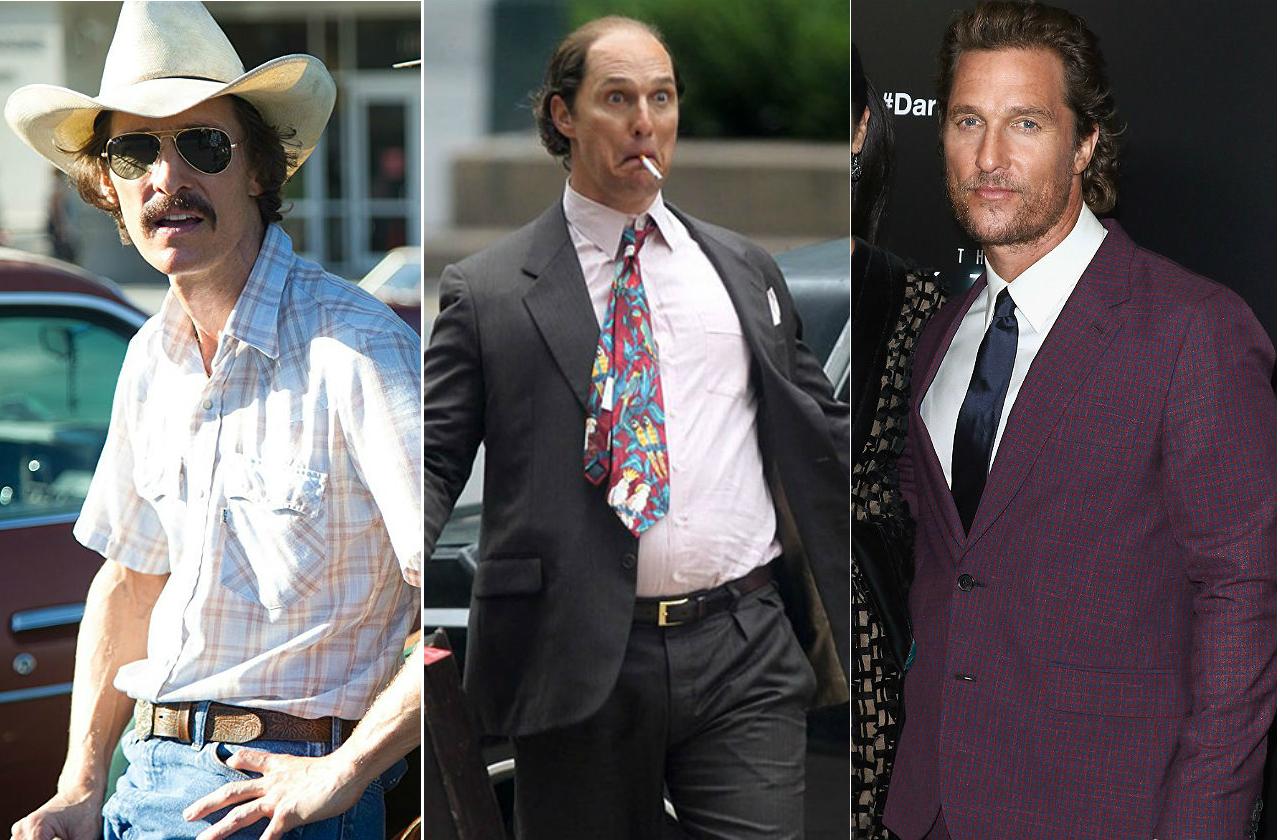 How he did it: To lose the weight, McConaughey responsibly consulted a nutritionist, ate small high-protein meals and apparently chewed a lot of ice. Gaining 40 pounds, however, was just easier. "I was probably more fun at home because I said 'yes' to everything," he told Us Weekly.
His weight transformation tip? Don't rush it. The actor admitted he didn't start dieting straight away after making Gold. "I think I gave myself a week to kind of fade out, and then I started fasting for a little bit to kind of kick-start the weight loss. But I didn't stop full turkey. It was too much fun. I wasn't ready to stop."
9. Christina Aguilera
Singer Christina Aguilera has dealt with weight issues throughout her career and criticized for being both too skinny and having too many curves. Make up your mind, people! Then, in 2013, she showed off a sexy, healthier figure while coaching on Season 4 of The Voice.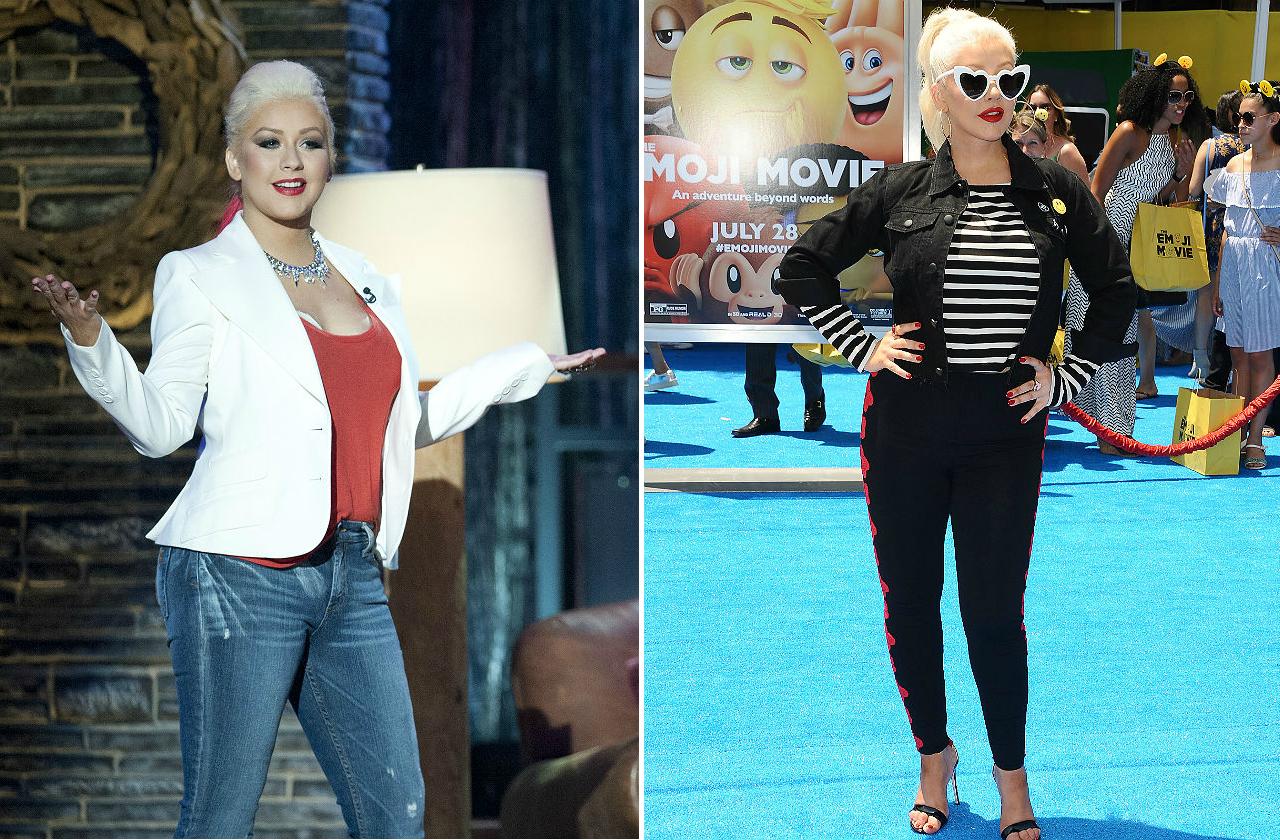 How she did it: Besides the usual, Aguilera likes doing yoga. "It's more of a mind-body thing for her," said a source. "She believes in exercise that she enjoys, doing strength work as opposed to intense cardio."
Her weight transformation tip? Take time for yourself: Aguilera once said that if it's a choice between working out and spending time with her son, it's "not even a question." An Xtina insider told People, "It's amazing what having some personal time can do, not only for the body but also for the mind and the spirit."
10. Chris Hemsworth
We definitely know Chris Hemsworth more for his incredible Thor-like abs than anything else, but the Australian actor has taken the body transformation thing to the extreme for a role. In the 2015 drama In the Heart of the Sea, Hemsworth lost a good deal of weight to accurately depict his character stranded at sea.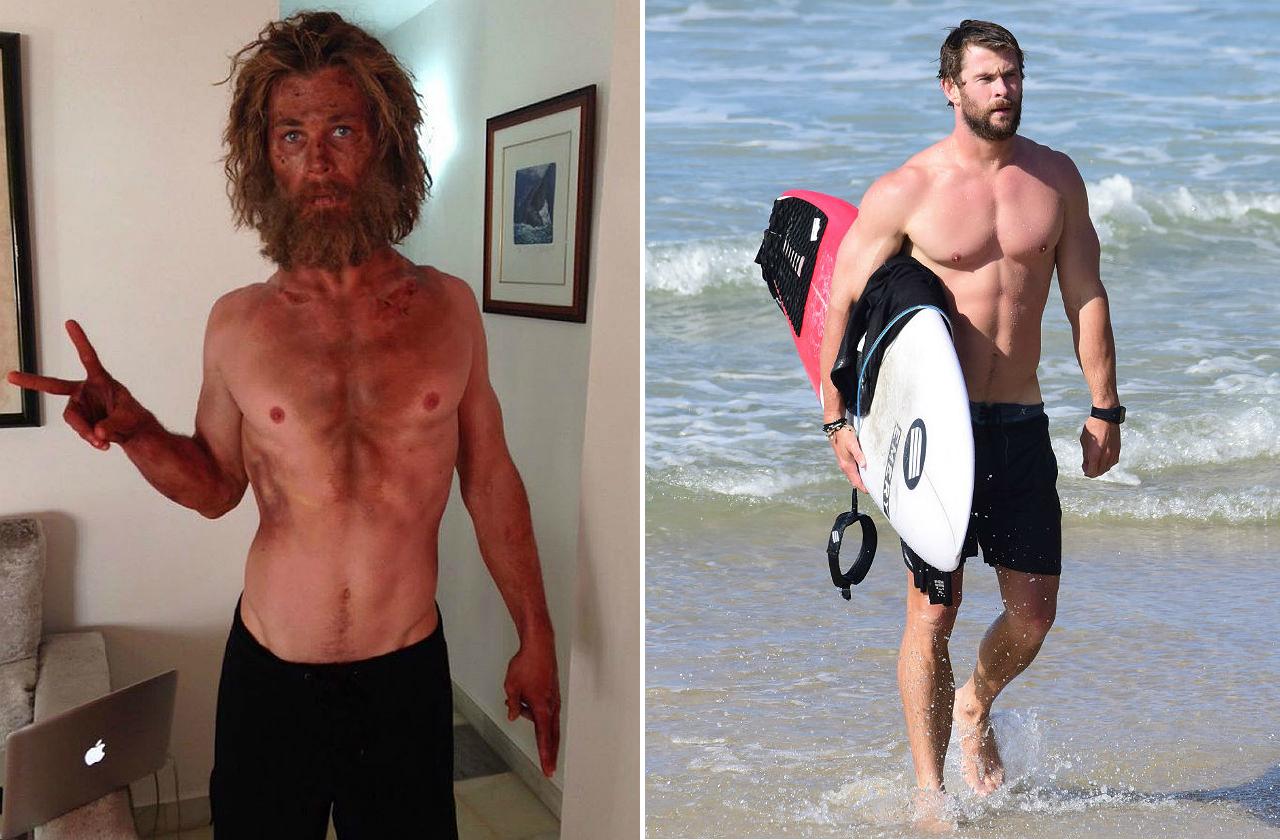 How he did it: Hemsworth lost 33 pounds in four weeks by keeping to his diet of about 500 calories a day included boiled eggs, salads and "nothing much." That's rough.
His weight transformation tip? Don't lose too much too fast. Hemsworth admitted that dropping the weight in a short period of time put him in a "pretty moody existence" with "inconsistent emotions." He told People, "You play all sorts of games—if I eat this maybe I don't eat that. The insanity is nuts."
11. Kelly Osbourne
The outspoken Kelly Osbourne has had her fair share of ups and downs with her body image, but what still amazes her is how people would criticize her more about her weight than being "an absolute raging drug addict" (for which she sought help). Still, she's lost nearly 70 pounds when she began in 2009 and has maintained her sexy figure since.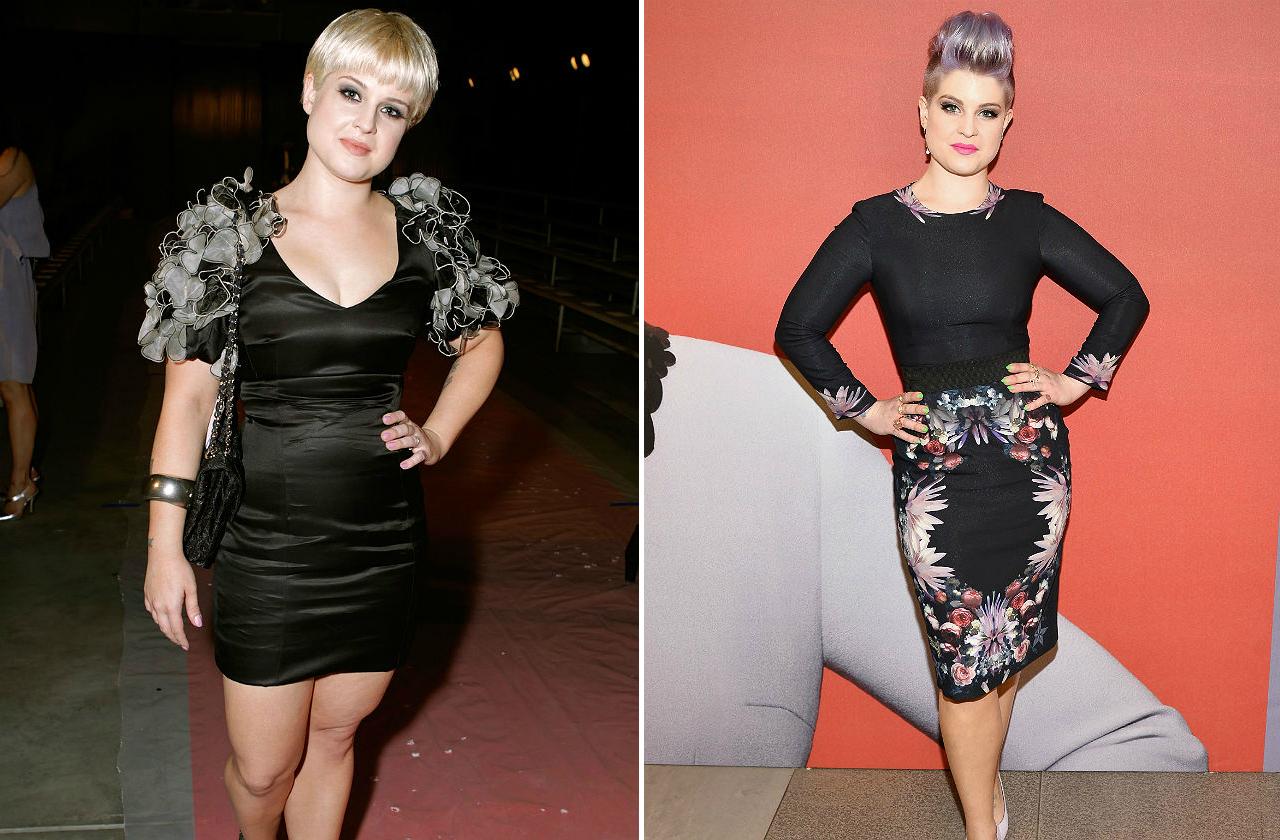 How she did it: The actress and TV personality has apparently used various techniques to shed the pounds, like hula-hoop exercise parties and eating a lot of mushrooms, but mostly it's about portion-control and choosing the right foods.
Her weight transformation tip? Eat a little something before bed. Osbourne has said nibbling on a no-carb, no-sugar snack before going to sleep has helped maintain her metabolism.
12. Chris Pratt
Actor Chris Pratt has gained and lost weight for various roles throughout his career, but when he landed the coveted leading role in the 2014 Guardians of the Galaxy, he had to get into incredible shape. The movie star has not looked back and has been showing off those abs in one blockbuster film after another.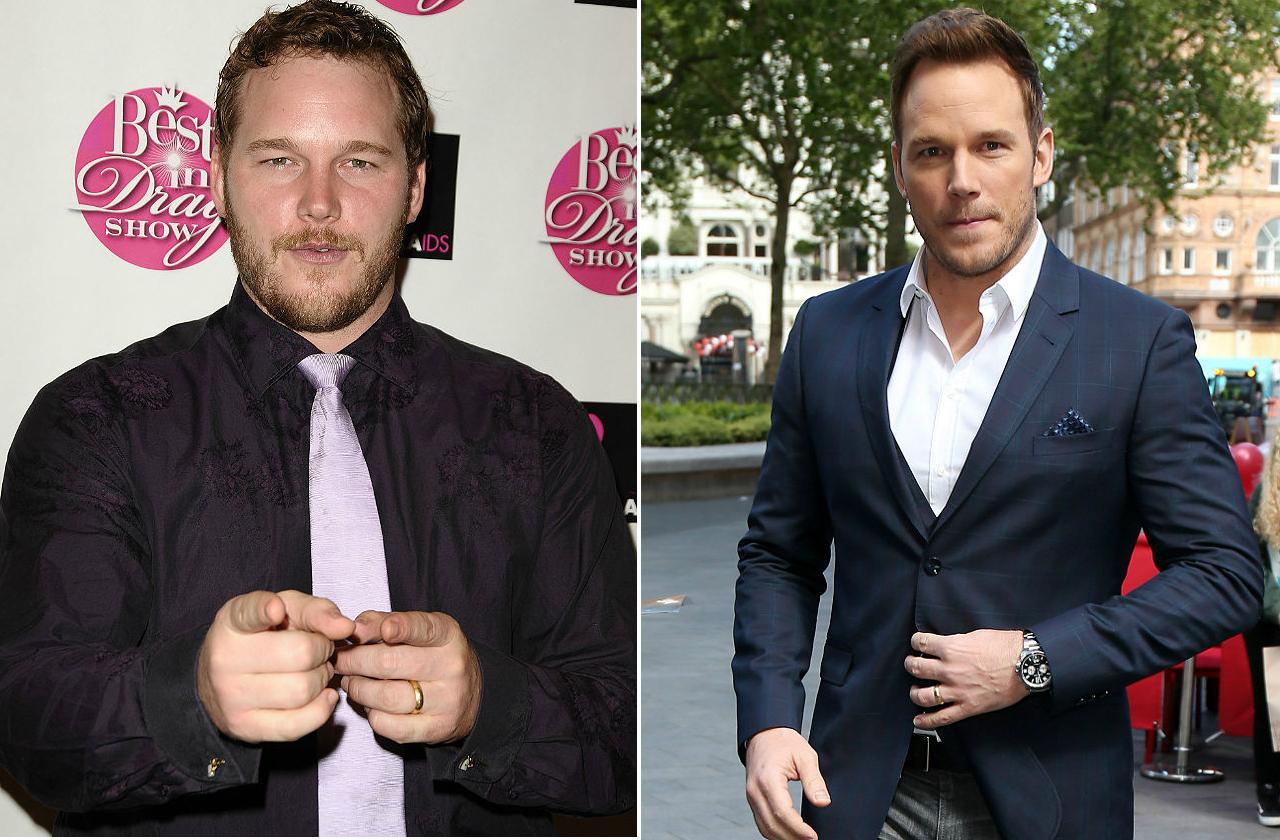 How he did it: Pratt shed the weight by adopting a low-carb, Paleo-style diet and doing CrossFit workouts and triathlon training. "You have to eat protein," Pratt once said, "You can't have hash browns, or burgers, or anything fried. You can't have carbs. You have to work out five times a week."
His weight transformation tip? Embrace a healthier lifestyle. The actor said that since he has changed his mindset, everything is gelling. "Blood's flowing," he said. "I'm less susceptible to impulse. I'm in a different mode. I like clothes now. I have more energy. I sleep better."
13. Nicole "Snooki" Polizzi
Sure, Nicole "Snooki" Polizzi will be forever remembered as the short, pudgy party girl on the reality MTV show Jersey Shore, but that's not who she is today. After she had her son Lorenzo in 2012, she debuted her bangin' post-baby body and has maintained her trim figure ever since.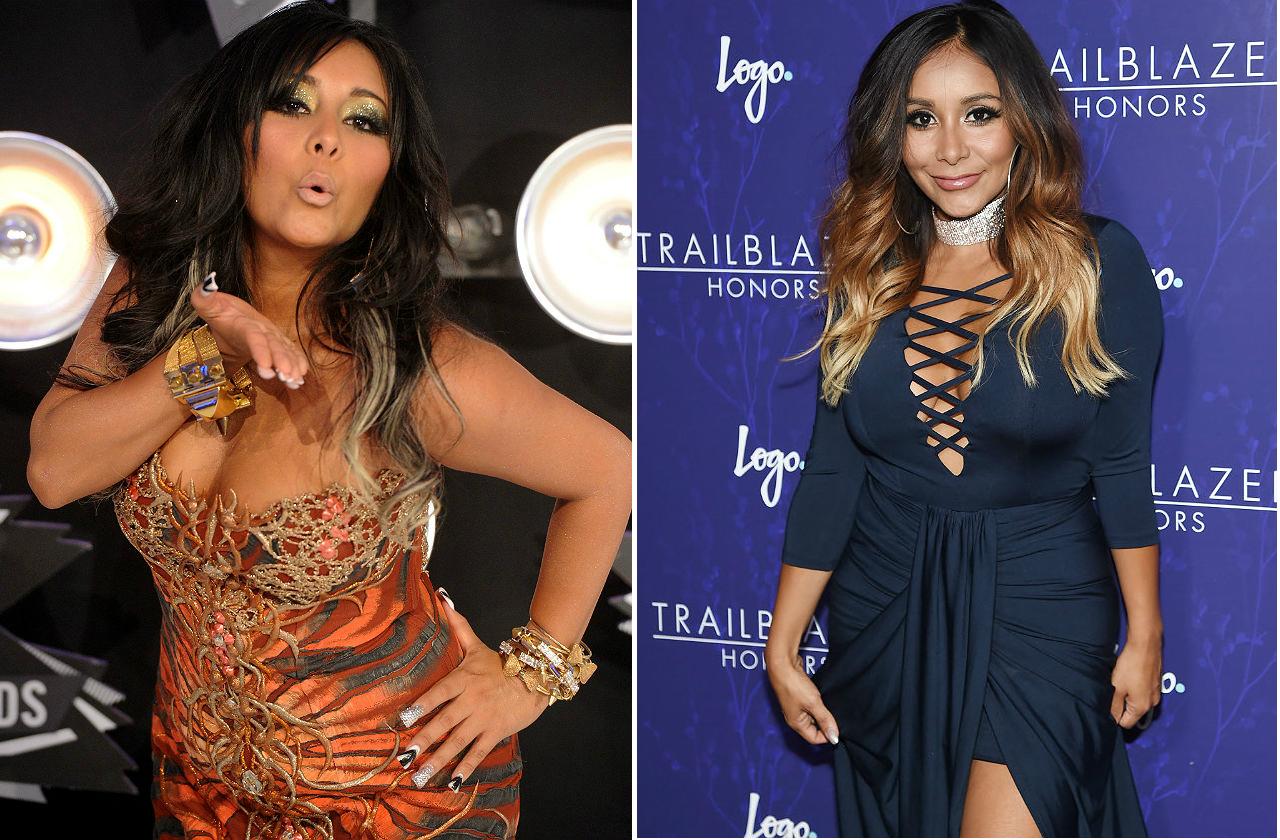 How she did it: She works with her trainer Anthony Michael at least four times a week and uses his meal program consisting of veggies and lean proteins. "You don't have to do anything but heat them up," Polizzi explained to People of the individual dishes that she gets delivered to her home.
Her weight transformation tip? Set an example for your kids. The mom of two wants to make sure she's there for her children. Polizzi said. "I just really want to be a fit mom. I want to be able to keep up with them, run after them."
14. Drew Carey
Actor/comedian Drew Carey basically decided he was "tired of being fat." While doing The Drew Carey Show, he said he was eating poorly, drinking too much and had a lot of mood swings. He was also diagnosed with diabetes. So, Carey made some life changes in 2010 and lost 100 pounds.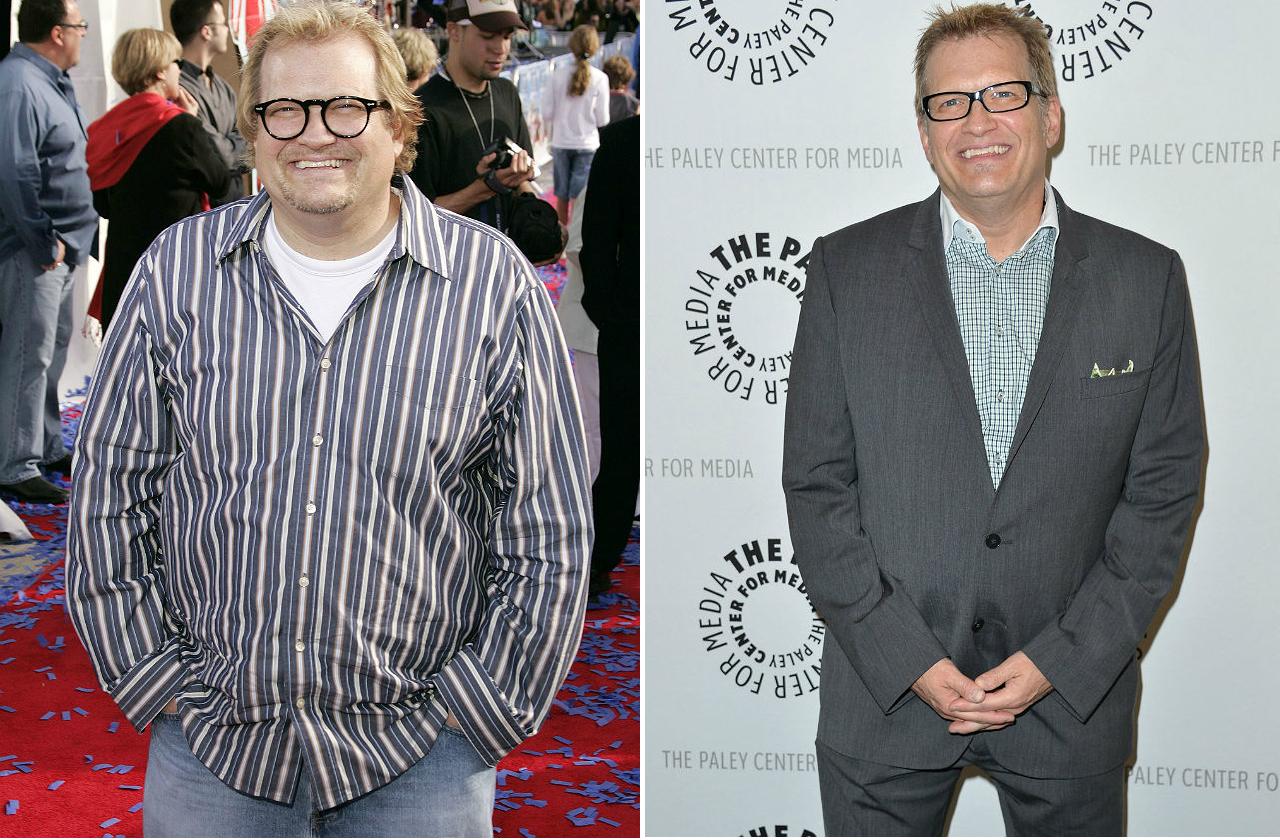 How he did it: Carey adopted a lifelong plan to alter his diet. He told Success magazine, "It wasn't like, 'Eat this for 90 days and lose 20 pounds.' It was: 'Eat like this for the rest of your life.' I'm not a maniac about it… But 95 percent of the time, I'm right on the money."
His weight transformation tip? Don't touch the doughnuts. Clearly sound advice.
15. Renee Zellweger
Actress Renee Zellweger's weight gain to play Bridget Jones in the 2001 Bridget Jones' Diary and its 2004 sequel is pretty legendary at this point, but Zellweger lost all of it—and more—with many feeling she had gone to the extreme. Now, the lovely actress has found the right balance with her body image and looks better than ever!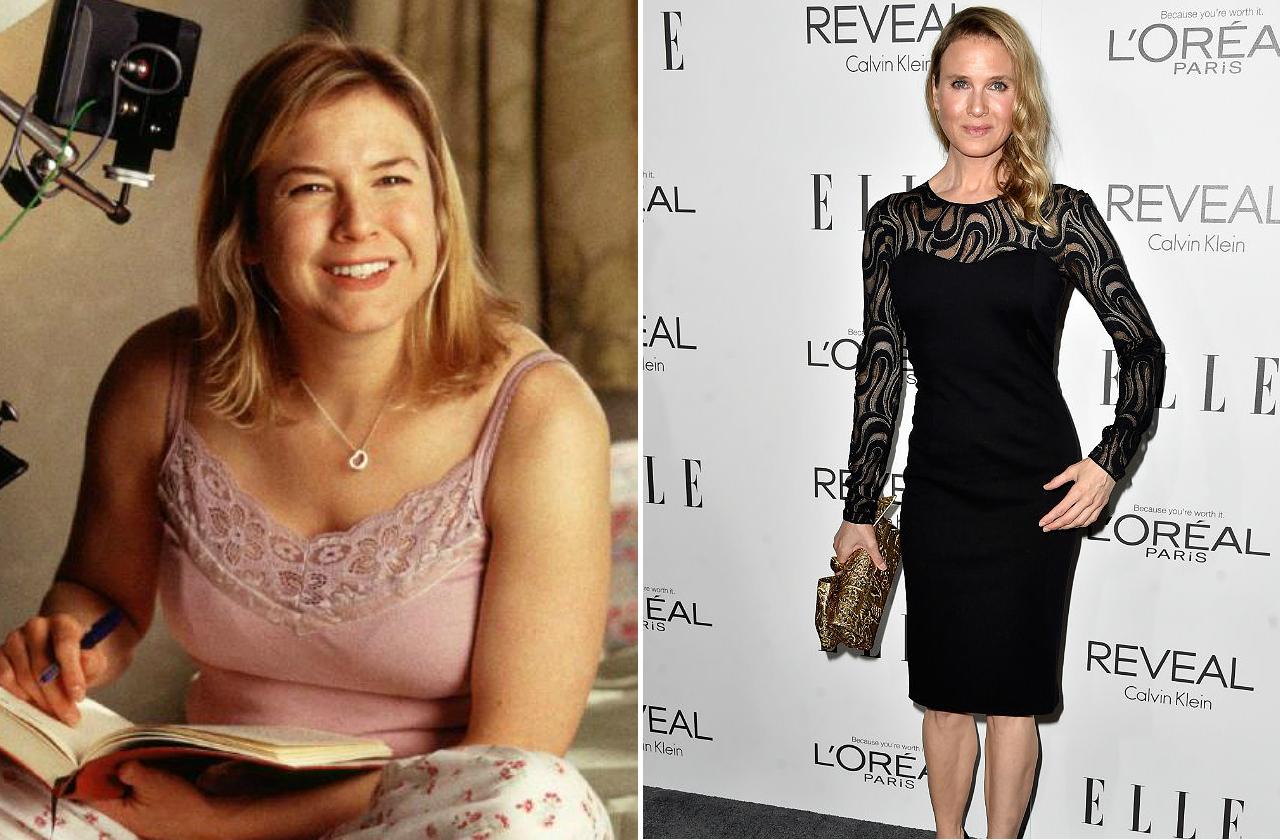 How she did it: To gain the weight, Zellweger ate about 4,000 calories a day to gain 20 pounds. When she took on the role of Roxie Hart in the movie musical Chicago she shed all the weight by dieting (she was once a fan of the Zone Diet, which involves eating a 40:30:30 ratio of carbs to fat to protein), combined with all the dancing she did, most likely.
Her weight transformation tip? Don't obsess. Much like Melissa McCarthy, Zellweger pooh-poohs the idea we always have to talk about appearances. She once said, "When the film was coming out, the question I was asked the most was regarding my weight…I was followed around Heathrow by a guy who wanted to take a picture of my backside. I don't understand the obsession."
16. John Goodman
Actor John Goodman has been known for his larger-than-life characters, both inside and out, but in recent years, the actor has slimmed down considerably because, as he described to ABC News, he was "tired, sick and tired of looking at myself. You're shaving in the mirror and you don't want to look at yourself. It gets dangerous."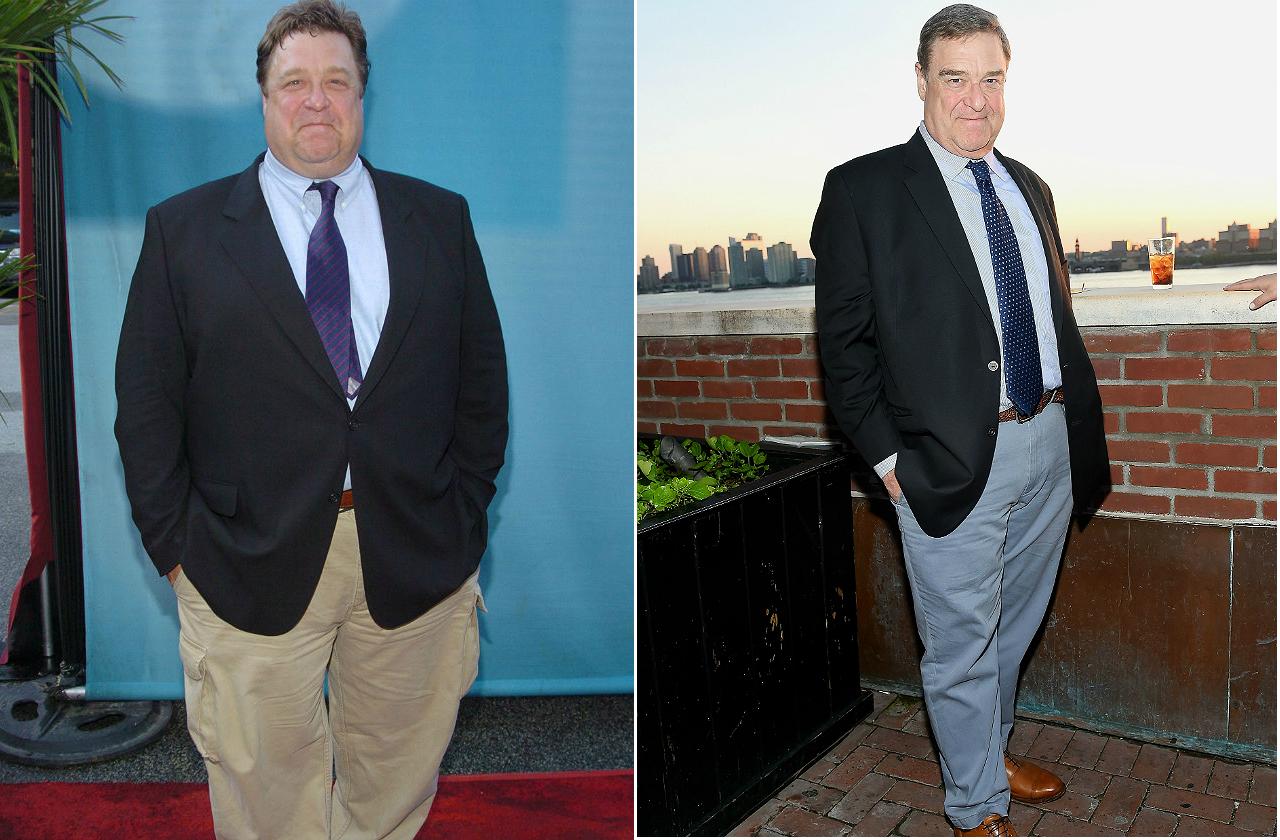 How he did it: Personal trainer Mackie Shilstone revealed that Goodman lost more than 100 pounds after quitting drinking, sticking to a Mediterranean diet and working out six days a week at the gym.
His weight transformation tip? Be in it for the long haul. Goodman said he would gain and lose weight in the past, but now that he's older, he needs to maintain his energy. "I'm getting to the age where I can't afford to sit still anymore."
17. Star Jones
TV personality Star Jones fully admits she was morbidly obese in her early days and needed to make a change to save her life. She ended up losing 160 pounds, going from a size 26 to a size six.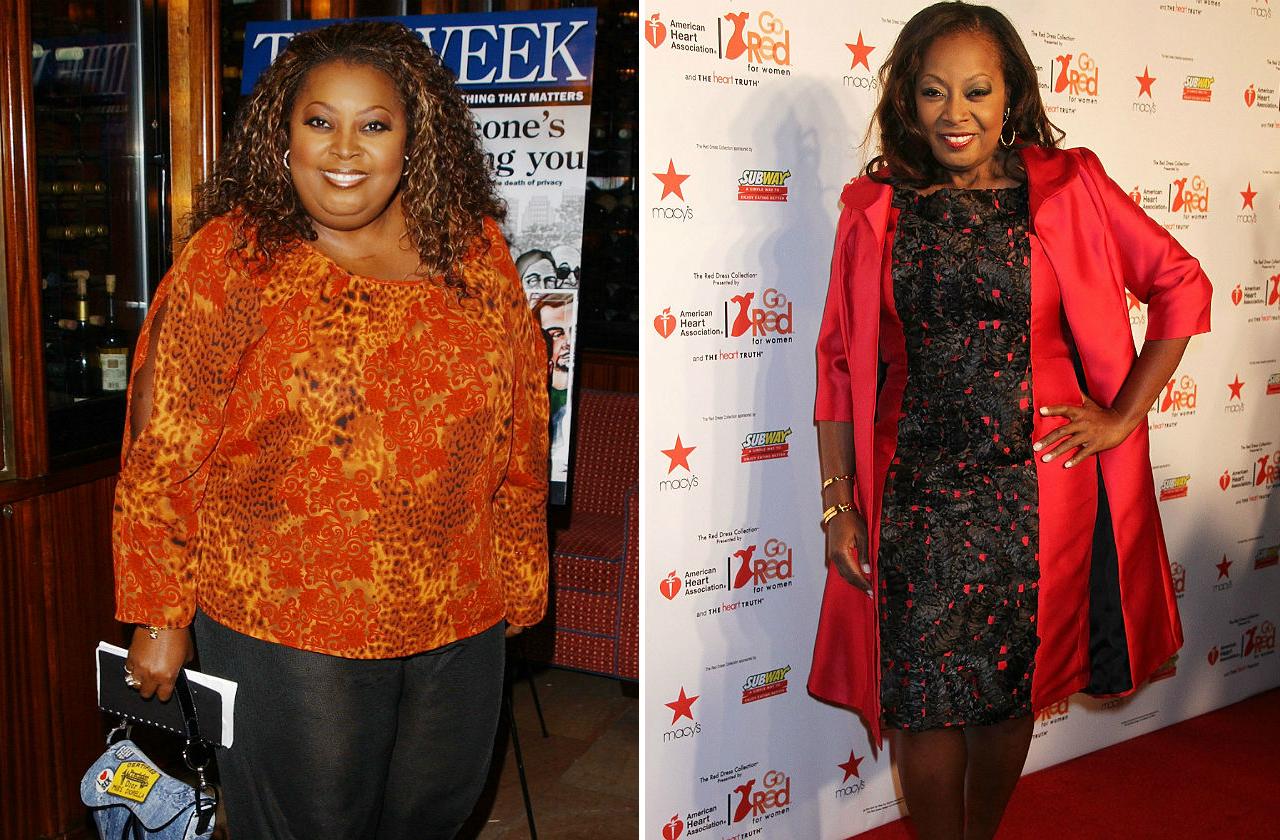 How she did it: Jones underwent bypass gastric surgery in 2003 and followed up with exercise and healthier eating habits.
Her weight transformation tip? Accept the new you. Jones confided to Oprah Winfrey she had to stop thinking like an overweight person. "Emotionally, I knew that I had to lose the weight, but I didn't realize that I should do therapy. But that's what I did. I got into very intense therapy, and I started to lose the weight in my head."
18. Sam Smith
Singer Sam Smith once admitted he was controlled by food and would often overeat, but last summer he debuted his slimmer figure and said he lost 14 pounds in just 14 days.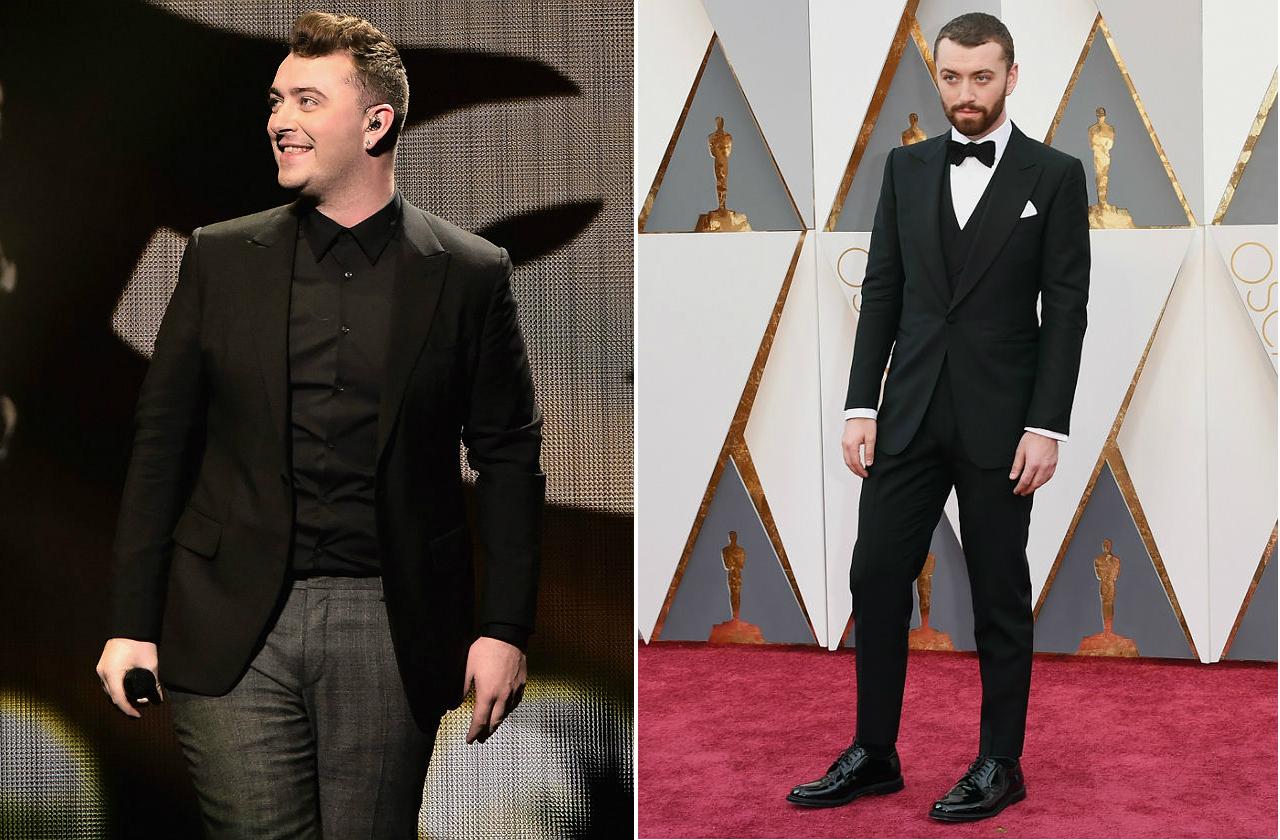 How he did it: The crooner credits nutritional therapist America Freer and her book Eat. Nourish. Grow. He posted on Instagram, "Amelia Freer has helped me lose over a stone in two weeks and has completely transformed my relationship with food. Everyone go check out her incredible book, and start to live healthy."
His weight transformation tip? Be happy. Smith added, "It's not even about weight loss it's about feeling happy in yourself."
19. Jason Segel
Funny guy Jason Segel explained his slimmer waistline is a product of being "forced to lose weight" when he starred in the 2012 romantic comedy The Five-Year Engagement. He said he had to make it conceivable that his co-star, Emily Blunt, would choose him as a husband—and the weight loss just stuck.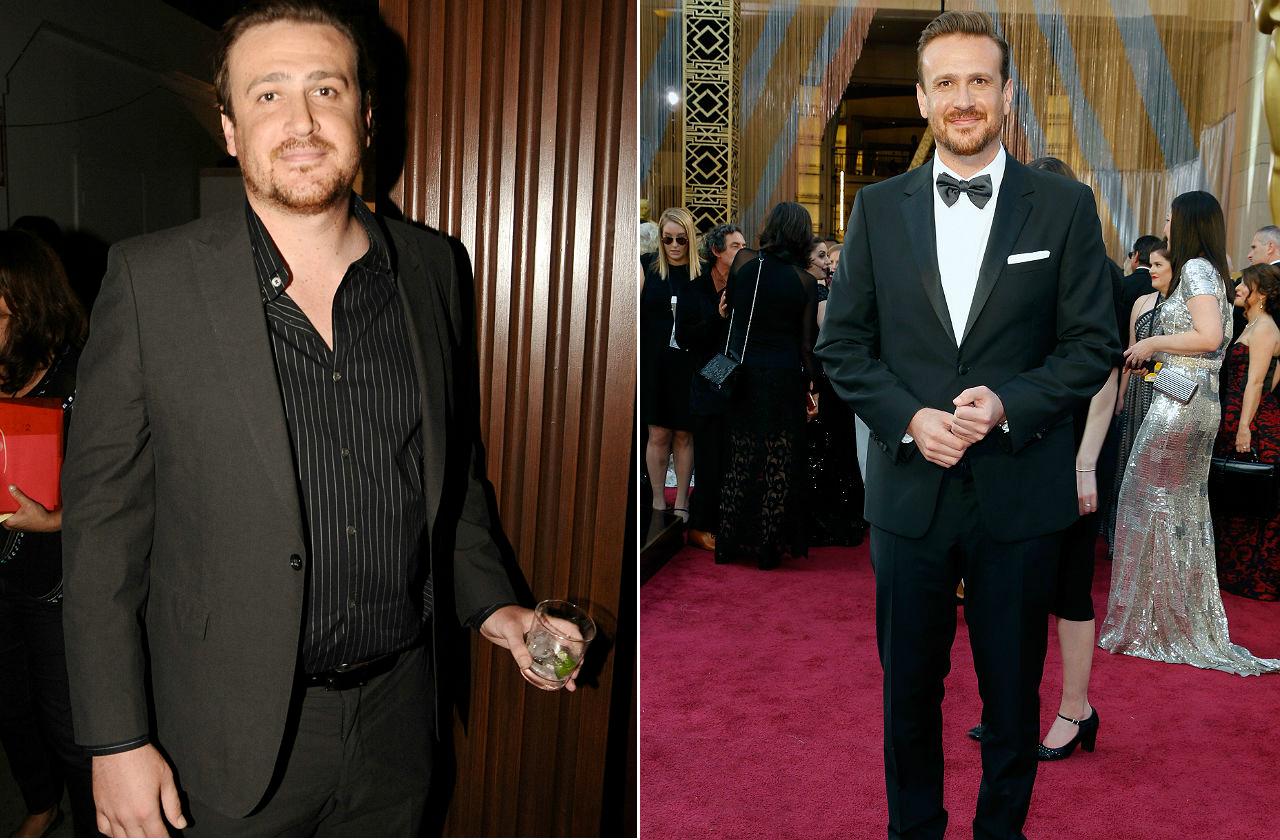 How he did it: The studio sent a trainer to the set, and Segel watched what he ate. "I've just been living healthy, exercising, eating right—no more midnight pizzas," he told Us Weekly.
His weight transformation tip? Make sure no one laughs when you're naked. Segel quipped, "This time when I take my shirt off, I've made a promise to myself, it doesn't have to be funny."
20. Shonda Rhimes
TV showrunning guru Shonda Rhimes was able to shed nearly 150 pounds from her frame after years of stress eating while working under a crazy schedule. In her newsletter last June, however, she wrote about how the weight loss suddenly shined an unwanted spotlight on her. She noticed people didn't think of her as a "person" until she slimmed down. Rhimes mused, "Being thinner doesn't make you a different person. It just makes you thinner."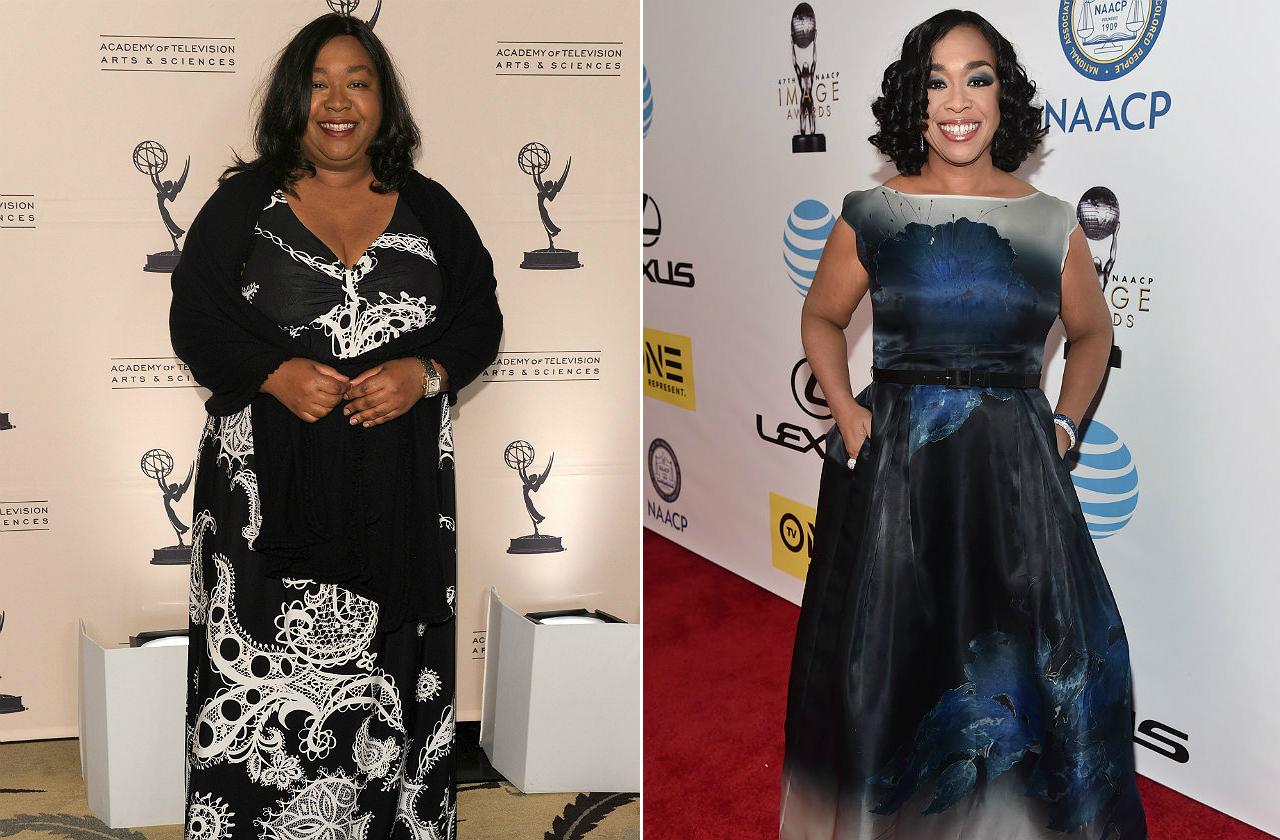 How she did it: Rhimes employed the usual, more gradual ways of losing weight by hiring a trainer and using portion control.
Her weight transformation tip? Eat only when your hungry. Rhimes at first didn't deny herself things she wanted to eat, but after awhile, she craved fish and salads.
21. Tom Hardy
Actor Tom Hardy has also put his body through the ringer, but not by losing too much weight. Instead, to play Bane in The Dark Knight Rises and an MMA fighter in Warrior, Hardy had to majorly bulk up—a daunting task, as it turned out.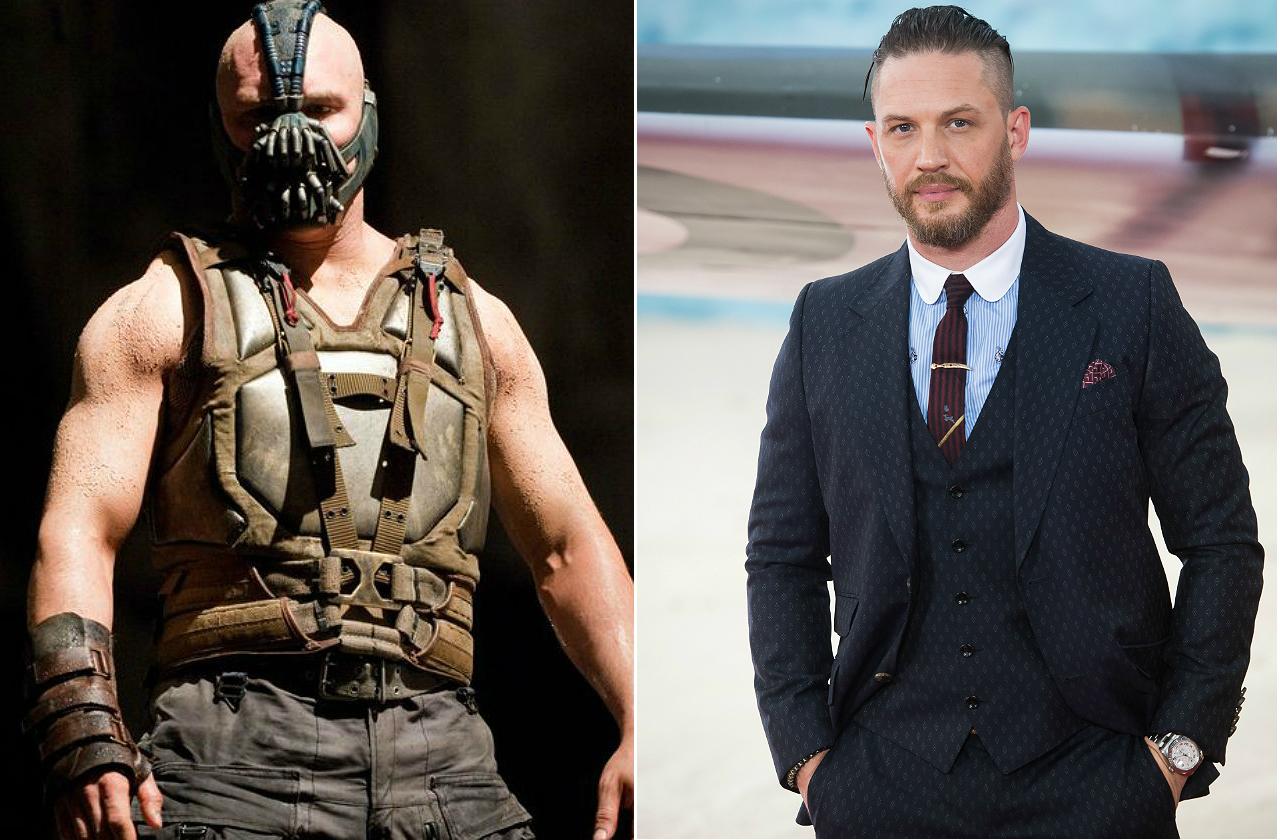 How he did it: Tom Hardy, who is 5'9″, put on about 30 pounds of muscle and engage in daily intense workouts to make him look like a brick wall.
His weight transformation tip? Don't do it too often. Hardy has said of the process, "To go from one extreme to another has a cost. I haven't damaged my body, but I'm certainly a bit achier than I used to be!"
22. Kirstie Alley
Actress Kirstie Alley has also famously documented her weight gains and losses over the years. In 2008, she trimmed down considerably as a Jenny Craig spokesperson, and while she fluctuated a little, she has been able to maintain her 50-pound weight loss in the long run.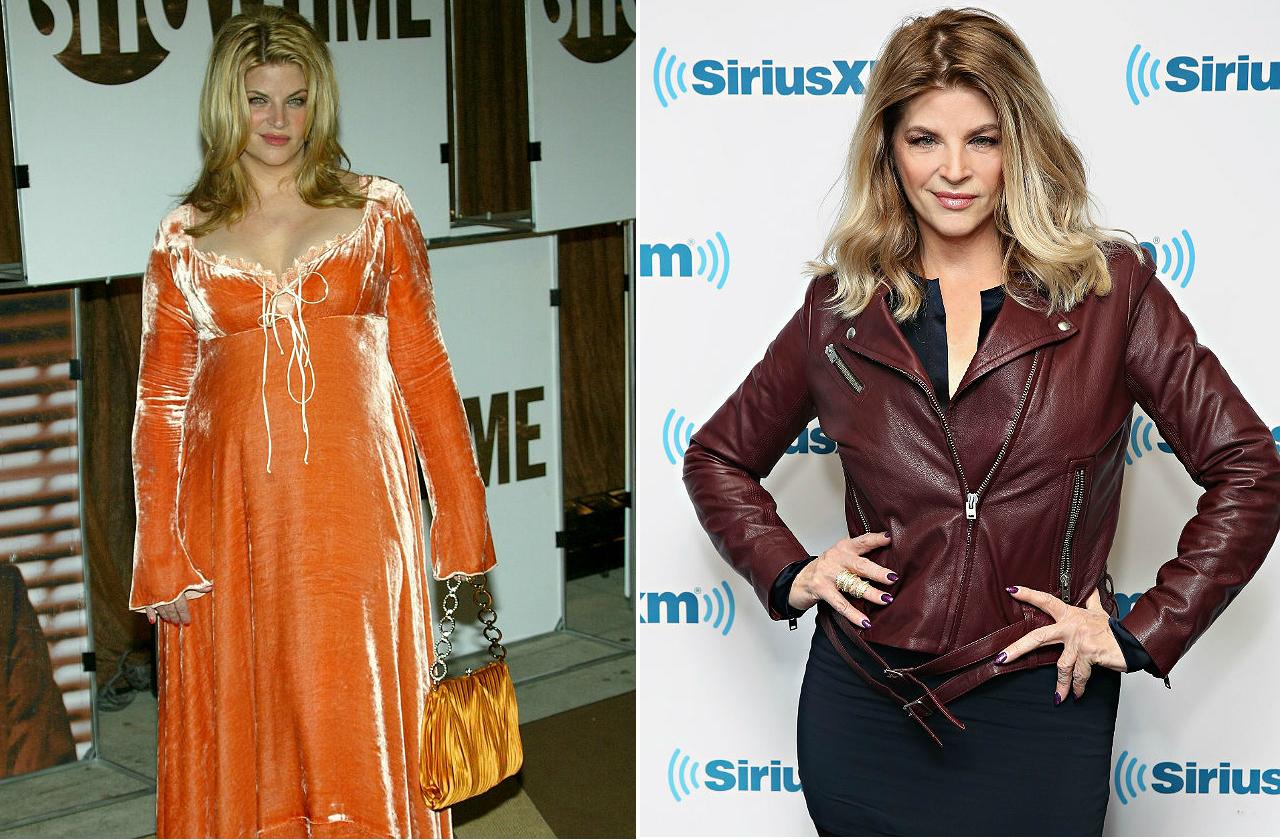 How she did it: Alley stays disciplined on the Jenny Craig program. The Scream Queen actress also created her own dietary supplement plan called Organic Liaison, developed by nutritionists, which she sells through Jenny Craig.
Her weight transformation tip? Stay away from your trigger foods: For Alley, that's cookies, linguini with clams and cheese. Easy enough.
23. Matt Damon
Here's another actor who gains and loses weight for his movies. To play a war medic dying of cancer in the 1996 film Courage Under Fire, Matt Damon dropped 60 pounds in a relatively short period of time. Then he gained 30 pounds for his role in the 2009 The Informant! (not to mention pumping up for the Bourne movies).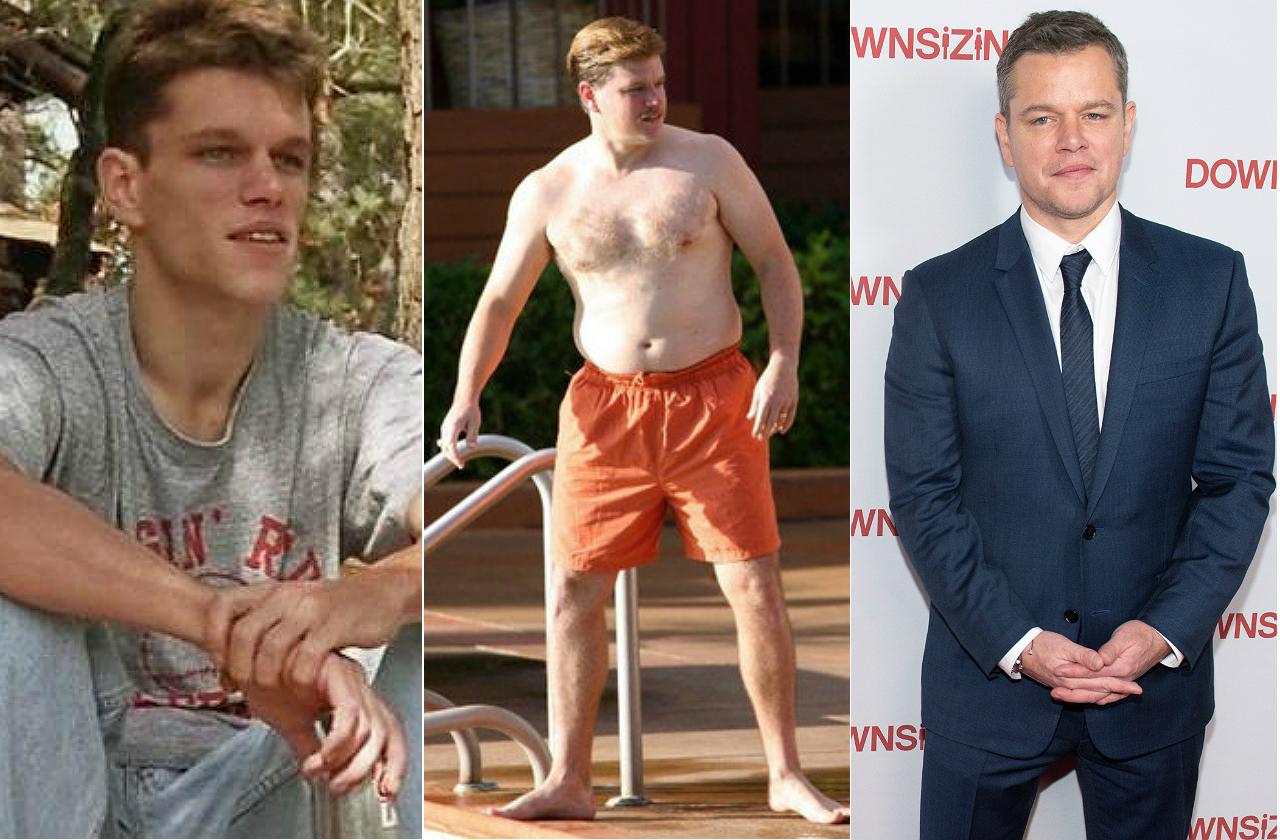 How he did it: To lose weight, Damon once revealed, "The hard part was the diet. All I ate was chicken breast. It's not like I had a chef or anything, I just made it up and did what I thought I had to do." To gain weight, he ate a lot of junk food. He laughed with reporters at the Venice Film Festival in 2009, "It was very, very fun, probably the funnest time I had working, because I didn't have to go to the gym after work and I just ate everything I could see."
His weight transformation tip? If you have to gain weight for a part, go all the way. Like for Damon, eating McDonald's and a bag of Doritos was "heaven."
24. Sara Rue
Sara Rue also turned to Jenny Craig when it came time for her to shed some pounds. In 2010, Rue lost 50 pounds using the program, and the Bones actress is still going strong.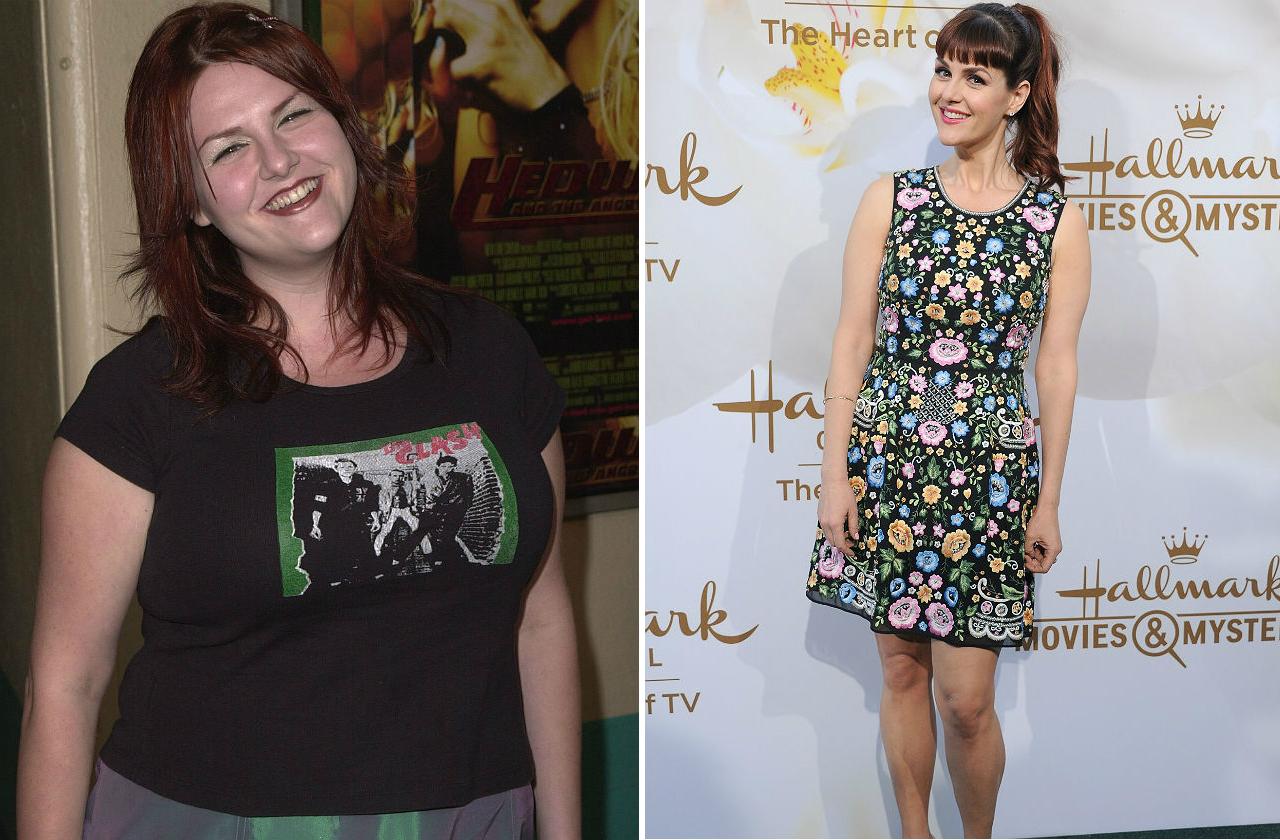 How she do it: When she couldn't lose weight on her own, she asked for help, with the Jenny Craig meal plans and a personal trainer. That's always a good first step. Then she realized she is in control of her body and what she puts in it.
Her weight transformation tip? Let go of the guilty. Rue told Shape.com, "Usually, the first slip I make, I'm done. But my Jenny Craig consultant tells me that just recognizing when I go off track is an improvement and a step toward my new healthy lifestyle. When you don't feel guilty about going off track, it's easier to get right back on."
25. Jared Leto
Add Jared Leto to the body transformation club. He, too, has gained and lost weight to portray characters—and always seems to bounce right back.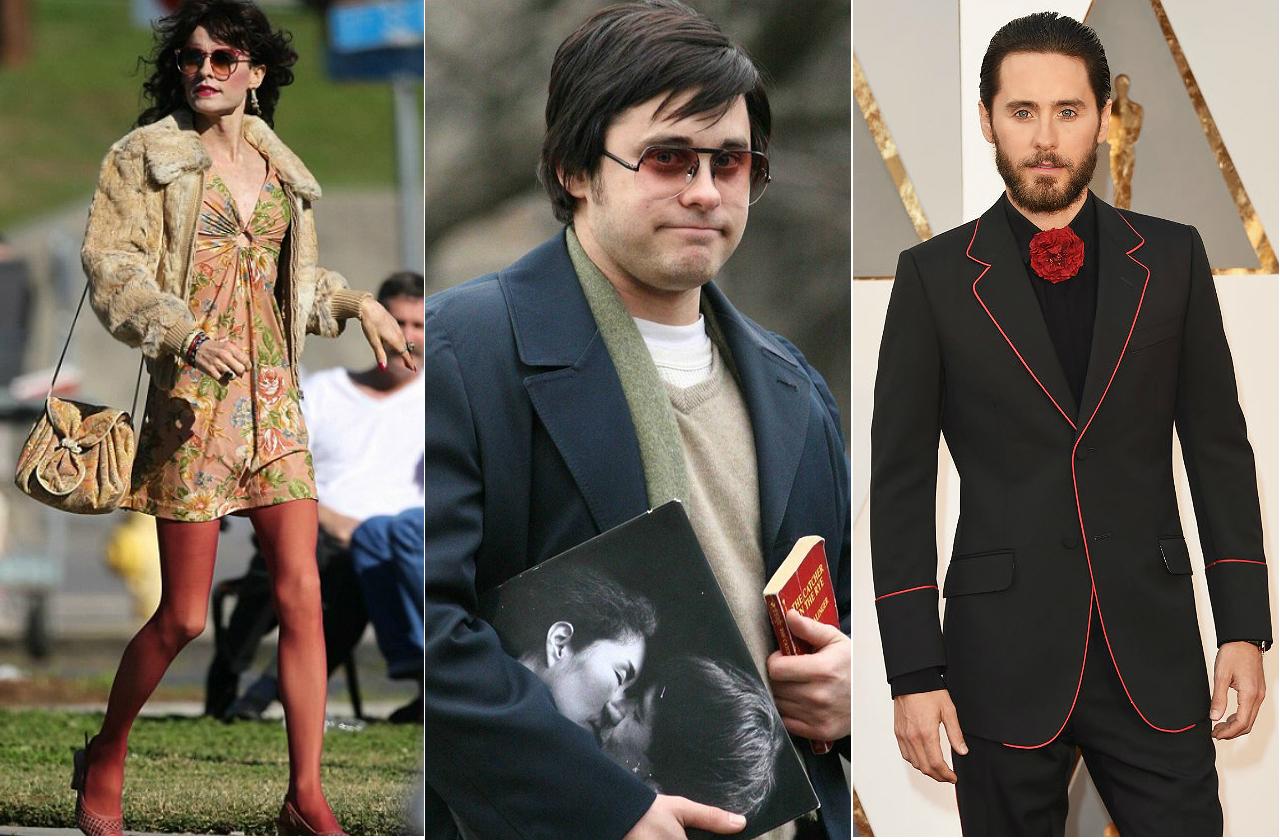 How he did it: To play Matthew McConaughey's AIDS-stricken co-star in Dallas Buyer's Club, Leto has said he simply didn't eat in order to look so thin. For his role in Chapter 27, playing Mark David Chapman, who killed John Lennon, the actor packed on 60-plus pounds by eating microwaved pints of ice cream mixed with olive oil—and soy sauce. Huh?
His weight transformation tip? Don't gain too much weight too fast (or eat what he ate?). Unlike his fellow actors, Leto did not enjoy being slightly overweight, and he ended up getting gout.
26. Rosie O'Donnell
TV personality Rosie O'Donnell had to make some serious life changes when she suffered a heart attack in 2012, and finally after a few years, she was able to lose 64 pounds.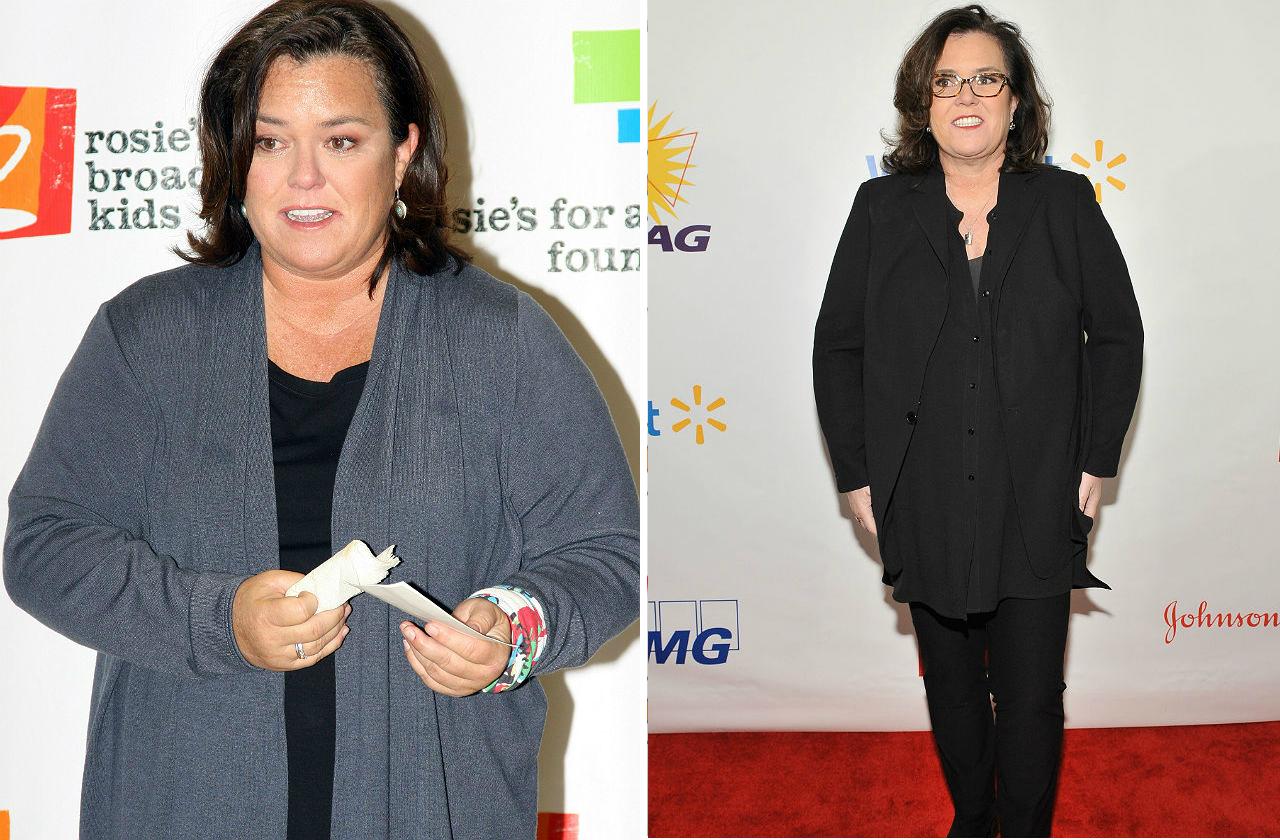 How she did it: O'Donnell underwent vertical gastric sleeve surgery and said it did curb her appetite. She told People, "They told me the part of the stomach they remove have hunger hormones in it, called ghrelins. And that changes the way you think and feel about food. I feel so much freer now in terms of needing to move and play with my kids."
Her weight transformation tip? Get the surgery if it works for you: O'Donnell said it truly helped save her life. "In my opinion, this surgery is something that needs a little more attention for people who have suffered with morbid obesity their whole lives."
27. Kevin Smith
Writer/prodcuer Kevin Smith became motivated to lose weight when, in 2010, he got kicked off a Southwest airline flight because he was too big for a single seat. He has since lost 65 pounds and feels pretty good about it.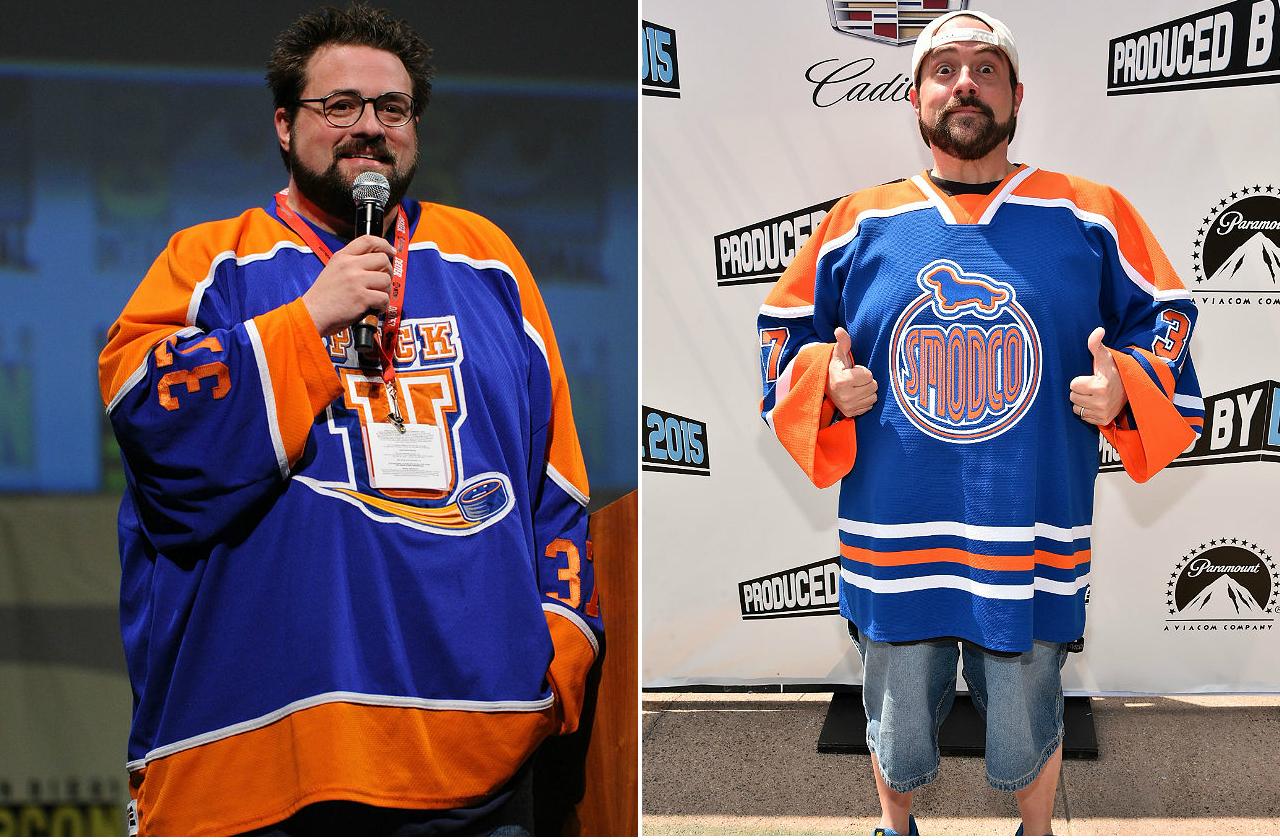 How he did it: After watching an anti-sugar documentary called Fed Up, Smith gave up sugary drinks, and the weight starting coming off.
His weight transformation tip? Juicing isn't necessarily a tasty thing: Smith told Men's Health, "You can't believe how f***ing terrible it tastes! I just drank it with my nose pinched close and gulped it down really f***ing fast."
28. Anne Hathaway
Actress Anne Hathaway is naturally thin, but to play her consumptive character in Les Miserables, she had to get really thin, along with singing her heart out. Boom! They gave her a Best Supporting Actress Oscar for it.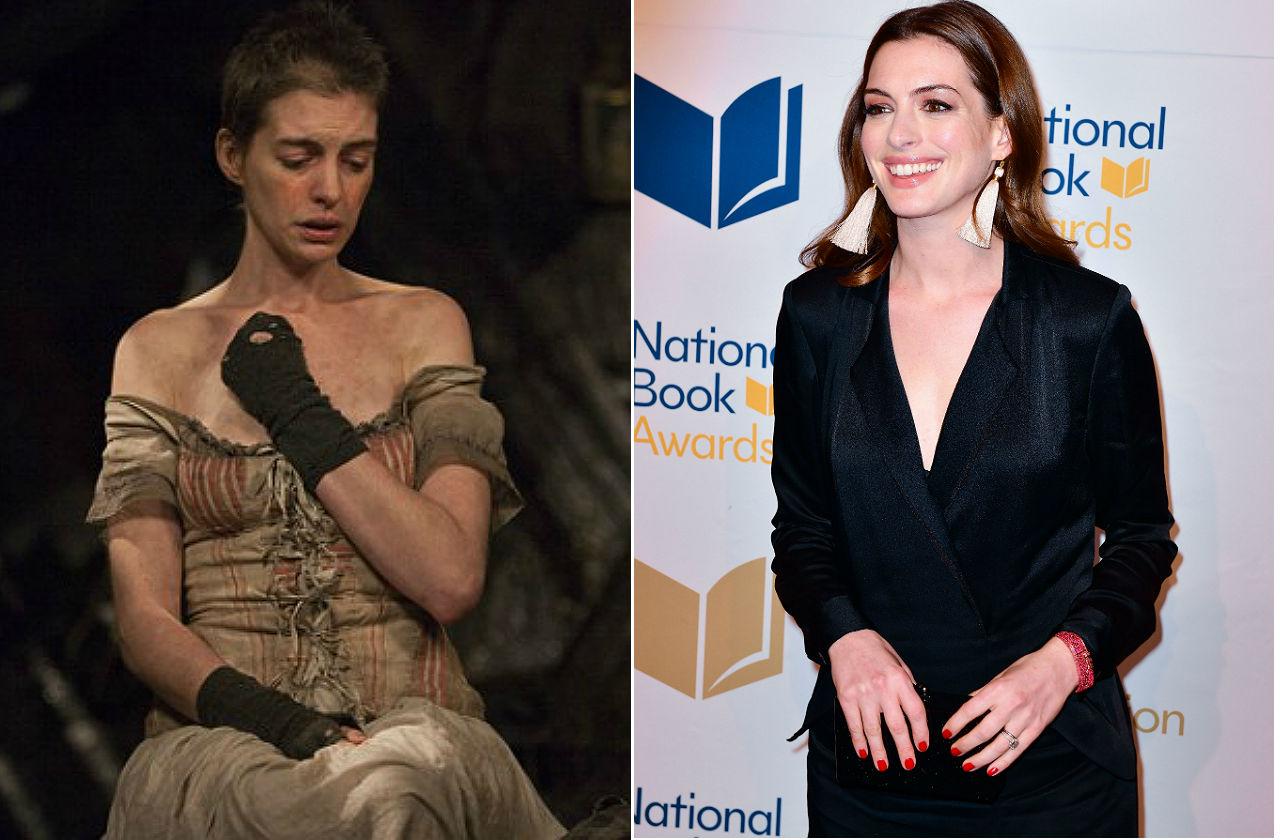 How she did it: According to Vogue, the actress lost 10 pounds courtesy of a strict cleanse before filming began, and followed it up by losing another 15 pounds by eating just two thin squares of dried oatmeal paste a day. That just sounds awful.
Her weight transformation tip? Don't starve yourself. Hathaway once explained, "I had to be obsessive about it—the idea was to look near death. Looking back on the whole experience—and I don't judge it in any way—it was definitely a little nuts. It was definitely a break with reality, but I think that's who Fantine is anyway."
29. Seth Rogen
To get into shape to play The Green Hornet in 2011, Seth Rogen dropped about 30 pounds, and the comedic actor has stuck to the routine.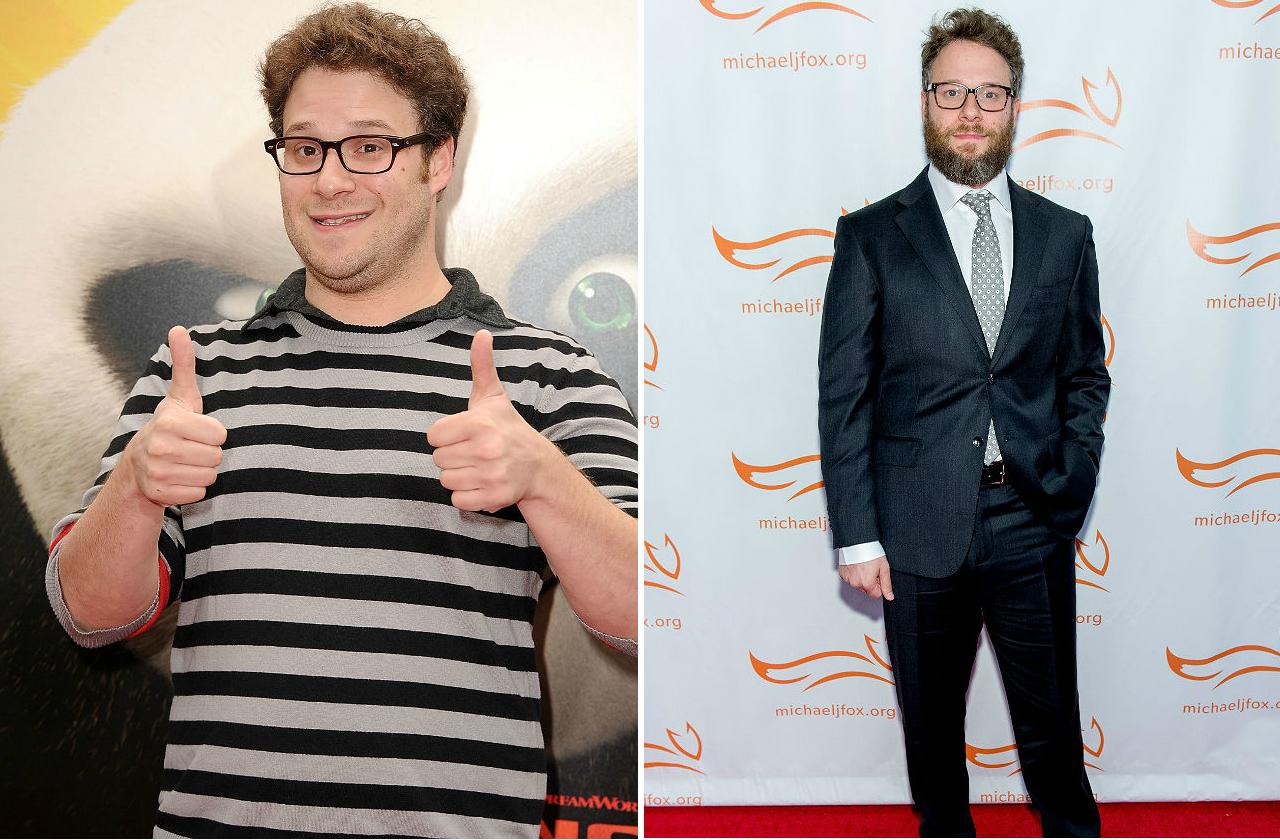 How he did it: Rogen found a popular diet that allowed him to eat five times per day, eating very nutrient dense and low glycemic foods that keeps your energy up and keeps you feeling full. He also trained five times a week.
His weight transformation tip? Be overweight if you want. Of course, Rogen is (sort of) joking, but he didn't think losing weight was all that easy. He reportedly quipped, "Uh, stay fat, people. That's my motto. Losing weight is no picnic."
30. Khloè Kardashian
Khloè Kardashian lost 40 pounds mostly because she wanted to, but also because her family asked her to. On her E! show Revenge Body, the youngest Kardashian sister confided her family told her that her weight was hurting the brand. Ouch.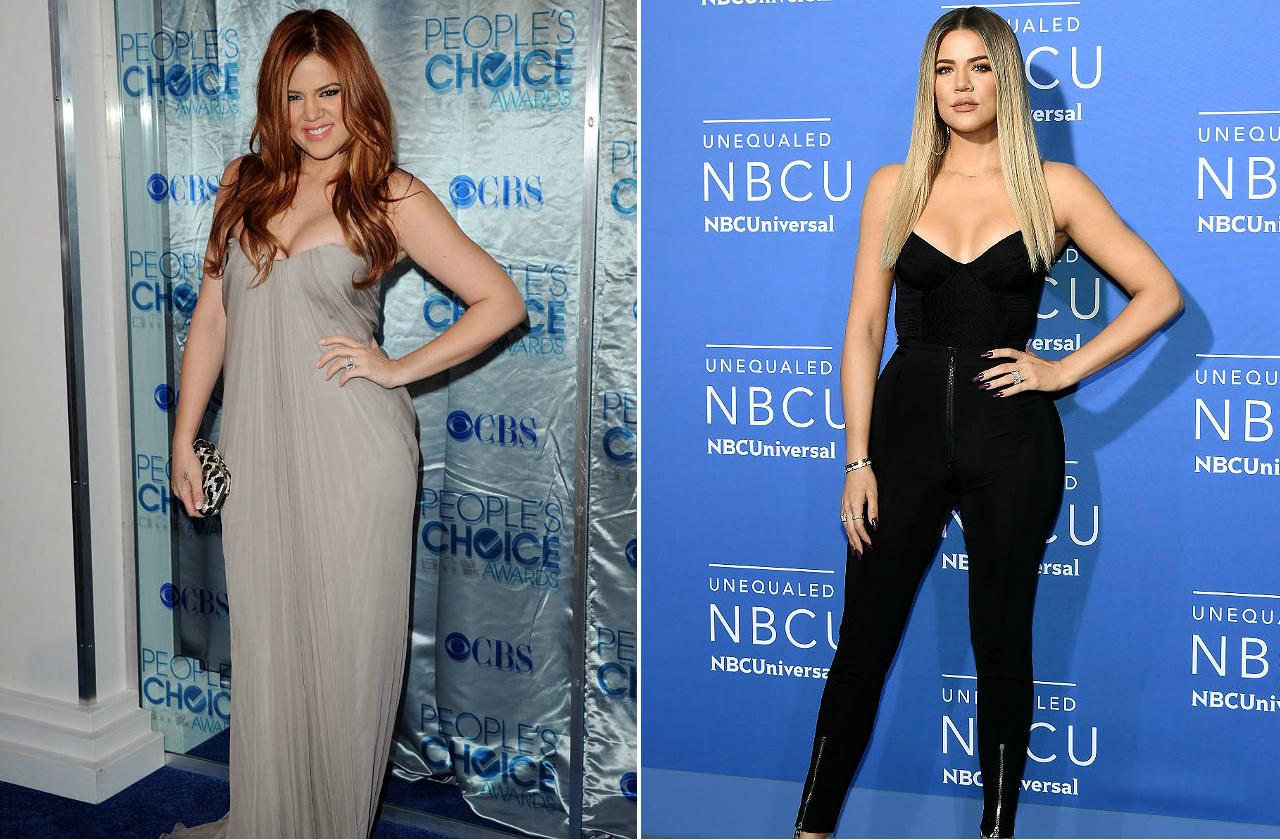 How she did it: Kiki said she was consistent in her goals. "I have been working out at least four days a week. I eat better in moderation," she said on Watch What Happens Live. "I still have to eat, I love food. It's just eating in moderation, it's lifestyle changes."
Her weight transformation tip? Set small goals: Kardashian told Entertainment Tonight, "Don't set goals that are unhealthy or unrealistic to achieve, like losing 30 pounds in 30 days. Aim small so you feel good about yourself once you've done it, then set another intention immediately after."