Jennifer Garner has three children with her ex-husband Ben Affleck. Read on to see why she rarely flaunts her kids.
When Jennifer Garner and Ben Affleck married and started a family, fans were convinced they would make the most beautiful babies ever seen. (And honestly, they were correct.) However, the actors have opted to keep their kids mostly out of the spotlight. The general public, as a result, doesn't know a ton about Jen and Ben's children.
Let's take a closer look at the divorced couples' kids as they continue to amicably co-parent.
Jennifer Garner shares three kids with Ben Affleck.
Jennifer and Ben were married from June 2005 to October 2018 — for 13 whole years — which is practically an eternity when it comes to Hollywood marriages.
During that time, Jen and Ben welcomed three kids: Violet Affleck in December 2005, Seraphina Affleck in January 2009, and Samuel Affleck in February 2012.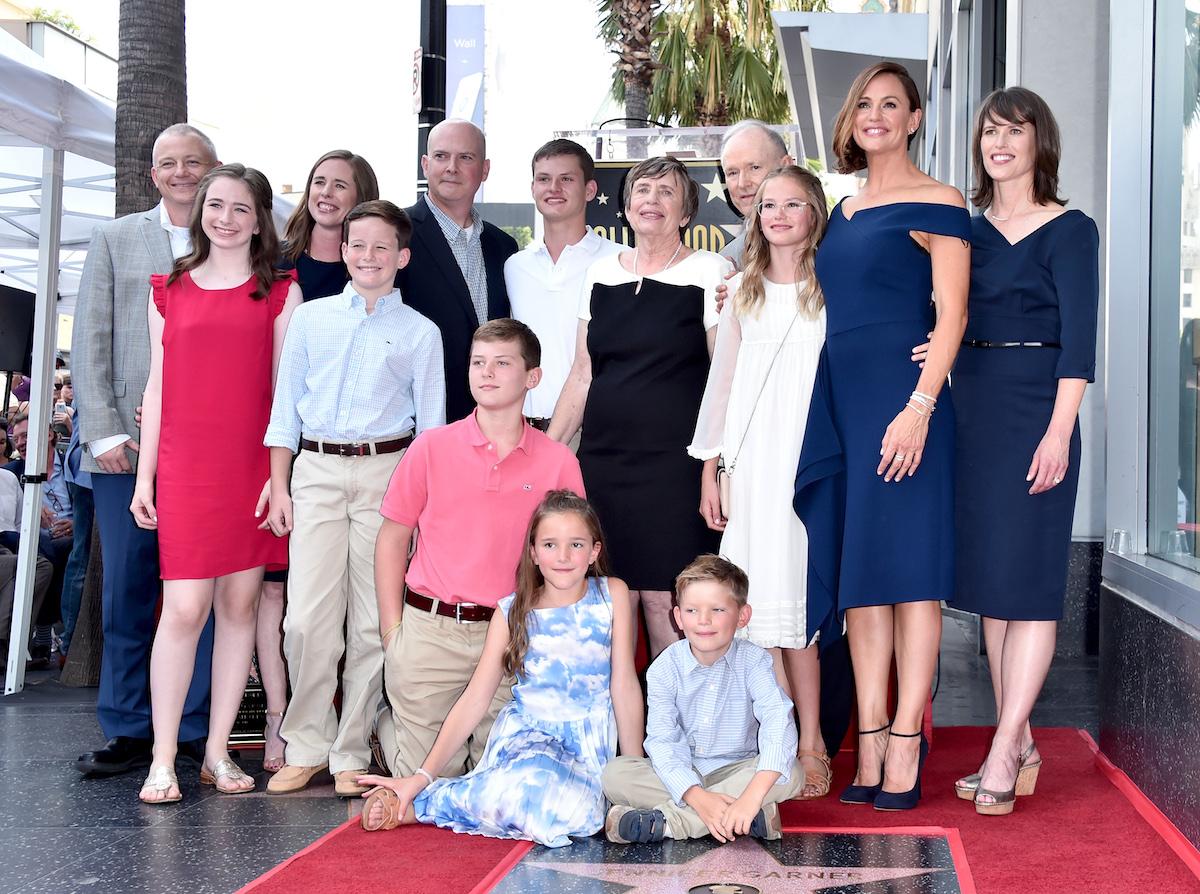 Above, you'll see a photo of Jennifer and her family (Violet is standing next to her in a white dress, and Seraphina and Samuel are sitting on the ground in front) when the actress was honored with a star on the Hollywood Walk of Fame in 2018.
There's a good reason you don't see a ton of photos of Jennifer Garner's kids.
Aside from a once-in-a-lifetime event like getting a Hollywood star, you won't see Jennifer's kids posing for photos — or even the actress posting images of her children via social media. That's because Jennifer was a major voice in getting a bill passed in California that protects the children of celebrities.
"Violet's hyper-articulate — she is Ben Affleck's daughter," Jennifer told The Hollywood Reporter of her then kindergartner. "And she stood up on a chair in a little velvet dress, with her hair a bit back and her glasses on and she didn't say her R's right, and she said: 'We didn't ask for this. We don't want these cameras, they're scary. The men are scary, they knock each other over and it's hard to feel like a kid when you're being chased.'"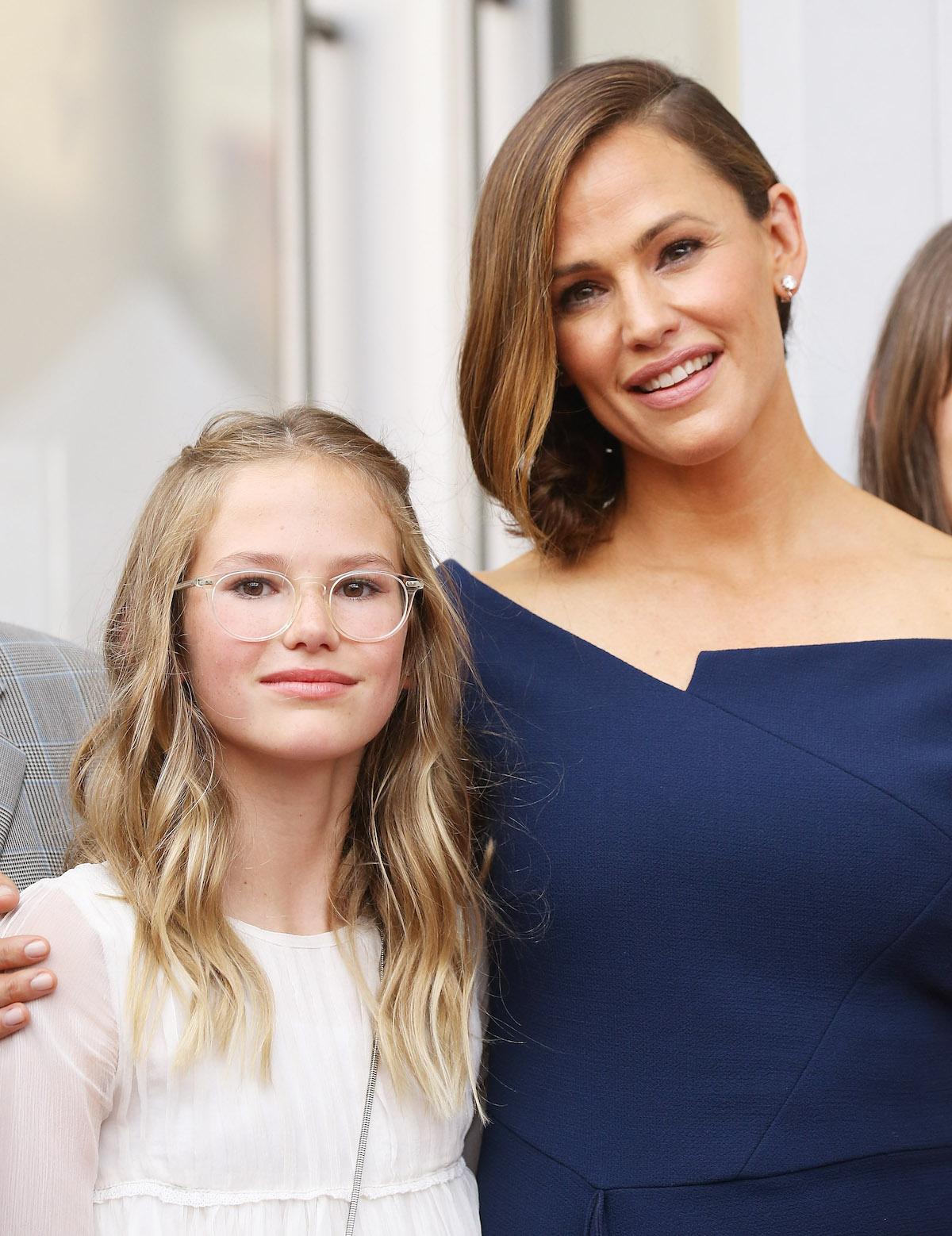 Jennifer Garner still shares hilarious and touching parenting anecdotes via Instagram.
Although Ben and Jen prefer to keep their kids' personal lives private, that hasn't stopped the celebrity mama from sharing funny/endearing stories and images pertaining to motherhood.
Take a look at this impressive Etch A Sketch portrait Jen's tween (presumably Seraphina because she was 12 at the time of the post) created.
Or this sassy note that one of Jennifer's kids wrote to her. It reads, "Mom, why can't I ever do what I want to Mom?"
There's also this relatable photo of Jennifer struggling to bring in all of her kids' stuff — along with her own items — from the car. "Every single time I get out of the car. How? Why?" she captioned the Instagram post. (If only we knew, Jen. If only we knew.)
As Jen and Ben's kids get older, the actress has struggled with facing the reality of letting go, just like any other parent might.
"The heartbreak is just that she's growing up at all," Jennifer said of Violet during SiriusXM's The Jess Cagle Show in March 2021. "That's what's heartbreaking. It's heartbreaking for the mom and for the teenager, needing to have that kind of severing of this baby-mama tie. That's what's so hard."
Although fans shouldn't expect to see photos of Jennifer Garner's kids anytime soon, hopefully she'll keep sharing relatable parenting moments with her Instagram followers and via interviews. We love you, Jen!