Kylie Jenner, of the Kardashian-Jenner clan, has built a $750-million net worth through her cosmetics line and other business endeavors.
Kylie Jenner may have debuted in the public eye as a 10-year-old on Keeping Up With the Kardashians, but her fame and net worth have skyrocketed through her own efforts. At age 24, Jenner has already bought and flipped real estate and developed (and sold) her popular cosmetics line for a whopping $600 million. What's the entrepreneurial reality star's net worth today?
Table of Contents
How much is Kylie Jenner worth now?
Kylie Jenner is an American reality TV star, having grown up during the 14-year run of Keeping Up With the Kardashians. The youngest daughter of Caitlyn and Kris Jenner, she founded Kylie Cosmetics in 2014, of which she sold a controlling stake to Coty for $600 million in 2019.
In 2019, Forbes magazine estimated Jenner's net worth at US$1 billion and called her the world's youngest self-made billionaire at age 21; the notion of Jenner being self-made has been controversial. In May 2020, Forbes released a statement accusing Jenner of forging tax documents so she would appear as a billionaire.
Although she's not considered a billionaire by Forbes anymore, her net worth is estimated at $750 million as of 2023.
Profile Summary
| | |
| --- | --- |
| Celebrated Name: | Kylie Jenner |
| Net Worth: | $750 million |
| Salary: | $20 million to $100 million per year |
| Profession: | Entrepreneur, Reality Star, Socialite, media personality, and former model |
| Birthname: | Kylie Kristen Jenner |
| Birthdate: | August 10, 1997 |
| Birthplace: | Los Angeles, California, United States |
| Children: | Stormi Webster, Aire Webster |
| Height: | 1.68 m |
| Parents: | Kris Jenner, Caitlyn Jenner |
How does Kylie Jenner make her money?
Kylie Jenner is a businesswoman who reportedly makes an annual revenue between $20 million and $100 million. She makes her money from various endeavors. Below are some of Kylie's sources of income;
1. Reality Tv Shows
Kylie Jenner as well as her sisters makes an impressive salary from their reality show, Keeping Up With The Kardashians.
What does Kylie Jenner make on The Kardashians? Kylie makes between $7.5 million to $8.3 million per season for The Kardashians, the same amount as her sisters: Kourtney, Kim, Khloé, and Kendall, per Style Caster.
Disney previously announced in a press release that the Kardashian-Jenners signed a multiyear contract with the company to produce "new global content that will stream exclusively on Hulu."

After details emerged that the family was pursuing a new iteration of their hit reality TV series, Variety reported that the Kardashian-Jenners would be equally splitting a nine-figure salary for the Hulu show.
The first season of the series, more succinctly titled "The Kardashians," premiered in April 2022.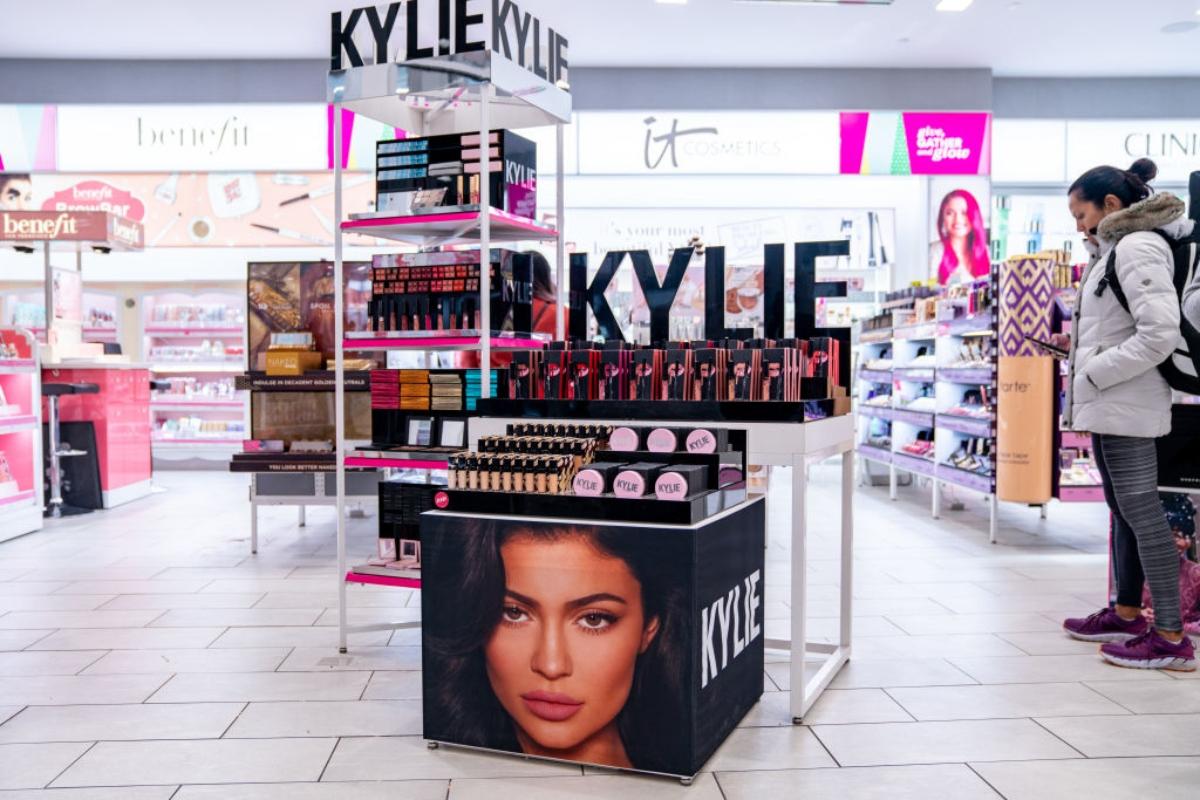 2. Kylie Jenner's cosmetics line
Financially, Jenner found her big break in 2014 when she launched her very own business venture, Kylie Cosmetics, at age 17.
The bulk of Kylie Jenner's wealth hasn't come to her via her family's reality TV escapades but from her makeup and skincare line, Kylie Cosmetics. She started the company in 2014, launching the "Kylie Lip Kit" in 2015 and experiencing rapid growth and success.
In Nov. 2019, Jenner sold a 51 percent stake in her company to cosmetics company Coty for $600 million. The deal valued Kylie Cosmetics at about $1.2 billion.
In September 2021, Coty announced a baby care products brand by Jenner called Kylie Baby. In a press release, Coty introduced the brand as a line of "safe, gentle, clean, and conscious" products that are formulated to be "vegan" and "cruelty-free."
Kylie Baby is just one of several brands using Jenner's name that aims to build off the success of Kylie Cosmetics, including Kylie Swim and Kylie Skin.
3. Kylie Jenner's real estate
Apart from her earnings from TV and her business empire, Kylie Jenner is also a real estate aficionado, having invested over $40 million in properties within a span of just a few years.
According to Yahoo Finance, Jenner began investing in real estate in 2015, at age 17. She has since bought and renovated several properties in California, selling some of them at a profit.
Here is a brief glimpse into her real estate portfolio:
Calabasas House, California (2015) – Purchased: $2.7 million; Sold: $3.15 million
Hidden Hills Mansion 1, California (2016) – Purchased: $6.03 million; Sold: $6.7 million
Hidden Hills Mansion 2 (2016) – Purchased: $4.5 million; Sold: $5.26 million
Hidden Hills Mansion 3 (2016) – Purchased: $12 million; Sold: NA
Hidden Hills Plot (2017) – Purchased: $5 million; Sold: $5.35 million
Beverly Hills Mansion, California (2018) – Purchased: $13.45 million; Sold: NA
Madison Golf Community Lot, California (2019) – Purchased: $3.25 million; Sold: NA
Hidden Hills Plot 2 (2020) – Purchased: $15 million; Sold: NA
Holmby Hills Resort (2020) – Purchased: $36 million; Sold: NA
4. Social media (Instagram) sponsored post
Apart from that, Kylie leverages her huge social media following to ink endorsement deals with various brands. According to a recent report by HopperHQ, she charges an average of $1.8 million per Instagram endorsement post.
Kylie Jenner who has over 380 million followers on Instagram also had lucrative endorsement deals with Puma and other brands.
She has endorsed products on Instagram from brands including Fashion Nova, SugarBearHair vitamins, and Adidas.
A 2018 report from social media insights firm D'Marie Analytics found that a single Instagram post by Jenner was worth $1 million in advertising.
Although she has since shut it down, Jenner previously made money from her personal app, which launched in 2015 and made $105,170 on its first day.
It is currently unclear whether her wealth is managed by a family office, or if it falls under her mother, Kris Jenner's, responsibility as her manager.
How rich is Kylie Jenner compared to Kim Kardashian?
Given the celebrity status of the Kardashian-Jenner family after more than a decade in reality TV programming, one might wonder who's the wealthiest in the family. How does Kylie Jenner's wealth compare with that of her half-sister Kim Kardashian? She stands in second place (among family members), with only Kim surpassing her net worth.
Jenner's wealth is currently estimated at $750 million by CelebrityNetWorth.com. The website notes that it didn't believe the Forbes declaration of Jenner as a billionaire after selling her company, and reports that Forbes eventually revealed that Jenner's accountants had falsely inflated the value of her company.
Kim Kardashian, having followed a similar path to wealth as Jenner, has also capitalized on her fame and created a direct-to-consumer cosmetics company, KKW Beauty. Her shapewear line, Skims, is also part of her net worth. Kardashian's net worth is estimated at $1.4 billion. She crossed the billionaire threshold in the spring of 2021.
Kylie Jenner Net Worth Milestones
Year
Net Worth
2011
$300,000
2013
$2,000,000
2014
$4,000,000
2016
$10,000,000
2017
$50,000,000
2018
$200,000,000
2019
$300,000,000
2020
$650,000,000
2021
$700,000,000
2022
$750,000,000