What is Kyrsten Sinema's net worth? The Arizona Senator Kyrsten Sinema switched political parties — How big is her fortune?
It isn't uncommon these days to hear that someone has decided to switch political parties as many did when they found out Donald Trump was running for president. In December 2022, Arizona Senator Kyrsten Sinema announced that she was leaving the Democratic Party behind and joining the Independent Party. Sinema reportedly became a Democrat in 2004.
Now, like Tesla founder Elon Musk, Sinema won't be siding with blue or red but instead, will base her political decisions on the issues a particular party chooses to tackle. This means that for future elections, she could side with either Democrat or Republican, or choose to run for a seat to represent either party. Will Sinema leave her role as a senator? What is her net worth?
How much is Senator Kyrsten Sinema worth?
Sinema took on the role of U.S. Senator (for Arizona) in January 2019 and her current term ends in January 2025. Prior to this, Sinema served as a member of the U.S. House where she represented Arizona's 9th district from 2013 to 2019. Between 2005 and 2010, Sinema represented District 15. She then reportedly resigned in 2012 so that she would be able to run for a seat in Congress.
In addition to serving as a political leader, Sinema also works at Arizona State University (ASU). According to the school's website, Sinema works as an assistant teaching professor at the School of Social Work and as a lecturer at the Watts College of Public Service & Community Solutions.
So, how much is Sinema worth given all her roles and responsibilities? Surprisingly, Sinema's net worth is estimated to be $100,000 even though Ballotpedia says she earns a base salary of $174,000.
KYRSTEN SINEMA Profile Summary
Before Sinema got involved with politics, she worked as a criminal defense attorney. She is often known for the campaign she ran to overthrow a gay-marriage ban. Sinema is also known for coming out as bisexual.
Profession: United States Senator from Arizona
Net worth: $100,000
Birthdate: July 12, 1976
Birthplace: Tucson, Ariz.
Education: Bachelor's degree from Brigham Young University; Master's degree and doctorate degree from Arizona State University
Political Party: Independent
Spouse: Blake Dain (m. 1995, d. 1999)
Kids: 0
Why did Kyrsten Sinema leave the Democratic Party?
On more than one occasion, Sinema has expressed the discontent she feels on how divided the nation has become over political differences. And on Dec. 9, 2022, the senator decided to do something about it.
Rather than choose a side, Sinema announced in an op-ed published in The Arizona Republic that she registered as an independent. Sinema said she decided to make the switch as she wanted to "join the growing number of Arizonians who reject party politics by declaring [her] independence from the broken partisan system in Washington."
Sinema also wrote, "Like a lot of Arizonans, I have never fit perfectly in either national party. " Despite her changing her political affiliation, Sinema says that by becoming an independent, she will continue to serve in the Senate and her focus will remain the same.
Where is Kyrsten Sinema from?
Senator Sinema was born in Tucson, Ariz. to a middle-class family that later suffered financial losses and "struggled to make ends meet," according to her website. At one point, Sinema and her family were homeless and they reportedly lived in an abandoned gas station in Florida. when she was between the ages of 8 and 11.
Despite how difficult her upbringing may have been, Sinema says it taught her "the power of hard work and the importance of helping others." Sinema was able to use education as her ticket to success. Thanks to student loans, scholarships, and financial aid, Sinema was able to attend both Brigham Young University (BYU) and ASU.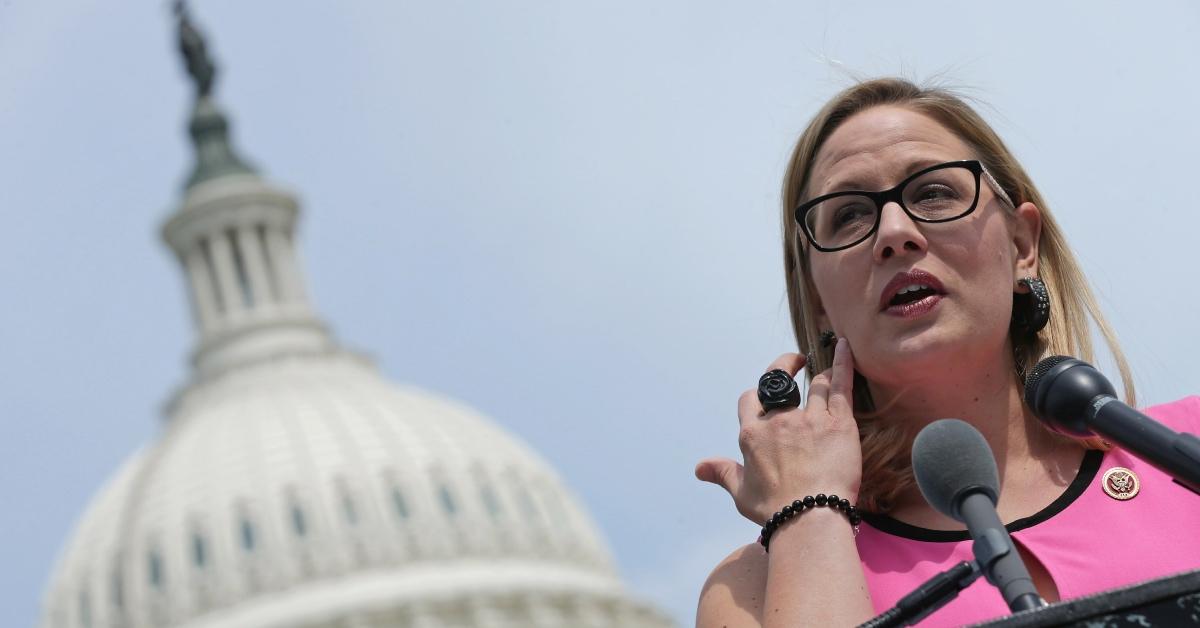 Who is Kyrsten Sinema's husband?
Little is known about Sinema's ex-husband, Blake Dain, other than that he was a former BYU student who is reportedly several years older than her. The two tied the knot in 1995 and divorced in 1999. They didn't have any children during the time they were together.